Drew Hunter Has His Sights Set On Breaking The 4-Minute Barrier In The Armory Track Invitational Mile This Saturday
Press Release
February 2, 2016
LRC Note: We have the press release on the Armory Track Invite below the schedule of the free streaming schedule below from the Armory. Highlights are Drew Hunter sub 4 chase in the mile at 2:19 and the men's and women's 800 (Robby Andrews and Ajee Wilson). Rest of meet is behind a Runnerspace paywall.
All Times eastern and can be watched here.
1:00	USATF.tv Broadcast window
1:03    Mike & Susan blum Girls' 300    Juniors         38
1:09    Boys' 300                       Juniors         39
1:16	Women's 60 hurdles		College Final	5 	
1:22	Men's 60 hurdles 		College Final	6
1:28	Coca-Cola Women's 60 dash	College Final	3
1:33	AT&T Men's 60 dash		College Final	4 
1:38    Allan Steinfeld Men's 3000      Invitational    40
1:50    Bob Burdette Men's 800          Invitational    41
1:55    Charles B. Rangel Women's mile  Invitational    42
2:02	Women's 800			Invitational	43
2:07	Jack Rudin Women's 3000	        Invitational	44
2:19	T.E. Byrne Men's mile		Invitational	45
2:29    Derrick Taylor Girls' 4x200     High School     46
2:35	Women's 4x200		        Invitational	47
2:44    Port Authority Boys' 4x200      High School     48
2:50	Men's 4x200			Invitational	49
Article continues below player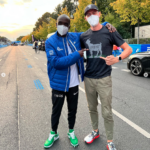 Kipchoge loves the 1:59:40 Shirt Get Yours Today
What a legend!
NEW YORK –Drew Hunter, of Purcellville, Va., has his sights set on becoming the second high school boy to break the four-minute barrier in the mile indoors, and his first opportunity of the year will come at the Armory Track Invitational at the New Balance Track and Field Center at The Armory,February 5-6.
Hunter, a senior at Loudoun Valley High School, will compete unattached in an Open field and attempt to join another Virginian, Alan Webb, on an exclusive list. That race will be part of Day 2 Saturday afternoon Feb. 6.
Webb broke the four-minute barrier 15 years ago, on Jan 20, 2001, at the New Balance Games at the Armory.
Hunter and Webb share a special connection. Marc and Joan Hunter, Andrew's parents, were Webb's first coaches at South Lakes High School. "Alan is the first guy I looked up to as a runner," Hunter said. "To know he was the first one to break four (indoors) — and I hope to do it this year — is special."
On Saturday at the Camel City Elite Races in Winston-Salem, N.C., Hunter became first prep to run under eight minutes for 3,000 meters indoors, running 7:59.33 against a professional field. He broke Edward Cheserek's national high school record, which was 8:05.46.
A limited number of reserved-seat tickets are on sale. Those are $30 for Friday and $40 for Saturday and can be purchased online through ArmoryTrack.com. All general admission tickets must be purchased at the door. Those tickets are $20 a day for adults, $10 a day for students.
Hunter will pursue history in a fast race. The field includes the 2012 NCAA champion, Chris O'Hare, the former collegiate record holder (3:52.98). Columbia grad Liam Boylan-Pett, who runs for the New Jersey/New York Track Club, Daniel Winn of the B.A.A. High Performance Team, Cristian Soratos of adidas and Austin Mudd of the University of Wisconsin all bring sub-four credentials.
The women's mile also includes a star-studded field. Erin Donohue is making a comeback after several years away from racing. She will be joined by Violah Lagat of Keny, Gabriella Stafford (University of Toronto) and Erin Teschuk (North Dakota State) of Canada. Villanova grad Emily Lipari (B.A.A/adidas) and Princeton graduate Ashley Higginson (NJ/NYTC) also bring strong credentials.
In another development, Jordan Hasay of the Nike Oregon Project and the 2014 NCAA 10,000-meter champion Emma Bates have joined the entry list for the women's 3,000 meters.
Boys' and girls' high school miles, qualifiers for the Millrose Games, have been added to the meet schedule after the races were canceled along with much of the January 23-24 weekend's New Balance Games due to Winter Storm Jonas. The girls will race at 3:04 p.m. on Saturday, the boys at 3:12.
Some 75 college teams from around the country will be competing in this year's meet, including Wisconsin, Arizona, South Carolina, Duke, Ohio State, Vanderbilt, Tulane, Mississippi State and Miami. In addition there are elite high school and Junior races in the 300, 600, 1,000 and relays.
Saturday's prime-time window from 1 to 3 p.m. will close with head-to-head International 4x200s for men and women featuring teams from Trinidad, Canada, Guyana, France, Jamaica and the United States.
The Armory Track Invitational –long known as the biggest collegiate invitational of the season — will also include six combined pro/college events during the feature window. Those distances are the 800 meters, the mile and the 3,000 meters for both men and women.
The fields for these six high quality races include some intriguing matchups: Ajee' Wilson Morgan Uceny and Laura Roesler in the 800 meters; and Lipari, Lagat and Higginson in the mile; and Nicole Tully and Sheila Reid in 3,000 meters that includes Wisconsin's Sara DiSanza.
Robby Andrews is the star attraction of the men's 800 meters. Liam Boylan-Pett heads a mile field that includes Wisconsin's Austin Mudd and the aforementioned high school phenom Drew Hunter.
Click here for ATI Elite Entries.
The Armory Track Invitational is a preview of the 109th NYRR Millrose Games, which will be held on Feb. 20. In addition, athletes will be on their way to securing berths to the World Indoor Championships in Portland (March 18-20), and getting ready for this summer's Olympic Games in Rio de Janiero, Brazil.
Signup for credentials: Working media can sign up for credentials to cover the February 5-6th Armory Track Invitational (ATI).. Please click on Armory Track Invitational and fill out forms. Deadline to sign up for the Armory Track Invitational is Wednesday, February 3rd.