51 Seconds Of Fame (Shame?) – Oregon's Tanguy Pepiot Gets Skewered On ESPN's Pardon The Interruption
by LetsRun.com
April 14, 2015
Who says track and field doesn't can't generate mainstream coverage in non-Olympic years and during an off month like April?
Article continues below player.
Track and field was featured on yesterday's Pardon The Interruption Show on ESPN. Without further ado:
Perhaps Andy Warhol wasn't quite right when he predicted everyone will "everyone will be world-famous for 15 minutes." This was more like 51 seconds of shame as both of the hosts, Michael Wilbon and Tony Kornheiser, skewered Oregon's Tanguy Pepiot for celebrating too early in a steeplechase in Oregon over the weekend. They both called him a "dope" for his "premature celebration."
Pardon The Interruption airs Monday through Friday on ESPN at 5:30 pm ET. You can download past podcasts of the show including yesterday's here. The segement on Pepiot comes in the last five minutes of the show.
Pipot's early celebration also landed him on the Yahoo.com frontpage as shown in the screen shot below. Their article is here.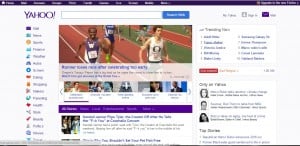 More: Messageboard discussion on Pepiot's race: Oregon's Tanguy Pepiot — Early Celebration Fail
*LRC Oregon's Tanguy Pepiot Celebrates Too Early And Loses Steeplechase To UW's Meron Simon