Oregon's Tanguy Pepiot Celebrates Too Early And Loses UW's Meron Simon In Pepsi Team Invitational Steeplechase At Hayward Field
by LetsRun.com
April 12, 2015
Editor's update 4/14/15: We have another article on Pepiot's celebration after it was featured on ESPN's Pardon The Interruption: 51 Seconds of Fame (Shame?) – Oregon's Tanguy Pepiot Gets Skewered On Pardon The Interruption
On Saturday at the Pepsi Team Invitational in Eugene, the margin of victory in the men's steeplechase was only .10-seconds as Washington's Meron Simon won in 8:57.86 over Oregon's Tanguy Pepiot. However, rather than a neck-and-neck sprint finish, it was Pepiot coming down the final straight with a large lead and Simon coming through with a big kick to take him by surprise.
Article continues below player
As you can see in the video embedded below, Pipot slows down and motions to the crowd to start cheering, completely oblivious to the fact that Simon was charging him down. Simon told Ken Goe of the Oregonian, "I thought he had me. I thought he was so far ahead. Then I heard the crowd get crazy. And then he started throwing his hands up, and I thought: 'I don't think he knows I'm coming.' I think it was about five meters to go was kind I (caught) him, and he still had no idea."
As for Pipot, he obviously wasn't happy (see end of video) and said, "I saw the crowd, and it was very loud. I just wanted to celebrate winning in front of our crowd. I was excited about it. But the race wasn't over. … It wasn't very smart. But it was a learning experience."
In the overall meet, Oregon men and women swept the team titles over Kentucky and Washington.
April 13th Update: Pipot's early celebration video got some national attention, landing him on the Yahoo.com frontpage as shown in the screen shot below. Their article is here.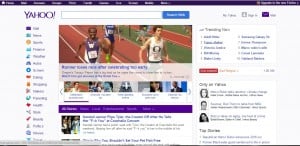 April 14th Update: We have another article on Pepiot's celebration after it was featured on ESPN's Pardon The Interruption: 51 Seconds of Fame (Shame?) – Oregon's Tanguy Pepiot Gets Skewered On Pardon The Interruption
More: Oregon Men And Women Sweep Pepsi Team Invitational Over Kentucky And Washington Oregon swept the men's 5000 with Edward Cheserek, Eric Jenkins, and Will Geoghegan striding in together around 14-flat. Oregon's Annie Leblanc won the 1500 in 4:18.38.
*MB: Oregon's Tanguy Pepiot — Early Celebration Fail
*Daily Emerald Article *Photos *Full Results