Ethiopia's 800m World Champion Mo Aman To Become A US Citizen
by LetsRun.com
April 1, 2015
It was announced today that Ethiopia's 800m World Champion Mo Aman will be switching allegiances, and become a US citizen by the end of the year. The move comes as a shock to many, however it was hinted at when Aman announced earlier in the year that he was joining the Oregon Track Club. Becoming an American citizen was the next logical step, but Aman wanted to wait until it was finalized before making the news public. Per IAAF rules, he will have to sit out a year so will miss a chance to defend his world title, but in the release Aman said his focus was on the Olympics in 2016 and he had no regrets.
Article continues below player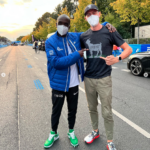 Kipchoge loves the 1:59:40 Shirt Get Yours Today
What a legend!
The loss of Aman is a big blow to the nation of Ethiopia who depended on him to give them some much needed respect in the middle distances. After Aman's 1:42.83, the next fastest 800 runner in 2014 was Jena Umar with 1:46.23. Umar placed 5th at the World Junior Championships in Eugene, but with a time like that couldn't even get into a Diamond League Meet. Aman is the only Ethiopian to win a global 800 title an in fact, is the only Ethiopian to even ever compete at the Olympics in the 800.
Despite leaving Ethiopia with a gaping hole in the middle distances, Aman was not sorry for his move. In an OTC press release he said, "The Ethiopian track federation has no respect for the 800. All the support and praise goes to the runners in the long distances and the marathon. That is where all the money is and that's what the federation wants. I won a world title in the 800, but the news barely made a peep in the media. Then Kenenisa Bekele drops out of a marathon and it's all you read about for a month. You just get sick of being unappreciated."
Asked about his motives for coming to the USA, Aman said, "I won a gold medal in 2013, but that was when David Rudisha was injured. I don't want to be second-best forever. I want gold at Rio 2016. I believe with the resources of the OTC and coaching knowledge of Mark Rowland, I can beat Rudisha even on his best day. I've been training myself up until now since there are no knowledgeable coaches in Ethiopia. We just don't have a history in the 800." Now without Aman, they won't have a future either.
Aman's move received mixed reactions from those in the US and abroad. OTC distance coach Mark Rowland was thrilled and glad the news was finally out in the open. "Back in February when Aman joined OTC I got a lot of flack on the LetsRun message boards for supporting and coaching a non-American," complained Rowland. "I wanted to tell them then about Aman's citizenship change, but it was secret. The move just makes sense for everyone. Aman can get better training and Nike will pay him way more now that he's an American. The US can finally get another world title in the 800 and my guys at OTC get to train with a world champ. Everybody wins."
However, others were less impressed with Aman's decision. Speaking to Kenya's media, David Rudisha said, "You know, I always thought Mo was a good guy and I felt bad for him because he never got to win big races when I was around. About once a year I'd let him beat me, just to be nice, but that was when he was a fellow African. No way am I doing that anymore. He's a sell-out and a disgrace."
One of the United States' top 800 runners and the man who finished second behind Aman at Worlds in 2013, Nick Symmonds, was more diplomatic about the situation. Asked for comment, Symmonds responded, "As a professional athlete I'm also a businessman and in reality, I'm the CEO of Nick Symmonds, LLC. In the US we have a free market economy and competition is just part of the business world. I'm not afraid of competition. Consumers know I have the best product and if I continue to produce high quality goods, I'm confident my business will continue to thrive."
Then Symmonds added, "On a completely unrelated note, I want to take this time to announce that I'll be moving to the 1,500 in 2016."
Here at LetsRun.com, we thought Aman's move to the US was interesting, but ultimately irrelevant. LRC co-founder Weldon Johnson, has long suspected that Aman is much older than his stated age (currently 21). Weldon said, "The way I figure, Aman was about 32 when he won the world title in 2013. Now he's 34 and has to sit out a year before he is eligible to compete for the US. By the time he can compete at Rio 2016 he'll be 35 and I just don't see a guy that old being able to compete with the best at the 800. He'd be better off staying in Ethiopia and moving to the marathon."