by: LetsRun.com
January 18, 2015
While most of America's top half-marathoners were in Houston today for the Aramco Houston Half Marathon and the USA Half-Marathon Champs, American stars Ryan Hall and Amy Hastings were making less pressured 2015 half debuts at the 2015 PF Changs Rock N Roll Half Marathon in Arizona.
Hastings got the win in 1:12:04 (for reference that time would have finished 10th in Houston) while Hall lost in a kick to Benson Cheruiyot (1:04:16 for Hall. That time would have been 35th in Houston).
Hastings picked up $1500 in prize money and time bonuses plus a likely appearance fee, while Hall got $1,400 plus an appearance fee.
Men's Results. Full results here.
Discuss here: Ryan Hall 2nd (1:04:16) behind Benson Cheruiyot (1:04:15) at RockNRoll Arizona
Article continues below player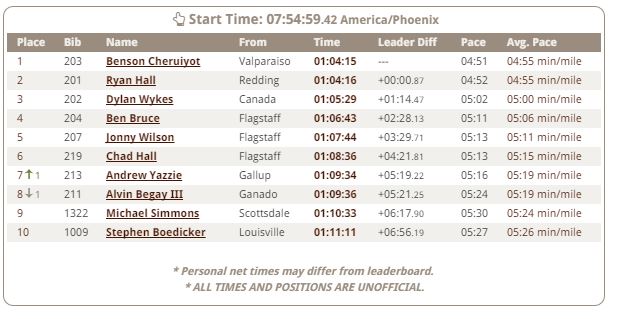 Hastings