2015 Houston Marathon and Half Marathon - 2015 USA Half Marathon Championships

Houston, TX
January 18, 2015
The Aramco Houston Half Marathon serves as the 2015 USA Half-Marathon Championships. *Meet website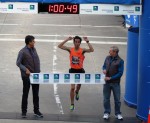 Estrada broke away just after 5 kilometers and pulled away to win his debut half by 51 seconds over fellow debutant Jared Ward. Estrada's time was the fastest by an American since Galen Rupp in 2011. Conley won her first serious half marathon (she ran one as a workout in October) by breaking away at the 10-mile mark to prevail by 32 seconds over Brianne Nelson.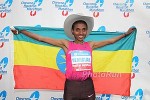 Ethiopians Yebrgual Arage (2:23:23) and Birhanu Gedefa (2:08:03) got the wins as American Kellyn Taylor (2:28:40) had a nice debut and Aaron Braun (2:12:54) was the top American man.
On The Boards: Also at Houston - Aaron Braun 2:12:54; Kellyn Taylor 2:28:40
She's tied on the list with Shalane Flanagan. Taylor: "I feel like I've been good at a lot of different distances for a long time. I want to be great though and I'm hoping the marathon is what I can be great at."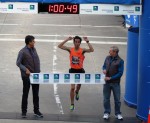 Race Results Weekly recap of the 2015 USATF Half-Marathon Championships.
For 6-months last year Bawcom was out of commission with injuries and health issues, but now says she is feeling like her old self.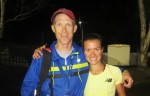 Conley has been implementing more mileage and longer workouts in preparation for Houston Half. Last year during the winter she focused on speed, but this year it's strength as her focus remains on the 5K and 10K outdoors.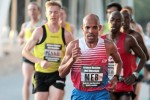 Meb Keflezighi goes for the three-peat against a field that includes Josphat Boit, Shadrack Biwott, Diego Estrada and Girma Mecheso. In the women's race, marathon specialists Annie Bersagel and Lauren Kleppin will attempt to hold off U.S. 10,000 champ Kim Conley. Sara Hall and 2012 Olympian Janet Bawcom are also in the field. Races start at 6:55 a.m. CT on Sunday.
Outside Letsrun