Diego Estrada (60:51) and Kim Conley (69:44) Make Impressive Debuts to Win 2015 USA Half Marathon Championships in Houston
By LetsRun.com
January 18, 2015
A pair of half marathon newbies ran like seasoned veterans on Sunday morning in Houston as Diego Estrada and Kim Conley emerged as the winners at the 2015 USA Half Marathon Championships at the Aramco Houston Half Marathon. Estrada pushed the pace the entire way and dropped the field just after 5k to win in a splendid 60:51. Conley took a more patient approach, waiting until 10 miles to make her move before powering home to a 69:44 victory. Both will take home $13,250 for the wins ($12,000 for the win, $1,250 each in time bonuses).
Brief race recaps below followed by quick takes and results.
MB: Official 2015 USA Half Marathon Championships Discussion Thread
Article continues below player.
Men's race
Estrada, 25, wasted no time in this one, leading from the gun and opening up a small gap on the field almost immediately. The pack reeled him in, but by two miles Estrada had begun to push again and the pack began to thin out. Estrada's goal coming in was to run 4:35 pace (60:05 pace for the half) and when he saw 63:00 as the projected finish time on the pace car early in the race, he knew then that he had to take off. Estrada hit 5k in 14:41, with a lead of only a few meters over two-time defending champion Meb Keflezighi, former Virginia runner Sean Keveren and several others. That lead ballooned over the next 5k — which Estrada covered at a Kipsang-esque 14:10 (59:46 half marathon pace) — and by the time Estrada hit 10k in 28:51, he had 20 seconds on the field.
At this point, the race could have gone one of two ways. Either Estrada, the half marathon rookie, would blow up mightily and pay for his early surge, or he would extend his lead en route to a dominant victory. Fortunately for him, it was the latter. Estrada reached 15k in 43:14, 45 seconds up on the chase pack (which consisted of former BYU star Jared Ward, Keflezighi, Matt Llano of Northern Arizona Elite and Aron Rono of the U.S. Army) and the question shifted from "Can Estrada hold on?" to "Can Estrada break 61:00?"
Ward separated from the chase pack over the final few miles, but he couldn't gain an inch on Estrada, whose margin of victory ended up at 51 seconds with a winning time of 60:51. Ward, who was making his debut in Houston (though it should be noted that he's already run a marathon), held on for an impressive second in 61:42 while former Oklahoma State runner Girma Mecheso made up a lot of ground over the second half of the race to outsprint Keflezighi for third, 62:16 to 62:18.
Estrada is now tied for seventh with Dartmouth grad and two-time Olympian Bob Kempainen for seventh on the all-time U.S. half marathon list.
Fastest half marathons by an American
1. Ryan Hall, 59:43 (2007 Houston)
2. Dathan Ritzenhein, 60:00 (2009 World Half Champs)
3. Todd Williams, 60:11 (1993 Tokyo)
4. Abdi Abdirahman, 60:29 (2007 New York)
5. Galen Rupp, 60:30 (2011 New York)
6. Mo Trafeh, 60:39 (2010 New York)*
T-7. Diego Estrada, 60:51 (2015 Houston)
T-7. Bob Kempainen, 60:51 (1995 Las Vegas)

*Trafeh was found guilty of using EPO later in his career
Note: We have results and analysis of the race and Estrada's impressive half-marathon at the bottom of this article.
Women's race
Like Estrada, Conley and her fellow 2012 Olympian Janet Bawcom established an early gap on the field but were quickly reeled in by the pack. Unlike Estrada, neither would make another move for a long time as a group of eight women hit 5k in 16:44 (Conley, Bawcom, Sara Hall, Annie Bersagel, Brianne Nelson, Juliet Bottorff, Mattie Suver and Lauren Kleppin).
That group would remain the same at 10k (33:26), with the only difference Lauren Jimison subbing in for Kleppin (who was the top returner from last year). As Bersagel began to push at seven miles and the group started to string out; by eight miles, it was down to Bersagel, Conley, Nelson, Hall and Bawcom. Fifteen kilometers (50:08) was reached with those five all still in contention, and it would remain that way for the next two miles.
At 10 miles, Conley struck and the pack immediately fissured. Hall and Bawcom were immediately off the back as Nelson and Bersagel struggled to hold on. Soon they too would drop, as Conley's lead continued to grow over the final three miles. She crossed in 69:44, putting her eighth on the U.S. all-time list — not bad for her first serious half marathon. Nelson came across in second in 70:16, and then there was another big gap to Bawcom in third (70:46).
Quick Take #1: A Very Impressive Race for Estrada
Estrada winning was a surprise, but not a huge one. Here's what we wrote in our preview about him:
"Diego Estrada (USA 5K road champ) and Girma Mecheso (USA 20K road champ) are the two most accomplished debutantes in the field. It's not a stretch to imagine either running in the 61-minute range and perhaps battling for the win on a good day."
What is a surprise is the manner in which Estrada won. He dominated the field en route to a fantastic 60:51 — the fastest half marathon by an American since Galen Rupp's 60:30 in New York four years ago.
"I had a lot of motivation from [the .US 12K Champs in November, where Estrada was second behind former NAU teammate Brian Shrader]," Estrada said, speaking to USATF.tv after the race. "Brian's a good guy and my college teammate. I was like 'the little guy just beat me.'
"This is a debut. I had no pressure. I knew if I gunned it and felt a pop at mile 10, I'd get a little criticism but people would know that I don't know what I'm doing out there."
Update: We initially wrote that this was Estrada's half marathon debut, but we now believe it was Estrada's third career half-marathon. He ran 66:29 at the Salinas Valley Half Marathon in 2010 and 66:25 at the same race in 2014. However, like Kim Conley, this does appear to be his first serious attempt at the distance.
While any breakaway runner runs the risk of blowing up and getting caught, Estrada looked strong throughout and by the 15k mark it was clear he was not going to be caught. Estrada has been mostly a 5k/10k guy in his career thus far (he ran the 10,000 at the 2012 Olympics and the 5,000 at the 2013 Worlds, both for Mexico; his pbs are very solid at 13:15/27:32), but his strong showing today suggests that his future may lie in the half marathon — or beyond.
"I want to run a marathon but it depends on when [my coach, Joe Vigil] thinks I'm ready for it. But I want to run a marathon."
It will be a very interesting next 13 months for Estrada. Though he knocked out the Olympic Trials qualifier with his time today, if he wants to do a full marathon before the Trials next February, his only realistic option is to run one in the fall as it's likely too late to start a marathon buildup at this point. With U.S. men's marathoning in a state of flux, it wouldn't be a total shocker to see a guy like Estrada make the team.
As a 5k/10k guy with limited footspeed (3:41 1500 pb), it makes sense for Estrada to transition to the marathon sooner rather than later. But with a 27:32 10,000 pb, he'd also have a decent shot to make the U.S. team at that distance in 2015 and 2016. He and Vigil certainly have some decisions to make.
Quick Take #2: Nice Win for Kim Conley but Success on the Track is What This Was About
Conley spent the winter of 2014 working on her speed, running PRs of 2:05.92 for 800 and 4:24.54 for the mile. That paid off later in the year as she PR'd at 5,000 (15:08.61) and 10,000 (31:48.71) and claimed her first U.S. title (10,000m) on the track. She's been focusing on her strength in 2015 and today's victory proves that she is in good shape. But for Conley, today's race will only be worth it if it results in better results this summer.
"This is always about being stronger in the 5k and 10k outdoors so I don't want to say it solidified the decision [to focus on strength] until I run well outdoors," Conley told USATF.tv after the race.
About the race, Conley had this to say:
"I was feeling so good the entire time. I really wanted to stay patient because I didn't know how I'd feel in the last three miles. I've been doing progressive long runs for years and I said if I felt good at 10 miles, I'll treat it like a progressive long run and give a little bit more the last few miles."
That's exactly what happened as Conley gapped the field quickly over the final miles. Conley caught several male runners toward the end of the race and said that helped her mentally as she was able to focus on catching the men rather than holding off the women. She said she had a "happy moment" in the race thinking back to her days at UC-Davis when she would chase down the men on her runs.
Unlike Estrada, Conley, 28, said she has no plans to run a marathon in the immediate future, calling the move "a huge step."
Quick Take #3: A solid run from Meb, but not quite as strong as the past two years.
Keflezighi, 39, won the last two USA Half Marathon titles, running 61:22 in Duluth in 2013 and 61:23 in Houston last year. He regressed to 62:18 today, but still managed a solid fourth-place finish. At this point in his career, the most important thing for Meb is getting to the start line of the marathon in one piece and he seems on track to do that at the moment. A bad result today would have been a bit worrying, but 62:18 three months out from Boston is fine for Meb. Jeffrey Eggleston, the U.S.'s second-fastest marathoner in 2014 (behind Meb) also had a good run, knocking off 19 seconds from his pb to take seventh in 62:41.
Quick Take #4: Forty-eight men hit the Olympic Trials standard of 65:00
Some of those men had already achieved the standard, but that's still a huge number, especially compared to last year. Below, we've charted the number of men and women who achieved the standard at the last three USA Half Marathon Championships (note that the 2013 championships were held before the qualifying window opened on August 1, 2013). Men have to break 65:00 to earn a berth at the 2016 U.S. Olympic Marathon Trials; women have to break 75:00.
| | | | |
| --- | --- | --- | --- |
| Year | Site | Male qualifiers | Female qualifiers |
| 2015 | Houston | 48 | 28 |
| 2014 | Houston | 32 | 20 |
| 2013 | Duluth | 39 | 19 |
With the Trials just 13 months away, it's likely many runners viewed this as their last best chance to get a fast half time in in order to qualify. Add in faster races overall on both sides (the winners ran 60:51 and 69:44 versus 61:23 and 70:48), good conditions (45 degrees at the start of the race) and you get a good explanation for the spike from last year.
One name that stood out to us is Thomas Graham, who at 20 years old was the youngest runner to qualify today by two years, male or female. Graham attends Stanford but no longer runs for the team and is coached by Chris Catton. We wondered if he would have been the difference between Stanford beating Colorado and finishing second at NCAA XC last year. It turns out it wouldn't have mattered; the Cardinal lost to the Buffs by 33 points at NCAAs but their fifth man scored 30 points. Even if Graham won the race, Colorado still would have won the team title.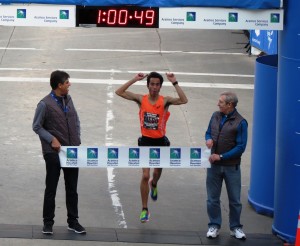 Men:
| | | | | | | | | |
| --- | --- | --- | --- | --- | --- | --- | --- | --- |
| Place Overall | Name | Gender | State | BIB | Division | Age | Finish Net | Finish Gun |
| 1 | » Estrada, Diego (USA) | Men | AZ | M28 | 25-29 | 25 | 01:00:51 | 01:00:51 |
| 2 | » Ward, Jared (USA) | Men | UT | M11 | 25-29 | 26 | 01:01:42 | 01:01:42 |
| 3 | » Mecheso, Girma (USA) | Men | PA | M64 | 25-29 | 26 | 01:02:16 | 01:02:16 |
| 4 | » Keflezighi, Meb (USA) | Men | CA | M1 | 35-39 | 39 | 01:02:18 | 01:02:18 |
| 5 | » Llano, Matthew (USA) | Men | AZ | M6 | 25-29 | 26 | 01:02:22 | 01:02:22 |
| 6 | » Rono, Aron (USA) | Men | OR | M79 | 30-34 | 32 | 01:02:25 | 01:02:25 |
| 7 | » Eggleston, Jeffrey (USA) | Men | CO | M7 | 30-34 | 30 | 01:02:41 | 01:02:41 |
| 8 | » Gotcher, Brett (USA) | Men | CA | M10 | 30-34 | 30 | 01:02:49 | 01:02:49 |
| 9 | » Keveren, Sean (USA) | Men | VA | M53 | 20-24 | 24 | 01:02:52 | 01:02:52 |
| 10 | » Proctor, Gabe (USA) | Men | CA | M5 | 20-24 | 24 | 01:03:13 | 01:03:13 |
| 11 | » Mueller, Tyler (USA) | Men | WI | M69 | 20-24 | 23 | 01:03:21 | 01:03:21 |
| 12 | » Crain, John (USA) | Men | OK | M23 | 20-24 | 22 | 01:03:21 | 01:03:21 |
| 13 | » Hilton, Nicholas (USA) | Men | AZ | M46 | 25-29 | 25 | 01:03:23 | 01:03:23 |
| 14 | » Kremske, Dan (USA) | Men | OR | M55 | 25-29 | 25 | 01:03:23 | 01:03:23 |
| 15 | » Payne, Ben (USA) | Men | CO | M74 | 30-34 | 33 | 01:03:25 | 01:03:25 |
| 16 | » Richards, Malcolm (USA) | Men | CA | M77 | 30-34 | 32 | 01:03:26 | 01:03:26 |
| 17 | » Graves, Griffith (USA) | Men | NC | M40 | 20-24 | 24 | 01:03:27 | 01:03:27 |
| 18 | » Molke, Robert (USA) | Men | NY | M67 | 20-24 | 23 | 01:03:27 | 01:03:27 |
| 19 | » Finan, Eric (USA) | Men | MN | M31 | 25-29 | 25 | 01:03:29 | 01:03:29 |
| 20 | » Curley, Craig (USA) | Men | AZ | M24 | 25-29 | 26 | 01:03:31 | 01:03:31 |
| 21 | » Dedering, Josh (USA) | Men | WI | M26 | 20-24 | 24 | 01:03:31 | 01:03:31 |
| 22 | » Given, Robert (USA) | Men | SC | M38 | 20-24 | 23 | 01:03:33 | 01:03:33 |
| 23 | » Ashe, Eric (USA) | Men | MA | M15 | 25-29 | 26 | 01:03:33 | 01:03:33 |
| 24 | » Maiyo, Augustus (USA) | Men | CO | M62 | 30-34 | 31 | 01:03:37 | 01:03:37 |
| 25 | » Shaw, Ethan (USA) | Men | MA | M82 | 20-24 | 24 | 01:03:41 | 01:03:41 |
| 26 | » Graham, Thomas (USA) | Men | CA | M39 | 20-24 | 20 | 01:03:52 | 01:03:52 |
| 27 | » Tapia, Daniel (USA) | Men | CA | M9 | 25-29 | 28 | 01:03:52 | 01:03:52 |
| 28 | » Boit, Josphat (USA) | Men | CA | M4 | 30-34 | 31 | 01:03:53 | 01:03:53 |
| 29 | » Moore, Joe (USA) | Men | KS | M68 | 30-34 | 31 | 01:03:55 | 01:03:55 |
| 30 | » Hampton, Jonas (USA) | Men | CT | M43 | 25-29 | 25 | 01:03:57 | 01:03:57 |
| 31 | » Fauble, Scott (USA) | Men | OR | M29 | 20-24 | 23 | 01:03:59 | 01:03:59 |
| 32 | » Epperson, Andrew (USA) | Men | CO | M27 | 20-24 | 24 | 01:04:04 | 01:04:04 |
| 33 | » Atkins, James (USA) | Men | NC | M16 | 25-29 | 29 | 01:04:06 | 01:04:06 |
| 34 | » Hales, Brett (USA) | Men | UT | M42 | 25-29 | 28 | 01:04:10 | 01:04:10 |
| 35 | » Macpherson, Scott (USA) | Men | MO | M61 | 25-29 | 27 | 01:04:17 | 01:04:17 |
| 36 | » Leblanc, Jarrett (USA) | Men | TX | M58 | 20-24 | 24 | 01:04:19 | 01:04:19 |
| 37 | » York, Brandon (USA) | Men | AL | M93 | 25-29 | 29 | 01:04:22 | 01:04:22 |
| 38 | » Peterson, Jonathan (USA) | Men | MN | M75 | 25-29 | 26 | 01:04:26 | 01:04:26 |
| 39 | » O'Connor, Matthew (USA) | Men | MO | M71 | 25-29 | 28 | 01:04:30 | 01:04:30 |
| 40 | » Sienko, Jacob (USA) | Men | OR | M85 | 20-24 | 22 | 01:04:35 | 01:04:35 |
| 41 | » Bendtsen, Chris (USA) | Men | NY | M19 | 20-24 | 22 | 01:04:43 | 01:04:43 |
| 42 | » Dandena, Kiya (USA) | Men | TX | M25 | 25-29 | 25 | 01:04:44 | 01:04:44 |
| 43 | » Harvey, Brian (USA) | Men | MA | M44 | 25-29 | 27 | 01:04:44 | 01:04:44 |
| 44 | » Baker, Brock (USA) | Men | NC | M17 | 25-29 | 28 | 01:04:48 | 01:04:48 |
| 45 | » Loeffler, Eric (USA) | Men | ND | M60 | 35-39 | 38 | 01:04:48 | 01:04:48 |
| 46 | » Shields, Rex (USA) | Men | UT | M83 | 25-29 | 26 | 01:04:49 | 01:04:49 |
| 47 | » Caccia, Gian-Paul (USA) | Men | NY | M21 | 25-29 | 28 | 01:04:55 | 01:04:55 |
| 48 | » Flynn, Ricky (USA) | Men | SC | M33 | 25-29 | 27 | 01:04:56 | 01:04:56 |
| 49 | » Krolick, Jacob (USA) | Men | NY | M56 | 20-24 | 24 | 01:05:25 | 01:05:25 |
| 50 | » Rizzo, Patrick (USA) | Men | CO | M12 | 30-34 | 31 | 01:05:30 | 01:05:30 |
| 51 | » Wacker, Andrew (USA) | Men | CO | M90 | 25-29 | 26 | 01:05:36 | 01:05:36 |
| 52 | » Acosta, Jeremy (USA) | Men | AZ | M13 | 20-24 | 24 | 01:05:36 | 01:05:36 |
| 53 | » Geoghegan, Patrick (USA) | Men | NY | M36 | 20-24 | 24 | 01:05:38 | 01:05:38 |
| 54 | » Ornelas, Zachary (USA) | Men | MI | M73 | 20-24 | 23 | 01:05:43 | 01:05:43 |
| 55 | » Weiss, Jeff (USA) | Men | WV | M91 | 25-29 | 28 | 01:05:44 | 01:05:44 |
| 56 | » Kauffmann, Tommy (USA) | Men | OH | M51 | 25-29 | 25 | 01:05:45 | 01:05:45 |
| 57 | » Fuentes, David (USA) | Men | TX | M35 | 25-29 | 28 | 01:05:45 | 01:05:45 |
| 58 | » See, Jeff (USA) | Men | SC | M81 | 25-29 | 28 | 01:06:03 | 01:06:03 |
| 59 | » Sialo, Laban (USA) | Men | CO | M84 | 30-34 | 31 | 01:06:11 | 01:06:11 |
| 60 | » Whitehead, Josh (USA) | Men | AL | M92 | 35-39 | 36 | 01:06:15 | 01:06:15 |
| 61 | » Kamm, Connor (USA) | Men | TN | M49 | 25-29 | 26 | 01:06:17 | 01:06:17 |
| 62 | » Zywicki, Benjamin (USA) | Men | CO | M96 | 25-29 | 26 | 01:06:19 | 01:06:19 |
| 63 | » Mueller, Samuel (USA) | Men | AL | M70 | 20-24 | 22 | 01:06:19 | 01:06:19 |
| 64 | » Leak, Gregory (USA) | Men | WA | M57 | 25-29 | 26 | 01:06:44 | 01:06:44 |
| 65 | » Foxenberg, Andrew (USA) | Men | NY | M34 | 30-34 | 30 | 01:06:46 | 01:06:46 |
| 66 | » O'Connor, Kieran (USA) | Men | VA | M72 | 25-29 | 27 | 01:06:52 | 01:06:52 |
| 67 | » Hensley, Matt (USA) | Men | CO | M45 | 25-29 | 27 | 01:06:54 | 01:06:54 |
| 68 | » Inman, Cheyne (USA) | Men | CA | M48 | 25-29 | 29 | 01:06:57 | 01:06:57 |
| 69 | » Holt, Jason (USA) | Men | UT | M47 | 25-29 | 28 | 01:07:05 | 01:07:05 |
| 70 | » Kelly, James (USA) | Men | NY | M52 | 30-34 | 31 | 01:07:15 | 01:07:15 |
| 71 | » Flynn, Brian (USA) | Men | VA | M32 | 30-34 | 31 | 01:07:22 | 01:07:22 |
| 72 | » Brown, Sean (USA) | Men | CO | M20 | 25-29 | 27 | 01:07:44 | 01:07:44 |
| 73 | » Gibson, Robert (USA) | Men | MA | M37 | 25-29 | 25 | 01:07:55 | 01:07:55 |
| 74 | » Richmond, Austin (USA) | Men | CO | M78 | 25-29 | 29 | 01:07:59 | 01:07:59 |
| 75 | » Legg, Hayden (USA) | Men | MO | M59 | 20-24 | 24 | 01:08:08 | 01:08:08 |
| 76 | » Saunders, David (USA) | Men | NY | M80 | 30-34 | 30 | 01:08:30 | 01:08:30 |
| 77 | » Fecht, Matthew (USA) | Men | MI | M30 | 30-34 | 31 | 01:08:46 | 01:08:46 |
| 79 | » Smith, Collin (USA) | Men | TX | M87 | 20-24 | 24 | 01:09:45 | 01:09:45 |
Women:
| | | | | | | | | |
| --- | --- | --- | --- | --- | --- | --- | --- | --- |
| Place Gender | Name | Gender | State | BIB | Division | Age | Finish Net | Finish Gun |
| 1 | » Conley, Kim (USA) | Women | CA | F11 | 25-29 | 28 | 01:09:44 | 01:09:44 |
| 2 | » Nelson, Brianne (USA) | Women | CO | F30 | 30-34 | 34 | 01:10:16 | 01:10:16 |
| 3 | » Bawcom, Janet (USA) | Women | AZ | F1 | 35-39 | 36 | 01:10:46 | 01:10:46 |
| 4 | » Hall, Sara (USA) | Women | AZ | F5 | 30-34 | 31 | 01:10:50 | 01:10:50 |
| 5 | » Bersagel, Annie (USA) | Women | | F2 | 30-34 | 31 | 01:10:58 | 01:10:58 |
| 6 | » Bottorff, Juliet (USA) | Women | MA | F13 | 20-24 | 23 | 01:11:30 | 01:11:30 |
| 7 | » Suver, Mattie (USA) | Women | CO | F7 | 25-29 | 27 | 01:11:51 | 01:11:51 |
| 8 | » Matthews, Katie (USA) | Women | MA | F12 | 20-24 | 24 | 01:11:57 | 01:11:57 |
| 9 | » Jimison, Lauren (USA) | Women | CA | F26 | 20-24 | 24 | 01:12:01 | 01:12:01 |
| 10 | » Williams, Alisha (USA) | Women | CO | F6 | 30-34 | 32 | 01:12:12 | 01:12:12 |
| 11 | » Wade, Becky (USA) | Women | TN | F10 | 25-29 | 25 | 01:12:18 | 01:12:18 |
| 12 | » Kleppin, Lauren (USA) | Women | CA | F3 | 25-29 | 26 | 01:12:31 | 01:12:31 |
| 13 | » Crouch, Sarah (USA) | Women | NC | F9 | 25-29 | 25 | 01:12:51 | 01:12:51 |
| 14 | » Foster, Kara (USA) | Women | PA | F23 | 20-24 | 24 | 01:13:06 | 01:13:06 |
| 15 | » Cappello, Heather (USA) | Women | MA | F31 | 30-34 | 34 | 01:13:07 | 01:13:07 |
| 16 | » Pagano, Sarah (USA) | Women | MA | F32 | 20-24 | 23 | 01:13:08 | 01:13:08 |
| 17 | » Santucci, Clara (USA) | Women | PA | F8 | 25-29 | 27 | 01:13:09 | 01:13:09 |
| 18 | » Dicamillo, Katie (USA) | Women | RI | F22 | 25-29 | 28 | 01:13:09 | 01:13:09 |
| 19 | » Morgan, Allison (USA) | Women | KY | F20 | 30-34 | 32 | 01:13:10 | 01:13:10 |
| 20 | » Cummings, Sarah (USA) | Women | NY | F27 | 25-29 | 26 | 01:13:11 | 01:13:11 |
| 21 | » Sullivan, Susanna (USA) | Women | VA | F28 | 20-24 | 24 | 01:13:13 | 01:13:13 |
| 22 | » Robertson, Jodie (USA) | Women | NY | F25 | 30-34 | 30 | 01:13:38 | 01:13:38 |
| 23 | » Bergman, Jennifer (USA) | Women | MD | F43 | 20-24 | 23 | 01:14:03 | 01:14:03 |
| 24 | » Scherf, Lindsey (USA) | Women | NC | F4 | 25-29 | 28 | 01:14:07 | 01:14:07 |
| 25 | » Peyton, Meghan (USA) | Women | MN | F18 | 25-29 | 29 | 01:14:28 | 01:14:28 |
| 26 | » Pease, Sarah (USA) | Women | TX | F46 | 25-29 | 27 | 01:14:36 | 01:14:36 |
| 27 | » Swisher, Kristin (USA) | Women | TX | F51 | 30-34 | 31 | 01:14:57 | 01:14:57 |
| 28 | » Maxson, Allison (USA) | Women | CA | F44 | 25-29 | 28 | 01:15:00 | 01:15:00 |
| 29 | » Mcclellan, Samantha (USA) | Women | TX | F34 | 25-29 | 26 | 01:15:34 | 01:15:34 |
| 30 | » Papenberg, Kate (USA) | Women | TX | F47 | 25-29 | 28 | 01:15:42 | 01:15:42 |
| 31 | » Camy, Liz (USA) | Women | CA | F41 | 30-34 | 31 | 01:15:56 | 01:15:56 |
| 32 | » Williamson, Kelly (USA) | Women | TX | F50 | 35-39 | 37 | 01:16:10 | 01:16:10 |
| 33 | » Mickle, Olivia (USA) | Women | OR | F53 | 20-24 | 23 | 01:16:19 | 01:16:19 |
| 34 | » Roa, Karen (USA) | Women | MA | F29 | 20-24 | 24 | 01:17:04 | 01:17:04 |
| 35 | » Mollenkopf, Ingrid (USA) | Women | TX | F15 | 25-29 | 25 | 01:17:30 | 01:17:30 |
| 36 | » Duke, Andrea (USA) | Women | TX | F24 | 35-39 | 35 | 01:17:37 | 01:17:37 |
| 37 | » Northern, Elizabeth (USA) | Women | TX | F40 | 25-29 | 27 | 01:17:45 | 01:17:45 |
| 38 | » Smith, Lauren (USA) | Women | TX | F49 | 20-24 | 23 | 01:18:22 | 01:18:22 |
| 39 | » Gioscia-Ryan, Rachel (USA) | Women | CO | F33 | 25-29 | 28 | 01:18:43 | 01:18:43 |
| 40 | » Zeiger, Joanna (USA) | Women | CO | F19 | 40-44 | 44 | 01:19:19 | 01:19:19 |
| 41 | » Edwards, Katie (USA) | Women | CT | F39 | 30-34 | 32 | 01:21:26 | 01:21:26 |