2012 Olympian Shalaya Kipp Upset as Michigan State's Leah O'Connor Arrives
by LetsRun.com
June 13, 2014
EUGENE, Ore. — Upset City.
2012 Olympian and NCAA champ, 2013 World championship team member, and 2014 NCAA leader Shalaya Kipp of Colorado came into the finals of the women's steeplechase at the NCAA  Outdoor Track and Field Championship as a heavy favorite in most pundits' minds. But after the semifinals on Wednesday, Kipp said "it's definitely going to be really hard" and she "hoped to be up in" the race which she thought would come "down to the wire."
Article continues below player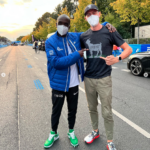 Kipchoge loves the 1:59:40 Shirt Get Yours Today
What a legend!
Kipp's words proved to be prophetic, except for the race coming down to the wire, as the surprise winner was Michigan State junior Leah O'Connor, who blasted the final lap-and-a-half to win going away in a new personal beset of 9:36.43 (previous pb of 9:44.35), with her last lap being a 69.10.
The runner-up in this race was even more surprising as it ended up being Marisa Howard of Boise State in 9:43.82. Howard, who had just a 10:00.79 coming into NCAAs (9:58.45 in prelims), used a 71.07 final lap to go from fifth to second.
Baylor's Rachel Johnson, who took the lead with roughly 900 to go and held it until O'Connor made her move with 600 to go, ended up a much-deserved third in a new pb of 9:44.47 (previous pb of 9:49.31) as Cornell's Rachel Sorna was fourth for the second year in a row in 9:46.96.
Kipp, who was in second at the bell, had very little over the final lap (79.84) and ended up a disappointing fifth in 9:48.90.
The Race
After an opening 300+ of 42 seconds, the first full lap was run in 76.57 with Johnson in the lead. The next five laps would be 78s and each lap the lead would alternate between O'Connor and Johnson. With two laps to go, the race for the title was down to O'Connor, Johnson and Kipp before O'Connor made her big move with 1.5 laps remaining.
Results and quick takes with post-race interviews appear below.
Discuss this race in our messageboard: Upset City: Leah O'Connor Crushes Kipp – 9:36.43 FTW !!! –
Results *Lap by Lap Splits Here
Place    Name        Affiliation    Time
1    Leah O'Connor    JR    Michigan State    09:36.43
2    Marisa Howard    JR    Boise State    09:43.82
3    Rachel Johnson    JR    Baylor    09:44.47
4    Rachel Sorna    SR    Cornell    09:46.96
5    Shalaya Kipp    SR    Colorado    09:48.90
6    Grace HeymsfieldSR    Arkansas    09:49.01
7    Jessica Kamilos    SO    Arkansas    09:49.25
8    Alexa Aragon    SR    Notre Dame    09:54.27
9    Maya Rehberg    FR    Iona    09:55.73
10    Liberty Miller    JR    Washington    10:03.34
11    Sarah MartinelliSR    West Virginia    10:12.73
12    Tova Magnusson    FR    SMU    10:33.59
Quick Thought #1: O'Connor is a very deserving champion.
In our preview, we tried to tell everyone that Kipp shouldn't be handed the title in this one as we thought O'Connor and Sorna couldn't be discounted.
O'Connor certainly proved she was worthy of some pre-race hype today as she was way better than everyone over the final 1.5 laps. O'Connor said she'd planned and trained to go with 600 left and that's exactly what she did.
With her 9:36.43 new pb, she's basically now has the same pb as Kipp (9:35.73) except the difference is Kipp's pb dates from the 2012 US Olympic Trials. The fastest Kipp has ever run in NCAA competition is 9:39.12.
https://www.youtube.com/watch?v=ne-emFrDeiU
Quick Thought #2: Kipp was devastated after the race and said she just didn't have it today.
When the big move was made, she said she simply couldn't respond and said some days you have it and some days you don't. Moving forward, she's going to stay with coach Mark Wetmore and continue to train in Boulder post-collegiately.
Quick Thought #3: This was a massive breakthrough for Boise State's Howard, who was motivated by teammate Emma Bates' win in the 10,000 final the night before.
Howard's time if 9:43.82 was a 15-second PB. Howard said she was confident that she could run well because she trains with Bates every day, adding that "if she can win it, why can't I?" Howard also knew that she had a strong kick and knew she could close well if it came down to it.
Quick Thought #4: Johnson was happy she made a move for glory with 900 meters remaining and gave herself a chance to win, and admitted she was surprised that when she got passed with 1.5 remaining that it was O'Connor and not Kipp that was passing her.
Quick Thought #5: Rachel Sorna is retiring (at least temporarily).
The Cornell senior said, "I think I'm done," after this one when we asked her what her plans are moving forward. She's getting a master's degree in the fall at Cornell and says she is going to enjoy a semester of just being a normal college student who doesn't have to worry about running all the time as she "needs a break."
If she gets back into it, maybe with an eye on the 2016 Trials, she's going to do it while balancing a career, not as a full-time runner.
Last year, when Sorna was fourth at NCAAs she was in tears in the mixed zone. This year, she was very upbeat about finishing fourth. She said the difference was last year she didn't get with the main pack and contend for the win. Today, she was in the race throughout:
More: MB: Upset City: Leah O'Connor Crushes Kipp – 9:36.43 FTW !!! –