1:45 man Edward Kemboi Fails to Advance in 800; Favorites in Women's 800, Steeple All Advance
By LetsRun.com
June 11, 2014
EUGENE, Ore. — Most of the favorites advanced in the preliminary rounds of the men's and women's 800 and the women's 3,000 steeplechase on Wednesday on Day 1 of the 2014 NCAA Outdoor Track and Field Championships.
On the men's side in the 800, indoor runner-up Edward Kemboi of Iowa State, who entered with the #3 time in the NCAA, was only third in his heat and didn't advance as heat 1 was easily the slowest of the three, and Kemboi's time of 1:49.68 was not fast enough to get in on time.
Article continues below player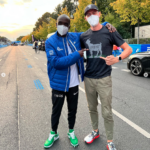 Kipchoge loves the 1:59:40 Shirt Get Yours Today
What a legend!
The men's and women's favorites in the 800 both looked great today. Indoor champ Brandon McBride of Mississippi State went wire to wire in his heat and posted the fastest time of the day at 1:48.09.
On the women's side, hometown favorite Laura Roesler of Oregon won her heat with the fastest time of the day (2:02.60) as well. Georgia's Megan Malasarte ran a great race to win heat 3 by almost two seconds. Roesler's teammate Annie Leblanc, who the Ducks were counting on for points in the team race, was third in heat 3 and missed out on the final by .03 seconds.
In the women's steeple, pre-meet favorites Shalaya Kipp of Colorado (two-time Team USA member in steeple), Rachel Sorna of Cornell (Ivy champ) and Leah O'Connor of Michigan State (Big 10 1500/steeple champ) all qualified easily. Sorna and O'Connor both won their heats, while Kipp relaxed over the final lap to take second behind Sorna. We quickly recap each heat below, accompanied with plenty of interviews.
800 meters
Men's Heat 1
Alabama's Alex Amankwah took the field through a slow first lap of 54.29. SEC 1500 champ Keffri Neal of Kentucky sat behind Amankwah in second, with Florida freshman Andres Arroyo in third. The places stayed the same til 600, when Kemboi started to move toward the front. Neal soon took the lead and would not be passed the rest of the way. As Arroyo was fading, his teammate Ryan Schnulle was moving up and battled Kemboi in the home stretch for the second auto spot. Schnulle edged out Kemboi by .20 seconds to make the final.
Neal, who in addition to winning the SEC 1500 also ran a great 2:53 1200 leg in the DMR at the Penn Relays (outkicking defending NCAA 1500 champ Mac Fleet to hand off in first), could have run the 1500 in the East prelims but elected to do the 800. He said that he hasn't been in a fast 1500 yet this season and felt more comfortable with the 800, an event where he has a bit more experience.
Schnulle, who was third at NCAA indoors, spoke along side teammate Sean Obinwa (who was fourth in heat 2).
We also talked to a couple of fast freshmen, Florida's Arroyo and Monmouth's Dylan Capwell, both of whom have run 1:47. Arroyo was happy with his season and says that he plans on running World Juniors, most likely for Puerto Rico (he went to high school in the U.S.).
Capwell, who won the New Jersey state meet in the 400 and placed third in the 800 last year, credited his coach for helping him train seriously for the 800, leading to his rapid improvement.
Kemboi didn't question his tactics after the race and said he simply didn't have it today.
Men's Heat 2
Florida's Sean Obinwa and Texas A&M's Hector Hernandez led this one early and traded the lead through the first 3/4ths of the race, passing halfway in 52.84. Obinwa led at 600, but the field was getting ready to move on the final turn. Long Beach State's Chris Low ended up pulling out the win in 1:48.34, while Washington's Derrick Daigre held off a hard-charging Boru Guyota of Oregon for third. That would prove to be crucial, as Guyota ended up the first man out of the final, denying Oregon a crucial point (possibly more) in its chase for the team title.
We interviewed Obinwa with Schnulle (interview is above). Guyota was fairly upbeat after his performance, saying he gave it all but that wasn't enough.
Men's Heat 3
Knowing that they needed to run 1:48.87 or faster to get the final two-time qualifiers, heat 3 went faster than the first two. McBride took the lead and came through 200 in 25 mid. Behind him were 1:45 man (NCAA #2) Eliud Rutto of Middle Tennessee State and Patrick Rono of Arkansas. They hit 400 with McBride still in front in 51.83. The places remained the same at 600, and McBride and Rono would hold on to take the two auto spots. Luke Lefebure of Stanford closed well to get third, with Rutto holding on for fourth. Both Lefebure and Rutto would advance on time.
Parick Rono was happy to make his first NCAA outdoor final but said he won't be happy with anything but the win in the final.
Rutto, who was the last time qualifier, said that he had suffered with a stomach bug last week and that it hurt his training leading up to NCAAs.
Women's Heat 1
All eyes were on Roesler, the indoor champ and NCAA leader by over two seconds, in heat 1. SEC champ Yanique Malcolm of Alabama led at the bell at 58.28, while Roesler was seven-tenths of a second back in third. Roesler closed the gap over the next 200 and hit the lead with 200 to go, closely followed by Stanford's Claudia Saunders. Roesler and Saunders would gap the field and finish together with the two fastest times on the day. Behind them, Kansas State's Sonia Gaskin would take third in 2:04.37 and make it on time, while Dartmouth's Megan Krumpoch battled a badly-fading Malcolm for fourth. Krumpoch was speeding up but had no room to pass Malcolm, who was blocking her path in lane one. Krumpoch ended up running into Malcolm from behind, then passing a staggering Malcolm on the outside just before the line, eventually becoming the final time qualifier at 2:04.96. The results took awhile to go official as they were initially under protest, which we assume was lodged against Krumpoch (though in the end no one was DQ'ed).
Laura Roesler said she felt a lot of pressure after the Oregon women dropped the stick in the 4 x 100 to open up the meet:
Post-race interview with Claudia Saunders:
Post-race interview with Krumpoch, who was second in the 400 hurdles at the Ivy League championships:
Women's Heat 2
Ce'aira Brown of Hampton took this one through slower than heat 1, passing 400 in 60.28 with Miami's Thandi Stewart close behind her. Brown still led as the runners passed 600 in 1:33, but you knew it was going to pick up over the final 200. Brown tried bravely to hold on the lead, but she was eventually passed by Iowa State's Ejiroghene Okoro and Stanford's Amy Weissenbach in the last 100. Those two would end up taking the two auto spots while Brown ended up as the last woman out of the final, an agonizing .05 seconds behind Krumpoch for the final spot.
Weissenbach said that the race was kind of tricky because of the slow pace but that she was happy to make final. She also said that she battled a minor injury at Pac-12s but that she's healthy now and ready to go.
Women's Heat 3
Georgia's Megan Malasarte led this one the entire way and looked strong doing it. She passed 400 in 59.45 with Harvard's Erika Veidis behind her and a gap to third. Malasarte continued to push and by the time she passed 600 in 1:31, she had gapped the field. Veidis began to fade in second, and as they entered the home stretch, it was a battle between Oregon's Leblanc and Dominican Alexis Panisse of Tennessee for the second auto spot. In the end it was Panisse who took second at the very end, sending Leblanc out.
Malasarte, who has the second-fastest PR in the 800 field, went out in the prelims indoors and said that she wanted to make up for that performance in her final race at outdoor NCAAs.
LeBlanc was obviously disappointed not to score points for Oregon:
Women's 3,000 steeplechase
Heat 1
Cornell's Rachel Sorna, who entered with the second-fastest PR in the field, immediately went to the front and established a 10-meter gap on her pursuers. Sorna would stay that way for much of the race, with 2012 NCAA champ Shalaya Kipp and Baylor's Big 12 champ Rachel Johnson eventually forming a gap over the rest of the field in second and third. Sorna's gap eventually reached about 20 meters, but over the final few laps Kipp and Johnson would begin to close it up. They never quite got her though, with Kipp easing up over the final lap only to kick it in over the last 100. She'd pass Johnson for second, with Boise State's Marisa Howard and Notre Dame's Alexa Aragon closing very hard after the final water jump to take the last two auto qualifiers.
Sorna's post-race interview certainly wasn't your normal ho-hum affair. She revealed that she ran the entire race wearing her father's contacts, and he has bi-focal contacts so the steeple barriers were blurry for her when she looked down, because she forgot to pack her own. Don't worry, her regular contacts will be her in time for the final.
2012 NCAA champ Shalaya Kipp, who many view as a huge favorite, said she believes the final is going to be a dog-fight. She also said that she saw the scoreboard entering the final lap that she was way up on 5th so she saw no need to push during the final 400, before deciding to "stride out" in the final 100.
Heat 2
Just as heat 1 belonged to the favorites, so did heat 2, with Michigan State's Big 10 1500/steeple champ Leah O'Connor (#3 NCAA) and Arkansas' SEC champ Grace Heymsfield separating from the rest of the field midway through the race. Those two would hold on for the top two spots, but the real battle came for the final three auto spots, with Iona's Maya Rehberg, West Virginia's Sarah Martinelli, Washington's Liberty Miller and SMU's Tova Magnusson duking it out. Rehberg moved strongly with a lap to go and closed well for third, with Martinelli and Miller following slightly behind. Magnusson couldn't quite keep up and faded to sixth but would end up advancing as the final time qualifier by just .01 seconds.
O'Connor said afterwards that she's been looking forward to NCAAs all year and has been mentally and physically hold back all year so she'd be in top form here. She is very much looking forward to the final and said "Friday is going to be fun" and didn't rule out a win as "you never know" what is going to happen in a steeplechase.
Heymsfield said she's a lot more confident than she was last year when she was just hoping to make the final, and believes she's capable of running in the 9:40s in the final.