Men's Mile: How Close Can Kiprop Get to the World Record? Kiplagat, Souleiman, Makhloufi and Centrowitz Highlight a Stellar Field
Two-time Defending World Champ Asbel Kiprop Takes on Olympic Champ Taoufik Makhloufi, World Indoor Champ Ayanleh Souleiman and World Silver Medalists Matthew Centrowitz and Silas Kiplagat
By LetsRun.com
May 29, 2014
The Bowerman Mile is always one of the highlights of the Pre Classic, and this year's edition is no exception. The field is headlined by two-time defending outdoor world champion Asbel Kiprop of Kenya, indoor world champion Ayanleh Souleiman of Djibouti and Olympic champion Taoufik Makhloufi of Algeria. Defending Bowerman mile champ/'11 world silver medalist Silas Kiplagat and two-time worlds medalist Matthew Centrowitz also figure to place highly in a stacked field.
Article continues below player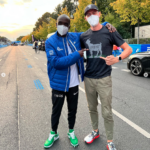 Kipchoge loves the 1:59:40 Shirt Get Yours Today
What a legend!
Kiprop and World Records
Kenya's Asbel Kiprop entered 2014 as the undisputed king of the 1500. He's won the last two World Championships at the distance and last summer ran 3:27.72 to become the fourth-fastest man in history. With no global championship this year, Kiprop has said he'd like to take a swing at Hicham El Guerrouj's world record of 3:26.00 at some point this summer.
We were wondering if that also meant he was looking at El Guerrouj's mile world record of 3:43.13, but when we talked to him at the World Relays last weekend, he seemed to view Saturday's Bowerman mile as more of a fitness test than a record attempt. Still, even if this is just a dry run for a 1500 world record attempt, we expect a very fast race given the competition and Kiprop's form in 2014.
Kiprop has been his usual brilliant self so far this year, winning the Kenyan World Relays trials, running a world-leading 3:29.18 to win in Doha on May 9 and splitting a solo 3:32.3 anchor to help Kenya set the 4×1500 world record at the World Relays on Sunday. He's definitely the favorite, but the question is just how low can he go?
Kiprop's PB is 3:48.50 from this meet in 2009 and he was able to run that in part because countryman Haron Keitany ran 3:48.75, pushing Kiprop all the way to the line. Kiplagat, Souleiman and Makhloufi all helped push Kiprop to a 3:29.18 in Doha on May 9 and they're all in the field here. We don't see why he wouldn't set a PB here if the rabbit is competent.
3:43.13 is probably out of picture, so the barriers Kiprop should have his eyes on are sub-3:47 and sub-3:46. Only eight men have broken 3:47; only three have broken 3:46. Kiprop became the fourth man to break 3:28 in the 1500 last summer. Can he become the fourth man under 3:46 on Saturday? His 1500 from Doha equates to 3:46.02 in the mile.
The Rest of the Field
It's hard to pick anyone but 3-time Bowerman Mile champ Kiprop for the win, but we would have said the same thing last year before Silas Kiplagat upset him. In 2013, Kiprop was coming off Diamond League wins in Doha and Shanghai and looked well on his way to victory at Pre. But Kiplagat ran a brilliant last 100 and snuck by Kiprop at the line to win by .05 seconds. Kiprop is the king of the 1500, but Kiplagat is almost as good on the Diamond League circuit. Since the start of 2011, Kiprop has won nine DL races to Kiplagat's eight.
Based on recent performances, Kiplagat is probably the best of the rest in this race. He split an impressive 3:32.5 last week at the World Relays leading the whole way, and before that he was second to Kiprop in Doha, running 3:29.70. But there's also world indoor champ Ayanleh Souleiman, who was third in Doha and won the Diamond League points race last season at 1500/mile thanks to wins in Paris, Oslo and Stockholm.
Resurgent Olympic champ Taoufik Makhloufi could also contend for the win. In 2013, Makhloufi's 11th-place finish at Pre was his only race of the year, causing suspicion among those who thought his dominant win at the Olympics was too good to be true. Makhloufi has quieted those critics in his return to the Diamond League this year. He ran a PB of 3:30.40 to take fourth in Doha and followed that up by almost winning the 800 in Shanghai. However, the Algerian began to celebrate too early and was consequently kicked down by Robert Biwott for the win.
Ethiopians Mekonnen Gebremedhin (top 7 at last three global championships) and Aman Wote also merit a mention, particularly Wote, who has steadily improved to become one of the best in the world at age 30. Take a look at Wote's 1500 progression over the past five years:
2010  3:38.89
2011  3:35.61
2012  3:35.38
2013  3:32.65
2014  3:30.86
By knocking a couple of seconds off his time every year, he's become a world-class 1500 runner and world indoor silver medalist. Rojo likes to say "If you keep improving, eventually you'll set the world record."  Can Wote get a little closer at Pre?
The Americans
2013 world silver medalist Matthew Centrowitz ran 3:51.79 here last year, but amazingly that was only good enough for 10th in a loaded field. Centrowitz is clearly better in tactical races, finishing 2nd, 4th and 3rd at the last three global championships, but with no final to peak for in 2014, he's probably focused on times in 2014 like everyone else.
Centrowitz has eased into 2014, sandwiching 1500 wins at the Oregon Relays (3:41.85 and Oxy (3:35.44) around a 13:20 5k PB at Payton Jordan. This is his first Diamond League race of the year and it will be interesting to see how he does against a top field. Sub-3:51 will get him top 10 on the all-time U.S. list. We think that's definitely doable but it might take a sub-3:49 to crack the top five in this one and no doubt the sub 3:50 barrier is something Centro covets (only 6 Americans have gone sub 3:50).
The other American in the field is Will Leer, who won the marquee indoor American mile at the Millrose Games in February. Leer is moving up from the International Mile (the "B" race) last year and should look to improve on his 3:52.47 PB he set at Millrose. Unlike Centrowitz, he didn't skip the 2014 World Relays last week. In that Bahamas, he ran a crucial 3:39.3 third leg and opened up a big gap on Ethiopia for the silver-medal winning U.S. 4×1500 team.
| | | | | | |
| --- | --- | --- | --- | --- | --- |
| Name | DATE OF BIRTH | COUNTRY | PB | 1500 SB | Comment |
| BIRGEN Bethwell | 06.08.1988 | KEN | 3:50.42 | 3:31.22 | 9th at world indoors; failed to make final at Moscow WC; 7th at Doha DL |
| CENTROWITZ Matthew | 18.10.1989 | USA | 3:51.34 | 3:35.44 | 2-time WC medalist (incl. silver in '13) coming off 13:20 5k PB at Stanford and 1500 win at Oxy |
| CHEBOI Collins | 25.09.1987 | KEN | 3:51.44 | 3:32.30 | Split 3:38 leadoff leg for Kenyan WR 4×1500 at World Relays; 9th at Doha DL |
| CRONJE Johan | 13.04.1982 | RSA | 3:54.84 | 3:33.31 | Surprise WC bronze medalist was just 10th at Doha DL |
| GEBREMEDHIN Mekonnen | 11.10.1988 | ETH | 3:49.70 | 3:37.42 | 7th, 6th and 7th at last three global outdoor champs; split 3:39.9 at World Relays |
| INGEBRIGTSEN Henrik | 24.02.1991 | NOR | 3:54.28 | 3:38.53 | 12 Euro champ was 5th at '12 OG, 8th at '13 WC. Ran SB at Payton Jordan. |
| KIPLAGAT Silas | 20.08.1989 | KEN | 3:49.39 | 3:29.70 | 11 World silver medalist and defending Bowerman Mile champ in great form: 3:29 in Doha and 3:32 split from the front at World Relays |
| KIPROP Asbel | 30.06.1989 | KEN | 3:48.50 | 3:29.18 | 2-time defending world champ; '08 OG champ; 3:29 in Doha, 3:32 split at World Relays; 3-time Bowerman Mile champ |
| LEER Will | 15.04.1985 | USA | 3:56.39 | 3:52.47 (mile) | Millrose mile champ indoors; made final at world indoors, 3:39 split at World Relays |
| MAGUT James Kiplagat | 20.07.1990 | KEN | 3:50.68 | 3:53.73 (mile) | Split 3:38 as part of Kenyan gold medal 4×1500; 5th at Doha DL |
| MAKHLOUFI Taoufik | 29.04.1988 | ALG | 3:52.94 | 3:30.40 | Olympic champ was 4th at Doha DL; cost himself Shanghai DL 800 win by celebrating too early |
| SOULEIMAN Ayanleh | 03.12.1992 | DJI | 3:50.07 | 3:30.16 | World indoor champ was 3rd at Doha DL |
| WOTE Aman | 18.04.1984 | ETH | 3:49.88 | 3:53.39 (mile) | World indoor silver; won Drake mile; almost ran down Manzano and U.S. for silver at World Relays 4×1500 |
B "International" Mile- US Stars and High Schooler Blake Haney
There also is a "B" mile that has some pretty big names including three of the four member USA team from World Relays: Olympic silver medallist Leo Manzano, Patick Casey who put the USA in the lead at World Relays, and David Torrence who WOWed us.
High schooler Blake Haney who is going to Oregon next year and ran 3:44.68 (4:01 mile equivalent) at the World Youth Championships last year is trying to break 4.
INTERNATIONAL MILE – ADDITIONAL EVENT
Andrew BAYER USA
Blake HANEY USA
Evan JAGER USA
Ryan GREGSON AUS
Patrick CASEY USA
Lopez LOMONG USA
Ciaran O'LIONAIRD IRE
Charlie GRICE GBR
Garrett HEATH USA
Jordan MCNAMARA USA
Daniel Kipchirchir KOMEN KEN
Leonel MANZANO USA
Fouad EL KAAM MAR
David TORRENCE USA
Abdelaate IGUIDER MAR
Matt MINER USA
Paul ROBINSON IRE