David Rudisha Talks About His Return At Prefontaine Classic
By LetsRun.com
May 30, 2014 
Eugene, Oregon – World record holder and 2012 Olympic champion David Rudisha is set to make his return to the track in a loaded 800 meters at Saturday's Prefontaine Classic. Rudisha hasn't raced since he won the adidas Grand Prix in New York on May 25, 2013. Since then, he's battled a chronic right knee injury and, more recently, calf pain, which forced him to scratch from the Doha Diamond League meet on May 9.
It's hard to know exactly what to expect from Rudisha after a year away from competition, but when he spoke at Friday afternoon's press conference, the 25-year-old Kenyan seemed cautiously optimistic about his chances for victory over a field that includes defending world indoor/outdoor champion Mo Aman, Olympic silver medalist Nijel Amos and 2014 world leader Duane Solomon.
Article continues below player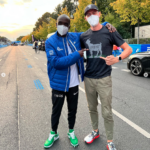 Kipchoge loves the 1:59:40 Shirt Get Yours Today
What a legend!
Rudisha — who is extremely soft-spoken — said that he began running again in March with some longer runs but has gradually introduced quality (400s, 200s, 100s) into his training to better simulate a race effort. He said that he ran 1:15 for 600 meters in practice recently and that he's been running track workouts twice a week since the middle of April.
"After [the 600], I told my coach 'I'm ready' because that's my 800 pace," Rudisha said. 1:15 for 600 equates to 1:40 pace for an 800. Rudisha's PB is 1:40.91.
We asked Rudisha how his current fitness level compared to his level when he got hurt after New York a year ago.
"I can't really speculate where I am exactly because I've been out for a year and not competing," Rudisha said. "[Saturday] is when I'll know exactly where I am and I'll adjust from there."
One thing Rudisha was clear on was that he'll still employ his front-running tactics.
"The last three years I've been a front-runner. I've been doing quite well running from the front. That's my tactic and I don't think I'm going to change that," Rudisha said, breaking into a smile.
A fan of the sport
Rudisha said that it was really difficult to him to sit out last year and he was frustrated because he wasn't able to work out. But he also said he followed the sport closely in his absence.
"I love sports," Rudisha said. "In fact, I went to Moscow and watched the 1500. It was really cool and I really enjoyed it."
No shot at World Relays
We wanted to know if last week's World Relays — where Kenya narrowly won gold in the men's 4×800 — crossed Rudisha's mind at all, but he said that it didn't quite fit into his schedule.
"They selected the team early (the Kenyan trials were on April 26) and I don't think I was ready. It gave me time to prepare because I started a little bit late this year."
Rudisha added that it was "unfortunate" that he missed out and that he would have liked to have been there to run for his country.
Look for a peak at the Commonwealth Games
With no global championships to target this season, Rudisha said that his focus is on the Commonwealth Games, which begin on July 27 in Glasgow.
Rudisha's Agent James Templeton Thinks Rudisha Might Be Able To Run 14:15 for 5k
We also spoke today with Rudisha's agent James Templeton. While Templeton admitted it was possible that Rudisha could lose tomorrow, Templeton is confident that Rudisha is fit and would compete well. He said they wouldn't have put Rudisha in this type of meet if there was a chance he could run 1:46 and finish 8th.
As for why this big of a meet, Templeton said you've got to get back into it eventually.
Templeton said reports that Rudisha had only done one track session this year were inaccurate, but did reveal the Rudisha rarely does track sessions. He says that Rudisha does a "hell of a lot of good running off the track" – fartleks on the roads, and workouts on a beloved 300 meter long hill in Kenya.
Amazingly, Templeton said that in the five weeks between the Kenyan Trials and the 2012 Olympics, Rudisha did a grand total of one hard track session before setting the world record in London. He said he knows that's hard for people to fathom but it's true.
Templeton said Rudisha knows he's in shape when he does well on a 6k loop he often runs as a fartlek near his home.
Templeton said the difference between Rudisha now and the up-and-coming Rudisha of, say, 2006 when he won world juniors is increased endurance. He said Rudisha has always had good natural speed and could run 21 seconds for 200 now and in 2006 but the difference is that in 2006 he might only run a 5k in 16:30 whereas now Templeton thinks he could run one in the 14:15-30 range.
As for winning as a front-runner, Templeton said Rudisha doesn't necessarily have to take it out really fast to win. In 2010, when Rudisha ran his first two world records, the race that Templeton was most impressed with that year was a 1:42.85 win at the African championships. In that race, Rudisha went through 400 in just 51.8 and the whole field was thinking, "We've got him without any rabbits. He's going down."
Templeton said Rudisha was just jogging and then threw it down with 270 to go. Rudisha ran his last 200 in a ridiculous 24 flat according to Templeton and won in 1:42.85 — 2 full seconds ahead of silver. He said Bernard Lagat watched the race on the Internet and called him up and couldn't believe what he'd just watched.
Watch the full interview with Rudisha below (you may want to turn it up as Rudisha speaks very quietly).