A Dream 800 At Pre: Rudisha Returns Versus Aman, Amos, And The American Record Attempt Of Duane Solomon
Olympic Champ and World Record Holder David Rudisha Faces World Indoor/Outdoor Champ Mo Aman, Olympic Silver Medalist Nijel Amos and American-record Chasing Duane Solomon in Rudisha's First Race for Over a Year
By LetsRun.com
May 29, 2014
What a tremendous 800m race this is at the 2014 Prefontaine Classic.
Article continues below player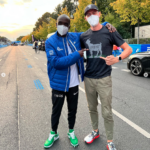 Kipchoge loves the 1:59:40 Shirt Get Yours Today
What a legend!
David Rudisha, the world record holder, the man who has only lost twice in four years, returns to action for the first time in a year, and he'll more than have his hands full with a field worthy of an Olympic final.
Leading the field is 20-year-old Ethiopian Mo Aman, the only man to beat Rudisha in the last four years and the man who has assumed Rudisha's title as world's greatest 800 runner, winning his last 13 attempts at the distance including the indoor and outdoor World Championships.  Then there is Olympic silver medalist Nijel Amos of Botswana who nearly ended Aman's winning streak earlier this year, two-time world indoor champ Abubaker Kaki of Sudan, coming back from a long lay-off himself, and 2014 world leader American Duane Solomon who is targeting his coach's (Johnny Gray) American record of  1:42.60. Throw in Poles Adam Kszczot and Marcin Lewandowski, fresh off a silver medal performance in the 4×800 at the World Relays, and it is the best 800m field since the 2012 Olympics.
Rudisha's Return
This time last year, Rudisha was the best 800 runner in the world and building a strong case for the greatest of all time at the distance. He won his first world title in 2011 and had broken the world record three times, most recently running 1:40.91 in the epic 2012 Olympic final to win the greatest 800 race in history. He won the first two 800s on the Diamond League circuit in 2013 and was set to go for his third in a row at Pre. Then came the year from hell.
Rudisha withdrew from Pre and was eventually forced to miss the Moscow World Championships with a right knee injury. Rudisha had surgery on the knee in Germany in October, but still felt pain after the procedure and spent much of January and February in Germany getting treatment. He told the IAAF that, "Only since … early March was I able to start with some form of training: first only 10 or 20 minutes very easy, then 30 and later also some fartleks and speed work."
Rudisha was supposed to return at the Doha Diamond League race on May 9. But after running his first track session since the injury the week before Doha, Rudisha felt pain in his left calf and decided to postpone his debut until Pre.
The big question is what kind of shape is Rudisha in?  Rudisha was set to run Doha after just one track session, and we wonder how fast he would have been since he had basically zero training from June 2013-February 2014. Even for someone as supremely talented as Rudisha, it's a lot to ask to jump right into a Diamond League race after that long of a layoff.
Rudisha says that he's been in the gym and on the exercise bike up to 2-3 hours a day and that his recent training has been going well. He also said that, "I'm aware that everybody expects me to continue where I had left – and that's why I cannot afford to be in a race when I am not ready." Clearly, Rudisha believes that he's ready to resume racing at a high level.
Rudisha vs. Aman
Even if Rudisha is close to top form, winning versus this field will be very difficult as he faces world indoor/outdoor champ Mo Aman, the only man to beat Rudisha at 800 in the last four years. Aman won this race in Rudisha's absence last year and has won 13 straight 800s (though that's only halfway to Rudisha's best of 26 straight from 2009-2011). Aman ran the #1 time in the world last year in 1:42.37 and is coming off a 1:44.49 win in Doha two weeks ago over Nijel Amso.
Don't count out Nijel Amos
Amos, who like Aman is still only 20 years old, won the World University Games last July but didn't race again afterwards, missing the World Championships with a quad injury. He's a huge talent though, perhaps bigger than Rudisha, as he ran 1:41.73 to take Olympic silver in 2012 at age 18, tied for the third-fastest time in history. Rudisha "only" ran 1:44 when he was 18. Amos showed that talent and his return to form by running 1:44.54 to come within .05 seconds of ending Aman's then 12 race win streak in a thrilling race in Doha two weeks ago.
If you didn't see the great Aman-Amos battle in Doha, watch it below. We've got it queued up to show the final 120m.
Another big return
Another stud besides Amos is making his return to action in the Pre 800. A runner with two global 800 titles. A runner with seven career Diamond League victories, including two at the Pre Classic.
We're not talking about David Rudisha.
The man we're talking about is two-time world indoor champ Abubaker Kaki of Sudan, who hasn't raced since February 2013. Normally Kaki's return would be getting more press, but his return isrightfully overshadowed by the return of Rudisha.  Kaki, the 2011 world silver medalist outdoors, only had two sub-par indoor races before injuries derailed him in 2013. Kaki was running well in his last year on the circuit in 2012, defeating Aman in this meet before running 1:43.32 to take seventh at the Olympics. It'll be interesting to see what sort of form there is.
The American record
Then there is 2014 world leader Duane Solomon going after Johnny Gray's 1:42.60 American record that will turn 30 next year. Solomon is in great form, having won every individual 800 he's raced in 2014, including the world-leading 1:43.88 at the Mt. SAC Relays in April.  Solomon split a 1:45.2 at the World Relays 4×800 as part of a U.S. team that took bronze. Poland's Adam Kszczot — who will also race at Pre — overtook Duane in the final straight, but Solomon may have been able to beat Kszczot if he had focused on securing silver rather than going for the win.
After Mt. SAC, Gray, who also happens to be Solomon's coach, told the Orange County Register, "He's there. He just has to believe in himself. He can break the American record. He's there right now."
Solomon told LRC at the World Relays that the American record is on the line this weekend and his twitter feed this week is all about trying to break his coach's record:
The week i have been waiting for is here. Going to achieve what no american has been able to in 29 years in hopes of an AR in the 800 #Pre

— Duane Solomon (@DuaneBang800) May 28, 2014
Sub 1:42.60 is Very Hard
The problem for Duane is there is a reason Johnny Gray's 1:42.60 record has stood so long, it's incredibly hard to run that fast.
Going back ten years, only five guys have broken 1:42.60. The good thing for Duane is four of them (Rudisha, Amos, Kaki, and Aman) are in this race.
If you want to go sub 1:42.60 it helps to have David Rudisha in the race. Rudisha is almost super human and has gone sub 1:42.60 twelve times. Aman has gone sub 1:42.60 twice in his life, once when he beat Rudisha in 2012, and once when he beat Nick Symmonds last year. When Aman went 1:42.37 to beat Nick Symmonds in Brussels last year, it was the only race in the last ten years where someone went sub 1:42.60 without David Rudisha in the race.  Amos and Kaki have gone sub 1:42.60 one time each (both in finishing 2nd to Rudisha).
David Rudisha is in the race, but can we really expect the David Rudisha of old in his first race back?
As the stats above show, nearly everything has to go right if you are not David Rudisha if you want to run sub 1:42.60. Will everything go right on Saturday for Solomon? Adam Kszczot, is a very good runner and he outkicked Duane last weekend at the World Relays, but afterwards Adam told LRC he's been struggling with his altitude training in Flagstaff and gave every indication he's not ready to run fast. If Adam is not near 1:42.60 shape can Duane be?
Duane did run 1:43.88, the fastest time ever in April at Mt. Sac, but 1:42.60 is a completely different level. Duane has clearly been targeting this race all season and no doubt is trying to be sharp for it. With that comes extra pressure.
Nick Symmonds is Out
The only thing that could have made this race better is the presence of 2013 WC silver medalist Nick Symmonds, who's currently #3 on the American all-time list at 1:42.95. Watching him battle Solomon for the American record and/or win against Aman, Amos and Rudisha would have been great theater. Symmonds withdrew last week with a knee injury, so American fans will have to settle for a one-man assault on the American record.
Prediction: This is must watch TV. Grab a friend, a loved one, and make sure they watch this race. Johnny Gray's American record….. stays.
| | | | | | |
| --- | --- | --- | --- | --- | --- |
| Name | DATE OF BIRTH | COUNTRY | PB | SB | Comment |
| AMAN Mohammed | 10.01.1994 | ETH | 1:42.37 | 1:44.49 | Defending indoor/outdoor world champ has won 13 straight 800s including Doha DL. Still only 20 years old. |
| AMOS Nijel | 15.03.1994 | BOT | 1:41.73 | 1:44.54 | OG silver medalist missed second half of '13 but was second at Doha DL behind Aman. Also only 20 years old. |
| BOSSE Pierre-Ambroise | 11.05.1992 | FRA | 1:43.76 | 1:50.21 | Euro U-23 champ was 7th in WC final last year |
| JOHNSON Brandon | 02.03.1985 | USA | 1:43.84 | 1:46.67 | Having rough year after great '13. Last in Doha DL; 7th in Shanghai DL; 1:48.1 split at World Relays. |
| KAKI Abubaker | 21.06.1989 | SUD | 1:42.23 | | 2-time world indoor champ has raced just twice since start of '13. How fit is he? |
| KSZCZOT Adam | 02.09.1989 | POL | 1:43.30 | 1:45.19 | World indoor silver medalist ran fantastic 1:45.3 anchor at World Relays to beat Solomon + U.S. for 4×800 silver |
| LEWANDOWSKI Marcin | 13.06.1987 | POL | 1:43.79 | 1:45.92 | 4th at last two world championships. Split 1:46.0 as part of the Polish team that took silver at World Relays. |
| OSAGIE Andrew | 19.02.1988 | GBR | 1:43.77 | 1:46.08 | Bronze medalist at world indoors, 5th at '13 WC. 8th at Doha DL. #4 all-time on British list. |
| RUDISHA David | 17.12.1988 | KEN | 1:40.91 | | 11 world/'12 OG champ/world record holder hasn't competed since May 2013 |
| SOLOMON Duane | 28.12.1984 | USA | 1:42.82 | 1:43.88 | 6th at worlds in '13 and 4-for-4 in 800s in '14. 1:45.2 split was fastest of any 4×800 runner at World Relays. '14 world leader. |
Editor's note: The PreClassic has been advertising on LetsRun.com this week. They had no say on this article and it is not part of any advertising package.