Jamaican Champs: Zharnel Hughes Breaks Yohan Blake's "Champs" 100m Record With 10.12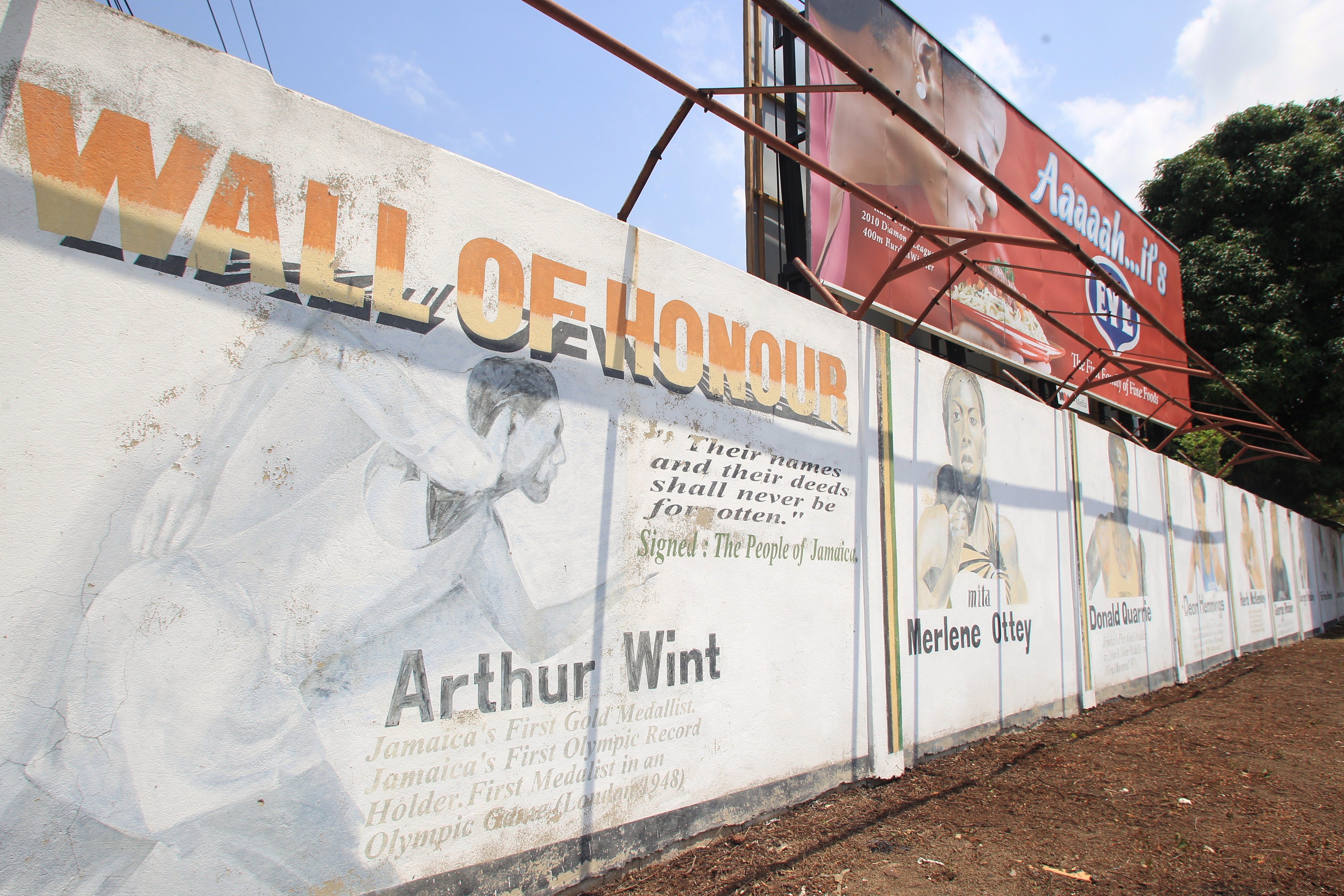 March 23, 2014 to March 30, 2014
by Steve Soprano
March 28, 2014
LRC note: Empolyee 1.1 Contractor 1.1, Steve Soprano, had never left the USA until this January. After travelling to World Indoors in Sopot, Poland two weeks ago, he had a one week stint at 2014 NCAA Indoors in Albuquerque, NM, and now he's off to Jamaica for the IAAF's Caribbean Day in the Life Project where he will spend the next 7-days in Jamaica meeting some of the world's top sprinters like Yohan Blake and Shelly-Anne Fraser-Pryce and giving you an inside glimpse at their daily routine and training regimen. Steve will try and write a day-by-day journal plus provide more in depth coverage once he returns.
The IAAF had a similar program a few years ago in Kenya where we spent 20 days in Kenya with the likes of Geoffrey Mutai, Moses Mosop, Wilson Kipsang, David Rudisha, Mary Keitany: LetsRun.com Goes To Kenya – IAAF Day in the Life Kenya.
Article continues below player
Kingston, Jamaica – A few days ago I wrote about Anguilla's Zharnel Hughes (LRC Meet Zharnel Hughes: The 18 yr old has a shot a taking down Yohan Blake's 10.21 and Usain Bolt's 20.25 'Champs' records), who some are hyping as the "next Usain Bolt". Today at Jamaica's ISSA Boys and Girls Championships, he took a step in that direction by winning the Class One 100m in 10.12 seconds while representing Kingston College, breaking Yohan Blake's 10.21 meet record from 2007.
The race was hyped as a showdown between Hughes and Calabar's Michael O'Hara who has ran 10.29 this year. The race was built-up even more because Kingston College and Calabar are rivals for the overall team title (Calabar is favored to win for the third straight year). However, O'Hara was DQd for a false start in the semis. This was far from a one man show, however, as Hughes had to fight for the win here.
The race didn't disappoint at all as Bog Walk's Jevaughn Minzie also went under Blake's previous record as he ran 10.16 to finish second right behind Hughes. In fact, Hughes didn't get the best start and was in second for most of the race, but got Minzie before the line. It was intense right up until the end. (Note: Minzie had a SB of 10.31 coming in so it was far from a surprise that he gave Hughes a fight).
The stadium absolutely erupted after Hughes' race and the video to the left shows the crowd's reaction after he won. I kept recording until they quieted down just to get the time … 2-minutes and 53-seconds of crazy loud cheering, especially right behind me where a large section of Kingston College fans were sitting.
It was insane how loud it was and just how many people were at this meet. I'm writing a separate article about the "Champs" as a whole, but still need to see the final day on Saturday which I've been told is the biggest. Today though was still extremely impressive and definitely the biggest track meet I've been to in my life (I've never been to the Olympics or World Outdoor Championships, but have been to multiple US Championships and World Indoors). It's a 35,000 capacity stadium and it had a large percentage full for a HIGH SCHOOL MEET!
Quick Take #1: In his post-race interview Hughes said, "It was an exciting race. I enjoyed it to the fullest. Maintaining my phases was most important. Execution, that's what I was focusing on. I was focusing on winning. I wasn't focusing on the record, but it came and I'm thankful. … It feels great man, it's just a blessing." This race was close and asked if he was nervous at the end that Minzie would beat him Hughes said, "No nervousness at all. I knew what I had to do. Just get to the finish line, get to the finish line. That was the main thing."
As part of the IAAF High Performance Center, Hughes trains at many of the same sessions as Yohan Blake and asked specifically about breaking his record Hughes said, "Blake was teasing me that I can't beat it so he motivated me actually to beat it. So I give him credit for that and I'm thankful I got it.
QT#2: In the 200 semi Hughes ran 20.32 not even going all out. Bolt's 20.25 MR is likely enjoying its last hours of existence. Asked about the record, Hughes said, "I don't know what time is possible. Anything is possible. We'll see."
UPDATE: Hughes has pulled out of the 200 final with an injury.
QT#3: The world junior record is 10.01 by Trinidad and Tobago's Darrel Brown and Japan's Yoshihide Kiryu. That record is definitely in danger of going down this year. World Juniors is in Eugene this year and you could see a final that includes athletes such as Hughes, Minzie, O'Hara and Baylor freshman Trayvon Bromell who ran 10.02 at the Texas Relays today to set a meet and school record. A sub-10 WJR isn't out of the question.
QT#4: Yohan Blake lost two records tonight. He also lost his 10.34 Class Two (ages 14-15) 100m record as St. Jago High's Raheem Chambers ran 10.29 to win that race, which would have put him 3rd in the Class One (ages 16-19) race behind Hughes and Minzie.
More: LRC Meet Zharnel Hughes: The 18 yr old has a shot a taking down Yohan Blake's 10.21 and Usain Bolt's 20.25 'Champs' records
MB: Zharnel Hughes runs 10.12 @ Jamaica HS Champs
*Full Meet Live Results
*LRC Meet Zharnel Hughes: Can The "Next Usain Bolt" Take Down Yohan Blake's 10.21 And Bolt's 20.26 "Champs" Records? Is 18-year-old Zharnel Hughes of Anguilla the heir apparent to Usain Bolt?
Results and Race Video:
Event 1  Boys 16-19 100 Meter Dash CLASS 1 BOYS
============================================================================    
 Sponsor: GRACE                                                                 
 Meet Record: R 10.21  2007        YOHAN BLAKE, ST. JAGO                        
    Name                    Year Team                    Finals  Wind Points    
============================================================================    
Finals                                                                          
  1 Zharnel Hughes            95 Kingston College         10.12R  1.3   9       
  2 Jevaughn Minzie           95 Bog Walk High            10.16R  1.3   7       
  3 Raheem Robinson           95 Wolmer's Hig             10.37   1.3   6       
  4 Martin Manley             97 St. Jago High            10.38   1.3   5       
  5 Waseem Williams           97 Jamaica College          10.40   1.3   4       
  6 Tyler Mason               95 Jamaica College          10.48   1.3   3       
  7 Javoy Tucker              97 Wolmer's Hig             10.64   1.3   2       
  8 Odane Bernard             96 Donald Quarrie High      10.75   1.3   1