Men's 1,500: Lopez Lomong Doubles Back From The 3,000 To Get The Win In A Stacked 1,500
Will Leer Makes His Second US World Indoor Team With A Late Charge In The Last 50m
by LetsRun.com
February 23, 2014
Albuquerque, NM – Track racing doesn't get much better than the  men's 1,500 at the 2014 US Indoor Championships. It was a thrilling race with a stacked field that came down to the very end. In the other three races of the day (the men's and women's 800 and women's 1,500) your winner was more or less decided with a lap to go. But in the men's 1,500 there where 8 guys still within a second of each other with 200m left and a handful still fighting it out on the last turn. The finish definitely had you standing up in your seat, but in the end it was Lopez Lomong who won with a perfectly executed race in 3:43.09 doubling back from a 4th place finish in the 3,000 last night. Your runner-up and second Team USA representative to Poland was defending champion Will Leer, who used a monster kick to move up in the last 100m and almost catch Lomong as he finished in 3:43.21.
Article continues below player
Like our coverage from Albuquerque?
The Race
*Note: As in the women's 1,500, due to scratches, what was supposed to be a two-section final was combined into one huge race with 15 runners.
The gun went off and in uncharacteristic fashion, it was Leo Manzano who went straight to the front and led the field through the early stages of the race, leading all the way until 1,000m. Behind him, Brooks Beast Garrett Heath ran on his shoulder in second as everyone else jockeyed for position among the huge field. The 31-32 second laps Manzano was running were doing little to string out the pack. They went through 800 in 2:04.9 and then after another moderate Manzano-led lap, the moves started to be made.
Going into the last 500 meters it was Garrett Heath who made the move around Manzano and started to speed things up leading the field for the next lap as he was followed by Lopez Lomong, Will Leer, David Torrence and eventually Ryan Hill, who went way wide on the backstretch to move up to 5th with just less than 300 to go.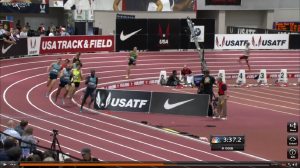 As they came down the homestretch going into the last lap, Lomong went around Heath and started to kick for home and at the start of the backstretch, it was single file behind Lomong, with Heath, Torrence, Leer and Hill all on each other's heels. Going into the last bend, Lomong had a small gap on Heath with Leer boxed on the rail by Torrence, and Ryan Hill was again going way wide.
It looked like Leer might be in trouble, but Torrence fell back, which gave Leer his opening to charge around Heath and chase down Lomong, who was just able to hold him off by .12 seconds, closing in 26.49 (53.86 last 400). Behind those two, Heath held on for 3rd in 3:43.97 as Hill took 4th and Manzano was able to move back up past Torrence for 5th.
Post-Race TV Interview
It's worth taking a minute to mention Leer and Lomong's post-race interview which aired on national television on NBC. Both runners took the opportunity to speak out against Gabrielle Grunewald's DQ in the women's 3,000 yesterday. Lomong said that we should be taking our best team to Worlds and that Grunewald should be on that team and Leer called out USATF on national TV, saying, "I would be remiss if I didn't take this moment to say how badly I feel for Gabriele Anderson (Grunewald) and  how much I think it (the DQ) is a disgrace. USA Track and Field needs to get their act together with that one." You can watch their full interview (as well as the entire race) here with the interview starting at 5:40.
Quick takes, results and interviews are below.
Quick Thought #1: A great tactical run by Lomong and very impressive coming back from a fast-paced 3,000 yesterday, especially considering it's all at altitude. Lomong has said that he was focused on the 3,000 indoors and will focus on the 5,000 outdoors, but yet he keeps making US teams in the 1,500. He missed the 3,000 yesterday and last year at US Outdoors he came in saying he wanted to go in the 5,000, but made the team in the 1,500 first and withdrew from the 5,000 with an injury issue. He was very happy to make the team saying, "The race went really well. I really enjoy coming back here and lining up to represent and to try to make the team. I'm really excited to come back with a 'W.' I am looking forward to Poland. I looking forward to going out, and putting my jersey on and going represent this nation."
In his interview, we also attempted to ask Lomong about the altercation between Alberto Salazar and Jerry Schumacher (as a source had told us one of Schumacher's athletes had been yelled at by Salazar). We started to ask if he could "talk about the altercation yesterday," however, a USATF escort quickly stepped in and said, "No he can't, I'm sorry" and ushered Lomong away.
Quick Thought #2: Leer's finish today was reminiscent of his win in the Millrose Wanamaker Mile a couple of week ago as he came on real strong in the last 50 meters, but he was boxed going into the last 100 and Lomong had already gained too much ground to make up. Leer's last lap was actually faster than Lomong's and fastest of the day as he closed in 26.32 to move from 4th to 2nd. A great run for Leer, who made his second national team (he went to World Indoors in 2010). Post-race he said, "I had poor positioning with the last two or three laps to go. As a result I found myself running for second with Lopez Lomong with a free run to go. I'm definitely happy to go back to World Indoors again to represent Team USA, but it's a little bittersweet. I wanted a double repeat."
He also had more criticism for USATF, saying the field size was "absolutely ridiculous" and adding, "The whole shenanigans with the numbers in this meet needed to be worked out. I'm very disappointed with USA Track and Field and the way they handled it." If you missed what he's talking about from earlier in the weekend, you can read our article on it here.
Quick Thought #3: Garrett Heath was disappointed with the outcome of the race as he obviously wanted to make the team. He said his plan was to make a move from a ways out to make some of the guys with a good kick work for it, but said he didn't have enough to take it out of them.
Quick Thought #4: Post-race, Hill wasn't thrilled with his 4th-place finishing saying that even if he was fresh maybe he "would have gotten 3rd instead of 4th" but didn't think he had the "tactical prowess" to get top 2 in this race.
Hill also talked fairly extensively on the men's 3,000 last night and thought the only contact was between himself and Galen Rupp, saying, "How Bumby (Andrew Bumbalough) got DQed, still haven't figured that one out, but something weird going on there." Talking about the altercation between Salazar and Schumacher, he said (maybe jokingly?) that there would probably be a big executive meeting at Nike this upcoming week and they'd "hash it out."
Quick Thought #4: Manzano didn't seem too upset with his race, but said that he thought he was in better shape and made a tactical error letting one of the guys pass him with 400 to go, but "other than that it was a good race."
*Full Lap-By-Lap Reesults Here
Place
Athlete
Time
1
Lopez Lomong


Nike

3:43.09
2
Will Leer


Nike

3:43.21
3
Garrett Heath


Brooks

3:43.97
4
Ryan Hill


Nike

3:44.15
5
Leonel Manzano


Unattached

3:44.36
6
David Torrence


Nike

3:44.62
7
Craig Miller


New Balance

3:44.85
8
Pat Casey


Oregon TC Elite

3:46.86
9
Duncan Phillips


Unattached

3:47.68
10
Taylor Gilland


New Balance

3:49.98
11
Travis Burkstrand


Team USA Minnesota

3:50.20
12
Josh McAlary


Playmakers Elite/New Balance

3:50.79
13
Robert Sandlin Jr


Bellarmine

3:51.49
14
Jacob Edwards


Columbus Running Company

3:53.56
15
Riley Masters


Brooks

3:56.31
*Race Photo Gallery
*Race Video Here
Interviews:
Previous:
LRC

 1,500: How Do You Possibly Handicap This Stacked Men's Field? Look For Cain And Moser To Repeat 1-2 Finish From Last Year In Women's

LRC 

A Simple, Common-Sense Solution To The Potential 1,500 Controversy At The 2014 USA Indoor Track And Field Championships USATF has released the heat sheets, announcing that there will be two heats of the men's mile. Somehow, Riley Masters, who has an IAAF Worlds qualifier (3:56.25 last year) and has run 3:58.35 this year, is in the slow heat but Taylor Gilland (3:58.77) and Dan Quigley (3:59.35) are in the fast heat. #FreeRiley
*MB: FreeRiley – LetsRun.com nails it – perfect 1500 solution
*MB: Potential disaster at 2014 USA Indoors? Straight 1500 final and there are 22 women, 18 men already in each race
Men's Indoor 1,500-meters Controversy, and What it Means to You, by Jon Gugala Phoebe Wright, "USATF, Can We get some transparency in the procedure please?"