Oklahoma State Coach Dave Smith: "We probably aren't the favorites or the best team out there."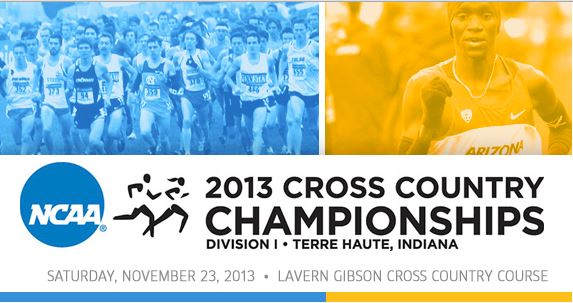 November 24, 2013
"I see us trying to definitely make a statement early and say, 'Come and get us.'"
by LetsRun.com
November 20, 2013
The 2013 NCAA Cross-Country Championships are Saturday in Terre Haute, Indiana.
Article continues below player
Today we caught up with Oklahoma State coach Dave Smith via cell phone as he was traveling with his Cowboys via bus from Stillwater to Terre Haute.
Smith's Cowboys are the defending champions. Last year they won their third title in four years as they had four finishers in the top 25 overall and their fifth guy was 53rd (40th team scoring) as they easily defeated #2 Wisconsin 72 to 135. On Saturday, they'll be looking to join the true dynasty ranks as the fifth men's NCAA team in history to win four titles over a five-year span, joining Michigan State, Villanova, UTEP, and Arkansas.
However, the Cowboys are ranked #2, not #1 and there are two teams, #1 Northern Arizona (NAU) and #3 Colorado, that pundits think might stop the Cowboys from winning.
Here are the highlights of our time with Smith:
Dave Smith when asked for an opening statement about how he felt about his team and its chances:
"I think we are pretty good.
All of our guys are healthy and ready to go. It's hard to predict (what will happen) as the course looks like it will be really wet and sloppy. So that's the wild card. It changes things for a lot of guys. … Some guys will benefit and some will be hurt.
A soft course is a bit of neutralizer, it kind of shrinks the field a little bit. It brings everyone together and results in a much tighter situation than if it's a fast, dry course. I think it will be a much smaller margin of victory than it might be in a normal year.
I think the last two times we've had soft muddy courses in Terre Haute, Colorado won, so …" (Smith didn't finish his thought and just chuckled).
Dave Smith on whether he consider his team to be the favorite:
"I don't. To be honest, last year, I went into that meet feeling we had a pretty good chance to win.
I'm normally a pretty nervous guy, and last year, I wasn't nervous, but this year, I don't have that confidence. I think there are four or five teams that could win and have pretty equal chances. Would I give us a 20-25% chance of winning? That's about where I put it.
Yeah, we beat NAU early, but they've shown over the last few weeks that they've gotten better and better and better. They are really good and Colorado is obviously Colorado.
I know some people thought we were far above everyone else. I never felt that way and still don't. Now people are starting to realize it's going to be battle. We probably aren't the favorites or the best team out there. We are going to have things go really, really well and things not go perfectly for NAU and Colorado if we are going to win."
Dave Smith reveals his race plan: Come and get us:
"We tend to be a little more aggressive than Colorado … I see us trying to definitely make a statement early and say, 'Come and get us.' Good luck to them (if they can do it)."
Dave Smith on who he considers to a bigger threat, NAU or Colorado:
"It's hard to pick one or the other.
That program (Colorado) knows what it takes to win and those coaches know what it takes to win – They've done it before. I also think NAU is extremely talented and hungry and that Eric Heins has done a great job there and he's got them believing. They think they are going to win and they have every right to. They have a team that can do it.
They both are both scary. Stanford is coming on late, and Oregon has all kinds of talent."
Dave Smith on why he ran a "B" Team at Pre-NCAAs:
"I don't like travelling a lot. I think time away from school and campus, getting on a plane, time in hotel rooms starts up and be fatiguing. It puts people behind in school work which they have to make up, which is tough so I'd prefer not to travel at all.
Normally we go to Chile Pepper but this year Chile Pepper conflicted with our traditional schedule and our home meet so we couldn't go there. So Instead I decided to do a time trial on our home course, which is what I did with my top guys.
But the same time, I was thinking that I've got a bunch of guys that might be running at the national championships for the first time this year or definitely will be counted on next year when they haven't been counted on before and never been in a big race and never been in that situation where they are carrying the flag for us.
And I was already sending my women's team out there so I might as well send a group of guys to see if they can run in a high pressure situation where they are in the top 7.
So it was more about giving guys experience for the future than it was about resting the best guys, because we did something really hard at home. Tom Farrell, Shadrack Kipchirchir, Brian Gohhlke and Kirubel Errasa ran very well in a six-mile time trial at home. So I wasn't really trying to rest my best guys because they ran really hard at home (in the time trial)."
Dave Smith when asked about what school of thought he agrees with in terms of the best way to run in the mud – one, you need to get out harder as it's impossible to pass people or two, just the opposite, the race takes longer so there is more time to pass people:
"I think the more experience and confident you are the easier it is to sit back trust that you'll be there at the end.
I think for the younger and more inexperienced guys it causes more anxiety.If you look up and are in 150th place, it can be very tough emotionally to deal with.
So both are right. Some people need to go out a little more aggressively and some need to be a little more depending on the strength and weaknesses of the athlete."
Dave Smith gives out high praise to Matt McElroy, who transferred to NAU after one year at Oklahoma State:
"He's running like an All-American right now. He's a phenomenally talented guy and he's found a coach and place that has brought the best out of him. It wouldn"t shock me if he's in the top 20."
More: *Interview with Coach Eric Heins of #1 NAU
*2013 NCAA Cross Country Championships Coverage Page
Vault: 2012 NCAA Cross-Country Coverage