LRC Oregon Wins NCAA Title As Betsy Saina Outkicks Hasay Confusion reigned supreme with the team results as Oregon was the winner, then Providence, but eventually once it was all sorted out the Oregon Ducks had a convincing NCAA championship over Providence. There was no confusion on the individual side as Betsy Saina outkicked Jordan Hasay and Abbey D'Agostino for the win.
*Full Results *Photo Gallery

More: After [email protected]#@!SDF Delay, Oregon & Oklahoma State Declared 2012 NCAA Cross-Country Champions
*Duck Women Get Their Third NCAA Crown
*Stanford Women In 3rd Have Highest Finish Since 2007, Rosa Twins Disappoint For Men
*Betsy Saina: "I told myself that I was going to go for it from the start." (With Video Highlights)
*Oregonian: The "straw that stirs the drink is Hasay."

NCAAs On The Boards:
Non-NCAA Weekend News
Lydia Cheromei Wins Yokohama Marathon In CR 2:23:07 She's a former 2:21 performer and world junior XC champ. Kim Smith was 6th, Serena Burla 11th, and Amy Hastings dropped out according to the unofficial message board thread. Many in this field were supposed to run NY (which should have been postponed instead of cancelled).

Former World XC Champ Emily Chebet Wins Kenya XC Series Meet, World Junior Champ Faith Chepng'etich Upset IAAF
Not To Totally Brag: But We Nailed These Previews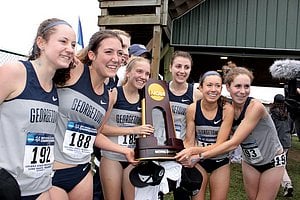 LRC Women's Team Preview: Oregon Or Florida State? What About Darkhorse Providence? It should be a fierce battle in Kentucky for the NCAA crown. Florida State is favored, but should they be? Last year they choked it big time.


LRC Women's Individual Preview: Can Jordan Hasay Do It? Or Will Betsy Saina Or Abbey D'Agostino Prevent The Fairy Tale Ending?
*LRC Fan Polls Individual Predictions
Weekend Action That Isn't Happening In The Midwest
Non-NCAA Weekend Action
If You're Not Cheating Part 2: Jon Rankin Wonders How Cheating In Sports Can Be Stopped
International News
When Life Gives You Lemons, Go Race A Marathon In Japan
Dec. 2nd: Martin Lel, Scott Overall, Ryan Vail, Tim Nelson, Brent Vaughn Added To Fukuoka Marathon Field After Missing Out On NYC Field already includes Haile Gebrselassie, Martin Mathathi, Mo Trafeh, Reid Coolsaet, Ryan Bak and Japan runners Arata Fujiwara and Yuki Kawauchi.
*MB: Martin Lel, Nelson, Bairu, Vaughn, Vail to run FUKUOKA Marathon
Yet Another Great Dies Too Young
Former 10k WR Holder Joseph Kimani Has Died At Age 40 The former road superstar took down the world's best in the 10k by a ridiculous 30 seconds in the summer of 1996 as he ran a still unthinkable 27:04 at Peachtree. He won virtually every big road race in the US at least once, also set a 12k WR, and is still the CR holder at Boilermaker.

More: *LRC MB Remembrances of Kimani
*RRW Article On Kimani
*Utica Observer Dispatch: Joseph Kimani, Boilermaker all-time great, dies at age 40
*Kimani's Death Getting Mentioned In Slovenia (Translated)
*AJC: Peachtree record holder passes away
A Case That Makes The Caster Semenya Situation Seem Like A Fairy Tale
MB: Indian Female Gold Medallist, Pinki Pramanik, Formally Charged With Rape After Being Determined To Be Male - She Says No, It's Just Result Of Drugs I Took

*Asian Games Gold Medallist Pinki Pramanik Charged With Rape After Medical Reports Confirm Her As Male
*Pinki Pramanik Blames Injections For Her "Masculine" Physique
*Pinki Pramanik Plans Defamation Case Against Cops, Prosecutor
*Medical Reports Confirm Pinki Is A Male
*Police Forcing Me To Commit Suicide, Says Pinki Praminik
Laughable: Cycling Head Pat McQuaid Says UCI Will Establish Confidential Doping Hotline To Build Trust & Says Releases Open Letter to Peloton That Says He's Been A Leader In Anti-Doping Movement It's a little too late for gestures and false statements like this: "The UCI has always been a pioneer in the fight against doping, a fact recognised by WADA (World Anti-Doping Agency) and the IOC (International Olympic Committee) among others," wrote McQuaid in his letter addressed "Dear rider."
More Weekend Results
US News: Lolo Jones Wins Bobsled World Cup Silver Medal
LRC Oklahoma State Makes It Three Titles In Four Years Team Recap Wisconsin had 3 runners in before OSU, but Oklahoma State was much better at 4 and 5. OSU was led by Girma Mecheso, who was the top American in fifth (learn about his incredible life story here).


LRC Texas Tech's Kennedy Kithuka Makes It Look Easy Over Lawi Lalang & Stephen Sambu Lawi Lalang had all the attention coming in, but Kennedy Kithuka dispatched him with ease. Only one American in the top 10. Read all about it.
*Full Results
RRW: After Delay, Oregon & Oklahoma State Declared 2012 NCAA Cross-Country Champions

Outside Coverage Of NCAAs:
Men's Race: Upset Alert: We'll Give Out $2012 If An American Wins The 2012 NCAA D1 Men's Cross-Country Title

Pee Race:
LRC NCAA Cross-Country Fan Polls Men's Predictions
LRC NCAA Cross-Country Fan Polls Women's Predictions
LRC DIII Fan Poll Predictions
LRC DII Fan Poll Predictions
International News: CAS Going Out Of Its Way To Help Dopers
Section Of US 97 Going Through Ashton Eaton's Home Town Renamed Ashton Eaton Boulevard
High School
US All-Time Greats In The News
Kenyan News: Paul Tergat Is On The IOC
Pro Track/Road News
Previous NCAA News
There's Smart And Then Stanford Smart NCAA Okays Private Plane To Take Stanford's Miles Unterreiner To Rhodes Scholarship Interview From NCAA XC Meet
*AP Article On Unterreiner
*D3 Runner Annie Lydens Of Pomona Pitzer Will Skip NCAAs To Go To Interview
*MB: NCAA XC vs Rhodes Scholarship

Oscar P Receives Honorary Doctorate From Glasgow's Strathclyde University - A Leader In Prosthetic Research *Daily Mail On Oscar P
After 3 Days In Cell With 40 Men, One Open Toilet And A Blanket That Had Not Been Washed In Years, Former World High Jump Champion Jacques Freitag Gets Bail

National Security Issues Start With Running:
Wall Street Journal Examines Paula Broadwell And David Petraeus' Running: "Paula Broadwell Is Faster Than You" She ran 1:36 for the half marathon at 39.
Recommended Reads And Seb Coe News
Pro News: Galen Rupp Will Be Back At It November 23rd In Japan
NYC News: NYPD To Refund Fees Paid By NYC Marathon Police fees were the main reason entry fees spiked for the 2012 marathon.
Big Boy Nationals
D2: Men: Adams State Men Win Record 9th NCAA D2 Title As Anchorage's Micah Chelimo Dominates *Results
Women: Grand Valley State Wins D2 Title By 3 Points *Results: Grand Valley State Edges Augustana by 3, Adams State By 8

D3: (Photos Coming) Men: North Central Men Win 2nd Straight D3 Title *Men's Results
Women: Johns Hopkins Women Win School's First Women's NCAA Title *XC Women's Results

NAIA: Women: British Columbia And Idaho's Hillary Holt Win Titles
Men: St. Francis (Ill.) And John Gilbertson Win National Championship
NCAA Cross Photo Galleries
Beautiful People: NCAA Banquet Photos (Click On Photo)
LSU Women Lose Their Outdoor National Title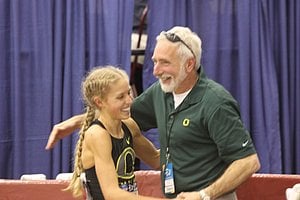 Oregon Women Win NCAA Title ... In Outdoor Track LSU has been forced to "vacate" their national title after sprinter Semoy Hackett tested positive for a banned stimulant.
*TrackFocus Article The Oregon women have placed second at the NCAA meet four years in a row ... so we guess this breaks the streak.
TODAY: Did You Miss Out On Signing Up For The Berlin Marathon? 2,500 Berlin Marathon Spots Still Available And Registration Opens Today Opens at 6 p.m. (CET).
*Don't Miss Out In The Future: Website JogCal.com Offers "Runner's Reminders," A Bi-Weekly Newsletter To Remind Runners Of Important Registration Dates For Big Races
Has This Been Alberto Certified?

Mo Farah To Face Other British Gold Medallists In Superstars Competition Sounds like fun as they'll do races over 100m and 800m, archery, javelin, a 50m swim, a kayak race, a cycling hill climb and the challenges in the gym tests.
*MB Archive: Superstars Competition half-mile run record is 1:57.36?
*MB Archive: 1981 Superstars Half Mile
Meet Hosting News
It's Hard To Keep Up With LetsRun.com's Cutting Edge Design
Olympics-Related News
Former Rice University All-American Becky Wade Traveling The World And Blogging On Her Experience With Different Running Cultures Currently she's spending 2 months in Ethiopia working with the Yaya Girls Program, which tries to help female Ethiopians through job training, language classes, and distance running. *MB Thread
HS News
New Scientific Study Says Ice Baths Don't Actually Help Athletes With Recovery After Exercises Yeah, and there are also studies which say you're less likely to be injured if you run on the hard pavement instead of soft trails.
More On Athlete Contracts: LRC Jesse Williams Of Brooks Sports: Brooks Shoe Contracts Don't Have Reduction Clauses
Field Event News