LetsRun.com's Coverage Of The 2011 IAAF World Track & Field Championships
Previews/Recaps/Results By Day From Daegu, South Korea
By LetsRun.com
August 30, 2011
Below you will find LetsRun.com's coverage of the 2011 IAAF World Track & Field Championships from Deagu, South Korea organized by day. It includes race previews, race recaps, photos, interviews,and links to outside coverage.

More: *LRC Post-Race Video Interviews *LRC Photos From Photorun.net *IAAF Daegu Page *IAAF Event-By-Event Reports *IAAF Event-By-Event Previews
Monday August 30 *Results *Athletics Weekly Recap *IAAF Day 4 Recap
800m Final LRC David Rudisha Gets The World Title He Deserves, Nick Symmonds Comes Up Short Rudisha had been undefeated in every race since the last World Championships and on Tuesday he won the one race he hadn't won in two years - the World Championships. American Nick Symmonds was in medal contention but came home in fifth and the American medal drought continues at 800m.
More On The Boards: Mens 800 Final
*Nick Symmonds Post-Race Comments
LRC: Day 4: Teenage King James Nips Merritt In 400m, Zaripova Takes Steeple Going Away, Uceny And Simpson Make 1,500m Final We recap all of Tuesday's pm action outside of the men's 800m final in this piece. We break down the 400m final, the women's steeple final (and where Jenny Simpson would have finished), look at the 1,500m semis and much more.

Tuesday's AM Action: LRC: Men's 1,500: Wheating Out, Most All Favorites Through In Men's 1,500 First Round Andrew Wheating's difficult 2011 campaign likely came to an end with a first round exit in the 1,500 heats. The heats saw wire-to-wire running from a resurgant Dan Komen, a fall for Mehdi Baala, and Centro Jr looking good and Leo Manzano struggling but advancing on time.

Women's 5,000: Women's 5,000m Semis: Molly Huddle Goes Home, Meseret Defar And Linet Masai Both Run 2/3 of the fields advanced and the American record holder Huddle did not advance, which was not a surprise considering her injury.


LRC: Day 4 Daegu Distance Previews: Men's 800 Final - Nick Symmonds Goes For A Medal, 1,500 1st Round Highlight Busy Day Great distance action, including the women's steeple final, men's 1,500m round 1 and women's 5,000m round 1 and of course the anticipated 800m final with Symmonds, Rudisha and Kaki.

*NY Times Looks At Yohan Blake's Twitch
*Bolt: No Problem With One-Strike-And-Out Rule
What Friend Of LRC Steve Ritchie Is Writing: Ashton Eaton Gains A Measure Of Mental Toughness Through Difficult Competition At Worlds

Non-Mid-D Action

Roll Tide: 18-Year-Old Wunderkind Kirani James Adds World Crown To Two NCAA Titles Afterwards, he declares, "(Usain Bolt) he can't be Kirani James." Watch out or he'll move up to the 400.
*IAAF: Rivalry with Kaki inspires Rudisha to be the best
*Brit Dai Greene Might Be Poised For World 400H Title He had the 2nd fastest qualifying time for the final.

PV
Murer Wins Pole Vault - Is She Track Newest Star? *Suhr Gets 4th
*Isinbayeva Fails To Medal As Well - Is The Latest Victim Of The IAAF Cover Curse If you show up on the cover, you are doomed.

*Robles: "Being Cuban cost me hurdles gold medal."

Multi: *Ennis Settles For Silver
*Poor Javelin Hurts Ennis Some are saying it "cost" her the title, but in reality, she'd have had to get a PR to win.
---
Monday August 29 *Results *LRC Day 3 Distance Photos *LRC Day 3 Non-Distance Photos *IAAF Day 3 Recap *Athletics Weekly
Monday: LRC Lots of Sprint Intrigue: WR-Holder Dayron Robles Goes From Gold to Zilch, Allyson Felix Upended by Botswanan, Pistorius Has Chance But Fades Good thing there was no distance action Monday night as we wouldn't have had time to recap all the sprint/field event action. A DQ in the hurdles that gave Jason Richardson the unexpected World title, Allyson Felix prd but lost, and Oscar P fizzled out. Plus an unexpected medal in the shot for an American, a thrilling pole vault and oh yeah the 100m women's final where HSI got its 2nd gold of the night.
More from Employee #1: *Liu Xiang Recounts Telling Dayon Robles He Was DQd
*Oscar P and Brett Favre and the Mechanical Arm
*American 400m Running at a Lowpoint?
More Monday: *Monday Recap from Athletics Weekly: Robles DQ, Montsho Gold, Carmelita Jeter and More
*Eurosport and Ato Boldon See the Yohan Blake Flinch
*Jessica Ennis Leads After Day 1 of Heptathlon But Faces Some Pressure
*Koji Murofushi Wins Surprise Hammer Title

LRC: 2011 Worlds Steeplechase Prelims: Favorites Advance and Americans Struggle Ezekiel Kemboi blasted an 8:10 steeple to lead the qualifiers as the American men bombed. Plus some interesting comments from Dan Huling: "I'm embarrassed, disappointed, a little bit relieved."

---
Sunday August 28 *Results *LRC Day 2 Distance Photos *LRC Day 2 Non-Distance Photos *IAAF Summary of Day 2 *Athletics Weekly Summary
Men's 10,000m: LRC Ibrahim Jeilan, A Guy You've Never Heard Of, Stuns The World In Men's 10,000m LRC recap coming The Men's 10,000m was a total shocker as Ibrahim Jeilan, a former World Junior champion who was passed over by the Ethiopian team on two occasions and had to go to Japan to keep his running career alive, shocked the world's best distance runner Mo Farah in a great duel over the final 100m, as Farah apparently kicked too hard, too soon. Galen Rupp was 7th and the great Kenenisa Bekele dropped out, losing his first 10,000m ever. *Post-Race Interviews With Rupp, Bekele, Tegenkamp And Bauhs
*Quick Men's 10,000m Photos
*Japanese Coach Is Pleased With Jeilan's Victory
*Talk About Honesty Farah Thought He Had It: "To tell you the truth, with 300 metres to go I thought I had the race." On the ultimate winner, "I didn't have a clue about the guy."

LRC Usain Bolt False Starts ... Or Did He? Video Proof That Yohan Blake Flinches and then Usain Bolt False StartsThe video shows very clearly that Yohan Blake flinches and then Usain Bolt subconsciously reacted and bolted from the blocks. According to IAAF rules, at a minimum Blake should have been warned. Under no scenario should Bolt have been given the DQ.
*Telegraph article here pickig up the LRC cause on the Blake flinch
LRC Bolt's DQ, Ashton Eaton's 1,500m And More

Usain Bolt DQed For FS, Yohan Blake Wins Title*Bolt: "Looking for tears? That's not going to happen."
*Dix (silver): "I couldn't believe it, it's kind of surreal. I didn't think they were going to kick him out. It's pretty hard to kick Usain out of the race."
*Bolt's Coach: "I think he would have run in the sixties (9.60s),"

False-Start Rule - Fair Or Foul?
*AP Column: Bolt is human, his sport's rules are not
*Tim Layden: Heave The Rule As Well
*IAAF Stands Behind Rule ... Sort Of IAAF statement says rules must "be applied consistently and fairly for ALL athletes." But then they added, "in extraordinary cases, the IAAF Council has the right to make interim changes to Technical Rules, pending official approval by IAAF Congress."
*Rojo Says Don't Think About Changing Rule
*Don't Forget: Experienced Dwain Chambers Was DQed In Semis

LRC David Rudisha, Abubaker Kaki And Nick Symmonds All Advance To 800m Final Kaki did it the hard way by getting in on time, but Rudisha looked great and Symmonds put on a performance that shows he is medal worthy. The final is Tuesday.
*Post-Race Interviews With Symmonds And KD

LRC Sunday 1,500m Round 1: All 3 American Advance As Fall Shakes Up Round 1 Morgan Uceny, Shannon Rowbury and Jenny Simpson all made the semifinal and Rowbury can thank a fall in the final 50 meters of her heat for advancing by .02 to the semi. Recap and post-race reaction from the Americans and Kiwi Niki Hamblin.
*Dobriskey Stunned As She Bombs Out

LRC: Rojo Blogs From The Couch About Daegu: Post #2 - 6 Quick Thoughts About The Men's 10,000, Men's 100m And Men's 800/Thoughts On Human Nature's Attempt To Explain Everything Rojo laments that humans seemingly always try to have a nice and neat explanation for everything like Bolt's DQ or Farah's narrow loss and normally it ends up being wrong. Along the way, he refuses to throw Bekele under the bus and hopes for his resurrection but seemignly has no problems with running all over Matt Tegenkamp. Heartless. Plus big praise for Maurice Greene, Nick Symmonds and even Khadevis Robinson.

More From LRC:
*Men's 800 Semis - Who Got The Worst Draw?
*LetsRun Nation Is Picking Galen Rupp To Finish 5th - Give Your Final Predictions Here
*Wejo: Today's Sign Of The Apocalypse: My Wife Just Emailed Me: "keep me updated on the pistorius news."

Pre-Race: LRC Men's 10,000 Preview The greatest 10,000 runner to ever live will Kenenisa Bekele returns and will try to do the unthinkable - remain undefeated at 10,000 after two years away from track racing. Galen Rupp will also attempt to do the unthinkable - become the first American to ever medal at 10,000 at world's, to break up the African's 30 for 30 streak. Plus Sihine, Tadese and a suspect Kenyan squad and of course the top distance runner in the world right now Mo Farah.

LRC Day 2 - Quick Preview Of Women's 1500 - Will Jamal Three-Peat? (& Can Uceny Medal?) J
---
Saturday August 27 *Results *LRC Day 1 Distance Photos *LRC Day 1 Non-Distance Photos *IAAF Summary of Day 2 *Athletics Weekly Summary
Saturday's Action Is Complete: *Complete Day 1 Results
LRC Kenya's Heavenly Day 1 Ends With Perfection! Vivian Cheruiyot Leads Kenyans To 1-2-3-4 Domination Of Women's 10,000 The much anticipated battle between the undefeated Meseret Defar and Vivian Cheruiyot never materialized as Defar fell off and hten dropped out but Cheruiyot did come through as expected. The Oreogn track club's Sally Kipyego got the silver as the Kenyan women's day went from incredible to heavenly as they followed up near perfection in the marathon with total perfection in the 10,000. The American women struggled as Shalene Flangan was 7th and Kara Goucher was lapped. Jen Rhines was 9th.
*LRC Video Reaction from Cheruiyot, Kipyego, Flanagan and Goucher

LRC While Waiting For Day 2 To Start: Rojo Blogs From The Couch About Daegu Not everyone at LRC headquarters is fortunate enough to get to go to Korea and Rojo gets started by taking his anger out by ranting on the TV production. He then introduces the world to Mohamed Aman and provides proof that Ashton Eaton is a fan of Sally Kipyego.

LRC Recap Now Up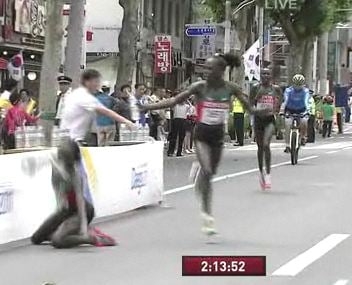 Saturday's Action Underway: Edna Kiplagat Survives Fall, Leads Kenya to 1-2-3 Sweep in Marathon to Start Worlds Kiplagat has shot to the top of the world marathon ranks in the last two years (New York champ last year, 2:20 for 3rd in London) and she backed it up with an impressive win despite falling in the final 10km. Priscah Jeptoo was second and Sharon Cherop third. Tera Moody just months removed from 3 surgeries was the first American (interview here) in 17th and Kathy Newberry 30th (interview here).
*LRC Post Race Comments from Kiplagat *IAAF: Patience and family support key to Kiplagat's Rise
On the boards: women's marathon play by play

LRC Day 1 AM Recap: Men's 800 Nick Symmonds (interview here) won his heat and Khadevis Robinson (interview here) advanced in round 1 of the 800 (mb recap) and Emma Coburn advanced in the steeple (mb recap). *IAAF: Kaki fastest, Rudisha safely through
OTB: 800 Heats *Women's Steeple

*IAAF Day 1 Summary *Register Guard RecapWomen's 10,000 Highlights (US Visitor Only We Believe)
| | | |
| --- | --- | --- |
| Women's 10,000 Highlights (US Visitor Only We Believe) | Women's Marathon Highlights & Falst Start (US Visitor Only We Believe) | Usain Bolt Crushes His 1st Race |
Non-Distance News From Worlds
Preview of Day 1 Action:
LRC Women's Marathon Preview We attempt to do the impossible - predict the winner of the 26.2 race at Worlds.
*Edna Kiplagat Says She's In Good Shape - Looking For Medals & World Marathon Major Points The problem is if Liliya Shobukhova wins in Chicago, she can't be beaten.
*Lots Of World Marathon Major Points Will Be On Line In Daegu
LRC Epic Women's 10,000 PreviewThe 10,000 in 2009 is one that will long be remembered for its bizarre finish but the one in 2011 could truly be one for the ages. Meseret Defar and Vivian Cheruiyot are both undefeated on the year in track so someone's win streak will definitely end but they'll also face the top two from 2009 (Masai and Melkamu) plus Shalane Flanagan and Sally Kipyego.
*Meseret Defar Says She's Got Flu in 2009 "But this year I'm ready."
LRC Day 1 - Quick Preview Of Men's 800 (11:05 pm EDT Fri.) And Women's Steeplechase The action should be incredibly exciting in the men's 800 as Nick Symmonds' medal quest gets under way, but we're most excited to watch noted front-runners Charles Jock and David Rudisha clash in heat 5 but others might be paying most attention to Kaki vs. Yego.
*Almost Exactly 12 Months To The Day He Was Amazed By A Video of Rudisha's WR Run, Chalres Jock Will Be Lining Up In The Lane Next To Him
*David Rudisha Says He's Ready For Worlds
*Kenyan Press Asks Rudisha If He Deserves More Press Like Usain Bolt Our answer: No. When he pulls off the 800, 1,500 and 4 x 400 triple in meet record times, then get back to us.
*David Rudisha's Dad Says He Could Tell From Age 8 That His Son Was Special
---
Runner's World &
Running Times



Combined Only $22
a Year
Save $87

---

Running & Track and Field Posters
---

Great Offer: Nike Lunar Glide Sale Multiple colors of this shoe available.

*Nike Air Max Moto 7 Get 2 Pairs for a Crazy $112
---