Wheating Out, Most All Favorites Through in Men's 1500 First Round
Day 4 - Big Day for Distance - Starts With Physical Heats of the Men's 1500m Including Baala Fall
By LetsRun.com
August 30, 2011
Daegu, South Korea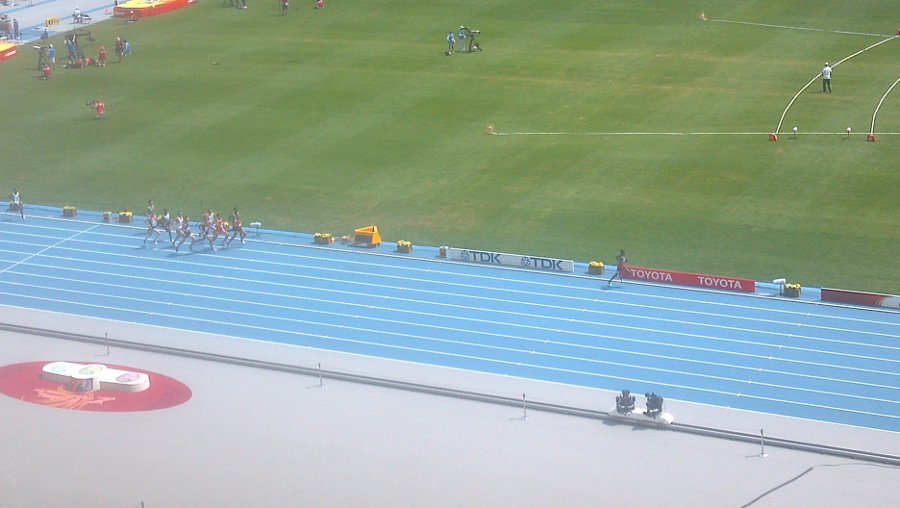 Above: Daniel Komen gets a huge lead to ensure his spot in round 2. Photo from LRC.


With 24 of the 38 competitors making the semi-final, round 1 was not of the 1500m was not expected to provide a lot of drama but there were a few interesting stories. We recap the action and give our thoughs below with post-race reaction from the athletes.
Heat 1 Dan Komen Goes Fast From the Gun
Dan Komen has been one of the top 1500m runners for much of the last half-decade. Despite his accomplishments he has done horribly at the World Championships. In Helsinki in 2005, he did not make it out of round 1. In Osaka in 2007, he finished 7th in his first round heat and made it to the semi before finishing 10th and going home. Komen ran very differently here, running like it was a European race with rabbits. Of course there are no rabbits here, so Komen had to serve as his own rabbit. Komen took it out in 1:54.70 and would gap the field all the way to the finish where he was comfortable winner in 3:38.54. Behind him the field was jockeying to be in the top 6 for an automatic spot in the semis (the top 6 in each heat and the next 6 times made the final). The in-form Nick Willis moved up to position himself well in the pack at the bell. He would advance easily as would American champion Matt Centrowitz (interview below) who had the liberty to glance around down the homestretch to make the semi. Young Aussie sensation Ryan Gregson (interview below), who has struggled with a second half of the season injury, would make the final on time.
Heat 2: Baala Goes Down, Wheating Goes Out Competing in his first world championship, Andrew Wheating came up short in heat 2 due in part to a nagging upper hamstring problem that limited his ability to kick. Wheating needed his patented kick, as his heat went out 10 seconds slower through 800 than the first heat. Grimacing every time he needed to make a move, Wheating was in position with 300 to go right behind Asbel Kiprop with Mehdi Baala on the inside, but he clearly did not have his kick. The inexperienced Wheating appeared to give up before the line, only to find another burst of speed wehn Dmitrijs Jurkevics nearly passed him. It would make no difference here but with time spots for the final, Wheating needs to be reminded to run all the way to the line.
Kiprop would easily advance, drawing post-race laughs when answering questions about future tactics, "I race with people, then I sprint with people." Baala, typically a contender at championship events, fell hard in the final 100m after his leg was brushed by Eduar Villanueva, causing Baala to step and fall on the rail, but after appeal was advanced to the next round after trotting across the line in 4:13.
(Interviwes with Wheating and Kiprop below)
Heat 3 Manzano Gets in on Time as Laalou and Kiplagat Battle Heat 3 went out slightly faster than heat 2, and ended up with a couple time qualifiers, including lucky Leo Manzano, who fell back in the crucial stretch run, finishing 8th in his heat. Manzano talked after the race about the extremely physical heat, saying that he was actually catching competitors' feet in his hands as he was running. Manzano struggled, but it should be noted that the seven guys in front of him were no slouches. Young Kenyan sub-3:30 guy Silas Kiplagat, running in his first worlds, said after the race that he no longer fears heat winner Amine Laalou. 2nd-placer Deresse Mekonnen, who defeated Bernard Lagat indoors at the Wannamaker Mile, said after the race that he feels good and is praying to God for strength in the coming rounds. (results at bottom of this article).
| | |
| --- | --- |
| | |
| Andrew Wheating talks about upper hamstring injury limiting his kick. | Leo Manzano advanced after physical round 1 heat. |
| | |
| --- | --- |
| | |
| Matt Centrowitz advances easily in his first world championship appearance. | Silas Kiplagat, 3:29 in 2010 and 3:30 in 2011, now at 22 is learning the ropes in his first world champs. |
See all LRC 1500 videos and other interviews at our youtube channel "letsrundotcom".
2009 Champ Decides To Defend Title Despite Injury
For those who remember Berlin world champs from 2009, you may recall Kenyan Bahraini Yusuf Saad Kamel who won the 1500m title to join his father as a world champion. Kamel, who also came back to win 800 bronze, started today having run only three 800m races in 2011 after a car accident last year in Italy rendered his right knee injured. Kamel revealed after the race, thanks to questions from Lewis Johnson, that it's actually his left foot that is giving him problems this year, but that he races because he wants to defend his title. We give him credit for defending his title despite needing to limp through the media area because of injury limitations. Kamel, running his first 1500 in over a year, finished 5th in a tight finish.
| | |
| --- | --- |
| | |
| Yusuf Kamel talks about defending title while injured. | Ryan Gregson adds perspective to his race in heat 1. |
Aussies See Gregson Advance, Riseley Eliminated
Aussie fans saw their top runners put themselves in precarious positions. Ryan Gregson, racing after an injury-plagued year, actually ended up advancing despite only nabbing 8th in the first heat. 3:32 runner Jeff Riseley didn't get as lucky, finishing 7th in the 2nd heat and missing the final right ahead of Wheating.
Our Take on Round 1 - Look for Kiprop, Silas Kiplagat, Ethiopians Gebremedhin and Mekonnen, Amine Laalou and Nick Willis to be Medal Favorites
Daniel Komen's heat 1 win was his first of the year. Running 2:53 for 1200 in round 1 doesn't appear to be the most wise tactic, though he could prove otherwise. Leonel Manzano told reporters after the race that "I came here to win it," but after a disastrous stretch run in his physical opening round heat, he has a big mountain to climb just to make the final. Yusuf Kamel also appears to have a huge challenge ahead of him if he hopes to medal, considering the severity of his post-race limp and his lack of 2011 racing. Look for the names above, all of whom looked good in round 1 and in the post-race area, to be the principal favorites. Baala, who won bronze in Beijing and boasts a 3:28 pb, only finished 9th in Monaco this year in a season's best 3:33.
| | |
| --- | --- |
| | |
| Nick Willis talks like a wise veteran, says he used round 1 as a rust-buster.. | Confident Asbel Kiprop leaves reporters laughing after easily advancing through to round 2 in Daegu. |
LRC Reader Ciaran O'Lionaird Advances

Ireland and Florida State's Ciaran O'Lionaird was running the 10,000m early in the year and then was a non-scorer at NCAAs. Now he's in the 1500m semi-final as his breakout mid-d running continues. Interview with him to the right. Hopefully, there is a LetsRun.com reverse jinx as he admitted to spending too much time on LetsRun.com.
More from the World Famous LetsRun.com Message Boards:
Men's 1500m Official thread
Wheating Out of Worlds...
What's up with Kiprop
---
Runner's World &
Running Times



Combined Only $22
a Year
Save $87

---

Running & Track and Field Posters
---

Great Running Shoe Deals Nike Lunar Glide $79.99 A very popular innovative Nike shoe on sale now.
---