Rojo Blogs From The Couch About Daegu
Rants About Poor TV/Internet Production, Praise For Ashton Eaton And Mohamed Aman
By Robert Johnson
August 27, 2011
While a big part of LetsRun is actually in Korea enjoying the World Championships live, some of us aren't so lucky and are stuck back in the States trying to watch it on the Internet/television. That can be a maddening experience because unlike everything else that I watch regularly on the Internet like MLB, watching a track meet online never seems to go smoothly.
Sure enough, Universalsports.com didn't get things started correctly and my backup plan of using a UK proxy server didn't work either, as the meet wasn't on live on the BBC. But that only caused me to miss the first half of the marathon. And I must admit Universal's ability to scroll through the action is great, as I overslept this morning and missed the women's 10,000 final but was able to watch it when I did get up without knowing the results. So maybe we'll call it even on a technical front.
That being said, nothing can make me feel good about having to watch an international feed which Universal gets and uses from the IAAF, as it cuts away from the action at critical times. It's almost as if they took the same guys that always butcher the production of US telecasts and had them do the international feed. Also, while I can't stand watching people who know nothing or next to nothing about distance events broadcast that in the states, I was stunned to hear the international guys (was one of them Steve Cram? - he should know better) totally butcher the order of finish in the women's 10,000. After the race was over, they realized that Linet Masai didn't actually get second and corrected themselves to say it was Priscah Cherono. Maybe the third time is the charm.
Anyway, here are my random thoughts, starting with another rant about the production.
Thoughts On The Women's Marathon
Quick Thought #1: The IAAF's decision to put other events on during the women's marathon made it very hard to actually watch the marathon and was an absolute disaster in our minds (the decision wouldn't have been totally terrible if LetsRun was producing the telecasts but every television producer screws up track and field/marathons if given the chance and by having other action on at that time, they certainly were given the chance).

Do I really care about three preliminary heats of the women's steeple or the first few jumps in the long jump of the decathlon when the marathon is about to conclude? The simple answer is no.

But marathon fans probably are used to having terrible viewing experiences. When the elite women start before the elite men at a major like London or New York, it always seems that we miss the decisive break in the men's race, as they show like the 12th woman finishing instead of the big move in the men's race. Memo to the NYRR: Start the women's race even earlier. That drives me nuts every spring and fall but yesterday was even more agonizing.

Therefore, let me introduce you to LetsRun.com Rule #1 For TV Producers of Marathons - The last hour of the marathon should be shown uninterrupted. Do whatever you want during the first hour as little is likely to happen, but please show the last hour. Ok, I'll be realistic. Show me the last 11.2 miles. You can ruin the first 15 miles, but please let me enjoy the last 11.2.

Kudos to the Eurosport announcer who called it an embarrassment that the major move was missed in the marathon. I don't know why he was so outraged as it seemingly happens in every single major marathon telecast I watch.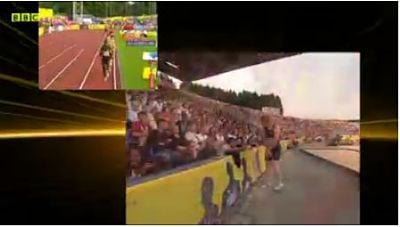 "Revolutionary" Technology: The Split Screen
QuickThought #2: Please let the BBC produce the televion show as they are the only ones we've seen use the "novel" concept of using a split screen.

Quick Thought #3: They did show the finish of the marathon but for once I actually wanted to watch the finishers come through at the marathon. Instead, they showed the top 5 cross the line and then switched to the first slow heat of the women's 100. Incredible.

Quick Thought #4: I will donate $2,620 to charity if the IAAF or any world marathon major lets me be in charge of their marathon coverage. Honestly, it's an absolute embarrassment time and time again. I'll consider paying another $2,620 if they let me screen the announcers so we don't have field event or sprint experts doing distance commentary.
Quick Thought #1 On The Actual Race: For a long time, I've always said the US men have it way harder than the US women because Africa is so male-dominated that there aren't nearly as many African women trying to compete as on the men's side by any stretch of the imagination. Therefore, the US women don't face nearly the same amount of African competition as the men. After watching the marathon and 10,000s, I'm wondering if that's starting to change.
In a similar light, I've always said if the Africans really started getting the expert Westernized coaching, then watch out. Well, two of the Kenyan medallists spend some of their time training in the US in US-based Sally Kipyego and sometimes Boulder-based Edna Kiplagat.
Quick Thought #2 On The Actual Race: The LetsRun.com jinx, like the Sports Illustrated cover jinx, is likely just a myth. Edna Kiplagat is the athlete I spent the most time with in Iten and she came through beautifully.
Thoughts On The 1st Round Of The Men's 800
Quick Thought #1: With about 60 meters to go in heat 1, Nick Symmonds was in second but for a brief second I thought to myself, "Oh, ****!," as it looked like he might be in trouble as four guys were only separated by a couple of meters. But Symmonds seemingly sensed the movement of the others behind him and put his head down and accelerated to get the win.

Quick Thought #2: Had you ever heard of Mohamed Aman? I doubt it.

But remember that name. The Ethiopian Aman looked very impressive in heat 3, where he got 2nd in 1:45, beating 3-time medallist Alfred Kirwa Yego in the process. And here's the kicker - Aman is only 17 years old. The crazy thing is Aman didn't even win the World Youth Champs this year. He got the silver in 1:44.68 in a race that was dominated by Leonard Kosencha, who ran 1:44.08. After that showing, I was perplexed as to why Kosencha didn't try out for the Kenyan senior team the next week as if he'd made it, I thought he'd have a real chance for a medal. With seeing how good Aman looked today, the other competitors in the 800 should be thankful that Kosencha isn't in the field.

Quick Thought #3: I've always wondered why Charles Jock always takes it out fast and thought at some point, he should try sitting in the pack. After watching him go out slow and lay a goose egg, I wonder if it will be a long time before he tries going out slow again in the future.

Jock needs to try running from behind in some low-key meet early in the season in California - not the first round of the World Championships.

Quick Thought #4: The Eurosport announcers (who by the way are way better than the people on the international feed) kept saying that Abubaker Kaki is going to run the 1,500 and 800 at Worlds. I'd bet a large some of money he doesn't start the 1,500 unless he bombs out of the 800 semifinals, as the first round of the men's 1,500 is on the same day that the men's 800 final is in the evening.
That would be tough for him to pull off. Although I think if he ran the 1,500, he'd be in the hunt for the medals.
Random addition from my old coach John Kellogg: He says its easier for most people to double if they do the faster event first. Thus to go from a fast event like 800 to the 1,500 on the same day is usually easier than doing the reverse. Allyson Felix basically said the same thing herself but in terms of over the whole championships. She said she wishes the 200 was first and not the 400, as it's hard to go from longer to shorter.

Quick Thought #5: All 6 of the heat winners looked pretty good, but 2004 Yuriy Borzakovskiy was EASILY in control of his heat. People hoping that American Nick Symmonds gets a medal were probably encouraged by Symmonds' win in heat 1 but a bit discouraged by Borzakovskiy's win in heat 2.
Thoughts On The Women's 10,000
Quick Thought #1: Meseret Defar is starting to remind me of Asafa Powell. Please stop making excuses and start coming up with the goods when the pressure is on.
I read far too many pre-race articles where I was given the excuses for her past failures, including the one in 2009 when she was a huge favorite and didn't medal. But none of those articles mentioned anything about there being any problems this year and yet she goes out and gets dropped and then drops out. I wonder what the post-race reaction will be now.
Quick Thought #2 that's not really related to the 10,000 but I'm gonna go on a rant on Asafa Powell since Defar made me think of her: I think track and field needs a commissioner and I think Asafa Powell should be given a $25,000 fine for dishonesty. Seriously, I don't get how someone who says there is a 99% chance that he's going to beat Usain Bolt could possibly drop out a few days later. When he gave the ridiculous 99% quote, he had to know he was injured, so the quote was basically just a lie.
Here are two options Asafa: 1) Shut up or 2) At least be honest and tell people you might not run.
In the NFL, teams are required to give injury reports. Track and field needs something like that as well, as unexpected DNSes aren't good for the sport.
But injuries happen. I get that. But the worst part is the after-the-fact justification we've gotten from both him and his agent.
The following quote from Powell simply doesn't make sense to me logically:
"I couldn't risk going out there and finishing way back in the field."
My reply to this is simple: Why not?
The only answer I can think of is if you add in the word "financially" of "psychologically." If the statement read, "I couldn't risk financially going out there," then it would make a little bit of sense. Also if it read "I couldn't risk psychologically going out there," then it also would make sense. Because if Powell went out there and got whipped straight up, then he comes across as 100% looking like a choker and that certainly wouldn't help his psyche heading into 2012. But he certainly could go out there and finish way back and I'd respect him for it if he was truthful to us before the whole thing started about his injury.
Quick Thought #3: With her 5,000 crown in 2009, her 14:20 earlier in the year, her World Cross-Country crown and soon-to-be 10,000/5,000 double, Vivian Cheruiyot is officially a a big star. Later this year, she goes on to get 5,000 world record and if she ultimately becomes the first female under 14:00, she may end up as the female equivalent of Haile Gebrselassie or Kenenisa Bekele.
Quick Thought #4: Seeing Sally Kipyego get the silver was very special.
Something that made it even more special was the fact that I spotted decathlon favorite Ashton Eaton cheering her on over the final 200 from the infield. Check out what I'm talking about by watching the video below for yourself.
Even though Eaton is one of the world's best athletes, he's a genuine guy who cares about his teammate. It also shows that the Oregon Track Club is more a true track club than many might have thought, as most probably just assumed it's a collection of individuals. It's also a testament to Kipyego. In talking to her for 15 minutes in Iten, it was hard not to instantly like her, and clearly she has had a similar effect on the people in Oregon.
---
Runner's World &
Running Times



Combined Only $22
a Year
Save $87

---

Running & Track and Field Posters
---

Great Running Shoe Deals Nike Lunar Glide $79.99 A very popular innovative Nike shoe on sale now.
---