South Africa - Bold Statement From Respected Scientist
World Leading Sports Scientist Tim Noakes Speaks Out In Defense Of Semenya, ASA If anyone has an educated, unbiased grip on the Caster Semenya story it's Tim Noakes, the South African-based co-founder of the IOC's Olympic Science Academy and of the Sports Science Institute in Cape Town. In no uncertain terms, Noakes explains why he believes unequivocally that Caster should be allowed to run and the case is more about protecting image rather than a reality.

*Turmoil In South African Athletics As Hendrick Ramaala Resigns In Protest Of ASA Election Holdup
More From Great Event In Manchester City
Tommie Smith Thinks Gay Can Beat Bolt At 100m Gay almost ran as fast for the first 150m of the 200m as Bolt did last year when he set a straight 150m WR.
*Boards: Did Gay really run 8.72 from 50m-150m??

Surprise: GBR's Andy Turner (Who?) Beats Trammell In 110 Hurdles, Batman/Sanchez/Brathwaite In 200 Hurdles

Full Recap Of Manchester City Games We love the execution of this meet and hope they listen to 200m winner Allyson Felix and bring the event to NYC or L.A. (except nobody would go if it was in L.A.).
Finally: Track On TV!
Princess: Watch Sanya Richards-Ross $600,000 Wedding On WEtv Mon Late Nite You knew "track on tv" was a hoax.

*Photo Of $10,000 Richards-Ross Wedding Cake

Pauper: IAAF's Lamine Diack Announces Plan For Million$ In Cuts Some are calling for Diack to give up the leadership role of the supposedly imperiled IAAF.
Manchester - Tyson Gay Makes Strong Statement
Tyson Gay 19.41 200 Tommie Smith (former straight 200m WR holder) was on hand to congratulate Tyson Gay, who ran 9.88 for the first 100 and 8.72 from 50-150m on the straight track.
Hot On The Boards: Tyson Gay 19.41 straight 200m in the UK


Haile Struggles But Wins BUPA Manchester 10k Haile's previous bests at Manchester were 27:25 (2005) and 27:39 (2009). Worknesh Kidane (2003 World XC champ) won the women's race and is the wife of Healthy Kidney and Central Park record setter (and World XC champ) Gebre Gebremariam.
Chepkurui Sets Another World 12k Record At SF's Wild Bay To Breakers Lineth Chepkurui is having a road racing season to remember: 30:45 10k Crescent City, 51:51 Cherry Blossom 10-mile, 38:10 WR Lilac Bloomsday 12k, 38:07 WR Bay To Breakers 12k. Sammy Kitwara got a very narrow win in a much slower men's race (yes, that is an avatar in the photo above).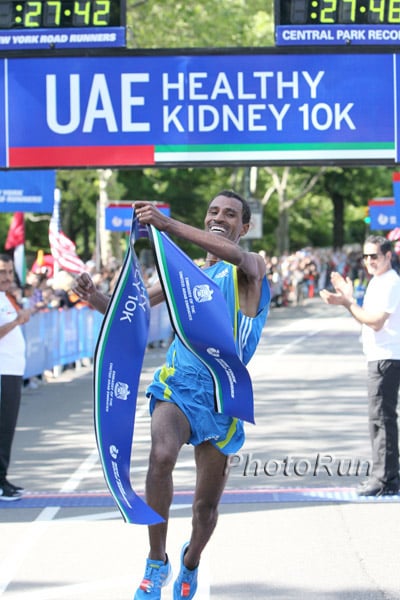 Healthy Kidney 10k: Gebre Gebremariam Wins In 27:39, Breaks Central Park Course Record And Pockets $27,500
Gebre Gebremariam was last year's World Cross champ, so the tough NYC course was no problem for him. Khalid Khannouchi ran 30:31 and was one spot ahead of former NCAA champ Bobby Curtis, who ran 27:33 2 weeks ago and perhaps was just doing this as a tempo run.

*Amateur Reporter Gives Interesting Insight Into Healthy Kidney Runners Kamais, Birmingham and Co. 2nd-place Kamais is a Kenyan who trains himself, Birmingham's shoeless 1,200 at Penn set him back 1 week.
*Message Board Thread On Race
*Khalid Khannouchi Returns
Sprinters Upping The Ante
Bolt Expects Very Fast Time Wednesday In South Korea Asafa Powell opens with 9.75, Tyson Gay runs 200m straight today in GBR after early-season 400 success, Usain Bolt has already run 19.56 (and 8.79 unofficial relay split at Penn) ... are we going to see the most unbelievable year for sprinting in the history of the sport?

Great Read: Reporter Looks At Motivation Of Jamaican Youths Running To Escape Poverty
High School Freshman In Korea Runs 15:38 5,000m A national record as well. Pretty damn impressive.
Recommended Read: Former Ivy 800m Runner Writes Great Piece On Genetics And Speed For SI.com Nature or nurture? Genetics or environment? What are the genticists finding out about specific genes and how they relate to sprinting?
Fastest Man Who Ever Lived (MJ) Talks About Making Documentary With Fastest Man Who Ever Lived (Bolt)
HS Girls Track Coach Gets Pole Vaulter DQed For Bracelet - Making His Team Conference Champs
*Boards: Another idiotic HS rule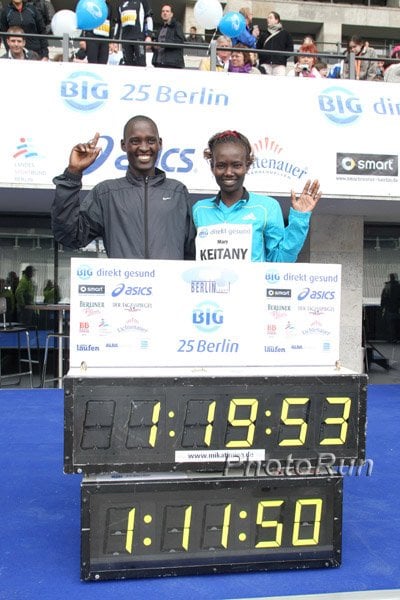 LetsRun.com's The Week That Was In Running This week we put an end to the Rupp-Solinsky controversy, analyze the continual decline of Jeremy Wariner, announce the return of Walter Dix, tell you why Usain Bolt is clean, fall in love with the 25 kilometer distance, and amazingly discover that hGH actually helps performance. All that plus Haile Gebrselassie puts an end to the barefoot running craze and a great race video from Australia.
Maybe Track Is Getting Popular In The US
Chris Solinksy's Run (And LetsRun.com) Gets A 3 Line Mention In A Mainstream Sports Blog Look out, NFL. Proof of the soaring popularity of track and field (see Washington Post article below). The story on a high school track team losing it's league championship because of a pole vaulter wearing a friendship bracelet got a full story. Seriously, we want to give a shout out to the LetsRun.com fan who fought hard to get Solinsky a little press.
LetsRun.com In Washington Post
Washington Post: "Track's Popularity Soars Despite Lack Of US Star Power" LetsRun's co-founder Wejo is quoted and Rojo is mentioned as Amy Shipley of the Washington Post examines the positive state of track in America. We like the article but (despite our rapidly rising numbers) aren't sure the sport is soaring in popularity, considering the average person on the street couldn't name a single US track star. We're glad however to see the sport in a positive light (but never thought the sport was down in the dumps) and think the article is proof the sport's execs need to get the sport on network television or ESPN more often.
Marion Jones Graces New Type Of Court
History Lessons
Random News - Ultras, Dallas, Clever Thieves And Shaheen In Kenya
LRC Photo Gallery
Diamond League Kicks Off In Style *Results *Recaps *Photos
Upcoming
Road Mile In Minneapolis - Torrence's Roll Continues