Weekend Racing Overseas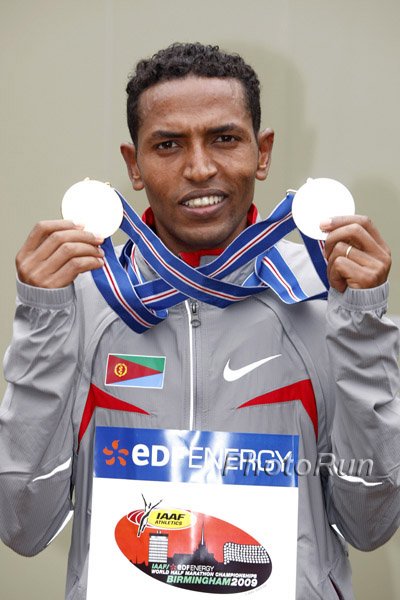 *Legitimate World Record Talk: Zersenay Tadese Going For Wanjiru's H-M Mark In Lisbon Eritrean Zersenay Tadese is the king of the half marathon (4-time world champion) and probably the most talented male runner out there - 10k and up - besides Haile Gebrselassie, Kenenisa Bekele and Sammy Wanjiru.
*LRC 2009 World Half Marathon Photos Tadese won yet again and Dathan Ritzenhein was 3rd.

*Less Likely WR: Micah Kogo will try for his own 10km road record (27:01) in Laredo, Spain.

*Seoul Marathon Preview - Watch For 2:06 19-Year-Old Ethiopian Bazo Worku And Frankfurt Champ Gilbert Kirwa There might be some real fireworks in Seoul if these two guys are on top of their game.

*Rome Marathon Preview Rome race organizers have chosen to honor the 50th anniversary of Abebe Bikila's 1960 Olympic Marathon win in Rome - a marathon he ran in bare feet.
LRC Can't Miss: Training Talk #6 With Craig Virgin Two-time World Cross-Country champion and two-time American record holder Craig Virgin joined us for Training Talk #6 and talked about a wide range of subjects, including his high school and college training, his time with Nike and Athletics West, racing 3 times in 4 days during a "front-loaded" career, and Jimmy Carter and the 1980 US Olympic Boycott that cost Virgin his best shot at an Olympic medal. Virgin is a true ambassador of US distance running and one of the greatest-ever US distance runners - whether you're looking for training advice, inspiration or entertainment, his stories and opinions are a must-hear.
Championships News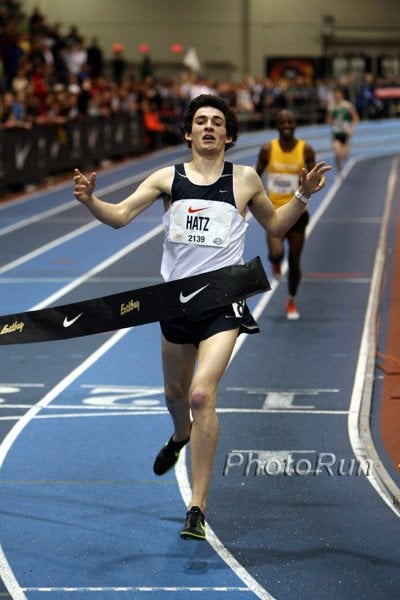 LRC Nike Indoor Nationals Distance Race Photos With all the other action going on at NCAAs and Indoor Worlds, you can catch up on the top HS action by enjoying some photos from Boston, where Emily Sisson and Megan Goethals had a record-breaking race in the girls 2-mile, Andrew Kostelac ran 1:50 for 800, and Alex Hatz ran an impressive 2:05-2:00 negative-split mile to beat Kirubel Erassa, who ran 14:19 2 days earlier.

*Alex Hatz Breaks Alan Webb's Meet Record At NIN Mile Sisson and Goethals both broke Jordan Hasay's 10:10 meet record.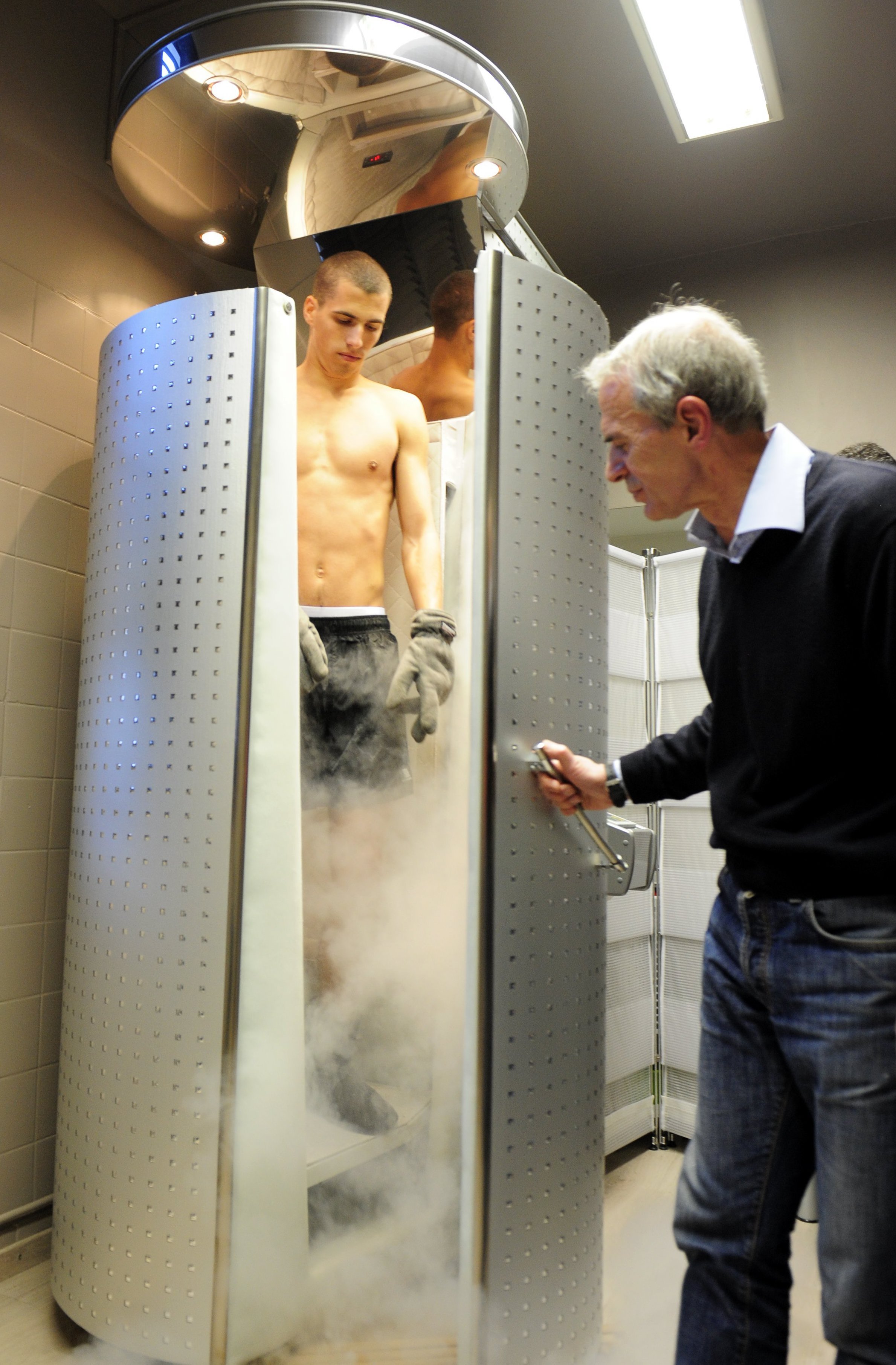 LRC The Week That Was Last week was an amazing one for track and field fans, as you had World Indoors and NCAAs taking place on the same days. We're not going to recap the meet again, but instead we talk about interesting tidbits like new world-record-holder in the 1,000m heptathlon - Curtis Beach, unheralded "world champions" from the NCAA meet, -200 degrees performance-enhancing cryotherapy chambers, the drug-free L.A. marathon (as in you're free to use drugs), and our performance of the week ... and it's not by who you think it is.
Interesting Reactions To Doha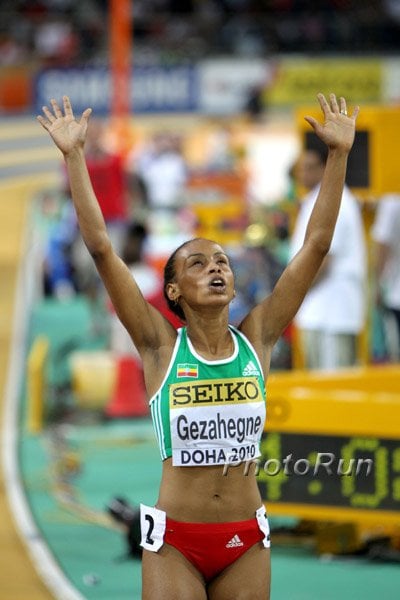 South African Athletics Rep: Qatar "Becoming More Westernized" By Accepting Female Athletes, Female Spectators At Major Sporting Event Interesting observation.

Charles van Commenee Huffing And Puffing About British Failure In Doha - Will Raise Qualification Standards They King Charles wanted 5 medals and got 4.

<<<Paper: Ethiopians Net A Goal On Kenyans At World Indoors The Kenyans had the upper hand last summer in Berlin but are not happy to see Ethiopians score a bunch of distance golds in Doha (Kenya didn't win a single event).
Coaches: Show These Articles To Your Runners Who Put Too Much Pressure On Themselves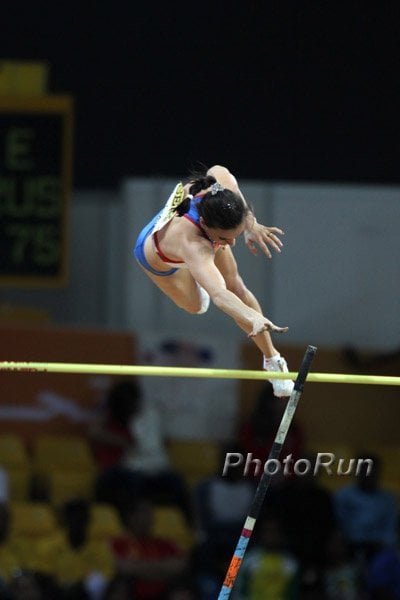 *Tough To Win All The Time: Isinbayeva May Take A Break Notice in the press that Isinbayeva "failed" and "lost" and "blew it" in Doha. When you're expected to win all the time, the sport can become terribly hard to deal with. Left is a photo of an attempt that Isinbayeva failed despite clearing the bar by about 2 feet.

*Good Interview With Blanka Vlašić Vlašić, who sooner or later will get the HJ world record, has put together some clutch performances after being seen as a "choker" at major championships.
IAAF And Political Mumbo Jumbo
*IAAF Wants US 2004 Oly 4 x 4 Women's Team Stripped Of Gold
*London, Beijing And Poland Bid For 2015 Outdoor Worlds New York City (NYRR) is trying to get the half marathon champs to the US in 2012.
*IAAF Organizers Of 2011 Worlds In Daegu Announce Plans To Get People Excited About Track The plans sound totally ridiculous (announcing the mascot is one of the 3 points). Not to be whiny, but how about having the meet on our side of the planet?
*All-Athletics Lists Formula-Based Top 10 Performances For Males And Females From Doha Jessica Ennis #1 female, Teddy Tamgho #1 male.
*Video Of Lagat's 3,000m Win
*Over-Confident Isinbayeva Contemplating Time Off When you're the world athlete of the decade, you are ridiculed every time you lose. Take a vacation and come back and break the world record.
*Aggressive Jenny Meadows Beaten By Savinova, Who Ran 52.0 This Season Meadows has now lowered Kelly Holmes' indoor record twice and medaled at Worlds twice.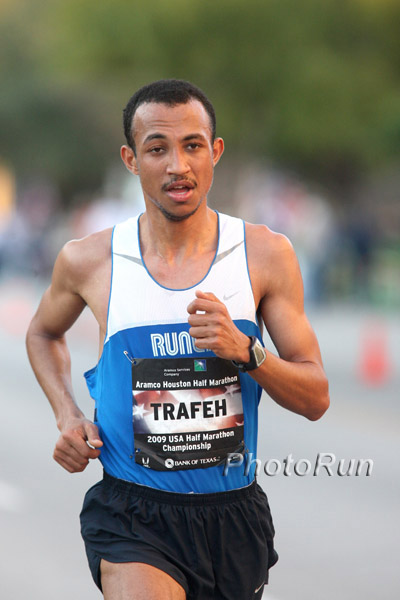 Five-Star Men's Field For NYC Half Stars 1 & 2: Haile Gebrselassie. Star 3: Reigning World XC Champion Gebre Gebremariam. Star 4: Anthony Famiglietti, Mo Trafeh, Abdi Abdirahman and other interesting Ameriacns. Star 5: Brazilian master runner Marilson Gomes dos Santos, debut for Alistair Cragg, Rojo-coached Zach Hine ... and more. We wonder: have they made the bust for Mary Wittenberg in the distance running hall of fame?

Recommended Read: Interview With Mo Trafeh Trafeh talks about making a living as a runner, training himself, and he slams his running experience at University of Arizona. Trafeh went to Jacksonville a week ago and ran under 43:00 for the 15km and smashed the pro field by almost a minute. Trafeh also picks a fight with running coach Brad Hudson.
*LRC Boards: You pick the liar: Brad Hudson or Mo "Gate River" Trafeh?

LRC Reader Predictions: Pick the men's winner from these guys in our poll to the right.

Haile Gebrselassie Says He'd Trade Any World Record For Olympic Gold We'd trade all his time trials for a race against Sammy Wanjiru, Martin Lel, Robert K Cheruiyot, Mebrahtom Keflezighi and Co. Gebrselassie talks about challenging Wanjiru in the London 2012 Marathon and says winning the Olympics is more important to him than times.
*Always Entertaining: NYRR Does Piece On Famiglietti Before His First Half Marathon
It Must Almost Be Spring - Boston Marathon Chatter
Brief Chat With Jason Lehmkuhle Team USA Minnesotan Jason Lehmkuhle says he can run 2:11 in Boston. Headlining American entrants Ryan Hall and Meb Keflezighi are really flying under the radar as Boston is now 1 month away.
World Cross-Country Is Going To Be A Muddy Mess
Polish National Women Take Nearly Half An Hour To Run Muddy, Snowy 8km World XC Course The best women's XC runners in Poland could barely cover the course that will be used for Worlds in under 6:00/mile.

US World XC Team Officially Announced With Dathan Ritzenhein out, the only realistic US chance for a medal lies with Shalane Flanagan. Check out the rest of the senior and junior teams, as it's a significant accomplishment for all of those folks.
The Runners That Inspire Us ...
... & The Coaches Who Get The Most From Us
Dumble (Arizona State), Johnson (Oregon) Named National Assistant Coaches Of The Year In DI Congratulations to these guys. David Dumble coaches the throwers at Arizona St., including Ryan Whiting, who threw over 7 feet farther than any other thrower at NCAAs and eclipsed the 70' mark. Robert Johnson's sprinters, hurdlers and jumpers at Oregon helped lead the Duck women to a national title, while head coach Vin Lananna had to stay home with medical concerns.
Diamond In The Rough - Videos Of Some Of Henry Rono's Greatest Races
Do Any Videos Of Henry Rono Exist? Thanks to a couple of LRC visitors, you can now watch Henry Rono races from 30 years ago on YouTube in some of the most amazing running performances you will ever see.
*Link To Videos
The Rage - Barefoot Running Discussion
The Science Of Sport - Q&A On Barefoot Running Part 1 *Part 2 *Part 3 *Part 4 Almost every day, we answer questions from friends and acquaintances about the barefoot running push. Our friends at Science of Sport are hosting a lengthy discussion of the topic.
The Road Back From Injury
Aussie Jeff Riseley Beats Nick Willis At 800m In Front Of Partisan New Zealand Crowd
Nick Willis' comeback from a hip injury suffered in 2009 continues to be up and down, as he lost to Jeff Riseley for the 2nd time in a row, this time 1:47 to 1:48 in front of a home crowd in Christchurch.

Despite Progress And Support, Achilles Continues To Hamper Liu Xiang
All of China wants to see Liu back in top form, but he says he is full of energy except in his surgically repaired foot. Liu managed to make the indoor WC final last weekend.
Latest Track Talk From The Boards
We've Been Looking Forward To These All Weekend - Worlds Photos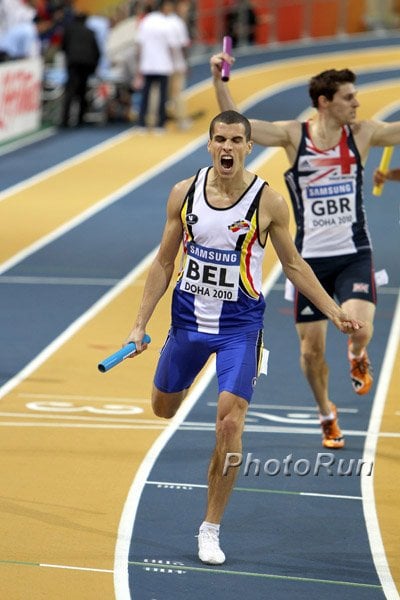 LRC Day 3 Photos From Worlds 4 x 4 photos, Women's 800, 1,500; Men's Triple Jump, 60h, 3,000, more.

*LRC Day 2 Photos From Doha Men's 1,500, Women's 3,000, much more ...

*LRC Day 1 Photos From Doha Preliminary rounds: see most of the Americans in action.

We hope you enjoy them as much as we do.

*New All LRC 2010 Photo Galleries Displayed Here PhotoRun's photos are usually our favorite visual treat of the week.