Top Headlines
Need A Coach? Gags Running One Of Few East Coast Pro Groups
Long Profile Of Coach Frank Gagliano - Looking For A Couple More Athletes
Back To The West Coast
Brief Chat With USA 800m Olympian Alice Schmidt
Edinburgh XC - Bekele's First XC Loss In 2 Years
Recommended Read The Story Of Edinburgh Winner Joseph Ebuya

Bekele (4th) Smashed By 30+ Seconds In Snowy Scotland
Through his various pre-race interviews, it was clear that Kenenisa Bekele took a long time off from training in '09 and wasn't too motivated yet in 2010. Remember 2009 where he dropped out of a mile race in Stockholm and looked vulnerable at 5,000m at some early Golden League races before crushing it at Worlds?
American And European Road And XC Racing - Cold And Snowy
Disney World Marathon/Half
Brazilian Runner Beats Cold For 7th Disney Marathon Victory In Snowy Conditions

Disney Results Hansons Brooks guys Chad Johnson and Sage Canaday go 1-2 in half marathon. Mike Wardian 5th in men's marathon.

European XC/Marathon Results
UK's Times Says Ebuya's Performance Shows Why It's Tough To Win International Distance Races
One day you might beat Bekele but lose to 2 Kenyans.

World Champ Gebre Gebremariam Loses For 1st Time In XC This Year In Muddy Sprint

Netherlands' Egmond Marathon Cancelled Due To Snow
Inside Where It's Warm
Jessica Ennis - Perhaps On Her Way To Future Heptathlon World Record
Multi event world champion set three personal bests in her first indoor meet.

Manny Pacquiao To Fight Clottey In New Dallas Stadium
Pacquiao vs. Mayweather is unfortunately officially off, but Jerry Jones got a dream come true - the world's most interesting boxer will fight in his new, hyper expensive Dallas Stadium.
Usain Bolt Yet To Decide On October's Commonwealth Games
The Bolt man is focusing on winning the 7 Diamond League competitions he is scheduled to run in 2010.
More From Edinburgh Intl. XC
Tirunesh Dibaba Pulls Away With Ease To Defeat World Champ Viv Cheruiyot
This was an easy one to predict. Despite running on snow, recent 15km world record setter Tiru Dibaba simply bided her time and crushed very good runners over the final km to win going away by 75m.

Newly-Minted Scottish National Steph Twell Impresses Home Fans With 5th-Place
In a good show for the freezing fans, Twell and Great Britain's European Cross Champion Hayley Yelling actually controlled the pace in the first half of the race.

Who Beat Bekele?
1st Joseph Ebuya Profile Has run 12:51 ('07); beaten by Ritzenhein, Tegenkamp and Solinsky in 2009 at 5,000m.
2nd Titus Mbishei Profile World Junior XC runner-up, World Junior 10,000 runner-up (only 19 ... this guy might be a major medalist soon).
3rd Veteran Eliud Kipchoge.
Verdict: Normally Bekele would hammer these guys, but he's not in great shape (also he said the cold weather messed him up).
When Buying Athletes Goes Wrong ...
Rashid Ramzi Officially Banned 2 Years By Home Country Bahrain
The IOC's decision to strip Ramzi's gold after an EPO bust in Beijing left Bahrain with no choice.
*Too Bad: Ramzi's Los Angeles-Based Lawyer Had Been Optimistic
Recommended Read: The Unbelievable Story Of Athlete, Coach Red Simmons
Embrace the opportunities you're given.
*Simmons Celebrated In Ann Arbor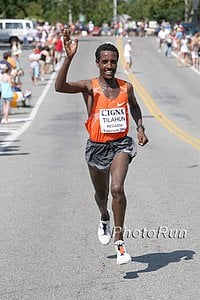 LRC Insanity In Abu Dhabi As Keitany And Regassa Pounce On $300,000 1st-Place Prizes In Oil Money Half Marathon
A lot happened Thursday in Abu Dhabi. We hardly even knew this race was happening but it turned out to be extremely interesting. We recap it with a bunch of the angles we heard from people today.

"If they would have started just a couple of hour later, both world records could have been broken." - Italian Manager Gianni Demadonna in an IAAF recap of Zayed half-marathon.

*Boy Tilahun Regassa Becomes A Man With Historic $300k Half Marathon Win Over Kitwara
Biggest 1st-prize purse in running history?

More Links From Zayed Half
*Mary Keitany Takes Another Top Notch Race With Big 1:07 Win In Zayed Half Marathon
*Chaos Mars 6km Race In Abu Dhabi
*Athletics Kenya Screws Linet Masai - Refuses To Let Her Run Lucrative Zayed At Last Minute We're not sure of details, but this might be a continuation of Athletics Kenya's decision last year to ban Sammy Kitwara from running at Worlds for chasing money at races in the US.
*Get Ready For Zayed Marathon Next Year 2:05 hot weather marathoners, mark your calendars! As if the HM wasn't fun enough, UAE royalty are looking to pony up small fortunes for a marathon next year.
Exciting Events Upcoming In America
Chevron Houston Marathon And Aramco Houston Half Marathon Elites Announced

4 Top Houston Stories
1. Shalane Flanagan debuts at Half Marathon
2. Josh Rohatinsky and Tim Nelson return to racing at Half Marathon
3. 2:24 course record holder Teyba Erkesso in women's Marathon
4. Brett Gotcher debuts at Marathon
February 6th Boston Indoor Games Announce Galen Rupp, Nick Willis, Anna Pierce (Willard), Tirunesh Dibaba


Many LetsRun readers will be excited to see Galen Rupp (5,000) and Nick Willis (mile) back in action. In 2009, Willis ran 3:53 at Boston and Rupp ran 13:18 (AR) for 5,000.
2 Pieces Of Sad News
Statistical Guru Bojidar Spiriev Dies Spiriev made numerous contributions to international track and field, including the scoring tables used by the IAAF to compare performances across events.
Odds And Ends
Track Mega-Star News
LRC Linet Masai - Why Did Athletics Kenya Prohibit Their Star From Running Million Dollar Race?
We use past experience, if not hard facts, to answer the question. Linet Masai, the Kenyan Sportswoman of the Year for 2009, was prohibited at the last minute from running Thursday's Zayed Half Marathon and winning at least $100,000 prize money.

LRC Ricky Simms Tells LetsRun.com ESPN's Reports Of Usain Bolt Challenge Race Are Completely False
NFL record-setting RB Chris Johnson has been challenging Usain Bolt to a sprint foot race through the media. ESPN's Adam Schefter reported earlier this week that sources told him negotiations were on between the Johnson and Bolt camp. The problem is, Bolt and his management have no idea what Schefter's sources are talking about.

Wise Bolt: Reminds Justin Gatlin That Game Has Changed In The Past Couple Of Years
*Earlier: Justin Gatlin Ban Coming To An End - Big Words Fly As He Says He Can Beat Bolt And Gay Gatlin has been banned for 4 years.

Recommended Read: Times London Runs Long Piece On Kenenisa Bekele
Bekele talks in this piece about his place in the sport and the respect he gets (or doesn't get). He has 24 Olympic and World Championships and has never been defeated at 10,000m.
*Edinburgh Intl XC Preview Dibaba vs. Cheruiyot on women's side (plus Britain's Steph Twell and Hayley Yelling).
World Marathon News
Kenyan Runs First Half Of Tiberias Marathon In 61:42 (Israeli HM All-Comers Record) Before Fading To 2:18!
This recap of the Tiberias Marathon, run in almost 80° weather, will shock you.
Track, Distance Running And $$$
The Biz Runner Looks At Google Searches Related To Running In 2009
Kara Goucher raised her profile big-time in 2009 with her moves up to the marathon and half marathon.

Ricky Simms - Agent To Top Track Stars - Looks To Expand Earning Opportunities For Clients
LRC What Was The LRC Quote Of The Year In 2009? Final tallies happening in 48 hours ... It's the most effective and interesting way to review the year in running. We're letting our loyal site visitors determine the quote of the year for 2009. No need to log in. All you have to do is pick your favorite quote of the day from the ones we give you for each month.
2009 LRC US Rankings All The Rankings In One Place While you were on vacation, you might have missed an LRC first - the end-of-the-year rankings for US runners in events from 800-marathon.

2009 was a banner year for US distance runners and for LetsRun.com and we thought of no better way to celebrate the end of the year than with the first-ever LetsRun.com US year-end distance rankings. We give you the top 10 in each distance event.