Zayed Half Marathon Results, Recap, Controversy
By LetsRun.com
January 7, 2010
International distance running fans and the press buzzed as the Zayed Half Marathon took place today in Abu Dhabi. Race organizers raised a huge prize purse, throwing $300,000 US to the winner of both male and female races with $100,000 to second place and $50,000 to third. The Zayed Half Marathon is dubbing itself the richest half marathon in the world.
Teenager Tilahun Regassa won the men's race over Sammy Kitwara while Kenyan ace Mary Keitany won her 4th-straight half marathon with her 5th career world all-time top-10 at the distance on IAAF approved courses.
Top African Talent Lines Up
Thanks to the huge prize purse, the world's top agents, managers and athletes lined up to take a shot at big paydays. Surprisingly, there was almost zero mainstream press surrounding the event despite millions of dollars on the line. Virtually all of the star runners were of Ethiopian or Kenyan descent.
A report surfaced yesterday with the top entrants in Gulf News.
Warm Weather Race
It's important to note that this race was run during the day and it was quite warm, temperatures were reported to be near 25 Celcius (77° F).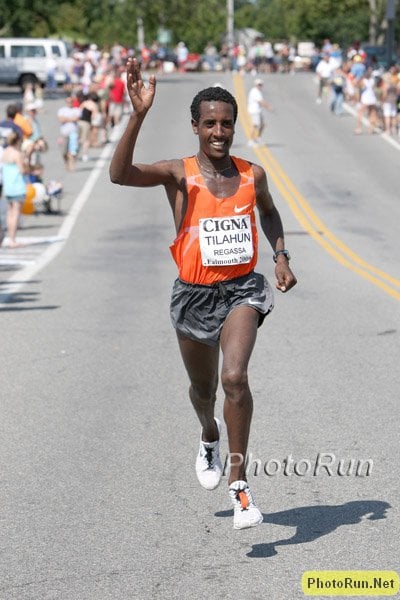 Men's Winner Only 19
The men's winner is 19-year-old Tilahun Regassa of Ethiopia in 59:19. He defeated sensational Kenyan Sammy Kitwara, who has run under 58:52 previously in the half marathon and managed 59:34 on Thursday.
Regassa's previous best victory came in the summer of 2009 at the Cigna Falmouth Road Race (see photo of Regassa waving during the race to the left). Spectators on hand with decades in experience covering the sport were amazed by the teenager's performance on the storied course. Along with the victory in Falmouth, Regassa took 1st at two other big money American road races - Dick's Sporting Goods Bolder Boulder 10k and Ukrop's 10k.
Women's Winner Mary Keitany Unrivaled Again
Most impressive was women's winner Mary Keitany of Kenya who followed her IAAF World Championship Half Marathon win in October with a dominant win in Zayed to pocket $300,000. Her margin was over 2-minutes in front of runner-up Philes Ongori, whose 69:16 earned her a solid $100,000.
According to records on IAAF-certified half marathon courses, it now appears that Keitany has run 5 of the top-10 half marathon times on legal courses in world history.
In 2009, Mary Keitany ran three half marathons in September, October and November and won each in a time between 67:00 and 66:36. She is not simply winning races but destroying the competition by large margins. For example, he won worlds by more than one minute over Ongori.
Photo: Mary Keitany wins the 2009 IAAF World Championships Half Marathon by over a minute over Philes Ongori.
Keitany - The Next Great Kenyan Marathoner?
Will 2010 be the year for Keitany to make her mark in the marathon? It's hard to imagine she would avoid the longer distance with many of the top marathoners injured or aging. However, with $300,000 paychecks for half marathons, she certainly has no need to move up immediately.
For more on the elite half marathon, see the LetsRun.com message board thread and check back to the homepage as more media reports surface.
LRC Boards: Top-10 Results From Abu Dhabi's Zayed Half Marathon
Results from this link.
Men:
1. Tilahun Regassa - 59.19
2. Sammy Kitwara - 59.34
3. Lelisa Benti - 59.59
4. Wilson Kipsang - 60.04
5. Willy Mwangi - 60.07
6. Wilson Chebet - 60.31
7. Kiplimo Kimutai - 60.41
8. Fabiana Jospeh - 60.53
9. Duncan Kibet - 61.00
10. Shumi Eticha - 61.08

Women:
1. Mary Keitany - 67.14
2. Philys Ongori - 69.19
3. Dire Tune - 69.19
4. Eselefech Merga - 69.20
5. Amane Gemale - 69.24
6. Wude Yumer - 69.25
7. Mare Hurssa - 69.38
8. Peninah Arusei - 69.39
9. Teyla Wako - 69.48
10. Lineth Chepkirui - 70.35
Linet Masai Controversy
Controversy From Kenya as Ricky Simms-managed world champion Linet Masai was apparently informed by Athletics Kenya hours before the race that she would not be allowed to compete or else there would be punishment for other Simms-represented athletes. We received this tip from a LetsRun.com reader in The Netherlands who pointed us to this google-translated article. Masai was one of several Kenyan female heroes from the 2009 IAAF Outdoor Track and Field World Championships where she nipped Ethiopian favorites Meselech Melkamu and Meseret Defar at the line for a thrilling 10,000m gold medal-winning performance.
"Chaos" In 6km
Apparently in the 6km race held on the same day, several top runners either missed the start or had to navigate through thousands of children running the race. More on the chaos including a photo of runners being blocked by pedestrians with strollers in a cross walk can be read/seen here.
This entire race, with enormous prize purses and thousands of children running (perhaps to inflate the number of participants?) seems like an attempt at a display of wealth by the Abu Dhabi royalty.