Recommended Read: The Unbelievable Story Of Athlete, Coach Red Simmons
Embrace the opportunities you're given.
*Simmons Celebrated In Ann Arbor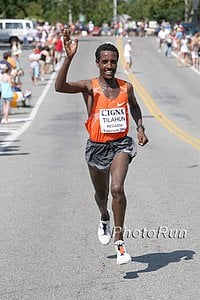 LRC Insanity In Abu Dhabi As Keitany And Regassa Pounce On $300,000 1st-Place Prizes In Oil Money Half Marathon
A lot happened Thursday in Abu Dhabi. We hardly even knew this race was happening but it turned out to be extremely interesting. We recap it with a bunch of the angles we heard from people today.

"If they would have started just a couple of hour later, both world records could have been broken." - Italian Manager Gianni Demadonna in an IAAF recap of Zayed half-marathon.

*Boy Tilahun Regassa Becomes A Man With Historic $300k Half Marathon Win Over Kitwara
Biggest 1st-prize purse in running history?

More Links From Zayed Half
*Mary Keitany Takes Another Top Notch Race With Big 1:07 Win In Zayed Half Marathon
*Chaos Mars 6km Race In Abu Dhabi
*Athletics Kenya Screws Linet Masai - Refuses To Let Her Run Lucrative Zayed At Last Minute We're not sure of details, but this might be a continuation of Athletics Kenya's decision last year to ban Sammy Kitwara from running at Worlds for chasing money at races in the US.
*Get Ready For Zayed Marathon Next Year 2:05 hot weather marathoners, mark your calendars! As if the HM wasn't fun enough, UAE royalty are looking to pony up small fortunes for a marathon next year.
US/Russia News
Justin Gatlin Ban Coming To An End - Big Words Fly As He Says He Can Beat Bolt And Gay
Former world record-tying (9.76) Justin Gatlin's biggest battle will be similar to that of fellow busted drug cheat Dwain Chambers - getting accepted into the big races.

Brief Chat With Erin Donohue - Winner, Emerald Nuts Midnight Run In NYC
A very good read. Donohue is one of the few top distance runners in the US who is based on the East Coast.

New Russian Women's National Record For Indoor 2,000m - 5:38.98
Jamaica Happy To Get $1 Million Track Resurfacing From Singapore In Exchange For Promotion Of Youth Olympics
In America, doesn't it seem like virtually every town has their own track purchased by the taxpayer? Global sprint factory Jamaica sent Asafa Powell and others to help get funding to redo two track surfaces.
The Empire Strikes Back - Oregon U's Indoor Teams Ranked 3rd And 2nd
Despite the loss of Galen Rupp, Oregon have Ashton Eaton, Andrew Wheating and Matt Centrowitz to anchor their ship in 2010.
*Top 25 Rankings
*Top 10 Teams Men And Women Outlined
American Marathon/Half Marathon News
Patrick Smyth On A Roll, Looks Towards Houston Half
Smyth, one of the new kids on the block in American road racing, was 2nd in Manchester and 1st in New York and will debut in the half in less than 2 weeks.

*a la Boston Big Sur Marathon Sells Out April Race
Good news for race organizers. Bad news for runners who didn't plan practically half a year in advance.
*National Trend: Participation In US Road Races Up 11% In 2009

Ryan Hall And Deena Kastor Set For Jan 17 Rock 'n' Roll Arizona Half
The 2 Mammoth stars look to get back on a positive roll after Hall's stagnant and Kastor's un-Deena-like running in 2009.
News From Africa - Kenya
Excellent Read On Colm O'Connell's Training Group In Iten - Owen Slot, Times London
Slot reports from Iten and describes the running factory that is churning out distance-running stars and hope, in the form of hundreds-strong packs of runners.
News From Africa - Ethiopia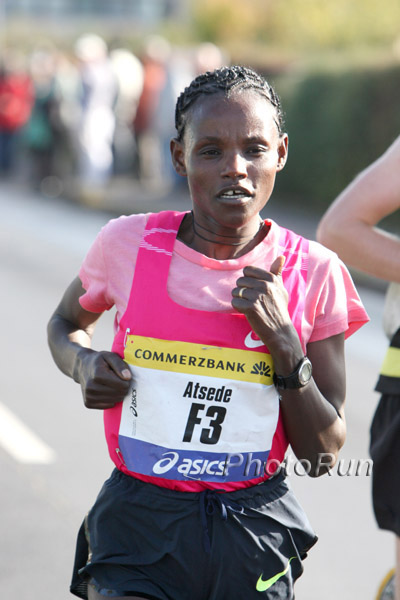 Pat Butcher Previews Haile G And His Competetion At The Jan 22 Standard Chartered Dubai Marathon
The Emperor has started twice in Dubai and twice produced all-time top 8 marathon times. He'll have good competition and hopefully good weather for another crack at a record at the unthinkable age of 37.

Article Says 22-Year-Old Atsede Bayisa Of Ethiopia Ran 69-Minute 2nd Half In China's Xiamen Marathon
Pictured left, Atsede Bayisa ran 2:28 to win by over 5 minutes in China. Her best is 2:24 from a win in Paris in 2009 (she ran 4 intl. marathons in 2009). This article also gives quotes from the men's winner Feyisa Lilesa, who apparently ran almost the entire race with an injury en route to 2:08.
Hakone Ekiden Results And Excellent Recap
Hakone Ekiden Day 2 Recap - Toyo University Wins 2nd Straight
Ryuji Kashiwabara started over 4 minutes down on the final Day One stage and ended the climbing stage over 3 minutes clear of the field to again give Toyo Univ. the lead it needed to win the coveted Hakone Ekiden title.
Hakone Day 1 Recap
UK Running News
UK To Step Up Drug Fight For 2012 Olympics

Charles Van Commenee Talks After 1 Year On The Job As Head Of UK Athletics
Van Commenee seems content after a turbulent year in which a good amount of people lost their jobs and many athletes lost their funding or were forced to move places or coaches. Going into 2010, most everyone knows what to expect.

Jonathan Edwards Talks About Losing His Faith In God
You don't read that every day. Great Britain's triple jump world record holder and Olympic champion talks about losing faith in God and being embarrassed about praying for victory in the past asking, "Why would He intervene in something that is just a game?"
Flotrack Kwik-E Interview With Jordan Hasay
A good read for girl athletes looking for a role model. Hasay talks about the transition to college, her cross-training swimming routine, and the nutjobs on the internet message boards.
Track Mega Star News
LRC Ricky Simms Tells LetsRun.com ESPN's Reports Of Usain Bolt Challenge Race Are Completely False
NFL record-setting RB Chris Johnson has been challenging Usain Bolt to a sprint foot race through the media. ESPN's Adam Schefter reported earlier this week that sources told him negotiations were on between the Johnson and Bolt camp. The problem is, Bolt and his management have no idea what Schefter's sources are talking about.

Wise Bolt: Reminds Justin Gatlin That Game Has Changed In The Past Couple Years
*Earlier: Justin Gatlin Ban Coming To An End - Big Words Fly As He Says He Can Beat Bolt And Gay Gatlin has been banned for 4 years.

Recommended Read: Times London Runs Long Piece On Kenenisa Bekele
Bekele talks in this piece about his place in the sport and the respect he gets (or doesn't get). He has 24 Olympic and World Championships and has never been defeated at 10,000m.
*Edinburgh Intl XC Preview Dibaba vs. Cheruiyot on women's side (plus Britain's Steph Twell and Hayley Yelling).
World Marathon News
Kenyan Runs First Half Of Tiberias Marathon In 61:42 (Israeli HM All Comers Record) Before Fading To 2:18!
This recap of the Tiberias Marathon, run in almost 80° weather, will shock you.

Dan O'Brien To Serve As Chief Ambassador For Upcoming Mumbai Marathon
American decathlete Dan O'Brien is going to India to promote the sport to kids.

Martin Parnell Not Getting Good Weather For His Quest for 250 Marathons In 2010
The crazy Canadian has run 6 of his planned 250 marathons in 2010 in an effort to raise money for a charity that supports sports for kids. The latest temperature was -31° C.
Track, Distance Running And $$$
The Biz Runner Looks At Google Searches Related To Running In 2009
Kara Goucher raised her profile big-time in 2009 with her moves up to the marathon and half marathon.

Ricky Simms - Agent To Top Track Stars - Looks To Expand Earning Opportunities For Clients

NYC Marathon Not Offering 100k To 100 Year Old Runner
Probably a good idea.
Writing From Great Britain
London Times' Gabby Logan On Jana Rawlinson And Women's Body Image
2-time world champ Jana Rawlinson was unhappy with her body and got breast implants. Now she has publicly announced she will have them removed.

Athletics Weekly Offers Top Preview Of Tomorrow's XC Race In Edinburgh
We'll get to see Kenenisa Bekele run half-trained against the world's best XC runners in great shape. Tirunesh Dibaba, on the other hand, is extremely fit and should crush the field (well, Vivian Cheruiyot may contend).

Times Writer Simon Barnes On African Athletes
LRC What Was The LRC Quote Of The Year In 2009? Final tallies happening in 48 hours ... It's the most effective and interesting way to review the year in running. We're letting our loyal site visitors determine the quote of the year for 2009. No need to log in. All you have to do is pick your favorite quote of the day from the ones we give you for each month.
2009 LRC US Rankings All The Rankings In One Place While you were on vacation, you might have missed an LRC first - the end-of-the-year rankings for US runners in events from 800-marathon.

2009 was a banner year for US distance runners and for LetsRun.com and we thought of no better way to celebrate the end of the year than with the first-ever LetsRun.com US year-end distance rankings. We give you the top 10 in each distance event.
Saturday's Edinburgh Intl XC To Be Year's First Big Showdown
Bekele And World Champ Gebre Gebremariam To Face Cold Conditions
Bekele is downplaying his return, saying he's coming off a long holiday from running. '09 World Champ Gebre Gebremariam has been hot on the European cross circuit. If Bekele beats him his first time out, we can look forward to another year of dominance from the 27-year-old Bekele, whose greatest opponent seems to be his own boredom with being the greatest.

Yesterday: Rare In-Depth Interview With Kenenisa Bekele
The Ethiopian world record holder in the 5,000 and 10,000 will race his first race of the season at the Edinburgh International Cross-Country Race this weekend.

Not Just Bekele - Tirunesh Dibaba And Vivian Cheruiyot To Face Locals Steph Twell And Hayley Yelling In Edinburgh
Dibaba vs. Cheruiyot is an interesting rivalry. Obviously Dibaba should be the big favorite and any runner from GBR can just forget about winning.
LRC Training Talk Thursday Episode II
Access to the best minds in the sport. Free and easy. You won't find more useful training talk anywhere. Only from LetsRun.com.

Click Play Below To Hear Our Conversation With Author Matt Fitzgerald.


Matt talked for more than an hour about his new book: "Racing Weight - How To Get Lean For Peak Performance." (Currently the 10th-best selling sports book on Amazon). At last, someone has the guts to write what everyone knows - runners want to lose weight so they can run faster. We think the book is very practical for the beginner to the pro. Also we wanted to promote Matt's revolutionary book with a foreword by legend Dr. Tim Noakes, called "Brain Training For Runners." LRC Coaching Guru John Kellogg is a fan of Brain Training and says his training is based significantly on principles that also appear in Noakes' and Fitzgeralds' work.
Video From LetsRunner: Emolior Academy Kids And Teachers Commit To Running
Getting Rave Reviews: LRC Training Talk - Listen To Our First 2 Episodes
New Feature: Products We Use And Recommend: ING Bank (Checking And Savings)
ING Orange Checking And Savings Bank Review A message board thread on outrageous overdraft fees got us to write a review of ING's banking products. ING has no fees including no fees for overdrafts. We have used them at least since 2004, and have never been disappointed. Read our review and seriously consider switching banks. Not only is their product great but they support world class marathoning throughout the world.