The Week That Was August 31- September 6, 2009
September 7, 2009

By LetsRun.com
To read last week's LRC Week That Was, click Here.
To read any 2009 LRC Week That Was, click Here.
Last week was full of a lot of action. For the 2nd straight week, an American broke 13:00 flat in the 5k (isn't it fun to write that?), for the first time in a long time someone almost broke 1:42.00 and Anna Willard staked her claim to the #1 US ranking at 800 meters. Plus the Golden League concluded with great runs by Bekele, Richards and Bolt and the Caster Semenya story got crazier and crazier.
Tegenkamp Goes Sub-13:00!!!

Up until Friday, August 28, 2009, exactly one American-born athlete had broken 13:00 for 5,000 in history. Now, thanks to Matt Tegenkamp's 12:58.56 in Brussels last Friday and Dathan Ritzenhein's new AR of 12:56.27 (from a week previous), three have done it, including two a week apart.
Breaking 13:00 is no easy treat and Tegenkamp obviously deserves a major Thumbs Up for doing so (we were surprised that only 28% of LRC visitors thought he'd break 13:00, as he ran 13:04 two years ago and we thought all summer long he was in close to AR shape).
If Teg and Ritz raced over 5000m, who do we think would win? The answer is easy - Teg. There is no chance Ritz would run away from him and Teg would probably outkick him 99 times out of 100. That being said, because he put himself out there a week earlier, Ritz stole Tegenkamp's thunder and got the AR.
In this day and age of global running, everything has to be devoted to the WChamps for an American-born athlete to have any chance of medalling. But that singular focus clearly cost Teg his AR as the race in Brussels ended up being a bit tactical by Golden League standards. He had to run two 5ks at Worlds, so taking a week off to make sure you are ready to go sub-13:00 and challenge a 13-year-old record probably looked good on paper when it was all planned out, but at the end of the day Ritz has the thunder and the AR.
It's crazy how much more exciting Ritz's race was and how much more buzz it created because it was so unexpected.
In reality, Tegenkamp finished closer to Bekele than Ritz did. The problem for Teg was that the whole field didn't go out at a suicidal pace in Brussels like they did in Zürich.
Stat of the Week #1 - Tegenkamp Came Closer To Beating Bekele Than Ritz
3.25 seconds - amount of time Matt Tegenkamp was behind Kenenisa Bekele in Brussels (where he finished 7th).
3.95 seconds - amount of time Dathan Ritzenhein was behind Kenenisa Bekele in Brussels (where he finished 3rd).
We also wanted give props to Tegenkamp for being honest as to admitting he felt a little "jealous" when learning of Ritz's AR. No doubt that the AR had been a long-time goal of Tegenkamp's.
---
Medalling At Worlds Isn't Going To Be Easy For Ritz Or Teg
Just because Teg and Ritz both have broken 13:00 doesn't mean it will be easy for them to ever medal at a global championship.
Looking at the 3k results from last week's race in Rieti, it's worth noting that 7 Kenyans and two Ethiopians ran faster than 7:34.96. Adam Goucher is #2 all-time on the American-born list for 3,000 at 7:34.96. It should be noted that Tegenkamp has run the equivalent of 7:31.00 and that Bob Kennedy has the AR at 7:30.84 and Bernard Lagat has run 7:32.43 and Sydney Maree's 7:33.37 is the 2nd fastest all-time). More: *Rieti Results
---
David Rudisha Sets African Record In 800 - 1:42.01
The big news from Rieti, Italy was Kenyan David Rudisha setting the African record by running a stellar 1:42.01. Rudisha hit 600 in 1:15.76 and powered home in 26:25 and just missed becoming the 4th person under 1:42.00.
The 1:42.01 is the fastest time in the world since Wilson Kipketer set the world record of 1:41.11 on August 24th, 1997. After that race, Kipketer never ran faster than 1:42.27. Rudisha is now #4 all-time at 800 behind Kipketer (1:41.11) Seb Coe (1:41.73), Joaquim Cruz (1:41.77). For a while now, LetsRun.com has been a big believer in Rudisha, as we started getting the bandwagon going for him back in May of last year. The only shocking thing to us is how did he go out in the semfinals of Worlds?
Rudisha told the IAAF he didn't like the "cold" weather during the semifinals of Berlin.
He talked to us (interview below) and mentioned he was having leg problems so perhaps the "cold" weather made him tighten up during the semi.
His flameout at Worlds is the perfect example as to why it's wrong for the IAAF - in the 800 - to have a 3-heat semifinal. They need to add an extra round and have a two-heat semifinal. The 800 is already the toughest event to qualify for the finals in.
We also think his flameout shows that 800 meter runners need to race. In our minds, it's a big mistake for an 800 guy to go from July 25th to August 20th without racing.
The scariest thing about Rudisha, a former decathlete, is that he's only 20 years old. Kikpeter had better be sweating as Rudisha or Kaki might come and get his record.
Rudisha at Worlds
More: David Rudisha Sets African Record 1:42.01 800m In Rieti!
---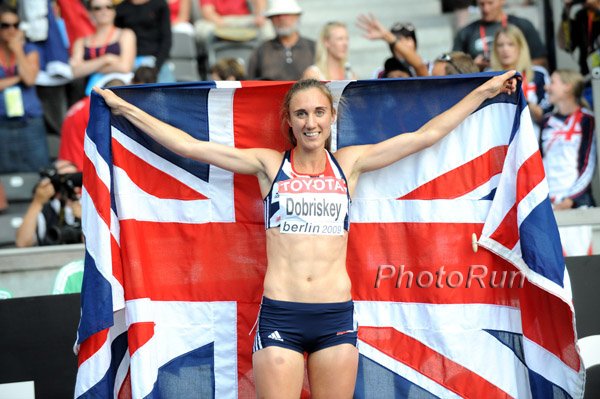 Lisa Dobriskey Is Legit
Thumbs Up to Brit Lisa Dobriskey (pictured right, after being awarded silver in Berlin). After getting 4th in the Olympics, she seemingly suffered heartbreak again this year as she was struggling with an injury early in the season. But she's really come on as of late. After silver at Worlds, this week she showed that her narrow loss to Maryam Yusuf Jamal was no fluke as she edged Jamal for the win in Rieti. Last week she broke 4:00.00 for the first time. When healthy, she clearly is one of the best in the world but deserves a lot of credit for her inspirational in-season comeback. As she told morethanthegames.co.uk:
"The season started so badly and I really experienced the lowest point I've ever had as an athlete - the feelings I had there were pretty horrible and it's a really dark place," said Dobriskey. "But to come out of the other side it really proves what a bit of hard work and determination can do."
---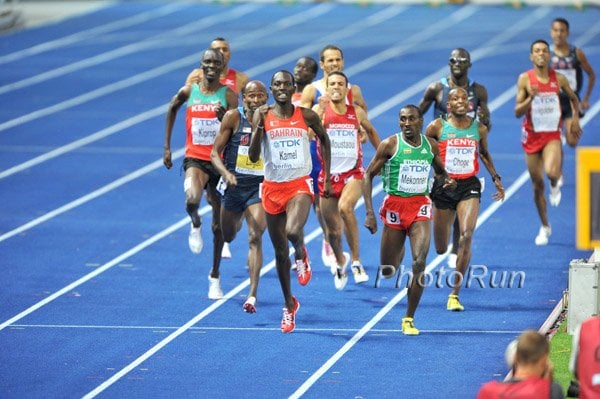 Manzano PRs
It was nice to see American Leonel Manzano get a PR in Rieti. The soon-to-be 25-year-old gave himself an early birthday present (his birthday is September 12th) and ran 3:33.33 for 2nd place.
His 2009 season has clearly been the best of his career, but his PR didn't really reflect his status as a World Championships finalist (and it probably still doesn't) Considering he won his previous race in Gateshead, we'd say that we'd like to see him get in a real barn-burning time trial type 1,500 if there is one left somewhere this summer as his PR might come down lower. But then again, the all-out big races for time are the ones that Manzano hasn't mastered yet. He bombed at Pre this year (3:58.68) as well as Zurich (3:42.30).
Stat Of The Week #2 - Leonel Manzano Was (And Still Is) Slowest WChamp Finalist, As The Photo Above Reminds Us
Did you know that Manzano, who entered the World Championships final with a PR of 3:34.14, was the only Worlds finalist with a PR over 3:33.00? All eleven of his competitors had run at least 3:32 (Lopez Lomong had the slowest PR at 3:32.96) in their careers. All told, the eleven other finalists have broken 3:33 at least 84 times - led by Bernard Lagat's 41 times under 3:33.00. This stat is not a "knock" on Manzano, in fact it shows what a great racer he is (and has been for a long time).
---
Lagat 41 Times Under 3:33
Speaking of Lagat, 41 times under 3:33 is a lot. Unreal, really. We were kind of wondering what he was up to as we'd barely seen him since winning two medals at Worlds (he got 2nd in the 3k in Gateshead). We posted a thread on LRC wondering what he was up to and found out (much to our horror with a little help from Lagat's twitter page [we avoid twitter like the swine flu]) that Lagat is going to run the 3k at the World Athletics Final. He was supposed to run in Rieti but had to pull out with complications with his ankle injury.
We sort of hate twitter but guess it can be useful at times. Anyone else besides us hate twitter - at least initially?
---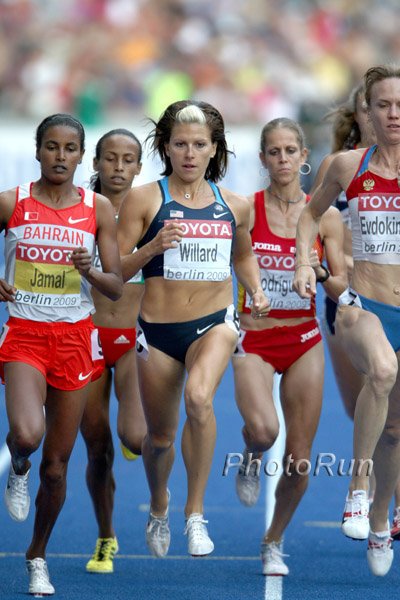 Stat Of The Week #3 - The # Of Times Anna Willard Has Run Over 2:00 And # Of 800s She Has Lost At 800 This Year
Not to be lost in the shuffle, Anna Willard won yet again in Brussels at 800 meters. Much like Dathan Ritzenhein, Willard is doing better the shorter she runs in 2009. The steepler turned 1,500 meter runner has enjoyed huge success at 800 all year. In fact, we give you our Stat Of The Week #3:

0 - The number of 800 meter races Anna Willard has run over 2:00 in 2009. It also is the number of times she has lost at 800 this year.
Anna Willard At 800 In 2009
1:59.29 - 1st NYC May 30th
1:58.80 - 1st Paris July 17th
1:59.14 - 1st Brussels Sept. 4th
There are going to be some interesting calls when Track & Field News does their rankings this year in a number of events (for example, men's 5k - Is Ritz or Teg #2 or #3 in the USA? - we guess Ritz has to be #2 unless Teg gets the record), but in the women's 800, could it be that Willard is #1? She's won two Golden League 800s (we don't care if one of them was on before the telecast even started) and broken 2:00 three times. The fact that she has only raced three 800s is interesting but how could she not be ranked #1? Maggie Vessey had the world leader for a while but has had too many 2:03s to her name and was only 4th at USAs. No one else could even be close.
Boards: Anna Willard Golden League win for Anna Willard in the 800m 1:59.14.
---
Kenyans Break 4 x 1,500 Record/Quote Of The Week
One other thing that shouldn't be ignored from Brussels was the fact that the oldest official IAAF world record - the 32-year-old 4 x 1,500 meter world mark - went down as Kenya defeated Germany's old record by 2 + seconds, 14:36.23 to 14:38.8. And to think Kenya did it with their 1st, 4th, 6th and 14th fastest runners at 1,500 in 2009.
Many falsely assumed that Kenya would absolutely smash the old record, as the new record only averages to be 3:39.06 per man and the slowest Kenyan on the team coming into the meet, Geoffrey Rono, had a seasonal best of 3:36.96 (he ran 3:33.59 in Rieti after the record attempt) and a PR of 3:32.55, but the meet director in Brussels knew better. The following quote by meet director Wilfried Meert is definitely our Quote Of The Week:

"We have made a generation of guys who are used to running only behind pacemakers. They are no longer used to accepting their responsibility. Many of them can run 3:34/3.35, depending on the wind and conditions, behind pacemakers for 1,200m. But, for this record, they have to run alone which makes things much more difficult because they are not used to running alone."
We love the quote as it's totally true and because we were unsure if the meet directors realize how much damage is being done to the sport to have every race a boring rabbitted affair. At least a few of them know what is going on.
The splits for the Kenyans ended up as follows: William Biwott 3:38.5, Gideon Gathimba 3:39.51, Geoffrey Rono 3:41.4 and Augustine Choge 3:36.9. Choge is a 3:30 guy, Biwott is the world junior record holder in the mile and Rono barely ran a sub-4:00 mile equivalent, so the race director Meert was definitely correct.
More: MBoards: Golden League Meet is on Now, so you should be able to watch 4x1500m. Pre-Race: 4 x 1,500m World Record Attempt Taking Place In Brussels
---
Bolt 19.57 - Richards 48.83
Others that ran amazingly well in Brussels included Usain Bolt, whose 19.57 was a thing of beauty. You can watch the race here or here but while trying to find those videos, we came across a video from some guy in the stands in Brussels which we've embedded on the right. His video of the race is awful but we think the content is amazing as it shows in the 2 or 3 minutes prior to the start that the stadium turns into an Usain Bolt-led party. Bolt is definitely worth his appearance fee.
Sanya Richards ran 48.83, another new 2009 world leader, to win her share of the Golden League jackpot. Richards won by more than the distance between the start/finish line and the mile start line. In mathematical terms, she was about 2.5% better than any other runner in the field (10m/400m x 100 = 2.5%). Nobody - and the field was stacked with the best in the world - was even close to Richards.
More: LRC Recap Bolt Does It Again In Brussels
---

Huling Knew He Was Fit Despite WC Disaster
Huling 8:14!!
How about American steepler Dan Huling? The Miami University (Ohio) grad moved up to #6 all-time in the US with a huge 6-second PR of 8:14.69. At Worlds, Huling told us he thought he was really fit (see the video on the right), but he had a disaster and ran 8:46.79. Well, his faith in himself paid off big time in Brussels.
More: Boards: HULING ... 8:14!!!
---
Bekele Has Won 29 In A Row At 5k & 10k
We need to make one last mention of Brussels. Some people seem to take for granted that Kenenisa Bekele won the 5,000m to complete his Golden League sweep and win his $333,333.33 share of the jackpot. Bekele's win went largely unnoticed because people just assume he's going to win. But his 2009 season needs to be recognized as unreal.
Bekele now has a seventeen-meet win streak at 5,000. His last loss was to Bernard Lagat in London on July 28th of 2006.
At 10,000, Bekele's win streak is twelve, although it's been a lot longer since he lost at 10k. In fact, Bekele has never lost at 10k, so his win streak there is infinitely long.
Speaking of Lagat, we think it would have been very interesting if Lagat had been in the race and healthy, as Bekele had to have been tired and the pace wasn't overly ambitious. Of course, if Lagat had been in the race, Bekele probably would have pushed the rabbits out faster. More: LRC 12:58.56 For Matt Tegenkamp In Brussels
---
Caster Semenya Story Gets Crazier & Crazier
We'll hold off on saying much about the Semenya story as we're sure all of the facts will come out in the coming weeks but last week, her first full week back in South Africa (see photo of her press conference below), was pretty crazy. There is now debate as to whether Semenya is coached by the former East German doping mastermind Dr. Ekkart Arbeit. Some say it's true while other say it isn't. All we can say is, it had better not be true, as Arbeit is the one that gave so many steroids to shot putter Heidi Krieger that she literally had a sex change from woman to man.
And if that accusation wasn't shocking enough, the head of Athletics South Africa Leonard Chuene kept saying everything was the result of racism. How about this ridiculous quote as our Quote Of The Week #2 :
"This is about racism. These rumors come from South Africa. Why did these people write to the IAAF? These are the same people who don't want the 2010 World Cup, the same people who bring black people down and the same people who refuse to believe that Africans can make it on the world stage."
The above quote was reportedly made to The Independent online according to universalsports.com.
Amazingly, the person who resigned wasn't Chuene but rather coach Wilfred Daniels.
Of course, just in the past few days, Semenya has come out as a "cover girl" for YOU Magazine. See her "makeover" here.
More:
Huffington Post Writer Tackles Gender In Sports - He Likens Women's Sports To The Special Olympics Or 6-Feet-And-Under Basketball This was the best read of the bunch.
*Caster Semenya Coached By Former East German Head Coach?
*Mike Hurst Weighs In On Caster Semenya's Coach And Doping Past As if there hasn't been enough controversy surrounding this girl, it turns out that South Africa employs the former head of East German Dopers Athletics as a track coach. And yes, he is rumored to coach Semenya.
*Interesting NY Times Op Ed On Semenya and How Race, Politics, Society In South Africa Play A Complex Role In Her Story
*Rob Peters Of iAfrica On Why The Semenya Rage Is No Longer About Semenya He says it's more about political gain.
*Associated Press: South African Rape Victim Case Shows Dichotomy In Treatment Of Masculine Women While one female athlete is adored, another is swept under the rug.
*Female Writer: Media Missed An Opportunity To Embrace Diversity With Caster Semenya
---
Weekly Drug Update Drug News
Jamaicans Plead Guilty To Taking Banned Substance They might just get a warning.
---
NCAA XC Season Gets Underway - *2008 Nike XC Champion Reed Conner Wins By A Mile In First Meet For Badgers Impressive win for Wisco coach Mick Byrne's freshman. *Arkansas Razorback Solomon Haile Comes Out Of The Gate Strongly With A 23-Second Victory Over His Teammates *Video Of Solomon Haile After The Race Coach Bucknam and Solomon Haile spoke after the opening race. *Next Foot Locker Champ? HSer Lukas Verzbicas Opens With 1-Minute Win *Jacob Kirwa Gets Massive Win In New Mexico Jacob Kirwa smashed the field and Nicodemus Ngetich by 54 seconds. New Mexico season preview where they talk about how conference foe BYU should be worried about their team. *Michigan And Their Two New Zealand Freshmen Open Season At Home *Bill Matthews Runs First Race As Georgia Bulldog *Adams State Opens Up With Big Wins *Pre's Run Kicks Off Oregon's Season
---
Recommended Reads From Last Week
1) Brief Chat With Kevin Hanson About Desireé Davila Kevin Hanson, who was so excited he lost his breakfast during Desireé Davila's amazing 2:27 11th place at Worlds, takes the reader through her running history. Amazingly, only one American woman has run faster than Davila in the marathon at a younger age, and that was Joan Benoit. Also, every time Davila - whose boyfriend has served as her only training partner leading up to Berlin - has put on a USA jersey, she has PRed.
2) India's Santhi Soundarajan Was Disqualified For Being A "Man" In 2006 - Says Nobody Fought For Her Time Magazine did a great job finding Soundarajan, whose disqualification left her, in her words, "physically and mentally totally broken."
3) LRC Ritz Speaks USATF held a teleconference with Dathan Ritzenhein Tuesday afternoon and we quickly give you the highlights. We tell you what Ritz had to say about new coach Alberto Salazar and what event Ritz will focus on for 2012. Plus we tell you what Ritz's next race will be. Is an American 10k record run a possibility?
4) Usain Bolt Says Kenenisa Bekele Deserves More Credit The great sprinter says the great distance runner deserves a lot more attention and fame.
---
Remembering The Last Week With The Quotes of the Day - Day By Day:
Monday: "The average runner out there, they think that things can just happen like that and it's not [like that], it's a series of years. It does take a lot of effort, a lot of work, and if we [Americans] keep on this path we're going to see more and more and have a big group of Americans competing at this level." - Matt Tegenkamp talking after he broke the 13:00 barrier with a 12:58.56 in Brussels on Friday night.

Sunday: "The average runner out there, they think that things can just happen like that and it's not [like that], it's a series of years. It does take a lot of effort, a lot of work, and if we [Americans] keep on this path we're going to see more and more and have a big group of Americans competing at this level."
- Matt Tegenkamp talking after he broke the 13:00 barrier with a 12:58.56 in Brussels on Friday night.
Saturday: All-Time USA 5,000m List
1. Dathan Ritzenhein 12:56.27 - 8/29/2009
2. Bob Kennedy 12:58.21 - 8/14/1996
3. Matt Tegenkamp 12:58.56 - 9/4/2009
4. Bernard Lagat 12:59.22 - 7/28/06
5. Sydney Maree 13:01.15 - 7/27/1985

Friday: "If Usain agrees, if someone wants to organize this, I am ready."
"I have achieved everything."
- Kenenisa Bekele on racing Usain Bolt next year and his unbelievably dominant career.

Thursday: "I think after the next Olympics and other world championships, if I do extremely well in those I'll consider myself a legend. I want to be a legend, I want to make sure I get my M3 and all those other fast cars.
- Usain Bolt talking to reporters before his 200m at the Memorial van Damme in Brussels on Friday. It is being reported that Daegu, South Korea offered Bolt $500,000 to run the 100m there later this year.

Wednesday: "She should not let them take away her medal. She is a woman and that's it, full stop. A gender test cannot take away from you who you are."
- India's Santhi Soundarajan talking to Time Magazine about Caster Semenya. Soundarajan lost her Asian Games 800m silver medal in 2006 after failing a gender test and now runs a sporting school for kids from poor backgrounds. Definitely a Recommended Read.

Tuesday: "The win over Arkansas last year to win the SEC was great for our program."
- Alabama Crimson Tide cross-country coach Joe Walker in the media preview for the mostly Kenyan team. The Tide will roll into Eugene in October to take on the Ducks at the Dellinger Invite. The LetsRun.com message board thread "Division-I XC Rankings" got us thinking about cross-country on the last day of August. Just in case you want to start comparing squads, check out the Arkansas Razorback preview here (Foot Locker champ Solomon Haile will join their team this year).