*IAAF Preview Of Stockholm The last big meet prior to world's is going to be great. Jenny Barringer comes out of hibernation to run the 5k against a ton of competition as Bernard Lagat, Nate Brannen and Leo M clash at 1k, and Borzakovskiy and Kaki at 800. Plus we'll find out just how hurt Tyson Gay is as he'll square off against Asafa Powell in the locale where Powell handed Bolt the only 100 m loss of his life last year. Lastly, Wurth-Thomas and Rowbury versus the Olympic silver medallist Iryna Lishchynska in the 1,500.
News From Africa
*A Year After Missing Olympic Trials Due To Injury, David Rudisha Is Thrilled To Be Kenyan 800m Champ
*Kenya's Coach 'Nobody will double' - Plus Hopes For Having 4 x 400 Team Go Up in Smoke
*Ethiopia: Tons of Doubles
NY Times - How To Avoid Heatstroke "I'm all in favor of naked practice sessions"
Hate-crime at World Outgames Hurts 1 US Track Athlete - That's the gay games for those of you not in the know.
Frank Deford On Women's Sports Struggles: 'That's No Lady, That's An Athlete!'
Herculis Monaco Super GP
LRC: Maggie Vessey Stuns Herself & The World With 1:57.84 World Leader The woman who has entertained us all summer long did it again on Tuesday in Monaco with a breathtaking performance. Abubaker Kaki grabbed a big victory in the men's 800, as Nick Symmonds broke 1:44 for the first time. In women's action, one woman got the barrier she wanted as Christin Wurth-Thomas broke 2:00 for the first time, but Anna Willard failed to go sub-4:00 in the 1,500, where Maryam Yusuf Jamal stamped herself as the emphatic favorite for Worlds with a convincing win over Gelete Burka.
Lots Of Teams Finalized For World Champs
Canada - A Bad Place For Women To Live Canada To Send 31 To Berlin But Zero Mid-D Or Distance Runners On The Track Yes, zero women, but Nate Brannen does make the cut.
*French Team Finalized
*Ethiopia They still haven't made up their minds about the women's 10k.
UK Almost Twice As Good As Canada Brits To Send 60 To Berlin *Florida State's NCAA Champ Hannah England Is Left Off Team Even Though She Beat Steph Twell on Saturday *Dwain Chambers To Double *Charles van Commenee Worries About Brittle GB Squad/Wants 5 Medals *van Commenee: Brit Sprinters Aren't "Lazy" We just use the word "slow."
Even At Age 51, Mary Slaney Lacks Closure & Wishes She Could Still Compete
Swimming Is Officially A Joke: Because of the new suits, the average age of a women's world record is less than a year. For track, it's 8-plus years.
LRC Ethiopian Update
LRC: Strong Ethiopian Marathon Teams Announced - Suspense Builds As To Who Will Make Women's 10k Team Our Ethiopian correspondent Teferi Debebe reports that Ethiopia's 10k team on the women's side is not set and that the Federation may leave off a 30:11.87 runner. Unbelievable. Plus an update on the men's marathon team and a photo from training.
Rachid Ramzi Went Before IOC Doping Panel Trying to get off on what appears to be a technicality.
LRC: Aviva London Day 2 Recap We've got every event and every result recapped for you. Tyson Gay got a win, but injury worries surfaced afterwards. Usain Bolt and Yohan Blake led Jamaica to a ridiculous 37.46 clocking in the 4 x 100m. In the distances, Tirunesh Dibaba returned with a 14:33, while America dominated the 1,500m and mile, as the men went 1-2-3 and Anna Willard took down Rowbury in a fun 1,500m. Read our recaps for our take on the results.
*20.00 Win For Tyson Gay (Injury Fears Confirmed Post-Race)
*Bolt And Jamaicans Run 4th Fastest 4 x 100 In Britain
*Despite Hamstring Injury, Tyson Gay Bullish On Berlin

LRC Day 1Recap: Bolt Kicks Off Aviva 2009 With 9.91 Blowout
*Bolt Wins 100m In A Canter 9.91 blowout into a blowing wind.
*Isinbayeva Ends 6-Year Win Streak In Crystal Palace
*Aviva London Day 1 Results We think our readers crashed the Aviva London site.
Recommended Reads
1) An Interview With 2:08 Retired Japanese Marathoner Takayuki Nishida The article gives great insight into the Japanese culture (work, work, work) and contrasts it to the Kenyan (it's ok to rest).
2) A Look At US HS 1k Record Holder Robby Andrews & His Dad They were following the Peter-Seb Coe model.
3) A Look At Maggie Vessey's Incredible Journey The UCSB Cal Poly grad is somehow now the world leader. Up until her 1:57, she thought she was just getting 'lucky.
4) Even Maggie Vessey's Coach Was Stunned By Her 1:57
We're Not Sure Why Honest Drug Cheats Like Dwain Chambers Are Treated Like Criminals But Unrepentant Cheats Get Fawning Press
1:55 Drug Cheat Jolanda Ceplak Returns To Competition Without drugs, she runs 2:07
Bogota Half Marathon Preview: Ndereba on women's side, and Patrick Makau versus three-time champ Isaac Macharia.
3 Time World Snooker Champion: "I want to become an elite runner... That's my goal eventually." He recently was 189th out of 832 in the South of England XC Champs.

Charles van Commenee: Jessica Ennis Competes On A Day Not Suited For 'Pussies'
Recommended Reads
*Catching Up With Japanese 5k/1,500 Double Winner Yuichiro "Big Mouth" Ueno The guy who has a "long-standing reputation for talking big and blowing up even bigger" has finally come through in a big way and is headed to Berlin after pulling off the 1st 5k/1,500 double in 24 years. In the future, he wants the marathon world record.
*A Brief Chat With 3:35 1,500-Meter Runner Dorian Ulrey The guy is a stud. He found out he was going to Rome on Tuesday, got there Wednesday and PRed by 4 seconds on Friday.
News From Kenya, Where The Berlin Training Camps Have Opened
Paul Kipsiele Koech Was Stunned To Be Named To Kenya's World Champs Team It's not every day that a guy who runs 8:37 at the Trials makes a World Championships team for any country in the steeple, let alone Kenya.
*After Bronzes In 2007 And 2008 In Steeple, Richard Mateelong Hopes For Gold In 2009
*After "Tying" For Bronze Last Year, Micah Kogo And Moses Masai Hoping For Better In 10k This Year
Weekend Action We Didn't Feature On Monday
Russian Champs: *Anna Alminova Runs 3:58.38 (First Sub-4) And 1:57.86 At Russian Champs Just after a lot of their top women got busted for drugs, Alminova rises to the top.
*Russian Champs Results

Barcelona: Marta Dominguez Runs World-Leading 9:09.39 Steeple

France: Mehdi Baala Wins French Champs, Will Not Go To Worlds Unless He Runs 3:36 Today In Monaco

Brassachaat: Brenda Martinez And Heidi Dahl Go 2:00.8 In Brassachaat
Kenyan Trials/News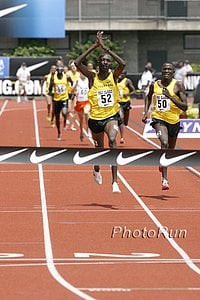 Olympic Champ Pamela Jelimo Nipped By Janeth Jepkosgei, Asbel Kiprop Celebrates 80m Before The Finish Again, Olympic 800m Champ Wilfred Bungei Not Named To Squad The marquée matchup was 2008 Olympic Champ Pamela Jelimo versus 2007 World Champ in the women's 800. Jelimo showed flashes of her dominant 2008 form, only to falter down the stretch and be nipped at the line by Jepkosgei. Winning or making Worlds teams is never certain in talent-rich Kenya, especially at the altitude of Naroibi. Many of the stars fell on Saturday, including Jelimo and Olympic 1,500m champ Nancy Lagat, but Olympic 1,500m champ Asbel Kiprop showed he's the cream of the crop, as he had time to celebrate once again 80m from the finish (while a guy is right next to him).
*Video Highlights From 2009 Kenyan Track And Field Trials

Julius Kirwa Not To Coach Kenyan Team At Worlds As He Has To Go To Military Training

Recommended Read: Pamela Jelimo Feature Article In British Newspaper She is very humble, very rich, and living very modestly.
Bix 7
Meb And Molly Huddle Win US Titles The veteran Meb dominated, gapping Fam and the rest by 30 seconds.
Alberto Contador's Manager Is Upset Contador And Not Armstrong Won The Tour Classless.
Maggie Vessey 1:57.84!!
LRC: The Week That Was Of course we cover the great action at the Kenyan Champs, tell you about Kenyan stupidity, and recap the action in London where American star Anna Willard continued her fine 2009. We also give you a history lesson and go back just 2 years ago this week, when Alan Webb was on top of the running world. Plus, we've got R&R (Rupp and Ritz), free advice for race directors, and American 800m runners Symmonds and Krummenacker covered.
Kenyan Trials Highlights
Bigger Version Here