AFTER TWO YEAR SUSPENSION, CEPLAK MAKES MODEST RETURN
By Bob Ramsak
(c) 2009 Race Results Weekly, all rights reserved

MARIBOR, Slovenia (28-Jul) -– It may not have been the kind of performance she had become used to, but world indoor 800m record holder Jolanda Ceplak was nonetheless content with her first outing after a two-year drug suspension.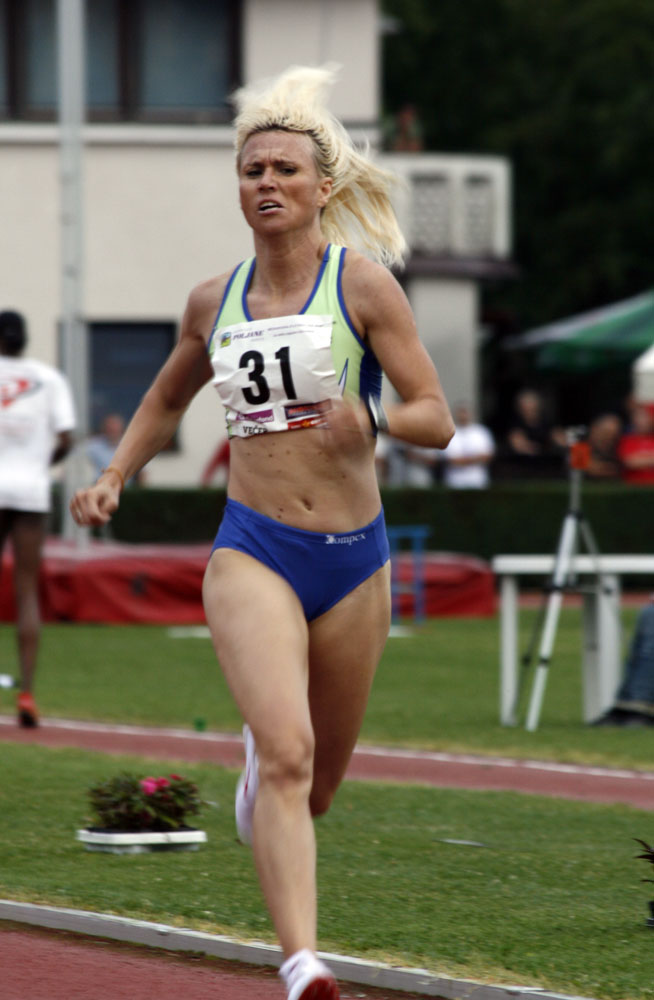 The 32-year-old Slovenian, who received a two-year ban from the sport after testing positive for EPO in 2007, returned to competition in a Slovenian Grand Prix meet in this northeastern city on Tuesday evening, winning a low-key 800 in 2:07.13.

"I was nervous," said Ceplak, who was welcomed with polite applause by the largest crowd to ever gather at the city's municipal athletics stadium. "It wasn't easy racing again after two years."

Ceplak last raced in Lignano, Italy, on July 15, 2007, where she clocked 1:59.86, but that victory, along with five other performances, were expunged from the record books when her ban took effect. In a series of interviews with Slovenian media in recent weeks, Ceplak has maintained her innocence, denying that she had ever used the banned blood booster which was discovered during an out-of-competition test taken on June 18, 2007. Vowing to look ahead and continue her career, she resumed serious training last October.

Competing in a four-woman field --two of the other three were local juniors-- it was more of a time trial than a race for the former European indoor and outdoor champion and 2004 Olympic bronze medallist, who came up well short of the 2:04 target set by her coach Tomo Popetru. Assisted by a pacesetter for the first lap, Ceplak reached 400m in 1:00.35, well shy of the 58.5 she had hoped for, but was glad to get the race behind her.

"I just need some more races to really see where my fitness really is at the moment," Ceplak said, underscoring that achieving the world championship "B" standard of 2:01.30 was never a target for this year. "I need to have three or four races behindme to get a race rhythm back.
Ceplak said that her outings this weekend at the national championships will be more indicative of her current shape. She's entered in the 800 on Sunday, but might also race the 1500 on Saturday as well.

Her return to competition received heavy media coverage in this small alpine nation of 2.1 million, where Ceplak remains one of the most recognized female athletes. But much has changed during her absence. At home her popularity has waned, her relatively lucrative sponsorships have disappeared, and her current surroundings are now much more modest than the apartment she briefly rented in Monte Carlo. Earlier this month, she watched her national 1500m record fall when Sonja Roman, the European indoor bronze medallist, clocked 4:02.13 at Rome's Golden Gala.

And at 32, she doesn't expect to threaten her career best of 1:55.19 which dates back to the summer of 2002, and holds no illusions that she'll quickly rejoin her event's upper echelon.

"I'm getting older, and the speed may not be there anymore for the 800, so I might focus more on the 1500."

She is however hoping to be more competitive after the New Year, when she returns to her "favorite" venues and competes indoors. Ceplak broke the world indoor mark in the 800 at the 2002 European championships, clocking 1:55.82. But with a ban on athletes who have tested positive for doping by the Euromeetings group of organizers, albeit a selectively enforced one, she may not be as welcome as she was at a small stadium near her home last night.
ENDS

---
Runner's World &
Running Times



Combined Only $22
a Year
Save $87

---

Running & Track and Field Posters
---
---