Stacked London Marathon Is Sunday

LRC London Marathon Men's Preview Dave Bedford has done it again - assembled the top marathon field in the world. Boston may have gotten the press the last two weeks, but London is no doubt the top marathon in the world, which is appropriate as Britain is the land of the most famous monarchy in the world and thus it's fitting that London is without a doubt the King of the marathon. 3-time champ Martin Lel vs. Olympic champ Sammy Wanjiru and a host of others, including stud Abderrahim Goumri and the debut of World XC champ Zersenay Tadese. The field is so loaded that Luke Kibet, the current World champ, is listed under our category, "Guys Who Can't Win," which also includes Americans Meb Keflezighi and Dathan Ritzenhein.
*Martin Lel's Hip Scan Comes Back Negative And He Looks Ready To Run Sunday
On the boards: Why is Ritz the "lead" American at London when Meb is in the race?

LRC London Marathon Women's Preview Irina Mikitenko emerged as a star last year at this race and she is back to take on the most credentialed marathoner in the world, Catherine Ndereba, and Ethiopians Geti Wami and Berhane Adere. Oh yeah, Olympic champ Constantina Dita is in the field. Plus, we even give you betting advice with our darkhorse Martha Komu.

More: *London Marathon Betting Odds
*Steve Cram Gives His Take On Incredible London Field And He Is Intrigued By Debut Of Zersenay Tadese
*Constantina Dita Tells Paula Radcliffe To Cut Her Mileage www.guardian.co.uk
*Protest In Front Of UK Parliament May Make London Marathon Change Its Course BBC
British Distance Woes: What Can Be Done?
Paula Radcliffe Talks About British Men's Lack Of Mental Toughness Paula talks about the fragile male ego and sounds like Paul Tergat: "A lot of it is about the mental outlook of the athlete." Times of London

Ian Stewart Is Tasked With Turning Around British Distance Running And He Says They Need To Run More Miles "The low-mileage approach has destroyed British distance running." "It's a big lifestyle change. In the last 10-15 years there was a groundswell of opinion that said 'less is more.' We had runners doing more work in the gym. But they're not doing that in Kenya or Ethiopia, they're getting miles under their belt." www.guardian.co.uk
More Boston News: Brian Sell's Initial Reaction to Boston Is To Hang Them Up
*Seeing The Tape Gave Salina Kosgei Just Enough Energy To Win Boston www.nation.co.ke
Previous London News
*Wanjiru Ready For London Battle
*Lel Going For #4, Leaders Will Be Paced Through 20 Miles At WR Pace Yikes.
*Wanjiru Again Talking About a World Record - This Time In The Marathon
*Lel Shows Crack: Says Hip Is Bothering Him Going In To London You can bet Zersenay Tadese will like that news.
*Ritz Ready For London Dathan Ritzenhein spends about the first half of this interview fielding question and talking about Ryan Hall.
*London Marathon Set For Kenyan Domination Only 8 Brits broke 2:20 last year vs. 100 in 1981. Meanwhile, 65 of the top 100 marathoners in the world in 2008 were Kenyan.
*London Will Mark Yuri Kano's International Marathon Debut The Japanese are sending some really good runners on both the men's and women's side.
*Read About Japan's Atsushi Sato

*Wow, Too Bad She Isn't Going To Go For It Goucher Was Seriously Consdering Running London LRC Boards: Kara Goucher not running London Marathon *Ken Goe's Article On His Text Messages With Kara *Kara Goucher is USATF Athlete Of The Week Kind of an interesting selection by USATF, given the choice of Hall and Goucher.
Great Post-Race Piece On 2009 Boston Champ Deriba Merga He said when he woke up he knew he would win. He's apparently now going to turn down a huge payday and run the World Champs in Berlin. The guy likes to race!
*After Passing Out, Tune Came To & Had No Idea Who Won The Race
Marathon Tidbits: Defending Champs Tune & Cheruiyot Both Out Of Hospital / Rodgers Calls Race Maybe Most Fantastic Boston He's Ever Run / USAirways Air Traffic Controller Runs In 2:40s The Celtics owner even ran.
*Kara Goucher No Longer Fears The Marathon In NYC, she was surviving at the end; in Boston, she was racing. The only problem is now she's planning on starting a family. Maybe American fans desperate for victory should raise a ton and try to get them to consider adoption.
*Kenyan Paper Reports Of Kosgei's Victory She was a little "scared" because the early pace was so slow.
*Shalane Flanagan Might Run Marathon In Future
And The Ugandan Women's Marathon Mark Is Broken By Jane Suuto ... Guess What It Is? She ran the time to win in France.
London Paper: How Fast Can A Human Run A Marathon? One professor thinks a 90-minute marathon is possible for a bio-engineered freak (that's 3:45 mile pace).
*Wounded Iraq Vet Hoping To Finish London Marathon Within Two Weeks He's only up to one mile per day in training.
Two-Time World Champion Jana Rawlinson Continues To Train Despite Splitting With Husband/Coach He joking called his wife "tempermantal" and "little ****" at their wedding.
Even Sports Superstars Can Get Depressed
USATF Gives Out 10 Developmental Grants Alice Schmidt gets 5k.
Sprint/Jump News
Usain Bolt To Run At The Aviva London Grand Prix On LetsRun.com Founders Day (July 24th)
*After Mt. SAC, Dwain Chambers Embarks on "Project Bolt" His goal is the same as all sprinters - to somehow beat Bolt in Berlin.
*Reigning European LJ Champ Andrew Howe Out For Season With Achilles Injury
Random Track Results
IAAF Dakar *Full Results
*Hometown Hero Kaba Ndiss Badji Jumps 8.29
Deriba Merga, Salina Kosgei Win In Boston As Americans Goucher/Hall Finish 3rd The women's race was a jog for much of the race but ultimately turned into an unheard-of 3-person sprint finish where Goucher came up short. The men's race featured both bold frontrunning early on and a savvy charge late by Ryan Hall, who ended up ahead of last year's Chicago champ as well as the 3-time defending champ (who ended up in the hospital).
*Watch The Races On Our Partner UniversalSports.com
*IAAF Recap Here
*Great Recap Of Amazing Pace Changes In Race From Our Friends At The Science Of Sport
*Bill Rodgers Returns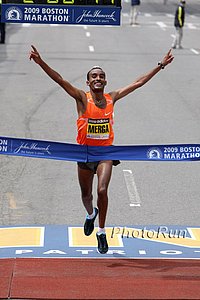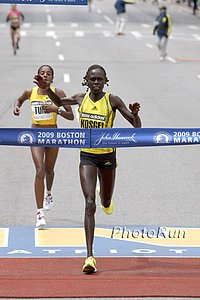 LRC: Semi-Live Blog As We Watch The Telecast The commentating is so poor we've decided to let you know what is really happening.
LRC: Message Board Thread
Brutus Hamilton/NYRR Distance Carnival

*Meet Website
*Final Fields Released
*Fam Going American 10k Record of 27:13
*Shannon Rowbury's "Exploration" of 5k To Begin Tonight
Penn
Penn Relays *Entries/Results (Click on a team to see all their entries)
*Live Streaming

Thursday Recap: Sarah Bowman Manages To Hold Onto DMR Lead (Barely) As Tennessee Wins
*Michigan's Danielle Tauro Wins College 3k In Time Slower Than HS Winning Time Stephanie Morgan became the first HS girl to ever win the mile and 3k at Penn as she ran 9:31.82. Tauro ran 9:33.
*Heavy Favorites Southern Regional Lose HS Girls DMR They ran 17 seconds faster indoors than they did Thursday.
*Penn Relays Blog From Philly.com
Pre-Race:
*Chanelle Price Has Made Impact At Tennessee
*WPost: Sarah Bowman Ready For Final Penn Relays After Giving Up Lead In 3 Different Relays In 2008 They lost all 3 by a total of 2.7 seconds.
*Penn Relays' 5 Most Memorable Moments From executive director Dave Johnson.
*Penn Relays' 5 Most Disappointing Moments
*Notes From Monday's Press Conference: Marcus O'Sullivan "I love Penn, but I hate Penn." "I'll be honest: of all the Olympics [and] World Championships I've ever run, post-collegiately, I've never felt the same way as the pressure when I've come here. The pressure I used to feel out here was just daunting." Arkansas' Bucknam is getting ready for his first-ever Penn Relays.
*Preview Of Men's Relays
*Preview Of Men's Individual Events
*Preview Of Women's Relays
*Villanova's Marcus O'Sullivan Pleased With Depth - Ready For 4 x Mile, DMR
*Florida & Jeff Demps And Texas & Jacob Hernandez Mean Fields Will Be Strong Demps has gained 10 pounds of muscle.
Drake Turns 100
Drake Relays *Meet Website
Alan Webb's 3:51 Mile Voted #1 Drake Relays Moment Meanwhile MJ and Gwen Torrence were voted the all-time Drake athletes.
*Drake Honors Its 20 Athletes Of Century With Amazing Gala As MJ And Gwen Torrence Win All-Time Athlete Awards
*Mark Hollis Vaults 18'4.5" In Shopping Mall To Win PV
*Olympian Jacquelyn Johnson On Record Pace In Heptathlon
*Katie Flood Wins 3rd Staight Girls 3k Slowest winning time yet for the junior.
*Drake Rolls Out The Blue Carpet For Its Blowout 100th Anniversary Celebration
*Dick Patrick And USAToday Take A Look At Drake Turning 100
*Alan Webb's 3:51.71 Voted Top Moment In Drake's History
*AP: An Interesting Look At 100 Years Of Drake The relays started in a snowstorm and were created as the AD was looking for a way to save money.
*10 Records That Could Fall At Drake
*Who Will Be The Next Jesse Owens At This Year's Drake Relays? We hope no one, as we don't want WWIII.
*A Look At Past Drake Stars Al Oerter & Jesse Owens
*Drake Relays To Feature World Leaders In 4 Events
*Drake Expecting 44th Straight Sellout
Oregon Relays Are This Weekend
*Accepted Entries For Oregon Relays Andrew Wheating & Jenny Barringer are in the 800 and 1,500 and Galen Rupp is in the 10k.
*Oregon 4 x Mile Relay Record Attempt Moved To Oregon Twighlight Weekend
Get Your Daily Fix Of Runners Chatting About Running
Hall Upbeat After First Boston Marathon Some great quotes from Ryan Hall and coach Terrence Mahon.
*EU Panel Says Several Components Of WADA's Whereabouts Rule Are "Problematic" - Rulings Could Come Soon
*Law Passed In Spain Allowing Athletes To Refuse Drug Tests We only agree as it's between the hours of 11 pm and 8 am.
Doug Logan, Ian Stewart, Other Leaders Discuss Changes Track Needs To Make
An Absolute Must Read!! An Inside Look At Lasse Viren Pat Butcher catches up with the only guy to ever twice do the 5k/10k double and finds that Viren is still in awesome shape and full of amazing wisdom.
Steve Hooker Happy To Be Training In Perth: 3 Fitness Sessions Per Day + 2 Beach Sessions
European Indoor Multi Champs To Compete In Goztis Multi Event Not exactly the most pressing news but hey, we're trying to learn about other events.
Kip Keino Wants To See Rugby As An Olympic Sport
Think Ryan Gregson Is Australia's Only Young Talent? Meet Richard Everest
Something Interesting We Missed: 2007 World Champ Silver Medallist At 400m, Nicola Sanders, Made 800 Debut At Mt. SAC And Won In 2:03.41
Boston Photos *Video Highlights from our partner Universal Sports.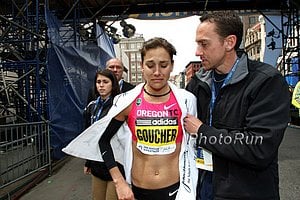 *LRC: Post-Race Comments/Interviews We give you some our thoughts and extensive interviews with Goucher/Hall, etc. We upset a lot of old timers who come to LetsRun.com, urge the BAA to pay Deriba Merga $10,000 to take English classes, and do the more traditioanl like give our take on the races.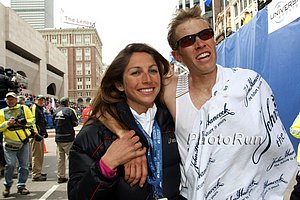 LRC: The Week That Was link fixed Prior to Boston, a lot happened in the world of running and we try to make sense of it all - from Alan Webb's outdoor debut, to Mt. SAC, to debutante marathoners in Vienna, to dopers possibly going to jail.
Steve Cram On His Most Exciting London Entrant: Debutant Zersenay Tadese No time to catch your breath as a great FLORA London Marathon is 5 days away.