The Week That Was
January 15, 2008
Page 2 of 2 - Previous Page
PF Chang's Rock N Roll Arizona Marathon and the Sale of Elite Racing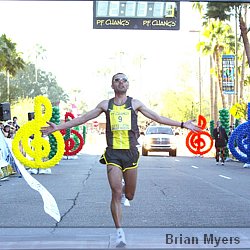 As for the racing the highlights were former Western State star, Kiwi Michael Aish becoming the first non African winner in 2:13:20 in the "highlight" of his career and Ethiopian Adanech Zekiros defending her title in a course record 2:31:14.
Perhaps the bigger news this week was the sale of Elite Racing, which puts on all the Rock N Roll Marathons and the Carlsbad 5000, to the private equity firm, Falconhead Capital.
When private equity buys a company sometimes there are massive changes. And our biggest fear would be if Elite Racing quit being true to its name. Fortunately that does not appear to be the case here for a variety of reasons. First, Elite Racing knows how to put on marathons and has been very successful in doing so. Falconhead bought a profitable company and is combining it with other related companies (two endurance magazines) in the hopes that in that the synergies and an infusion of cash can lead to bigger and better things. Falconhead does not know marathoning, Elite does. Thankfully it does not appear that Rock N Roll will become something like the Disney Marathon (a marathon with 13,000 runners, but no prize money and 2nd place unbelievably in 2:35:02). Tim Murphy, the head of Elite Racing, in this Arizona Republic article talks about increasing the prize money and the quality of the fields. Fortunately, Elite believes what we do, that the elites up front draw pre and post publicity to the events (which increases profits).
2008 Flora London Marathon Gets Even Stronger
On Jan 7th, it was announced that the 2008 Flora London Marathon will once again be the world's best professional marathon of the year. Well that wasn't actually what was announced but it might as well have been as London announced that 2008 Olympic Trials champ and US hope Ryan Hall and world-half marathon record holder Sammy Wanjiru are joining London's already stacked field.
Wanjiru, just 21, is viewed by many to be the world's greatest young star in the making. Well to call him a star in the making is wrong as he is a star. He's already twice broken the world-half marathon record and is a 2:06:39 debut marathoner. Hence last December, we officially gave him LetsRun.com Sensation Status - meaning he very well may be a mega star like Haile G, Tergat, etc. Ryan Hall is the Western's world's greatest young prospect.
They join a field that already includes former world record holder Paul Tergat, reigning world champion Luke Kibet, reigning Olympic champion Stefano Baldini, defending London and NYC marathon champ Martin Lel and Olympic silver medallist Meg Keflezighi and a slew of others. Once again London has amassed a simply unreal field.
Some people appear to be questioning Hall's decision to run London prior to the Olympics but LetsRun.com has taken the official position that we think it's the correct decision. It's also our official position that Boston needs to get with the times and amass an elite field.
(Unnoticed) Male Performance Of The Week
With Bekele's xc win and several marathons in the US, there were many possible performances of the week. However, LetsRun.com's Performance of the Week goes to Pablo Solares. Who, you ask? Solares is an American who ran collegiately at Rice University and used up his eligibility last spring. This weekend, the 1:47.69/3:40.39 Solares broke the 4:00 minute mile barrier for the first time by running 3:59.36 at the Houston Indoor Opener. Opening up in sub 4 is pretty good but what really impresses us about Solares is that second place was 4:26. He nearly lapped the entire field. Very impressive.
We remember seeing Solares run in 2006 at a last-chance meet at Notre Dame where he was in the slow heat but ended up breaking the Rice school record and running 4:01.87. Apparently he is still getting little love from others as he appears in the results in Houston as unattached and thus we are assuming that he doesn't have a shoe-contract. Can't someone throw him a bone?
We're sure there were greater absolute performances from the week but people like Bekele have bigger fish to fry than season opening meets. Solares is getting the job done and deserves recognition.
Craig Masback Going, Going Gone
After 10 years running the show, it was announced last week that Craig Masback will soon step down as head of USATF to take a position at Nike. Given the setup of USATF with its many interest groups (professional running, grass roots running, youth running, masters running, walking, track, field, etc), the head of USATF is bound to not be popular in all quarters. The fact that Masback is being hired by Nike, USATF's #1 sponsor, is a good sign that Masback did a lot right.
Masback's lasting legacy is clear. He totally turned around the financial situation for USATF. He inherited a group that was almost $3.5 million in the whole. Now USATF has almost that much in the bank.
Critics have said that Masback was too much of a bean-counter and not enough of a visionary. Given how precarious USATF's financial footing was when he came in, we can see how it might be hard to take big risks. He certainly did some innovative things like getting Alan Webb's run in the USATF champs 1,500 final his senior year of high school put live on ESPN's SportsCenter and even wrote his own blog. Considering how traditional so many track and field fans are, it'll be interesting to see if people complain about the same things with the next CEO of USATF. USATF's inherent setup may prevent change just as much as anyone's actions. Remember, prior to taking office, Masback was viewed as a visionary track and field aficionado. A CEO himself can't return track and field to its glory days.
Speaking of glory days, Masback was very good at pointing out how popular track and field is.
Our biggest complaint was that he wasn't aggressive enough on the anti-drug front when he first came in. But if he's going to be criticized for that then the commissioners of all the American big-time sports deserve way more criticism.
Ten years is a long time. A breathe of fresh air hopefully will be good for the sport, but the future is a bit scary. The critics very well could be regretting his departure in a few years. Time will tell.
The fact that he's leaving for Nike also is a bit scary. There is no doubt - professional track and field is very much dependent on charity/marketing of the big swoosh. Thank goodness, Nike has always kept the sport that led to its founding as a big priority.
2008 Chevron Houston Marathon
In Houston, one course record went down as Dire Tune ran a stellar 2:23:40 to pick up $35,000 in the women's race. The men's race featured a 3-peat for David Cheruyiot. Despite the win, Cheruyiot wasn't happy after the race as he blamed poor pace-making for costing him $10,000. Cheruyiot won in 2:12:32 - well short of the 2:10:04 course record which was worth an extra $10k. Maybe Spira will give Cheruyiot some love as he's one of their athletes and he's giving credit to his shoes for enabling him to run three marathons in less than 4 months.
The race in Houston is getting to be pretty big as more than 20,000 athletes competed for the first time.
2008 Aramco Houston Half-Marathon (US Champs)
The accompanying half-marathon served as the 2008 US half-marathon championships and featured $60,000 in prize money. While there was no virtually no chance the race would match last year's historic 59:43 by Ryan Hall, it did prove to once again be a great place to run a really fast time. Looking at the top 10 finishers on both the men's and women's side, 17 of the top 20 ran personal half-marathon bests (of course that does include 6 debut performances which shows you how infrequently many Americans run half marathons).
The men's race went to James Carney who pushed the pace throughout and got a much deserved win in 1:02:21 over Jason Lehkmuhle (1:02:32 PB) and Steve Sundell (1:03:21 PB). Fomer Yale star Kate O'Neil was thrileld to earn her first national title in the women's race as the 2004 Olympian won in 1:11:57. Ironically enough, O'Neill was the one women in the top 10 who didn't pr. With 9 out 10 setting new PBs, it looks like many women's preparations for the Olympic Trials are going well.
*Article On 2008 US Half-Marathon Champs
Men's Results
1. James Carney, 1:02:21 DB
2. Jason Lehkmuhle, 1:02:32 PB
3. Steve Sundell, 1:03:21 PB
4. Fernando Cabada, 1:03:41
5. Patrick Gildea, 1:03:43 PB
6. Rod Koborsi, 1:03:53 DB
7. Ryan Kirkpatrick, 1:03:54 DB
8. Josh Simpson, 1:03:54 PB
9. Dylan Wykes, CAN, 1:03:54 PB
10. Matt Gabrielson, 1:04:07

Women's Results
1. Kate O'Neill, 1:11:57
2. Desiree Davila, 1:12:10 PB
3. Serena Burla, 1:12:22 DB
4. Nicole Aish, 1:12:30 DB
5. Kristen Nicolini Lehmkuhle, 1:12:58 DB
6. Kathy Newberry, 1:12:59 PB
7. Tera Moody, 1:13:05 PB
8. Dot McMahan, 1:13:10 PB
9. Zoila Gomez, 1:13:11 PB
10. Melissa White, 1:13:13 PB

Marion Jones Sentenced to 6 Months in Jail
The whole saga is so sad now we basically left it for last. The smiling star who captivated America in 2000, was sentenced to 6 months in jail, having plead guilty to lying to the feds twice, and to the American public perhaps this entire decade. Marion pleaded for mercy, but Judge Kenneth Karas said, "Athletes in society have an elevated status. They entertain. They inspire. And perhaps most importantly, as role models for children around the world."
Thumbs Up
To Michael Johnson for not pulling any punches after Marion Jones was sentenced to 6 months in jail for lying to federal prosecutors about her drug use. Far too many ex-athletes, are afraid to speak the truth and rock the boat when they move into media positions.
Clearly Mr. Johnson isn't afraid to rock the boat: "But I question if Marion is really remorseful for anything other than having been caught and the consequences she now has to suffer. She defended C J Hunter when he tested positive for steroids and defended Montgomery when he maintained his innocence while being accused by United States Anti-Doping Agency as being part of the BALCO scandal. She stood before us all and accused USADA of conducting a kangaroo court in regards to their investigation of her. Marion only came clean about the steroid use as part of a plea deal in hopes of having her sentence on the perjury charges reduced."

Another thumbs up to the judge, Kenneth Karas, for not letting Marion get off with probation. Other non-prominent defendants likely would have received probation but Jones is no ordinary defendant. Her repeated, indignant , public denials when questioned about drug use over the years clearly resulted in her deserving jail in our minds. Same thing for baseball star Roger Clemens if it can be proven that he did drugs.

Brad Hudson- Brad coaches both Dathan Ritzenhein and James Carney who had excellent runs this week. And for a while we thought he still coached Jorge Torres which would have given him the trifecta for the week. We contacted Brad via email and he had this to say: "I'm coaching Ritz and Carney but not Jorge. Dathan competed very well from very little hard training and James ran great for what he has done the last month. I think they both have gotten better from Marathon training and i think both will get much better with more races and a little more specific endurance geared towards World Cross and The Olympic trials. In my mind there is no doubt that Lydiard had it right in development of Aerobic threshold.(2mmol) It transfers to all other events. I think this is the real key for American athletes to compete on the world stage. James will be coming to sea level in March and we may be going to Boulder before then. Also Stephanie Rothstein a new athlete ran 1:13:16 i think she will have a future in the Marathon."
Got news, info, or results? Email us at letsrun@letsrun.com

*Part 1 of this article here