LRC: The Week That Was From Galen Rupp to Sam Chelanga, to Kenny B and his injury, to doping in Britain, to gene therapy at the University of Pennsylvania, to the end of XC/track at the Univ. of Delaware, and to the Brojos and Brian Sell moving back to Texas, we recap the action from last week in the running world. It includes the 1st-ever "LRC 2-minute drill," which we hope will be better than CliffsNotes ever were.
Lance Armstrong Gives A Lengthy Interview On His Comeback And Talks About Almost Everything
From politics to doping to fearing for his safety at this year's Tour, Armstrong tells all and the best part is The Guardian has published it all.
*AP Recap of Interview: Armstrong Fears For His Safety
Column: Lance Armstrong should stay away from France
*Lance Armstrong Claims British Cycling Success Helps Prove His Innocence
Olympic Decathlete Champ Bryan Clay In The News
*Great Article On Olympic Decathlon Champ Bryan Clay In LA Times Clay's 3-year-old son is pretty impressed by his dad being on the Wheaties box but he's even more impressed with Michael Phelps.
*Olympic Champions Bryan Clay And Stephanie Brown Trafton Win Jesse Owens Award It's the highest award given by USATF.
IAAF: 2008 Is The Year Of Broken Win Streaks As Lots Of Big-Time Streaks Fell
Blanka Vlašic's streak-ending loss garnered the most attention, as she lost for the 1st time after 34 wins at the Olympics. But lots of other big streaks ended as well - Yelena Isinbayeva (19) and Irving Saladino (21). Streaks that continue are Melaine Walker (13) and Bekele (11).

A Look At Bekele's And Dibaba's Credentials For Athlete Of The Year Voting

Good News: Drug Cheat Linford Christie Giving Up On Legal Claims To 2012 Games

IOC Loses $100 Million Sponsor Johnson & Johnson Out As Olympic Sponsor At some point the Olympics weren't about money. It's crazy that companies pay that much just to have their names attached to the Olympic Games - $100 million over 4 years not even including advertisements.
IAAF San Antonio Rock 'N' Roll Half Recap Our friend just reminded us that Sammy Wanjiru ran 1:02:34 for the first half of his Beijing Olympic marathon beatdown. Brian Sell ran his PR of 1:02:50 on Sunday, putting Wanjiru's greatness into proper perspective. Correction: Sell's PR is actually 1:02:38 from 2006. Still, ...
Luke Kibet And Edith Masai Running Standard Chartered Singapore Marathon
World Athletics Gala To Be Held In Monaco In December
NCAA XC D1 Regionals
*It's Official: Men's And Women's D1 Qualifiers Announced
Post of the Week: Wanna Know How The At-Large Process Worked? "Lucky Kleinschmidt" on the message board nailed it perfectly on the men's side He describes the crazy system in great detail. In the end, Notre Dame was the last team in while Florida and New Mexico were left at home.
*LetsRun.com Official Results Thread *Indiana Men Disappointed
*Men's At Large *Women's At Large
*D3 National Teams Announced *D3 Regional Results
Great Lakes: Men: Wisconsin and Michigan Women: Michigan and Wisco
West: Men: Rupp, Oregon Cruise Women: Washington as Expected
Midwest: Men: Oklahoma State, Fernandez Tempo Runs Women: Minnesota and Illinois
Mountain: Men: Colorado Men Surprise (actually, you should never be surprised by Colorado peaking as the season progresses) Women: Texas Tech and Kipyego
Northeast: Men: Iona Dominates Women: Providence Cruises, Chris Fox's Syracuse Women Get In
South: Men: Alabama over Auburn Women: Florida State and Florida
South Central: Men: Texas A&M Aggies over Arkansas (somehow, it just doesn't sound right) Women: Arkansas over Baylor/Rice
Southeast: Men: Chelanga Cruises, William & Mary Edges Virginia Women: Vig's Virginia Cavaliers
Mid Atlantic: Men: Georgetown Dominates Women: Princeton and WVU Tie
*NCAA Regional XC Central (a link to all regional rankings and results)
#1 UW To Rest Kendra Schaaf At Regionals The Huskies are giving their star a rest but coach Metcalf is still confident. "We are not going to bomb. We're going to run well." *Message Board Thread On Schaaf's Resting Here
LetsRun.com: NCAA Cross-Country National And Regional Polls Released See who will come out on top of this weekend's conference action
LetsRun.com: 2008 Men's NCAA Division One Regional Cross-Country Previews LRC coaching guru John Kellogg breaks down the action for you in all 9 regions and gives you the top 25 individuals in each region as well the top teams. Disagree? Vote In The LetsRun.com 2008 XC Super Poll
LetsRun.com: 2008 Women's NCAA Division One Regional Cross-Country Previews
LRC: Vote In The LetsRun.com 2008 XC Regional Super Poll
*OSU's German Fernandez Gets Over-The-Top Profile In Student Newspaper "He's been called the greatest high school runner this country has ever seen."
*A Brief Chat With NCAA XC Favorite Sam Chelanga If you want to understand talent, read this, as this guy used to play ping pong until less than 5 years ago.

Track And Field Legend Larry James Dies On His 61st Birthday He was the first man to ever run under 44 seconds (440 yards, no less) on a relay and a fierce competitor. A pioneer on and off the track.
*Message Board Thread On The "Mighty Burner's" Death
*Buy DVDs Honoring Larry James And Larry James Fund
66-Year-Old Blind Man With 1 Kidney Walked NYC Marathon In 9 Hours And Then Died From A Heart Attack Afterwards Not a bad way to go. His son said "He had already told us he would probably be dead by the end of the year. But he wanted to show people you finish what you started." Last week a guy bowled a perfect 300, high fived his friends, then dropped dead, becoming an instant legend.
2008 ING New York City Marathon *Results *Searchable Results *Video: Men's Highlight Video *Photo Gallery
Post-NYC News
*Paula Targeting London Gold In 2012 She can do it if she's healthy.
*Daniel Rono Remarks On His 3rd At ING NYC A big difference between NYC and many other top-level marathons is the lack of rabbits, and Rono mentions this was a big experience for him to actually have to race the whole time. His 3rd was the top Kenyan finish in both the men's and women's races.
*Radcliffe Wants Another Baby Before 2012
*Is A World Record Attempt In London Up Next?
*Two Die At Marathon
Lots Of Info On Kara Goucher's Great Debut
*Kara Goucher: Paula Radcliffe Is The Greatest Ever
*Queens Native Goucher Says 1st Marathon Was "Awesome"
*3rd Is A Win For Kara Goucher Both Goucher and her coach Alberto Salazar were pleased by the result and it looks like she's a marathoner now.
*Alberto Salazar's Pre-Race Advice For Goucher: "Have Faith."
News From New Zealand
*Athletics New Zealand May Review Whether Rod Dixon's 1983 Time Should Be Ratified As New Zealand Record Dixon claims the course wasn't short.
*Illness / Sore Throat Ends Kim Smith's Run Between 30km And 35km The article also talks about how 1983 champion Rod Dixon ran just over 3:30.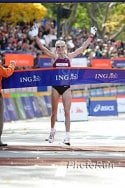 Women's Race: Paula Dominates Goucher Third
Paula Radcliffe showed why she's the best marathoner in the world as she dominated the women's field in the second half of the ING NYC Marathon. Radcliffe took a different strategy this year in NY. She led every single step of the way, but she said with the high winds her plan this year was to save something for the end and run negative splits and it showed. She poured it on the final six miles, winning by nearly two minutes. Radcliffe never looked back and said when she turned for the final quarter mile at Columbus Circle, she wasn't even positive she had the race won. American Kara Goucher ran up front for most of the race and had a successful debut in third in 2:25.53 (American debut record). Olympic silver medallist Catherine Ndereba, Dire Tune, Rita Jeptoo and Gete Wami were left in Radcliffe's wake, causing Wami to tie with Irina Mikitenko for the World Marathon title. The World Marathon Major race directors were then left to vote to break the tie. They voted for Mikitenko and just like that she got $500,000 and Wami got nothing.
*Radcliffe Doesn't Look Back En Route To 3rd Win
*Paula Destroys Top-Class Women's Field
*Mikitenko Awarded WMM Prize In Tie-Breaking Vote
*Women's Recap And Race Replays From UniversalSports.com
*Paula Post-Race Press Comments
On the boards: Wami gets nothing of World Marathon Prize while tying for spot #1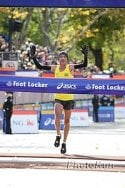 Men's Race: Marilson Gomes Dos Santos Storms From Behind To Win Coming into the 2008 ING NYC Marathon, Abderrahim Goumri had the distinction of being the top marathoner in the world who had never won a marathon (2nd in London in 2007, 3rd in London in 2:05:30 this year, and 2nd in NY last year). On Sunday in NY, he was clear of the field and on his way to what seemed to be his first marathon victory. However, savvy 2006 NY champ Marilson Gomes Dos Santos saved his best for last and stormed from behind in the final mile to overtake Goumri and get the win (afterwards Goumri said a missed fluid bottle might have caused him to run out of steam). Dos Santos ran 1:02 for the second half for a big negative split. Veteran Paul Tergat said he twisted an ankle on the course but returned to action with a fourth place finish. American Abdi Abdirahman led the American charge in 6th place as four Americans were in spots 6, 7, 8 & 10.
*Men's Recap and Race Replays From UniversalSports.com
*Gomes dos Santos Is Going To Disney To Celebrate
*NYT: New York Brazilians Say "Gomes who?"
On the boards: Nate Jenkins at NYC marathon?
2008 real,- BERLIN MARATHON - Watch Video Highlight or Race Replay *Results *Photos
Haile G. 2:03:59!!! Mititenko 4th Fastest Woman Ever Haile Gebrselassie made more history Sunday on the streets of Berlin. After going through the halfway point in 1:02:04, Haile continued to flirt with world record pace but was stalked by Boston runner-up James Kwambai. Haile threw down the gauntlet the last 7km to dispatch Kwambai and just dip under the 2:04 barrier. On the women's side, German star Irina Mikitenko ran a brilliant race, running a negative split to smash the 2:20 barrier and become the fourth fastest woman ever.
*Geb: "I can go faster."
*The Science Of Sport Analyzed Geb's Splits As The Race Unfolded link fixed
*Geb's Record in Berlin Is His 24th World Record (or 26th depending on who is counting)
*Mikitenko Moves Into Tie in World Marathon Majors Standings Gete Wami must finish 2nd or higher in New York to move ahead. If she doesn't, they will be tied (and tied in the tie-breakers) so they might share the title. *Washington Post Article on WMM
*Falk Cierpinski, son of Waldemer Cierpinski, 2:13 in Berlin
On the boards:
*Wanjiru's Olympics > Geb's WR
*Haile's Splits from Berlin. ... how far could you run with him??
*Live Message Board Thread

Ryan Hall's first international marathon on US soil will come on Patriot's Day of '09.
John Hancock Financial Signs Ryan Hall To Run Boston Marathon!
*Message Board Thread Here *Hall quote: "To win [Boston] would mean as much to me as winning any marathon in the world, including the Olympic Games. To win in Boston would show the world that American distance running is indeed back to the days of Salazar, Beardsley, and Rodgers ... What is done in Boston lives on for all time."
Maybe Liu Xiang's Coach Reads LetsRun.com
Liu Xiang To Have Surgery And It Will Be In US
*Liu Xiang's 1st Coach Offered $126,000 By Western Journalists To Tell Them He Was On Drugs We're not sure if we believe this one as Western journalists don't seem to care if Westerners are on drugs.
Rob de Castella Elected To Athletics Hall Of Fame The great marathoner came from an era that Toni Reavis would appreciate. "Don't get me wrong, marathoning is great these fine days; however, then it was about the athletes and not the times, though the times were still important, racing and beating your foe was the 'biggie'."
Galen Rupp Is USATF Athlete Of The Week
Elites Working Full Time Are More Rare Than They Used To Be We agree that for a lot of people, having a regular job helps them with their athletics. Some great quotes from the USA's Olympic discus champ Stephanie Brown Trafton about how working a real job balances her athletic career.
Goin' Pro In A Few Days
Scotty Bauhs Explains Regional Fiasco And Contemplates Last Collegiate Race
Britain's Germaine Mason Talks About Olympic Silver In High Jump If you don't think people were paying attention to Usain Bolt's celebration, Mason talks about how he stayed up all night the evening before he won silver thinking about how he could play the crowd like Bolt did.
Bekele Beaten In 15k In Netherlands, Mestawat Tufa Just Misses World Record Bekele may have a stress fracture as well. His decision to run the race is generating a lot of discussion on the boards.
*Bekele Got 150,000 Euros To Start 15k In Netherlands
*Pre Race Interview With Bekele
Great Race In Last Running Of Tokyo International Women's Marathon!
*Extensive Recap And Even Video Footage Of Exciting Tokyo Women's Marathon
*Britain's Yamauchi Third In Narrow PB In Tokyo
*Fast Times In Tokyo As Yoshimi Ozaki Wins 2:23 gives Ozaki the win.
Brian Sell And Melissa White Win Inaugural San Antonio Rock 'n Roll Half
*On The Boards: Brian SellWins ...
*Big Paydays At San Antonio Rock 'N Roll Marathons Liza Hunter Galvan and Matt Downin both nab second in quality times to pick up nice $8,000 paychecks.
*San Antonio Rock 'N Roll Results
*Sell Takes Down SA Rock 'n Roll Half In 1:02:50 PR
Pro XC
*Norway's Oystein Sylta Claims Norway's First Nordic Cross-Country Title This isn't XC skiing, but running.
*Kenya's Titus Masai Dominates Portugal XC Meet As Rui Silva Finishes 2nd Masai got a 20-second win as Portugal's Inês Monteiro got the women's win in her home country.
*Olympic 5k Bronze Medallist Edwin Soi Survives Terrible Conditions & "Penalty" To Win 2nd Kenyan XC Meet Soi was penalized for ripping off his singlet and running bare-chested. World Junior 3,000m champion, Mercy Cherono, won the junior 6km title, as most of the athletes from last week's race didn't compete. *Message Board Thread On Edwin Soi's Penalty Here
Vincent Cheruiyot And Jackline Chemwo Win Tegla Loroupe Peace Race
Gene Doping Enters A New Era & Drug Cheats May Benefit From Animal Test Next year they are going to start working on a procedure that may make old, decrepit dogs run like puppies. *A Look At New Developments In Gene Doping
Hogs Punch Ticket & Make NCAAs

Haverford Coach Tom Donnelly Gets Great New York Times Profile If you're a coach looking for a higher purpose other than just getting guys or girls to run faster in circles, this profile will inspire you. *Message Board Thread On Tom Donnelly Here
Don't Let Anorexics Read This
*Post-Race Snack Will Hamper Weight Loss The advice that athletes are given of "fill the tank" right after excerise is apparently bad for the masses.

A LetsRun.com Thumbs Up
Children's Running Book Review LRC reviews Kids Running and our guest reviewer says, "I can say with full confidence that it is perhaps the best children's running book of 2008."

Usain Bolt Answers Carl Lewis' Doping Questions In Interview

LetsRun.com Boston 08 LetsRun.com Party Photos The party hosted by Puma was a smashing success. A packed house, as those passionate about running (from ages 5 to 65+) came to celebrate a great weekend in Boston. LetsRun.com fans celebrated with Rojo, Wejo, Matt Taylor, and a few legends in the sport, including former marathon world record holder Steve Jones and Olympic Silver Medallist Sonia O'Sullivan. The Harpoon beer was flowing, DJ Inkognito kept things going and contrary to popular opinion, there was a healthy mix of males and females. The reviews were excellent. "It's refreshing not to see the same 50 people (industry insiders) at a party." "Most favorable female-to-male ratio I've seen in a long time."
101 Years Old, Still Smoking, Running and Drinking: Buster Martin: "I'm not worried about the fags because I'll carry them with me. Everyone says smoking kills but it's taking a long time in my case." The 101-year-old legend plans on smoking while running Sunday's London Marathon.
LetsRun.com 2007 Worlds Coverage:
*Sunday's Homepage Ndereba marathon
*Saturday's Homepage
*Friday's Homepage Tyson Gay
*Thursday's Homepage Lagat
*Wednesday's Homepage Lagat
*Tuesday's Homepage Bekele 10k
*Monday's Homepage Tyson Gay
*Sunday's Homepage Dibaba/Goucher 10k
*Saturday's Homepage Kibet Marathon
LetsRun.com London Men: Lel Leads 3 Under 2:05:30!!!, Ryan Hall 2:06:17
Ryan Hall Goes Through Halfway on World Record Pace
The 2008 Flora London Marathon will be remembered for a long time. The lead pack of 9 went through 5k at 14:21 (2:01 pace). They continued together (yes, all 9) through halfway on world record pace (1:02:13). Ryan Hall then went to the front soon after and asked the pacemakers to go FASTER. Soon Hall was off the back, but he would catch the leaders briefly again and go on to run 2:06:17. Until Sunday, only 7 guys had ever run under 2:06:15, now 11 have. Up front, it came down to a 3-man battle over the final mile before Martin Lel got his 3rd straight World Marathon Major win over the final quarter mile as he led 6 guys under 2:07 and to $50,000 bonuses each. Recap, photos, video above
This Guy Has Totally Won Back Our Respect
Maasai Warriors Finish Marathon link fixed One of them went back to the course and finished the race a day after being forced to go the hospital after a ceremonial wrap cut off his circulation. He said, "It was very important for me to do this. This is what I came to England for."
LetsRun.com Ryan Hall Reflects On His Incredible Run We tell you (and let you watch) what Ryan, his dad, his granddad, his coach and even Martin Lel had to say about Ryan. Lel was full of praise for the American and shocked by Ryan's attempt to get the pacemakers to go even faster. If Hall didn't already have your respect, he does after reading this article, as he pays homage to a throwback type of guy - Steve Jones. Text and Video.
LetsRun.com Video: Ryan Hall Talks About His 2:06:17 at the 2008 Flora London Marathon
*More LRC London Videos Here
*Photo Gallery
LetsRun.com Rojo's Tour of China, Part 1 - Hanging Out With Usain Bolt
Rojo went to the Puma Party put on for Usain Bolt. Open bar, Chinese dancers putting on their best sorority girl imitations, and then Rojo going 1-on-1 with Bolt. Rojo actually asked Usain about moving up to the 800m. Bolt hinted the Jamaicans want him to run the 4 x 400m. More importantly, Bolt apologized for visiting Facebook instead of LetsRun.com.