2008 Bank of America Chicago Marathon *Full Race Video *Top Results *Searchable Results *Photos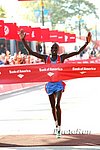 LRC Men's Recap: A New Marathon Star In Evans Cheruiyot Emerges With Spectacular Win Cheruiyot, the LetsRun.com pick to win, did his best Sammy Wanjiru impression, as he totally ignored the hot and humid conditions and scorched a 2:06:25 to win an epic duel with David Mandago, who almost cracked Cheruyiot in the 22nd mile. The pace was insane from the beginning - it was so fast the rabbits couldn't keep up for more than 11 miles. *American Wesley Korir Finishes 4th (or does he finish 10th?)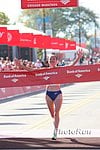 *Lidiya Grigoryeva Wins Women's Race She won Boston in 2007 in tough conditions and got the win in Chicago in tough conditions as she defeated fellow Russian Alevtina Biktimirova in a very slow race that, unlike the men's race, made sense given the conditions. American Desiree Davila of the Hanson's program was a surprise 5th in a big PR of 2:31 as we totally botched our women's predictions.
*Live Message Board Thread
*Phil Hersh Ranks The Top 12 Male Marathoners of All Time His list certainly will create a lot of discussion. Comment on our message board.
*Chicago on the Boards: *If You're Running Chicago, Post Your Goal Time
LRC: Overall Men's Race Preview: Might A New Marathon Star Emerge From An Extremely Talented Group of Kenyans? The men's race is a very hard one to predict as a lot of people have a chance including five sub-2:07 guys. The race is the ultimate display of the depth of Kenyan marathoning, as the one thing we know will happen is that a Kenyan will win. In the end, we think there may be a new marathon star on the victory stand.
LRC: Overall Women's Race Preview: Will The Olympic Champ or Two-Time Defending Champ or The Young Upstart, Bekele, Get The Glory? In our top 5 countdown, we put Berhane Adere at #1 but we have a hunch she won't be the victor.


LRC Top 5 Men's Countdown: #1 Evans Cheruiyot, #2 Emmanuel Mutai, #3WilliamKipsang, #4 Daniel Njenga, #5 Richard Limo and Moses Arusei
LRC Top 5 Women's Countdown: #1 Berhane Adere, #2 Bezunesh Bekele, #3 Constantina Tomescu-Dita, #4 Kiyoko Shimahara (Japan), #5 Worknesh Tola (Ethiopia)
Outside Press
*Tomescu-Dita Says She'll Stay With Pack in Chicago
*Nice Profile of 3-Time Chicago Wheelchair Champion John George Injured after falling from his 12th-floor bedroom as a 4-year-old, he peaked 2.5 weeks before Beijing but is going to give it a go.
*AP Preview of Chicago Marathon Focuses on Tomescu-Dita and Njenga Njenga and his 6 straight near misses is an easy story for the mainstream media to understand but we don't think he'll win.
*IAAF Preview of Chicago
*Nike's Chicago Marathon Spectator Guide
*USA Today: Chicago Marathon Has People Wondering Is Two-Hour Marathon Possible? Dave Martin says it will happen in 2015, whereas Alberto Salazar says what we say - not in our lifetimes. Salazar: "I don't think we'll see it in our lifetime or with the human body as we know it. ... To do it, you are going to have to come within a minute of the world record in the half marathon and then still have the energy and reserves to do it again. It's inconceivable."
*Adere vs. Tomescu-Dita vs. Bekele
*Chicago and Bank of American Using Marathon To Promote 2016 Olympic Bid
*Olympic Champion Tomescu-Dita Headlines Chicago Field
*Weather Forecast Pleases Chicago Officials
*Arata Fujiwara Looks To Make A Big Splash In Chicago
*12:56 5ker Richard Limo and 37-Year-Old 28:09 10ker Martin Laurent Write Back and Forth About Their Chicago Marathon Preparations
On The Boards
*Is Catherine Ndereba The Greatest Female Marathoner Of All Time? Rank your top 10 as Philip Hersh of the LA Times thinks so.
*CAN I RUN A 2:50 MARATHON OF 50 MILES a WEEK?
Sad News: US Women's Track And Field Pioneer Louise Mead Tricard Passes At 72
If He Came Up With Madden Football, He Must Be Good: Former Head Of EA Sports Takes Over Atop USOC
To those of you who already think California judges are crazy, this will only reinforce that belief:
BALCO Perjurer Tammy Thomas Gets 6 Months of Home Confinement And Many View It As Good News For Barry Bonds The prosecution asked for 2.5 years in jail but the judge went light on her as the BALCO ringleader Victor Conte only served 4 months himself. That may be true, but Conte cooperated with prosecutors and she did not. If you lie to a federal grand jury, you should go to prison. Period. The judge is practically encouraging people like Barry Bonds to lie. When Bonds' trainer refused to testify, he spent 15 months in the slammer. So should she. Additionally, she blew her lid and had a "verbal and physical" altercation with a law clerk after being convicted in April.
LetsRun.com NCAA Super Polls
Conference and National Voting Our LRC NCAA Super Polls are back, where we let you tell us who the best teams in the country and in each conference are. Voting now open.

2004 4th Placer, Bulgarian Daniela Yordanova, Banned For Doping She was 4th in the 1,500m in Athens.
Paula Radcliffe To Run Great South Run A Week Before ING New York Marathon The world record holder will race at 10 miles in what she hopes is little more than her last tempo run. *Too much travel caused her to rule out World Half Marathon
Expect Some Distance Medals To Be Coming Back
*Beijing Blood Samples to Be Retested for New-Style EPO The blood test for CERA just got two Tour de France riders. Expect it to get some Olympians as many athletes seemed to think it was undetectable. It's a shame that they announced in July that a test existed. They should have let the cheats compete and win in the Tour de France and Olympics and then thrown them out in disgrace.

London Olympic Village May Require £1bn Taxpayer Bailout Much like a company, the London organizers are blaming it on the financial crisis.
News From Kenya News
*Nancy Lagat Admits She Was As Surprised As Everyone Else That She Won Olympic Gold in The 1,500m Only third at the Kenyan Trials (and the two women who beat her didn't even make the final), somehow she won Olympic gold.
*Athletics Kenya Top Brass Face Opposition in Elections Former world record holder in the steeplechase Moses Kiptanui is expected to lose his bid to unseat the incumbent in his race.
*Athletics Kenya Is Richest Sports Body In Kenya
Greek 2004 Olympic 400m Hurdles Champion Claims Her Positive In Beijing Was Result Of Sabotage
Fani Halkia claims all the money in international athletics is reason enough to suspect sabotage. Unfortunately, she and 13 other Greeks tested positive so she'll need some evidence to back her up. Coming into the year, if we had to bet our lives on one "clean" person being on drugs, it likely would have been her, as her improvement in 2004 was unreal.
USATF Veteran Relay Coach Brooks Johnson Steps Down, Citing Conflicts Of Interest Johnson was in charge of the relays at the Olympics and claims the drops in the 4x100m had nothing to do with his resignation. He was earning $105,000 a year. Message Board Thread Here
Great message from an inspiring runner: Yoder Begley Giving Motivational Talks On Goal Setting And Dreaming Big
*Charles van Commenee Looking To Revamp And Restructure British Coaching System
*1 Down: Bob Weir Lured Out Of US Back To Britain To Coach Heavy Throws
*Brits Get Weir, But Funding Problems May Limit Ability To Sign Other Top Coaches
US Men's Marathon Champs at Twin Cities
Fernando Cabada Overcomes Demons & Wins The US record holder at 25k patiently waited until 20 miles to make his move and he was rewarded with an emotional victory that brought tears to his eyes. Raised by a single mom with a dad in prison, Cabada's win came at just the perfect time as he's recently taken in his mom and brother into his Boulder apartment. A "partier at heart," Cabada gave up alcohol for two months and was rewarded with a much-needed $27,000. Matt Gabrielson was 2nd and Ed Torres 3rd in rainy conditions.
*AP Article On Cabada's Win & Much More Motivation to prove the doubters wrong inspired him.
*Message Board Thread on Cabada's Win
*Final 2012 USATF Olympic Marathon Trials Qualifying Standard Released As a result of the new standards, Celedonio Rodriguez's 2:21:55 will get him in the Trials since he was top 10 at the US champs.
Kara Goucher Shatters 10 Mile Course Record With 53:16 Win Her preparations for New York seem to be going well as she blitzed Katie McGregor and won by running 5:20 pace.*2nd Article on Goucher Says She Ran a 23-Miler 6 days Before the Race *Message Board Thread on Goucher's Win
BUPA Great North Runs The BUPA Great North Run is the largest half marathon in the world.
*Gete Wami, Tsegay Kebede Win Wami won an exciting three-way battle as she prepares for her showdown with Paula Radcliffe in NY. Abdi Abdirahman edged World Marathon Champ Luke Kibet in third in 1:01:33.
*Great North Run Photos
Pavey Press: *Jo Pavey Competes Well, Eyes Marathon *Jo Pavey Has Mixed Feelings After Near Miss In Great North Run *Pavey's Toughness Legendary With British Press
*Half Marathon: Britain's Long Wait For Male Winner Won't End Sunday (And May Never End) A Brit hasn't won since 1985 and that's unlikely to change anytime soon. Race director Brendan Foster thinks it may never end, "It disappoints me that I might never see another British male winning the Great North Run."
*Great North Run Becomes 1st Road Race In History To Have It's 1 Millionth Competitor The 1976 Olympic 10k bronze medallist, Brendan Foster, reflects on the achievement and more.
*Mo Farah and Lisa Dobriskey Win Road Miles Farah is still trying to forget that he didn't make the Olympic 5k final. They also had road 100 meters and 2 miles. Great North Miles photos
Nice Read: Lisa Dobriskey Profile The British miler is one tough woman. Still upset that she failed to medal in Beijing where she was 4th, she often pulls out a tape of the Olympic final and makes herself watch it again.
1 Week Away: Chicago: Shalane Flanagan, Alan Webb, Joan Benoit to be in Chicago for Marathon

Sad News: *Former NCAA Triple Jump Champ, Trinidad's, LeJuan Simon, Dies from Rare Illness at Age 27 Leaving Family Behind
*Share Your Remembrances of Simon on Trackshark
*Track Historian Louise Tricard passed away
IAAF Ratifies Bolt's World Records
Master's Runner Tony Young Gets Laid Off
ING NYC Keeps Getting Better and Better
*Hits Keep Coming: Ndereba, Ramaala, Gomes dos Santos And Tergat To Run NYC

More Paula, Paula, Paula
*Paula Still Has The Fire, Shooting For 2012 She'll be the same age, 38, as Constantina Dita-Tomescu.
*Brief Chat With Paula Radcliffe

Is he doped? Armstrong Rejects The Generous French Offer To Retest His 1999 Samples

World Half Marathon Is Next Weekend
*Olympian Merga Leads Ethiopia's World Half Marathon Squad For Rio

2000 Olympic 110m Hurdles Champ Anier Garcia of Cuba Retires

Good News: Paula Radcliffe to Run 2008 ING NYC Marathon
She's still the best female marathoner on the planet in our book (she's never lost a marathon while healthy) and fears of a serious injury after Beijing have been put to rest.
*NY Times Looks at Paula Radcliffe's Recovery from Injury The article reveals that Radcliffe had only run outside 6 times by the time she went to the Olympic training camp in Macau.
*Message board thread
Strong Group of Americans Headed to ING NYC Marathon Abdi, Magdalena Boulet, Katie McGregor, James Carney, Jason Lehmkuhle.
Paris Golden League Meet In Trouble As It Loses Title Sponsor
Yelena Isinbayeva Voted Female Waterford Crystal European Athlete Of The Year For 2008
Meb Signs on to Sponsor ALCiS Daily Relief Pain Cream
Matt Gabrielson Excited to Be Giving the Marathon Another Shot at With his 13:30 5k Speed He'll be running the US champs, which are held in conjunction with Twin Cities this weekend.
LRC Brooks Beijing Contest Recap
Australia Reigns Supreme, "Scandal" Hits Contest, World Indoor Champ Places in Top 5
Being an Olympic year, the LetsRun.com $1,000,000 prediction contest went to another level. Mere mortals almost had no chance in our contest. Battling out for the win was a former super agent in the sport, a previous LetsRun.com contest winner, a World Indoor champ in the 200m, and a LetsRun.com fan out to show up her husband. Read all about it.
Japanese Women Figuring Out Next Year's Marathons They are trying to figure out which World Championships selection races they will run.
Greek Olympic Steroid Scandal Probe Continues We still say if you are ever nailed for a major doping offense, they should go back and wipe our your past victories. The fact that Fani Halki is an Olympic Champion is a joke. It was more obvious to us that she was a drug cheat when she won than even Regina Jacobs.
Updated Berlin Marathon Photos 88 Photos.
Sonia O'Sullivan Talks About Szabo and Possible EPO Use in Her Biography
2008 real,- BERLIN MARATHON - Watch Video Highlight or Race Replay *Results *Photos
Haile G. 2:03:59!!! Mititenko 4th Fastest Woman Ever Haile Gebrselassie made more history Sunday on the streets of Berlin. After going through the halfway point in 1:02:04, Haile continued to flirt with world record pace but was stalked by Boston runner-up James Kwambai. Haile threw down the gauntlet the last 7km to dispatch Kwambai and just dip under the 2:04 barrier. On the women's side, German star Irina Mikitenko ran a brilliant race, running a negative split to smash the 2:20 barrier and become the fourth fastest woman ever.
*Geb: "I can go faster."
*The Science Of Sport Analyzed Geb's Splits As The Race Unfolded link fixed
*Geb's Record in Berlin Is His 24th World Record (or 26th depending on who is counting)
*Mikitenko Moves Into Tie in World Marathon Majors Standings Gete Wami must finish 2nd or higher in New York to move ahead. If she doesn't, they will be tied (and tied in the tie-breakers) so they might share the title. *Washington Post Article on WMM
*Falk Cierpinski, son of Waldemer Cierpinski, 2:13 in Berlin
On the boards:
*Wanjiru's Olympics > Geb's WR
*Haile's Splits from Berlin. ... how far could you run with him??
*Live Message Board Thread
Pre-Race - Haile G. Going For It
Geb Eyeing 2:03 In His Lucky City of Berlin The plan is to go out in 1:02:29 and then roll from there.
*Gebrselassie Looking To Break Record Sunday With Negative Split
*Geb Discloses Slight Muscle Problem 2 Weeks Ago, Kamathi Will Not Go With WR Pace
*"Emperor" Confident He Can Run 2:03:xx Endurance training in Addis has been going well despite minor injury hiccup.
LRC Men's Preview: Can Haile Gebrselassie Go Sub-2:04? The great one gave up his shot at Olympic marathon glory for this record attempt. Will he do it?
LRC Women's Preview: Will Irina Mikitenko Follow Up Her London Win With A Win At Home In Berlin? She was too injured to run the Olympics but appears to be in fantastic shape given her recent 30:57. A win here and she's on top of the World Marathon Majors standings.
Great IAAF Interview With Berlin Favorite Mikitenko
NCAA Approves Two-Region System For Outdoor Track & Field Instead of having four totally unequal regions, they will have two regions that all have exactly the same number of people (48) and qualifiers (top 12 each region). A big-time improvement. No auto qualifiers in the 10k.
*Message Board Thread On New Format Here
Motorcade Planned For Shalane Flanagan

IAAF / VTB Bank World Athletics Final Complete *Results * Photos
*Day 1 Video *Video of WR Javelin
Day 2: Koech Destroys Steeple Field, Jelimo Wins 14th In A Row, Richards and Defar Achieve Doubles
*Paul Koech Wins His 4th Straight World Athletics Final Steeple Any doubts as to whether he would have won the Olympic title had he been on the team seem to have been put to rest as he destroyed the field by nearly 10 full seconds.
*Super Sanya Wins Historic World Athletics Final Double Still rightly troubled by her shocking bronze in the Olympics, Sanya completed an unexpected 200m/400m double (although the 200m field was a bit weak).
*Nick Willis Gets 3rd In World Athletics Final Anyone thinking Willis' bronze was a fluke had better think again as he got third once again - ahead of Bernard Lagat. In the process, Willis suffered the worse spike injury of his career. This 2nd article has an interesting side note as it states that Willis apparently only ran the meet out of a desire to improve his Track and Field News ranking which is probably very much tied into how big of a shoe bonus he will receive at the end of the year.
*Defar Gets 5k/3k Double To Cap Season
*Richards' Win Over Ohuruogu Motivating The Brit For Olympic Repeat In 2012
Day 1: Merritt Over Wariner, Powell 9.87, WR in Women's Javelin, Lagat Wins 3k, Stefan Holm Ends His Career
It was fitting that Jeremy Wariner and LaShawn Merritt staged a great duel in their final matchup of the year as their rivalry has been one of the best stories of the 2008 season. Merritt got the .01 win, which gave him the 3 biggest wins of the season (Olympics, Trials and WAF). Other highlights were a world record in the women's javelin by Barbora Spotakova, Asafa Powell winning the 100m in another sub-9.9 clocking (9.87). In the distance action, Bernard Lagat blew away the field the final 100m to win the 3k, as Matt Tegenkamp finished 3rd almost making it an American 1-2. Meseret Defar turned back her Kenyan rival Vivian Cheruiyot in the 5k, Alfred Yego got the 800m win, Maryam Jamal easily won the women's 1,500m, while Gulnara Galkina showed why she is the Olympic Champion and world record holder in the women's steeple. $30,000 is on tap to winner of each event at the WAF, so it leads to competitive unrabbited races. An overlooked highlight may be the end of the career of high jump legend Stefan Holm, who challenged for the win but finished 2nd. The WAF wraps up Sunday at 7:30 am eastern live on Universal Sports.
*Lagat Kicks to World Athletics Final 3k Win, Tegenkamp 3rd
*Alfred Yego Gets 800m Win at WAF IAAF
*Meseret Defar Turns Tables on Vivian Cheruyiot at World Athletics Final
*Gulnara Galkina Shows Why She's the Olympic and World Champ in the Steeple

Bolt/Jamaican Mania
*Usain Bolt Names His Victory Dances And States He's Looking Forward To Big-Time Challenge From Tyson Gay and Asafa Powell in 2009 Bolt: "My body (language) is just a gesture to the world. It's a thing we do in Jamaica. It's actually a dance, but I just took it and turned it into my move. After the 100m I did a dance called The Sweep and after the 200m I did one called The Gutty Cooper." Correction: The article quotes Bolt wrong, the dance is the Gully Creeper,
*A Look At How Jamaican Came To Dominate The Sprint World - Paupers Who Grew Up to Become Sprint Kings People who think it's all about facilities need to think again. A nation with poor facilities and a population the size of Chicago won 6 golds. Unreal. All the big-time players need to realize that you can't buy Olympic success.
*Usain Bolt And The Making Of An Olympic Champion The London Times' Owen Slot has gone to Jamaica and written a fabulous article on the making of Usain Bolt - a man so talented that a teacher would cry when he refused to train - a man so talented, he jumped over 7 meters as a joke in practice. A man so talented that many believe he hasn't even touched his potential yet including Usain who says he only runs all out in one of 10 races. A man so talented that his father had to threaten to beat him if he didn't practice.
*Physicists Say Bolt Would Have Run 9.61 Without The Celebration - Maybe 9.55 If he'd slowed down just as much as Richard Thompson, he runs 9.61. But since he was killing Thompson, he likely would have slowed done less and run maybe 9.55.
*Usain Bolt Returns Home to Hero's Welcome*Message Board Thread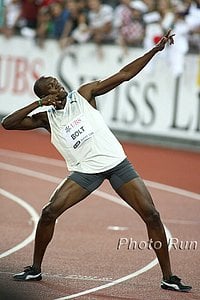 Weltklasse Zürich - *Results *Web Replay of Meet *Photos
LRC Recap: "Olympics in a Day" Well Worth The $$$ "The Olympics in a day" certainly lived up to the billing as Usain Bolt electrified the fans once again, Dayron Robles was pushed all the way to the tape, Jeremy Wariner got some sweet revenge as did Blanka Vlašic (after nearly blowing $500,000) and Sanya Richards. In the distance, LetsRunners rejoiced as Ramzi lost and Bekele was simply sensational once again and Paul Koech showed he might have very well been the Olympic Champion had he competed in Beijing. But the performance of the meet belonged to Pamela Jelimo, who ran the fastest women's 800m since 1983. She was so good that the 4th-placer at the Olympics couldn't rabbit her even for 600m. *IAAF Recap Of Zürich
*Bolt Leaves Crowd Breathless In Zürich
*800m Legend Maria Mutola Calls It A Career at Her 2nd Home in Zürich Mutola won one Olympic gold, 7 World Indoor titles, and 3 World Outdoor titles. She will be missed.
*LoLo Jones Gets Revenge
Nothing Like An African Bureaucracy
*57 Kenyan Athletes Went to the Olympics ... and 60 Officials We're not making that up.
Sunday *Final Day Photos
Men's 5k


LRC: Kenenisa Bekele Completes The Double In Style - By Running The Greatest 5k Ever Run Bekele was simply sensational as he arguably ran the greatest 5k in history. Pushing the pace throughout, he ran an Olympic record 12:57.82 thanks to a ridiculous 3:57.01 last 1,600m, 4:56.97 last 2k, 7:35.53 last 3k and 53.87 last lap. Unbelievable. He clearly enjoyed this one as he showed great emotion in the last 150m as he won his first global 5k and became the 1st man to complete the Olympic 10k/5k double since his countryman, Miruts Yifter, in 1980. *IAAF Recap of Race *Reuters Recap of Race
IAAF: Kenenisa Bekele Joins Legends By Completing Distance Double
Recommended Read: Bernard Lagat Goes Home Empty-Handed But Looking Forward To The Future The New York Times gets the scoop on what has been ailing the double world champion from last year. Apparently, after the US trials he developed a serious achilles problem. Throw in a viral infection before the 5k final and you've got big-time trouble. He stayed in it until 1,200m left. Even if he was 100% on his game, no way was he staying with Bekele on this special night. *Matt Tegenkamp Finishes 13th *Nic Bideau Shocked by Mottram's Failure *Bideau Hoping To Rebulid Mottram "We feel like it's just a couple days prior to Christmas and we've found it's been cancelled." *Mottram's Career At Crossroads
*Matt Tegenkamp's Comments

Wilfred Bungei Wins Men's 800m - The Kenyan's 10 years of training in Verona, Italy finally paid off in a big way as he led the race at 400m, 600m and 800m. It's been a long time coming for Bungei, who showed great promise when he was ranked #1 in the world 6 years ago, running 1:42.34, and when he was the heavy favorite 4 years ago. The article has a great photo of the finish. *IAAF Recap of Race *Reuters Article
*4 Years After Being Favorite In Athens, Bungei Takes Home Gold Alan Webb can take heart in this story.
4 x 400m Mania
US Men Set 4 x 400m Olympic Record
Sanya Richards Comes From Behind To Take Women's 4 x 400m
*At last: Richards, Felix, Wariner get their golds
*Wariner Doesn't Do Redemption

Friday *Results *Photos


Tirunesh Dibaba Outkicks Rival To Complete Historic Double A 59-second last lap gave Dibaba a victory in a crazy, crazy race that went out at 5:50 mile pace for 1k. As a result, she is the first woman to ever win the 5k/10k double and now can officially be considered the greatest female runner on the planet. IAAF Recap of Race
*Tirunesh Officially The Empress of Women's Distance Running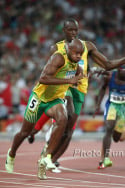 Bolt Completes Historic Triple - 3 Races & 3 World Records Plus 3 ridiculous margins of victory - 0.22, 0.66 and 0.96 seconds. It was great to see Asafa Powell get a gold as well. Trinidad & Tobago was 2nd as Japan got the bronze - that's right, Japan. It was Japan's 1st Olympic track medal in 80 years - yes, 80 years.
Bryan Clay Wins Decathlon Gold - The world's greatest all-around athlete got silver four years ago. Bolt is clearly the world's fastest athlete.
Jamaica Blows Women's 4 x 100m as Russian Wins
*Australia's Steve Hooker Wins Men's Pole Vault *Drug Cheat Win's Women's Long Jump
Another Great Tim Layden Article: Putting The So-Called US Track Debacle In Perspective The US will end up with more medals than Sydney and likely more medals than the home field Atlanta Olymipcs. Plus you can't blame the US system as there is no US system. Additionally, Britain spent over $1 million on their relays and neither 4 x 100m finished - nor did the unbeatable Jamaican women.

Thursday *Results *Photos
LaShawn Merritt Crushes Jeremy Wariner As US Goes 1-2-3 in 400m The much-anticipated 400m duel turned into a rout as Merritt ran great (43.75) and Wariner was off his game. David Neville got a surprise bronze.*LaShawn Merritt Dedicates Win To His Deceased Brother *Texas Paper on Wariner's Loss *Merritt Studied Video of Bolt's Race To Come Up With Game Plan *Dick Patrick On Merritt's Win
This Is What the Olympics Are All About: David Neville Dives For Bronze He was a surprise team member and an even bigger surprise for the bronze. A great story. We enjoyed seeing him at Track Town Pizza the day he made the team. Pizza and soda to celebrate. A class act.

*Veronica Campbell-Brown PRs & Defends Olympic 200m Crown Allyson Felix ended up in tears with the silver but we think given her struggles so far this year, her sub-22.00 clocking was a hell of a performance.

*US Drops Baton In Both 4 x 100m Relays No one should truly be shocked as the US men botched it for the 5th time in the last 12 global championships. On the plus side, we won't get the opportunity to get smoked by Jamaica in the final. *Britain (Thanks To Craig Pickering) Blows It As Well
*Tim Layden Looks At Struggling US Short Sprinters - Personally, we think Americans are spoiled by the US sprint domination and think the media is overblowing the US failures (and taking for granted our domination of the 400m hurdles and 400m). Plus the Jamaicans just have some big time stars. But it is the first Olympics that the US will not win any of the 100m, 200m or 4 x 100m for at least one sex.
*Washington Post Puts Proper Perspective on USA's Performance - 6 Medals in 3 Finals is Damn Good

*Dayron Robles Masters 110m Hurdles The Cuban makes the hurdles look so effortless - unlike anyone we've ever seen before. The US got 2nd and 3rd. It's too bad Liu Xiang wasn't in this race or it would have been a huge spectacle.
*Bryan Clay Leads Decathlon After Day 1
*Nelson Evora Wins One of Best TJs in History You had to jump farther than ever before to get a medal as 7 men broke 17 meters.
Wednesday *Results *Usain Bolt 200m Photos


USAIN BOLT 19.30!!! Lightning struck twice as Bolt ran a ridiculous time into a .9 headwind. More than a half second behind Bolt, the race was marred by the DQs of the 2nd and 3rd place finishers.
IAAF Recap of Race *Video of the Race
*Bolt Stakes His Claim as the Greatest Sprinter Ever A good article with a great conclusion: "Perhaps it is too much to hope that he has also banished the suspicions that have undermined the integrity of Olympic sprinting for so long. But when you look at him, at his 6ft 5in, 13st 8lb frame and at the articulation of his limbs as he devours the track, you might be forgiven for believing that he, more than any leading sprinter for several generations, might just be able to achieve such feats without artificial assistance. There is none of the sense of physical distortion created by the excess muscle that powered recent generations out of the blocks. He looks balanced and natural."
*London Times: Usain Bolt Leaves Beijing Spellbound Again Bolt was very nice to MJ's legacy. Bolt: "Michael Johnson revolutionised the sport," he said. "I just changed it a little bit."
*Tim Layden: Bolt's 19.30 Cements Greatness This is a good article that follows up Layden's remarkable pre-race article. Sports Illustrated Vault: MJ Was Shocked by His 19.32
*Christine Brennan: Bolt Becomes an Instant Legend
*Dutch Antilles: US 200m Protest Not in Olympic Spirit We agree with their sentiment and think in the future the IOC should automatically look for blatant lane violations so countries don't get blamed. "It's a pity for a big country like the United States to make such a small statement."
*Usain Bolt 400m Mania Erupts - Apparently He's Promised To Run the 400m in 42.5 in 2014 This isn't some BS article. This is an article by the IAAF where the 1983 World 400-meter Champion Bert Cameron says that Bolt has promised him he'll run the 400m in 2014. Cameron thinks he'll run 42.5. Insane.
Other Action From Wednesday
Men's 800:*Nick Symmonds Advances As Andrew Wheating Is Edged Out in Tough Heat and Christian Smith Fails to Advance * Eugene-Register Guard Article on 800m IAAF: Men's 800m - Round 1
IAAF: Melaine Walker Wins 400m Hurdles In Olympic Record Rojo's favorite 400m hurdler Sheena Johnson Tosta gets a much deserved silver after being denied a bronze by a drug cheat 4 years ago.
IAAF: Men's 110m Hurdles - Semi-Finals

Tuesday *Results *Nick Willis Photos!!


Men's 1,500m: Nick Willis Wins Bronze!!!!! (as Rashid Ramzi Wins Gold) The men's 1,500m final was thrilling for sure. In the end, former Michigan Wolverine Nick Willis had given hope to Westerners across the globe as he won New Zealand's first track medal in 32 years, as Kenyan Asbel Kiprop won the respect of Letsrunners across the globe for his sensational silver medal performance. Meanwhile, Rashid Ramzi won gold and it seems that most LetsRun.com viewers aren't happy as they all seem to think he is a drug cheat. *Honest question: why is everyone so sure Ramzi is doping? *RAMZI WON - WHENEVER THE US SEES SOMEONE [From Another Country Win] WE ACCUSE THEM OF DOPING *Ramzi should have been DQ'ed Video: *Men's 1,500m Final Video
LRC: Recap of Men's 1,500 Final, Men's 400m Semis
The top two in the world proved it in the 1,500m, while Nick Willis put together the best possible race to come away with the bronze. The 400m semis had no major casualties, as Wariner and Merritt made their expected statements and other main medal contenders got through.
*Legends Hail Willis' Bronze
*Willis Cries for Those Who "Sacrificed" for His Victory
*Willis Takes Coach's Advice and Gets Medal
*Pre-Race: Nick Willis' Road to Bronze Ran Through Ann Arbor
*Rashid Ramzi Wins 1st-Ever Gold For Bahrain
IAAF: Men's 1,500m Recap
IAAF: Former Banned Brit Christine Ohuruogu Wins Olympic Gold Sanya Richards felt a cramp and ended up 3rd
IAAF: Both LaShawn Merritt and Jeremy Wariner Impress In 400m Semis Both won and both ran fast. Who will win the final?
IAAF: Dawn Harper Focuses On Herself and Wins 100m Hurdles Olympic Title The JJK protege shockingly won after pre-race Lolo Jones failed to medal.
IAAF: Andrey Silnov Wins Olympic HJ Title The guy was only 4th at the Russian Trials but was added to the team at the last minute after some good European performances.
Mens' 200 Semis: Usain Bolt Wins Easily And Then Pours Powerade Down Wallace Spearmon's Back
IAAF: Women's 5,000m - Round 1
Monday: *Results *Photos Day 4 (Discus, w800, 10k medals, Steeple) *Day 3 Updated (Men's 10k, W. Marathon, W. Steeple, M. 1,500m semis, W. 100m)


LRC: Steeple, 800m Recap: A Kenyan Wins A Steeple For The Ages As Pamela Jelimo Sensationally Captures The Women's 800m The men's steeple had it all - an American leading more than halfway through and then 3 competitors side-by-side going into the final barrier (and one of them was not a Kenyan). In the women's 800m, the 18-year-old was simply sensational from start to finish as was her teammate Janeth Jepkosgei. IAAF: 18-Year-Old Sensation Pamela Jelimo Wins Women's 800m Title A year ago she had never raced the distance in her life. Now she's an Olympic Champion. Simply unreal. *IAAF: Men's 3,000m Steeplechase Recap
*IAAF: Angelo Taylor Electrifies Beijing and Wins His 2nd Olympic Gold in the 400m Hurdles as USA Sweeps Taylor shockingly won in 2000 out of lane 1. Let's hope the USA puts him on the 4 x 400m as he looked sensational. Two years ago, he was up laying electric cable at 5 a.m. in Atlanta. *Nice ESPN Article on Angelo Taylor's Resurgence
*IAAF: Isinbayeva Puts on a Show! Sets WR & Wins Olympic Title Jenn Stuczynski was 2nd. *Isinbayeva Talks Tons Of Trash About Stuczynski After Winning Gold
*IAAF: Irving Saladino Wins Panama's First-Ever Olympic Gold in Men's Long Jump
*IAAF:Recap of 2nd Round of Men's 200m
Sunday: *Results *Photos (Marathon, Men's 10k)
LRC: Kenenisa Bekele Sets Olympic Record in Men's 10k The men's 10k produced great drama as you had it all - a fast pace, Haile G in the medal hunt and more.
*Video: 3 Minute 10k Highlight
LRC: Historic 1st Women's Olympic Steeple Produces A World Record And an American Record as Well
*Video: *Steeple Final
LRC: Men's 1,500m Semis Produce Shocker As Bernard Lagat Fails To Advance The two-time World Champion didn't advance as he was edged by Nick Willis, the lone athlete with NCAA experience to make the final. *Bernard Lagat Fails To Advance *Nick Willis Makes 1,500m Final He becomes the first Kiwi to make a men's final in any track event since 1996. *Canada's Kevin Sullivan Fails To Make Final - Doesn't Want To Talk About Retirement *Nate Brannen Fails To Advance
*Video: *Men's 1,500m Semi #1 (Kiprop, Lomong, Brannen) *Men's 1,500m Semi #2 (Lagat, Ramzi, Willis)
*IAAF: Jamaicans Sweep Women's 100m Video: Women's 100m Final
*IAAF: Women's Steeplechase Starts its Olympic History with a World Record
*IAAF: Radcliffe: Looking ahead to London 2012
*David Epstein of SI: Night To Forget For US Runners - Swept in the women's 100m, zero men's 1,500m qualifiers, etc.
*Phil Hersh: *American Track Athletes Off To Slow Start - In addition to what's already mentioned, the US also has no LJ finalist or HJ finalists for the 1st time in history.
*Pre-Race Article on Lagat's Preparations - Lagat ran a 2:19 1k time trial last Sunday. This and Alan Webb's time trials prove that it's easy for runners to use them to get a false sense of raceworthiness. The article said Lagat was hoping no one noticed how he ran in London.
*More Lagat: Seattle Times: Lagat Fails To Advance



Saturday *Results *PhotosUSAIN BOLT 9.69 The men's 100 meter final was arguably the most anticipated sprint matchup in history. It more than lived up to the hype, not because of the expected 3-way matchup of Powell/Bolt/Gay, but rather due to the sheer brilliance of Usain Bolt. It was truly stunning. The question now is how fast can Bolt run in the 200m?
*Tim Layden (and Ato Boldon) on Usain Bolt Ato did another excellent job on the commentary. Can the other announcers defer and let him do the distances as well? He is knowledgeable and injects excitement.
*Usain Bolt Skipped Breakfast and Ate Chicken Nuggets for Lunch and a Snack Before the 100m Final
*Jamaica Prime Minister Planning Huge Homecoming for Bolt
*Usain Bolt and Jamaica Celebrate USA Today
*On the boards: 9.69 is Believable?

Friday: *Results *Photos
*Greatest Women's 10k Ever Dibaba Smashes Olympic 10,000m Record as Two Dip Under 30 Minutes! Flanagan Gets Bronze and American Record Tirunesh Dibaba got the one thing missing on her resume, an Olympic gold, and she did it in grand style. She outkicked Elvan Abeylegesse to win in 29:54.66 as they became the 2nd and 3rd women in history to break 30 minutes for 10k and the first since Wang Junxia's unbelievable 29:31.78, 15 years ago. Shalane Flanagan came from behind to smash her American record (30:22.22) and get the first American medal in a track event over 400m since 1992. In other action, the American men bombed in the shot put (many expected a US sweep, but Christian Cantwell was the only American on the medal stand), the American women bombed in round 1 of the 800m and the USA was the only country to have all 3 of its entrants advance to round 2 of the 1,500m (Manzano on time), but Bernard Lagat didn't look great doing it. We'll hopefully have a letsrun.com recap of these races later, but in the meantime the IAAF has event recaps: *Men's 1,500m Round 1 *Women's 800m Round 1 *Women's Steeple Round 1 Recaps (Willard and Barringer advanced)
More 10k: NY Times Recap on Dibaba's 10k Victory, Flanagan's Bronze * Washington Post Recap on Flanagan
On the boards: *TWO women under 30 minutes in the Olympic 10000m final A historic day.
*1,500m Heats Talk Here
*USA's Flanagan wins bronze in 10,000 meters USA Today *Flanagan shows American distance runners can compete with best ... ESPN
*IAAF Recap of Day 1 - Kara Goucher 30:55 PR
Shot: Poland's Tomasz Majewski Surprise Shot Put Winner
*US Shot Putters Come Up Short New York Times
More:
*Pamela Jelimo Favored For 800m Gold
*Lagat's Goals Include Being Oldest 1,500m Gold Medallist
*Heptathlon: Kelly Sotherton Leaves Day 1 In Tears As American Hyleas Fountain PRs In 4 Events To Lead
*Famiglietti Advances To Men's Steeple Final With 8:17 PR!
*All 3 Americans, As Well As Michigan Alums Brannen and Willis, Advance To 1,500m Semis Rashid Ramzi Rolls, Kenyan Nicholas Kemboi Failed To Advance *1,500m Heats Talk Here
*
LRC Preview #2 - Women's Marathon & Pole Vault as Well As Men's 400m Hurdles The women's marathon will be one of the few athletics events shown live in the US. What a race - Radcliffe, Kastor, Ndereba and plenty of other Chinese, Japanese, and Africans to add even more drama.


LRC Beijing Olympic Day 1 Preview: Games Kick Off With Women's 10k Final, Men's Shot Final, Round 1 of the 100m Showdown, Plus Men's 1,500m Round 1, Women's 800m Round 1, Steeplechase Round 1 Tirunesh Dibaba will try to get the Games underway by getting the one thing missing on her resume - an Olympic gold. She'll face a slew of challengers as 9 other women have a decent shot at the medal stand, including Americans Kara Goucher and Shalane Flanagan. We preview the other events, including the men's steeple, where the favorite, Paul Koech, may not even get to run as he's the Kenyan alternate. We also give you a sneak peak at the LetsRun.com Prediction Contest predictions (where not a single person has failed to pick one of Bolt, Gay or Powell to win the 100m).
*US Men Going for the Medal Sweep in the Shotput USA Today

8/8/08 Dazzling Opening Ceremonies Kick Off Beijing Olympics A reader abroad wrote us saying, "I thought it was mind blowing ... it's like China is saying: 'We are the next power' ... I'm telling you, it was the most amazing visual display I have ever seen on television. And I'm not even watching on an HD or anything. London must be shitting their pants because that was unbeatable. It was amazing ... It just went on for 4 straight hours." We agree.