XC Studs (And us) Give Our SuperBowl Picks
by: LetsRun.com
February 2, 2007
We could have written a preview of the 100th Millrose Games and the great Wanamaker mile showdown between Bernard Lagat, Craig Mottram, and Alan Webb tonight, but figured that mainstream news publications might actually cover our sport for once and write about the mile for us (and we were right, here, here, and here are a few articles). Let us say one thing about Millrose, however. If you call yourself a track fan, you must absolutely do one of two things: 1) Get to Millrose on Friday night or 2) Watch the live broadcast on ESPN2 (7-9 pm) and then be sure to watch NBC on Saturday (2-3 pm) as the Wannamaker mile won't appear on the ESPN2 show.
But instead of reinventing the wheel and talking about how great Millrose is, we spent our time tracking down the SuperBowl picks of some of the top runners we've been interviewing for next weeks Battle in Boulder, the US XC Championships.
So without further ado here are their picks.
| | | | | | | | | |
| --- | --- | --- | --- | --- | --- | --- | --- | --- |
| | Abdi Abdirahman | Jorge Torres | Dathan Ritzenhein | Sara Slattery | Steve Slattery | Meb Keflezighi | Cruz Culpepper | Brojos |
| Pick | | | | | | | | |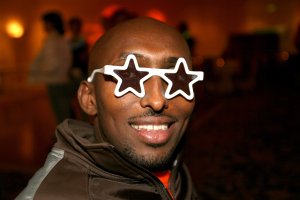 Abdi Abdirahman: 27:22 10k, 1:01:07 Half Marathon, and 2:08:56 in 2007
"I like both teams. A good friend of mine, (fellow Arizona alum) Bryan Copeland, who I hung out with at the (LaSalle Bank) Chicago Marathon, plays for the Bears. But I'm picking the Colts... Peyton Manning is a good guy. I'm rooting for the Colts. I want him to win."
*For the LetsRun.com Boulder 2007 Abdi Abdirahman profile click here
(photo from Victah Sailer)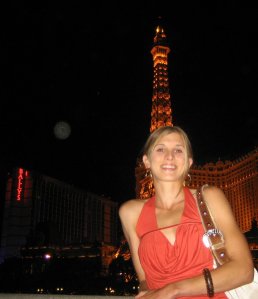 Sara Slattery: 2006 Bolder Boulder Champ
"Hello all. I am writing from the snowy Colorado where we got another 3 inches today to bring the total accumulation for the season close to 6 feet. To all you Cross Country runners out there don't forget your winter coats February 10th or you may be hating life. Anyway, on to my Super Bowl picks. Growing up in Phoenix, Arizona, home of the Arizona Cardinals, it was very hard to be a football fan. (This may change now that Leinart is in Phoenix, but I am still a little skeptical) However, the super bowl is the best football game of the year. It is a great excuse to hang out with friends, watch funny commercials and eat junk food. This year Steve and I plan to go to the Fight Club (the Torres' house) to watch the game and I know I will be surrounded by Bear fans. To make it a more interesting I will be pulling for the Colts."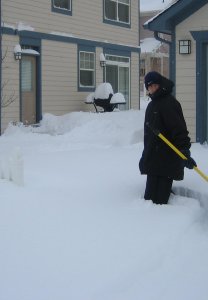 Steve Slattery: 2003 USATF Steeplechase Champ
"Hi this is Slattery writing from beautiful snowy Boulder, Colorado. Super Bowl XLI is going to be the end of a horrible football year for me. I lost the fantasy football league for the first time. The CU buffs could not beat a D2 school and the Giants just make me sick. But for the Super Bowl I am going to be rooting for the Colts. Why, because I want to see the hopes and dreams of the Torri (Torri is the plural form of Torres) crushed. I have known those guys for a long time and every year I hear about the Bears, but I hope to go the rest of my life without seeing those two do the Super Bowl shuffle. So Sunday I hope to see the Torri cry, and not just because the wings are spicy. Now I got to go back to digging myself out so I can go for a run.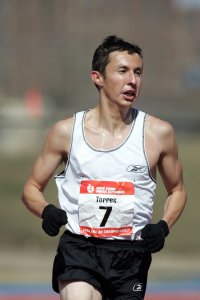 Jorge Torres: Native of Chicago
"I predict that the Bears are going to win. That is a no brainer and when they do I would like to see Steve Slattery tape record a reenactment of him singing the Super Bowl Shuffle. I have all the respect in the world for Peyton Manning but I just don't think that this is his year. The Bears defense will dominate the game and Rex Grossman is going to throw for 2 touchdown passes. A third touchdown will be from my boy Devin Hester. He will run it back for 98 yards, similar to the way he ran it back against Slattery's Giants. Do you remember that run back Steve? Go Bears!!!!
(photo from Victah Sailer)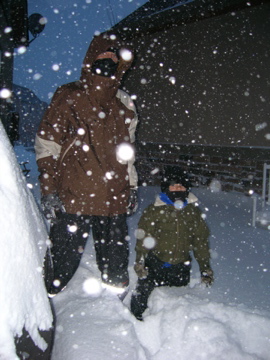 Alan and Cruz Culpepper: 2004 US Olympic Trials Marathon Champ and 4 Year Old Superstar: :
"Our lives are so crazy sometimes that I basically missed all of the playoffs. If I had to pick I would go with the Colts purely because I like Dungy and Manning and furthermore Cruz has a Manning jersey that he got for Christmas."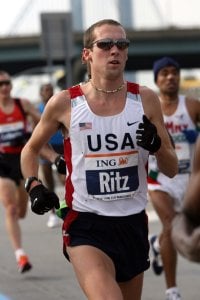 Dathan Ritzenhein: 2003 NCAA XC Champ "The (Torres) twins are big Chicago fans and I won't be able to stand them if the Bears win."
(photo from Victah Sailer)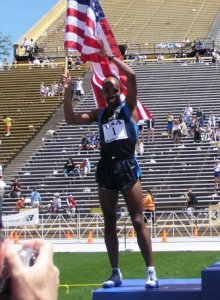 Meb Keflezighi: 2004 Olympic Silver Medallist "I'm very happy for both Lovie Smith and Tony Dungy. Yet, I'm rooting for the Indianapolis Colts because I've become a big fan of Tony Dungy. Yordanos (Meb's wife) grew up in Tampa Bay where Tony Dungy used to coach. Yordanos' respect for Coach Dungy has rubbed off on me. I'm also rooting for my MasterCard buddy Peyton Manning to lead the Colts to a Super Bowl victory."

LetsRun.com: "We can't stand Peyton Manning. We do like Tony Dungy a great deal, however. Think we are torn? Not a chance. Our dislike of Manning is irrationally large. Plus we lived for three years in Lake Forest, where the Bears practice, and the same town as this girl. As a result, we're rooting for the Bears. The Bears will win, you don't even need the 7 points.
(Wejo would like to apologize in advance for Rojo kissing up to Ritz and trashing the Torres, we mean Torri, at the end of his interview with Ritzenhein (which we will publish on Monday). Ritz said how he'll be rooting for the Colts because he won't be able to stand the Torri if the Bears win and Rojo comes back with this:
Rojo: I know how you feel. I actually was in a bar in New York with them right after you ran the marathon and we were watching the Bears game. They were acting like their dad was a player or coach on the team, and it was the biggest thing ever as the Bears were undefeated. But then they fell behind and got spanked by the Dolphins and in the 2nd half, they acted like the game wasn't even on.
Ritz: You don't have to tell me about it. They don't even know anything about the team. They are just jumping on the bandwagon.

Wejo Says: Truly disgusting. I'm sorry.
---

Running & Track and Field Posters
---
Unbelievable interest
ING Orange Savings Account
Sponsor of the NYC Marathon


5 Minute Process to Open an Account
No Minimum Deposit
---
---