by LetsRun.com
June 11, 2016
EUGENE, Ore. — Heavy favorite Marta Freitas of Mississippi State came through as the favorite by the slimmest of margins as she captured the women's 1500 in 4:09.53 to Stanford's Elise Cranny's [4:09].54 at the 2016 NCAA Outdoor Track and Field Championship as a premature celebration nearly cost Freitas the title.
The senior Freitas, who came into this afternoon's final with a seasonal best time (4:09.80) that was more than 3 seconds better than everyone field, is the second straight Mississippi State runner to win the 1500 title as last year Rhianwedd Price won the title for the Bulldogs. However, today's race was far from a cakewalk as the sophomore Cranny displayed the form that made her a high school superstar.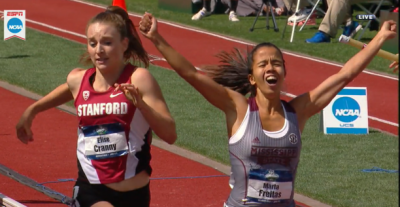 Coming off the final turn, Cranny was right on the heels of Freitas, who had led from 400 on, passing 300 in 51.80, 700 in [2:00].08 and 1100 in [3:06].39. Midway down the stretch, Freitas started to open up some daylight. However, in the closing stages Cranny started to close on Freitas. Would Freitas hold on for the wire-to-wire win? It appeared the answer would be yes by the tiniest of margins but then Freitas put her arms out to celebrate as Cranny lunged for the line.
Who won?
After a slight delay, the answer was Freitas by .004 – as her time was [4:09].530 to Cranny's [4:09].534. Freitas ran a 63.15 on her last lap to Cranny's 62.85. No one else in the field broke 65 on the last lap. Dartmouth's Dana Giordano ended up best of the rest in third in [4:11].86 as she got yet another PB by running [4:11].86 (coming into NCAAs her pb was [4:18].24 but she ran [4:13].18 in the semis). The NCAA indoor 800 champ Kaela Edwards of Oklahoma State tried to stay within striking distance throughout but she could only manage a 67.83 last lap and ended up 6th. 
Results and then our quick take analysis appear below.
Quick Take #1: Freitas talked the talk and walked the walk.
After the semifinals on Thursday, Freitas told us she was unhappy with many of her races this year as she didn't challenge herself and go for a fast time, instead she was content to get the victory. She said she wanted to make sure the NCAA final was a true test of fitness ("I want to make sure that the best 1500-meter [runner] in the country will win," Freitas said) and she backed that up today as she got the win and a small pb ([4:09].80 to [4:09].53).
Quick Take #2: Be Inspired by Freitas
Our video with Freitas below is 11 minutes long, by far our longest of the NCAAs. It's because she's an inspirational person to listen to. Two years and six months ago, her dad had a heart attack and died while she was running a 1500. Now she has his name on her wrists as she pays tribute to him with her races. She learned the hard way that there can be setbacks in life, but those setbacks are learning opportunities.
Last year at NCAAs, Freitas fell and broke her wrist. That gave her the opportunity to come back this year and write a totally different script.
She said, "I just can't believe it… Last year I was crying for totally different reasons. From the first day I went to Mississippi State, on the way to the locker rooms we have a Wall of Champions, and since I went there I was hurt, I was barely walking, but I counted the squares. I counted which one would have my name on it. And today I made it. I am so… I don't have words because I never thought it would be possible… I'm having the most important day in my collegiate career."
Freitas kept referring to today as her "lucky day" but we'd argue luck had nothing to do with it, except for perhaps somehow managing to win by .01 after celebrating too early. She executed her race perfectly.
She said her win was for her family, her dad, Mississippi State and her coach. She had great words for her boyfriend, who encouraged her to go to Mississippi State and pursue her dream.
She also had some inspiration for shorter people out there saying, "I'm five foot tall and everyone makes fun of it (my height) but I can do it. I can run as fast as anyone else and I have the size of my dreams."
As for coming back from adversity and tragedy in life she said, "You need to choose if you want to go to the bright side of things, (and) make bad things positive things. When something bad happens it's also a great opportunity… Being good at what you're good at is so easy, but being good at what you're not good at, is not easy…"
She however has always chosen the path to challenge herself, noting when she came to America it was a huge challenge. She had to learn a new language, get a lot faster, and then overcome injury. She said, "You should enjoy the good days, but you should also enjoy the bad days because this is what makes you move forward, and grow and win."
If you're looking for a pick-me-up, watch the interview below.
QT #3 Elise Cranny is Back!
Cranny ran [4:10].95 as a high school senior and took 4th at World Juniors and the pressure of the world was then on her shoulders when she went to Stanford last year. She "only" ran [4:14].05 last year and was 10th at NCAAs. Coming into the NCAA meet this year she had "only" run [4:16].37 but she had won the Pac-12 meet. She ran a season's best [4:15].87 in the prelims here and then upped that big time in the final with her [4:09].54 pr, showing she is definitely back.
Just as she said after the prelims, she thinks the main difference this year is not anything physical, but mental. She no longer puts as much pressure on herself and is having fun running again. Cranny said she had no intention of chasing an Olympic Trials time (she was just .04 short of the automatic qualifying time today), but also had no idea she'd run so fast today. She likely will get into the Trials with her time today and now will talk to her coach about running the Trials.
Quick Take #3: Dana Giordano caps a dream week with another PR, taking down Abbey D'Agostino's school record in the process
Giordano has racked up multiple All-American honors and eight Heps titles, but for the first half of her career, she lived in the shadow of Abbey D'Agostino, one of the NCAA's all-time greats. Well Giordano escaped that shadow today by taking third and running faster for 1500 meters ([4:11].86) than the great D'Agostino ever did in college.
Giordano was justifiably over the moon after PR'ing by five seconds in the prelims and another two in the final today.
"I can't say I'm shocked because I believed in myself…I'm just really happy with how today ended up," Giordano said.
Giordano ran the 5k here the last two years but was 22nd and 23rd. She dropped down to the 1500 this year and Giordano's coach Courtney Jaworski said that the biggest difference is Giordano is having more fun running the shorter, faster 1500 than she was slogging through 12.5 laps of the 5k.
Giordano has a busy few days ahead of her as she was scheduled to catch a redeye back to Boston for graduation on Sunday before heading to Thailand next week. She said she plans to take some time away from the sport rather than overextending herself by stretching her season out another month.
Screenshots from broadcast below.
---
Like LetsRun.com on Facebook!