NCAA Distance Action: Emily Sisson Dominates, Colleen Quigley Goes Out with an NCAA Title, Rhianwedd Price Caps Dream Season With 1500 Crown
by: LetsRun.com
June 13, 2015
EUGENE, Ore. — History was made at Hayward Field on Saturday as the University of Oregon women won their first NCAA outdoor title in 30 years. The Ducks got the title in a large part due to the efforts of junior sprinter/jumper Jenna Prandini who won the 100m and was second in the 200 and long jump for 26 of the Ducks' 59 points. Frosh Raevyn Rogers gave the Ducks a big boost with a huge pr and win in the 800 in 1:59.71, which we recap in a separate article here. Kentucky was runner-up with 50 points in a large part thanks to Keni Harrison's amazing double (interview with her here). Harrison, who is #2 in the world this year in the 100m hurdles, first won the short hurdles hurdles in a quick 12.55. Then 45 minutes later she came back with a huge pr of 54.09 (previous best of 54.76) to place second in 400 hurdles to Texas A&M's Shamier Little. Harrison led into the homestretch but tied up which was totally understandable. AP recap of meet here.
In the distances, Rhianwedd Price capped an incredible season that saw her lower her PR by seven seconds and leave with an NCAA title, Emily Sisson dominated the 5000m and Colleen Quigley won her first NCAA title and led the top three to PRs in the women's steeple.
Article continues below player
We recap all the Saturday distance action below except for Raevyn Rogers' win. Full NCAA champs coverage here. All post-race interviews here.
Women's 1500m:  Rhianwedd Price Caps Dream Season With NCAA Title
Everything was going according to plan for Shelby Houlihan in the women's 1500 final, until it wasn't. And before Houlihan could even react, the race was over and Rhianwedd Price had stormed by to unseat Houlihan as NCAA champion in 4:09.56, the fastest time in this meet since 2008. After leading for the first 1495 meters of the race, Houlihan never heard Price running her down on her outside shoulder. Price timed her kick perfectly and came through to win and cap a dream season that saw her slice seven seconds off her 1500 PR.
The Race
Houlihan wasted no time going to the front, taking the field through 400 in 65.50 with Stanford's Elise Cranny second and 2013 champ Natalja Piliusina in third.
Houlihan slowed over the second lap (69.39) but still held the lead at 800. The pace started to take its toll on the field on the third lap, though, and as Houlihan approached the bell (68.58 from 700 to 1100), only two women had the strength to go with her: Price and Colorado's Sara Sutherland.
Coming around the first turn on the bell lap, Price moved outside to try to get around Houlihan but couldn't do it. Coming off the turn, Houlihan and Price had opened a gap on Sutherland and with 230 to go, Price attacked again. Again, Houlihan held her off and launched into her kick with 200 to go.
Houlihan began to streak away from Price and it looked very much like we were in store for a repeat of last year's race, where Houlihan destroyed the field over the final half-lap. Coming off the final turn, Price appeared dead and buried.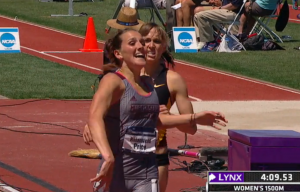 But she was not. Her head bobbing up and down, Price began to narrow the gap on Houlihan. Slowly at first, and then more quickly as she approached the finish line, Price narrowly gained ground. Houlihan was looking at the scoreboard at the end of the track and knew Price was behind her, but it didn't appear to Houlihan that she was being run down.
She was and Price timed the pass to perfection and got Houlihan right before the line, before the Arizona State senior could process what had happened. Sutherland maintained her position but finished a distant third as the top two women closed in 63.22 (Price) and 63.34 (Houlihan) for the final lap.
Quick Take #1: Price was obviously over the moon after this one was over.
A few years ago before showing up at Mississippi State, Price was a 4:26 1500 runner. Last year, she didn't make the finals at NCAAs. Now she's the NCAA champ. And to think she lost her 1500 at SECs this year by more than 3-seconds (3.12 to Dominique Scott who went 5k/10k here).
Next year, Price had better be on top of her game as her twin sister will be joining her at Mississippi State and Rhianwedd says she's always been the slower twin until she got to Miss. State.
Quick Take #2: Houlihan had no idea Price was coming
"It kind of sucks because I feel like I could have responded if i would have had a little more time to respond," Houlihan said after the race. She was surprised that Price was able to respond to her move late in the race and gave full credit to her for the beating her. Houlihan also said she was disappointed in herself as she knows she is capable of running faster than 4:09.67 (though her time today was a PR by over a second).
Quick Take #3: It took a long year of rehab and steady mileage-building, so Sara Sutherland was thrilled to finish third
Sutherland missed basically all of her senior year at Texas in 2014 due to plantar fasciitis and a knee injury and said it took almost all of the fall to get back to full mileage. Sutherland endured a lengthy rehab process and said that it was difficult training in Boulder in the fall as making the transition to altitude and some of Boulder's challenging runs was hard when she wasn't 100%. She had some stories about workouts that were "hilarious" in retrospect but very frustrating in the moment as she would get dropped by her teammates. But she praised her teammates and coaches Mark Wetmore and Heather Burroughs for helping her get through it and help her get to this point.
Now healthy, Sutherland viewed today as a new beginning and said she'll look to continue running now that she's out of eligibility.
| Place | Name | | Affiliation | Time | | | |
| --- | --- | --- | --- | --- | --- | --- | --- |
| 1 | Rhianwedd Price | SO | Miss State | 4:09.56 | | | |
| 2 | Shelby Houlihan | SR | Arizona State | 4:09.67 | | | |
| 3 | Sara Sutherland | SR | Colorado | 4:13.48 | | | |
| 4 | Natalja Piliusina | SR | Oklahoma State | 4:15.01 | | | |
| 5 | Raquel Lambdin | SR | UC Davis | 4:15.28 | | | |
| 6 | Stephanie Schappert | SR | Villanova | 4:16.01 | | | |
| 7 | Brook Handler | SR | Michigan | 4:16.19 | | | |
| 8 | Linden Hall | SR | Florida State | 4:16.58 | | | |
| 9 | Molly Hanson | JR | Wisconsin | 4:17.06 | | | |
| 10 | Elise Cranny | FR | Stanford | 4:24.40 | | | |
| 11 | Nikki Hiltz | FR | Oregon | 4:31.26 | | | |
| 12 | Marta Freitas | JR | Miss State | 4:41.03 | | | |
Women's 5000m: Emily Sisson Caps Her NCAA Career in Style
Emily Sisson won the outdoor women's NCAA 5000m title just like she did the indoor title — in dominating gun-to-tape fashion in 15:34.10.
Indoors, only Rachel Johnson dared to go with Sisson early on. This outdoor field was much stronger and featured four other NCAA champions (Emma Bates at 10,000m, Kate Avery XC, Shelby Houlihan 1500, and Dominique Scott 3000 indoors). Sisson led throughout but she had company for the first 2 miles (4:59 at 1600 and 9:59 at 3200) as a pack of seven (Scott, Avery, NCAA outdoor leader Jessica Tonn, Michigan soph Erin Finn, Calli Thackery of New Mexico and Liv Westphal of BC) were still together with a mile left of running.
The chasers were giving it their all to stick with Sisson and all it took from her was a slight injection of pace to blow the race open. A 74.1-second lap opened a nearly two-second gap on the field, and when she followed that up with another 74.1 she had nearly six seconds on the chasers with 800 to go. The rest of the field was content to battle for the lesser places as a 73.6 penultimate lap gave Sisson nearly a 10-second lead. She brought it home in a modest 75.1, able to enjoy the impressive victory on a windy day at Hayward Field.
Arkansas' Dominique Scott did the exact same thing she did in the 10,000m, using a big last lap to pass multiple people and secure a runner-up finish. She was a clear second ahead of Tonn, then Avery, Finn and Thackery. Shelby Houlihan, who was doubling back after a runner-up finish in the 1500, had been 11th with a mile to go and more than 10 seconds back of the leaders, but she had the fastest last lap in the field to move up and take seventh as Liv Westphal rounded out the scorers.
Quick Take #1: In four of the five NCAA distance races, a former champ made the decision to lead for some or all of the race and it didn't work out for any of them
Here's the breakdown:
800 — 2013 champ Natoya Goule of Clemson went out incredibly quickly (26.72 at 200, 56.17 at 400) and led through 600 meters but totally ran out of gas and wound up fifth in 2:05.19, her slowest non-prelim time since 2012.
1500 — defending champ Shelby Houlihan of Arizona State tried to go wire-to-wire but was run down by Mississippi State's Rhianwedd Price just before the line.
3000 steeple — defending champ Leah O'Connor of Michigan State led the entire race until the final water jump, when Colleen Quigley of Florida State pulled away to win.
10,000 — defending champ Emma Bates of Boise State made a huge move, dropping 66-second 22nd lap to drop the field. The move left her spent, however, as she was caught on the next lap, paving the way for Notre Dame's Molly Seidel to take the win.
Of course, you've got to lead at some point if you want to win the race. One scenario where leading paid off was in the 5,000, where indoor champ Emily Sisson went wire-to-wire and dropped the field with a 4:57 last mile.
Quick Take #2: Emily Sisson didn't plan on leading the whole way but realized she could do it when she was feeling good midway through
Sisson used almost the exact same strategy indoors, but it took her until the final mile to drop the field this time around. Sisson said she feels the 10,000 is her best event so her plan is to run that at USAs and focus on that event for the next year or two. But, Sisson added, she is 23 years old now so she'll probably move up to the longer distances — half marathon and marathon — before too long.
Sisson has a year left in her MBA program at Providence, so she'll be staying there next year. Her college coach, Ray Treacy, already has a successful pro group with Molly Huddle, Kim Smith and Amy Cragg, so it's natural for Sisson to continue her professional career with him.
Quick Take #3: Dominique Scott was proud of her performance this weekend
Scott knew it was going to be a tough weekend at NCAAs as she attempted the 5,000/10,000 double to maximize team points and said she was proud of her two runner-up finishes, which allowed Arkansas to finish in fourth place. Remove Scott, and the Razorbacks fall to 10th.
She said she'd like to take a run at a quick 1500 this summer in Europe (Scott destroyed NCAA 1500 champ Rhianwedd Price at SECs by 3+ secpmds sp sje should be able to lower her 4:12.16 PR) before getting ready for XC in the fall.
Quick Take #4: Stanford's Jessica Tonn was pleased with third and said she wants to keep running next year as a pro and is evaluating her options – staying in Palo Alto is an option.
Quick Take #5: Iona's Kate Avery said she ran the 5000 here as she wants to stay fresh and hopefully represent Great Britain in the 10,000 at Worlds.
The post-race interview with Avery is kind of humorous as another reporter asks her if she is going to run for Ireland.
| Place | Name | | Affiliation | Time | | | |
| --- | --- | --- | --- | --- | --- | --- | --- |
| 1 | Emily Sisson | SR | Providence | 15:34.10 | | | |
| 2 | Dominique Scott | JR | Arkansas | 15:40.47 | | | |
| 3 | Jessica Tonn | SR | Stanford | 15:41.72 | | | |
| 4 | Kate Avery | JR | Iona | 15:41.95 | | | |
| 5 | Erin Finn | SO | Michigan | 15:43.97 | | | |
| 6 | Calli Thackery | JR | New Mexico | 15:47.15 | | | |
| 7 | Shelby Houlihan | SR | Arizona State | 15:49.72 | | | |
| 8 | Liv Westphal | JR | Boston College | 15:52.17 | | | |
| 9 | Emma Bates | SR | Boise State | 15:56.72 | | | |
| 10 | Tori Gerlach | JR | Penn State | 16:00.28 | | | |
| 11 | Molly Grabill | JR | Oregon | 16:06.58 | | | |
| 12 | Sandie Raines | SO | Texas | 16:08.30 | | | |
| 13 | Vanessa Fraser | SO | Stanford | 16:10.20 | | | |
| 14 | Rachele Schulist | SO | Michigan State | 16:10.89 | | | |
| 15 | Tessa Murray | SR | Boise State | 16:14.95 | | | |
| 16 | Bethan Knights | FR | California | 16:22.08 | | | |
| 17 | Maria McDaniel | FR | Western Michigan | 16:27.28 | | | |
| 18 | Annie LeHardy | SR | North Carolina | 16:32.35 | | | |
| 19 | Elizabeth Chikotas | FR | Penn State | 16:34.43 | | | |
| 20 | Madeline Chambers | SR | Georgetown | 16:43.99 | | | |
| 21 | Maddie Meyers | SO | Washington | 16:44.94 | | | |
| 22 | Erika Kemp | SO | North Carolina St. | 16:55.59 | | | |
| 23 | Dana Giordano | JR | Dartmouth | 17:12.54 | | | |
| 24 | Tansey Lystad | JR | Portland | 17:13.37 | | | |
Women's Steeple: Colleen Quigley Gets Her NCAA Title
Colleen Quigley finally got her NCAA title. In her final collegiate race, the Florida State senior blew past defending champ Leah O'Connor of Michigan State after the two hurdled the final water jump together to win in 9:29.32 and become just the third collegian to break 9:30 in the women's 3,000 steeplechase (Jenny Simpson and Emma Coburn, both of Colorado, are the others). The victory was particularly sweet for Quigley as it came after a string of near-misses at NCAAs including a third-place finish behind O'Connor in the mile indoors.
The Race
O'Connor went to the front early and began to execute the same strategy she used to win her heat two days earlier, albeit at a faster pace (75 first lap). She led through the first kilometer in 3:13.41 and with four laps remaining, the lead group had dwindled to five: O'Connor, NCAA leader Courtney Frerichs of UMKC, 2014 third-placer Rachel Johnson of Baylor, Quigley and 2014 runner-up Marisa Howard of Boise State. With two to go, those five were all still together, but a 74.30 penultimate lap began to string out the pack. At the bell, Quigley and O'Connor were running stride-for-stride out front and gapping the field.
With 300 to go, Quigley made a move to take the lead, but O'Connor responded and the two were level again. With 200 to go, O'Connor was still on Quigley's shoulder and it was anyone's race. The first crack appeared on the final water jump, as Quigley got over cleanly but O'Connor stumbled slightly as she landed, allowing a gap to form. At that point, it was game over, as Quigley had a lot left and streaked away from O'Connor for the victory with a final 400 of 68.95 seconds. O'Connor was spent, and Frerichs, who closed in 70.33 (second-best in the field), blew by her after the final barrier to grab second in 9:31.36, a PR (even though she dropped from third to fourth on the NCAA all-time list thanks to Quigley's PR). O'Connor was totally spent and ended up third but also in a PR of 9:33.38.
Quick Take #1: The NCAA record book has needed constant updating this season
In our meet preview, we noted how the NCAA record book looked a lot different then it did at the start of the season as Frerichs, Quigley and O'Connor all ran times that ranked them in the top five in NCAA steeple history in 2015. Well all three PR'd again on Saturday, leading to even further revision. Here's how the all-time list looks now.
Jenny Simpson, Colorado 9:25.54 (2009)
Emma Coburn, Colorado 9:28.26 (2013)
Colleen Quigley, Florida State 9:29.32 (2015)
Courtney Frerichs, UMKC 9:31.36 (2015)

Leah O'Connor, Michigan State 9:33.38 (2015)
O'Connor, the defending champ, PR'd in the NCAA final and it was still only good for third place. There could be more changes coming to the record book in 2016 as Frerichs is only a junior.
Quick Take #2: Quigley felt great and was actually worried there would be a huge kick because the pace felt so easy
Quigley said it was incredible to do a victory lap at Hayward Field and said that it felt great to finally win an NCAA title after coming so close on several other occasions.
Colleen Quigley's Near-Misses at NCAAs
2015 indoor mile, 3rd
2014 indoor mile, 6th
2013 XC, 6th
2013 steeple, 2nd
2012 steeple, 5th
Quigley added that she'll be staying with her brother Dan (who runs for Team Run Eugene) between now and USAs and that she may have to do some chores to earn her keep.
Quick Take #3: O'Connor was very upbeat after this one was over despite the loss.
When we caught up with O'Connor she said while she thought there were a few things she could have done differently on the last lap, she was proud of the way she ran and is hopeful for a strong showing at USAs. On the NBC broadcast, Larry Rawson revealed that O'Connor fell in the stands yesterday and had to receive medical treatment. O'Connor acknowledged that but refused to use it as an excuse.
| Place | Name | | Affiliation | Time | | | |
| --- | --- | --- | --- | --- | --- | --- | --- |
| 1 | Colleen Quigley | JR | Florida State | 9:29.32 | | | |
| 2 | Courtney Frerichs | JR | UMKC | 9:31.36 | | | |
| 3 | Leah O'Connor | SR | Michigan State | 9:33.38 | | | |
| 4 | Marisa Howard | SR | Boise State | 9:37.84 | | | |
| 5 | Erin Teschuk | JR | North Dakota State | 9:42.15 | | | |
| 6 | Rachel Johnson | SR | Baylor | 9:42.93 | | | |
| 7 | Elinor Purrier | SO | New Hampshire | 9:53.69 | | | |
| 8 | Maddie Van Beek | SR | North Dakota State | 9:54.42 | | | |
| 9 | Emily Ritter | SR | Rider | 9:54.72 | | | |
| 10 | Laura Rose Donegan | SO | New Hampshire | 9:59.45 | | | |
| 11 | Heather Demorest | SR | Montana State | 10:01.68 | | | |
| 12 | Victoria Voronko | SR | Eastern Michigan | 10:08.05 | | | |