by LetsRun.com
May 30, 2014
Eugene, Oregon – LetsRun.com is on the ground in Eugene, Oregon, for the two-day 2014 Nike Pre Classic which starts tonight.
After a scramble to purchase some running shoes as one staffer left his back at home, we got a run on Pre's Trail and then headed to the press conference. On the way in, we saw 2007 Pre Classic winner Nick Symmonds sitting outside the meet hotel (Symmonds is injured and out of the meet this year). We'll try to catch up with him while we're here in Eugene to see how his knee injury is progressing.
At the press conference, we caught up with 800 star David Rudisha as well as his agent James Templeton. Our interaction with them appears in a separate article: LRC David Rudisha Talks About His Return At Prefontaine Classic.
We also caught up with decathlon world record holder Ashton Eaton, pole vault world record holder Renaud Lavillenie, 200 star Allyson Felix, long jump star Brittney Reese, and 100 meter man Justin Gatlin.
What do they all have in common? An Olympic gold medal. If you didn't have an Olympic gold medal to your name, you didn't gain access to the press conference.
We give you the highlights of our interviews with the sprint and field event stars and embed our full interviews with them in case you want more.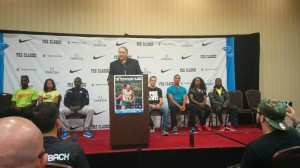 1. Meet director Tom Jordan considers tonight's action at the Pre Classic to be the best bargain in sport
Jordan introduced all of the athletes today before letting them speak one on one with the media. He thinks tomorrow's meet will sell out. As for tonight's action, Jordan said, "Nothing says bargain like free. I consider it the best bargain in sports."
2. Justin Gatlin wants to race Usain Bolt and Yohan Blake and says the sport is lacking the "titans clashing with each other" /Justin Gatlin sees no reason why Dennis Mitchell shouldn't be a team USA Coach
Gatlin on Mitchell (3 minute mark): "I don't see why not (Dennis Mitchell can be a Team USA coach). I look at the math. The majority of the people on the team – when his offense came up 20 years ago or more – those kids were two or three years old – they didn't know anything about that. 
He served his time and come back and had two had two different careers – as a sprinter and now he's a coach.  I think he's done a great job as a coach. He's put in a lot of good work. He's had a lot of good athletes on his roster."
Gatlin on when he'll face Yohan Blake or Usain Bolt (4:28 mark)
Whenever, I'm ready. I'm ready (to face them).
I think that's what this season is kind of lacking – not just the season but the sport in general. Those head-to-head competitions that you watch on YouTube where Carl (Lewis) used to race Leroy (Burrell) — those are the kind of things you need back in the sport – head to head, some titans clashing with each other. 
Yeah, you want to watch this this race over here with Usain, this race over here with Blake, and this race over here with Justin, but (what) you (really) want to see (is) those guys together outside of a championship, so I think we can all put it together, set aside egos and get ready to run (against each other) and bring that back to the sport.
3. Brittney Reese is working on a new approach this year which she hopes will make her more consistent.
We were a little surprised today to see Reese, who competes later tonight, at the press conference as none of the 10,000 runners including local star Galen Rupp were at the press conference (of course, none of the 10,000 runners have an Olympic gold medal either). But Reese was here and we enjoyed talking LJ with her.
With three world outdoor titles, two world indoor titles and an Olympic gold, Reese is already pretty dominant but she feels she's too inconsistent and prone to fouling. She thinks she'll benefit from an approach where she starts off by walking at first (instead of sprinting) but needs to practice it to get her steps down. Given that 2014 is a non-championships year, she thinks it's the perfect year to try a new approach, which she wouldn't do in a World or Olympic year.
We also asked Reese about Greg Rutherford's controversial British long jump record that was recently approved by the UK. Reese, who was actually at the meet in Chula Vista, said emphatically that Rutherford's mark was "not a foul."
A friend of Reese's is the one who made the YouTube video of the jump but Reese said the YouTube video is from a bad angle which makes the picture on the right look like a foul.
As for the meet not having a "plasticine indicator board" board as per IAAF rules, Reese said she jumps all the time at meets that don't have the board including just last week at the American Track League meet in Austin, Texas. When asked about the American Track League, Reese was very enthusiastic.
4. Allyson Felix just wants to stay healthy / has no feelings about Dennis Mitchell being a Team USA coach
Felix tore her hamstring during the 200 final at worlds last year and made her season debut in Shanghai two weeks ago, running the 400 and finishing 5th in 50.81.
She said that for the immediate future, her goal is simply to stay healthy and "get through smoothly." Felix said that she expects she will have rounded into shape by the end of the Diamond League season and will look for her best performances to come at the later meets.
Justin Gatlin also made a cameo halfway through our interview.
Felix on Mitchell
We wanted to know if Felix had any thoughts on the U.S. naming admitted doper Dennis Mitchell as its coach for the World Relays last week. She said that she followed the meet but didn't know that Mitchell was on the coaching staff. Felix added that the athletes don't have input into those decisions — they're made solely by USATF.
"As athletes, we just have to go with what they decide."
Though she didn't participate in the meet, Felix said that she thought the World Relays were a fun event and good for the sport. Felix has eight relay golds from worlds and the Olympics (three from the 4×100 and five from the 4×400) so we wondered if she had might have some insight as to why the U.S. men's 4×100 and 4×200 teams were disqualified after some bad handoffs.
"With an event like this, we wouldn't have gotten a lot of practice. In a year without a major championship, you don't get a lot of practice, so typically that's what it falls on. We just need more work together."
5. Renaud Lavillenie talks about Steve Prefontaine
We don't cover the pole vault much at LetsRun, but it's not everyday that you see the pole vault world record holder wearing a "Pre Lives" shirt (Lavillenie jumped 6.16m/20'2.5" indoors in February, the world's highest jump ever, indoors or out).
Lavillenie picked up the shirt in Portland ahead of the meet and though he was a little confused about Steve Prefontaine the runner (he thought he was a 1500 runner), he was excited to defend his title at the Pre Classic on Saturday.
We thought that Lavillenie would be looking to better his world record outdoors but he seemed happy with the indoor mark and said that raising the bar wasn't on his mind at the moment.
6. Ashton Eaton said his focus on the hurdles in 2014 is a combination of both there not being a major event for him as an American to focus on and him also desiring not to wear down both physically and mentally.
Eaton also said off camera that he is still touching on all of the events in training but at a much reduced work load (60%) and is crushing his old standards for practice. He said there is no chance he'll do a multi despite how well practice has been going.