WTW: Redemption For the Irish Huskies, Keely PRs But Should We Hand the Gold To Athing Mu? & Jakob Ingebrigtsen's Logic Problem
By
Robert Johnson
The Week That Was in Running, July 10 – 16, 2023
It was a busy week last week as many headed to Europe to get in a last race or two before things quiet down as we get ready for Worlds. I try to make sense of it for you below. But if you missed our analysis of the Silesia DL or Joe Waskom's win in Italy, catch up now as I try not to repeat myself.
Past editions of our Week That Was weekly recap can be found here. You should come to LetsRun each and every day for the latest news but if you miss a day, you can always go to our archive page. Got a tip, question or comment? Please call us at 844-LETSRUN (538-7786), email us, or post in our forum.
Did you know we also have a weekly recap in audio form? Check out the best track & field podcast on planet earth – LetsRun.com's Track Talk.
****
Washington's Irish Runners Bomb At NCAAs/ Rock It In Europe
The distance programs that Andy and Maurica Powell have built at the University of Washington are certainly quite good. But while the men's milers stole the accolades at NCAAs, not every Husky ran well in Austin at the NCAA championships. In fact, there were two very high-profile flameouts.
Pac-12 5,000 and 10,000 champ Brian Fay didn't score at NCAAs in the 5000 (9th) while the 10,000 and 5,000 titles went to Stanford's Ky Robinson, whom he beat at Pac-12s in the 5,000 (Robinson was doubling back from the 1500 earlier in the day whereas Fay hadn't raced that day). And NCAA leader Sophie O'Sullivan (4:08.06 pb) was even worse in the 1500 (12th).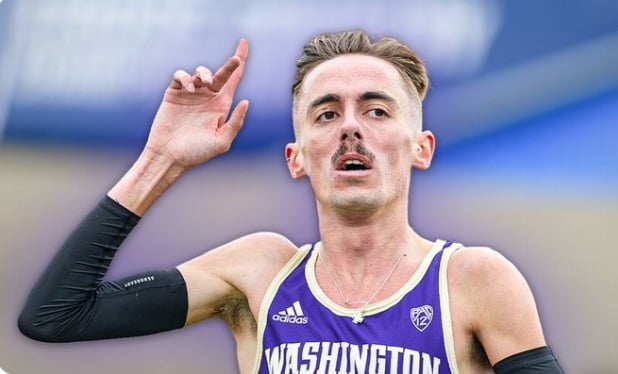 The two Irish runners got some sweet redemption in Europe last week. Fay, who is already back training under his old Irish coach Feidhlim Kelly, shocked himself by running a 15+ second pb of 13:01.40 to finish second at the KBC Nacht meet in Heusden, which broke the long-standing Irish record of 13:03.53 held by 7-time NCAA champ Alistair Cragg (2011). Fay properly described the race as "the race of my f**king life."
It should be noted that the winner of the A race in Heusden was Cornelius Kemboi of Kenya, who was third at the recent Kenyan trials, as he ran 13:00.68 pb in a race where American Sean McGorty picked up the World and Olympic standard by running 13:02.13 for third.
Article continues below player.
O'Sullivan got the win at European U23 champs in style, by running a pb of 4:07.18 and upsetting favorite Sarah Healy (4:01.75 pb) in the process to ensure an Irish 1-2.
That sprint finish! 🔥

Sophie O'Sullivan 🇮🇪 leads an Irish 1-2 in the 1500m and wins Ireland's first gold medal in European U23 Championships! 🥇

And a lifetime best of 4:07.18 as well! 💫#Espoo2023 pic.twitter.com/dHqU6Q2UJ8

— European Athletics (@EuroAthletics) July 16, 2023
O'Sullivan wasn't the only Pac-12 athlete to win mid-d or distance gold at the Euro U23s as Charles Hicks of Stanford/Bowerman Track Club won the 5,000 by 5+ seconds in 13:35.07.
*Heusden Results: Cooper Teare 3:33.60 FTW, Sean McGorty Gets The Standard (13:02.13). Krissy Gear 4:15.11
*Sophie O'Sullivan Kicks Just Like Sonia To Seal Famous 1-2 For Ireland In At U23 Euros
*MB: Andy Powell/UW Appreciation Thread
###
Fay wasn't the only ex-NCAA runner to set a 5,000 national record in Heusden. Former Coastal Carolina/Florida State runner Adriaan Wildschutt, now with HOKA NAZ Elite, who had already had set a South African 10,000 record of 27:23.10 in his only other race of the year in winning at Mt. SAC on May 6, ran 13:02.46 to break Elroy Gelant's 13:04.88 national record from 2016.
What's crazy about Wildschutt's NR wasn't the time, as he had run 13:09.30 indoors in February 2022, but that he did it out of the B heat in Heusden. If anyone knows why someone with a 13:09 pb would be put in a B heat despite being in great form, please email us.
##
O'Sullivan isn't the only Pac-12 women's 1500 runner who bombed NCAAs but has found redemption since then. Simone Plourde, who won Pac-12s for Utah (O'Sullivan was 4th) and had a 4:08.70 collegiate pb but didn't make the final at NCAAs, has run two races since NCAAs and both have been pbs — a 4:06.87 and 4:06.47. The latter came last week at the Harry Jerome meet in Canada in her pro debut for Nike's Union Athletics Club.
 

View this post on Instagram

 
***
Athing Mu Wins Gold?
Athing Mu has only run one 800 this year and it wasn't super fast by her standards — 1:58.73 at the NYC Grand Prix on June 24. But after seeing that Keely Hodgkinson only ran 51.76 for bronze in the 400 final of the European U23 champs, I must admit the following thought immediately popped into my head, "How in the world does Keely beat Athing in the 800 at Worlds in 2023?"
Athing is WAY faster — she has a 49.57 pb — and her endurance seems to be way better as well given she just ran 4:03.44 at USAs whereas Keely has only one 1500 result on her CV and it was a 4:30.00 (granted, she was 15 years old at the time but doesn't the fact that she never runs it mean something?).
But if I'm going to make the case for Keely pulling off the upset it would be this: last year it was also true that Athing had better endurance and was much faster at 400 and Keely nearly beat Mu at Worlds. And 51.76 is actually a big pb for Hodgkinson. Her pb coming into the year was 52.41 and coming into the meet it was 52.24. Plus, let's not forget that Hodgkinson has already run 1:55.76 this year, a time Mu has only bettered twice in her career…
***
Ethiopia Has a Good Problem on Its Hands
The 2023 world 1500 list changed big-time on Sunday once the non-Diamond League 1500 in the Silesia meet was completed as the top four finishers were Ethiopian and all of them ran big pbs.
| | | | | | | |
| --- | --- | --- | --- | --- | --- | --- |
| Place | Athlete | Country | Result | Previous pb | Improvement | Comment |
| 1 | Hirut Meshesha | Ethiopia | 3:54.87 | 3:57.30 | 2.43 | 12th at Worlds last year. 2022 World Indoor bronze. |
| 2 | Birke Haylom | Ethiopia | 3:54.93 | 3:57.66 | 2.73 | Just 17. Won Oslo mile in 4:17.13. |
| 3 | Diribe Welteji | Ethiopia | 3:55.08 | 3:56.91 | 1.83 | 21-year-old was World Jr champ in 800 in 2018 and was 4th in 800 at Worlds in 2022. |
| 4 | Worknesh Mesele | Ethiopia | 3:57.00 | 4:01.81 | 4.81 | 22-year-old was 5th in Oslo, 4th in Rabat. |
Ethiopia now occupies places #2-3-4-5-6 on the 2023 world 1500 list as Gudaf Tsegay, who won Worlds silver for Ethiopia in the 1500 last year, has run 3:54.03 (Kenya's Faith Kipyegon leads the list with her 3:49.11 WR).
Not included in those places is a woman who was the third-fastest Ethiopian on the year (3:57.65) before Sunday, Freweyni Hailu. Hailu, who was 3rd in Doha, 2nd in Rabat, and 1st in Stockhom this year, has also run 14:23.65 for 5000 this year. She was in Poland but she ran and won the 3000 in 8:26.61. She's currently #3 on the Ethiopian 5000 list so it's possible she goes to the 5000 at Worlds.
Who ends up on the 1500 team for Ethiopia will be interesting.
What a stacked women's 1500m 😳

🇪🇹's Hirut Meshesha wins the battle against her compatriots in a meeting record of 3:54.87 🔥

🇦🇺's Linden Hall breaks the Oceanian record with 3:57.27 as seven women break 4 minutes 🙌#DiamondLeague pic.twitter.com/1rCDelOKtl

— World Athletics (@WorldAthletics) July 16, 2023
***
Odds & Ends / It Was A Good Weekend For Teenage 1500 Runners
Thumbs up to 17-year-old Cam Myers of Australia, who lowered his pb to 3:33.26, a world U18 record, in his Diamond League debut in Silesia. That being said, Jakob Ingebrigtsen ran 3:31.18 as a 17-year-old in 2018 but since he turned 18 later that year, it's not the official U18 record. Myers just turned 17 on June 9.
At the BMC Watford Gold Standard Meeting in England, Race Results Weekly reports that 16-year-old Phoebe Gill "knocked 7 seconds off her her 1500m personal best" by running a 4:11.96 to set a UK U17 record.
*Phoebe Gill takes apart UK U17 1500m record
###
Three weeks after crushing the course record at Western States, Courtney Dauwalter was at it again last week at the Hardorck Endrance Run 100 mile as she beat her own course record of 26:44:36 by more than 30 minutes, running 26:14:09. France's Aurelien Dunand-Pallaz won the men's race in 23:00:07.
Courtney Dauwalter Breaks Hardrock 100 Course Record
###
After watching Soufiane El Bakkali destroy the second and third placers at the Kenyan trials by 4.87 and 6.29 seconds in Silesia, I thought to myself, "I already knew he was way better than them. When can we get the 20-year-old Simon Koech of Kenya to make his European track debut?"
I know Koech hasn't run faster than 8:18 but that was at altitude last year and he won the Kenyan trials by 3.9 seconds on July 8. I don't expect him to be competitive with El Bakkali or Lamecha Girma but he might be my bronze medal favorite despite only having an 8:18 pb.
***
Jakob Was Magnificent In Poland, But Remember: They Don't Run The 1500 Final In Lanes
(Note: Initially this section was going to lead the WTW but we pulled it out to make it its own article but have included it here in case you haven't already read it)
Jakob Ingebrigtsen is a treasure the sport needs to cherish. Not only is he one of the all-time greats in terms of talent, but he's also someone who races all the time, both indoors and out, on the oval and on grass, and isn't media-shy — hell, there was a reality TV show on him in his early teens. If every track event had someone like him in it, the sport would be much more popular.
The Ingebrigtsen show kept rolling on Sunday at the Silesia Diamond League as he ran his second 1500 pb of 2023 by clocking 3:27.14, nearly two seconds up on second placer Abel Kipsang of Kenya (3:29.11). Ingebrigtsen's confidence should be sky-high entering Worlds as he has now run nearly two seconds faster than anyone else in the world (1.75 seconds ahead of Mo Katir) in 2023 and is up to #4 on the world all-time list.
That being said, I certainly don't think the 1500 gold medal is automatically his. The 1500 is not run in lanes. It's not like the 100, 200, or 400, where there is no drafting as everyone runs in their own lane against the clock. If that was the case, you could safely hand him the gold.
There is a reason why meet organizers employ rabbits. Physics is real and drafting helps. Anyone remember the army of rabbits that were hired to hop in and out of Eliud Kipchoge's 1:59:40 exhibition?
If an athlete runs a 1500 time trial all alone, LetsRun.com coaching guru John Kellogg thinks they'd run roughly a second per lap slower than if they were able to run directly behind someone. Now I'm not saying a rabbit helps you by four seconds in a pro 1500. The reality is no one has a rabbit for the full race and the people in the back often have to run extra distance and don't have a smooth trip.
But when Ingebrigtsen won his lone global title in the 1500, at the 2021 Olympics, he only led for about 60 seconds of it (from about about the 20-second mark to 60-second mark and then the final 20 seconds of the race) while Timothy Cheruiyot led for more than two minutes the middle. Last year, Jakob tried to lead the majority of the World Indoor and World Outdoor finals and was beaten in both races. Now last year, Jakob wasn't nearly two seconds faster than everyone else in the world. His seasonal best of 3:29.02 only ended up being .21 faster than Jake Wightman's.
Ingebrigtsen himself knows rabbits help. Within the first 25 seconds of his post-race interview in Poland on Sunday, Ingebrigtsen said, "Getting the world's best pacemakers" helps "a lot."
At the end of the interview in the Wanda Diamond League virtual mixed zone, I put in a request for the interviewer to ask Jakob if he's ever thought about asking the Diamond League organizers to have zero pacers in a meet so he can get a dry run for Worlds. I was surprised by what happened next. Ingebrigtsen acted stunned by the question and responded with a statement that seemed to contradict what he said at the start of the interview.
"Who asked that question? I'm pacing every race. When the pacemakers drop out, I'm the pacer so every race is practice…But I'm always pacing. Just watch the races. (Normally) I'm the third pacemaker. Today I was the fourth pacemake…But there is no difference between doing this – the Diamond Leagues – and the World Championships."
I beg to differ. There's a huge difference between Silesia and Worlds/Olympics.
For starters, go back and watch the start of Sunday's race. It most definitely was not a random lane draw. Ingebrigtsen was given hip #1 and was in lane 1. The three pacers are right to his outside. Once the race started, they all went out to the side and basically created a tunnel so he could just effortlessly run up lane 1. It wouldn't surprise me if the rest of the field was told to stay out of the way.
US Viewers, Watch The Start Here (Need a VPN? Check out the one we use).
Do you think everyone will just let Ingebrigtsen go to the lead at Worlds without having to run a single foot of extra distance?
It's possible the time trialers try to encourage that, but it's far from a guarantee.
While Ingebrigtsen ran .81 faster in Poland than he did in Oslo, some of that improvement can be explained by the fact that Jakob ran exactly 1500 meters in Poland. In Oslo, he ran half of the first turn in lane 2 and the other half on the outside of lane 1. Even if it's only ~2.5 meters of extra distance (each turn in lane 2 is roughly 3.5 meters), that's 1/3rd of a second at Ingebrigtsen's 3:27 pace. Add in the fact that he had a rabbit for an extra half lap in Silesia (1/2 second) and basically his entire improvement from Oslo to Silesia could be explained by simple physics, not improved fitness necessarily.
Now there was one thing about Sunday's race in Poland that should give those who want to see him go wire-to-wire at Worlds a lot of hope. Jakob wasn't right on the rabbit from 300 meters until 900 meters so I'm not sure how much of a drafting benefit he got for almost half of the paced portion of the race. That being said, the pacers and wavelight definitely offered a mental benefit: Jakob didn't have to worry if the pace was lagging. He could just shut off his brain and focus on his effort.
The reality is, the 1500 has a famous history of being cruel to favorites, whether it was Jim Ryun in 1968, Hicham El Guerrouj in 2000, or Ingebrigtsen last year.
I decided to do a little research and figure out who had the fastest 1500/mile seasonal best heading into the 12 global outdoor 1500 finals from 2007-2022. Then I looked to see how big the gap was from their sb to the rest of the field and whether they won the gold medal. Here are the results.
| | | | |
| --- | --- | --- | --- |
| Year | Fastest SB at Worlds/Olympics | Margin over #2 seed at Worlds/Olympics | Finish at Worlds/Olympics |
| 2007 | Alan Webb (3:30.06*) | 0.86 seconds | 8th |
| 2008 | Augustine Choge (3:31.57) | 0.07 seconds | 9th |
| 2009 | Augustine Choge (3:29.47) | 0.73 seconds | 5th |
| 2011 | Silas Kiplagat (3:30.47) | 1.29 seconds | 2nd – Kiprop won and ended up the WL at 3:30.46 |
| 2012 | Asbel Kiprop (3:28.88) | 0.75 seconds | 12th |
| 2013 | Asbel Kiprop (3:27.72) | 3.05 seconds | 1st |
| 2015 | Asbel Kiprop (3:26.69) | 2.06 seconds | 1st |
| 2016 | Asbel Kiprop (3:29.33) | 1.16 seconds | 6th |
| 2017 | Elijah Manangoi (3:28.80) | 0.30 seconds | 1st |
| 2019 | Timothy Cheruiyot (3:28.77) | 1.39 seconds | 1st |
| 2021 | Timothy Cheruiyot (3:28.28) | 0.48 seconds | 2nd |
| 2022 | Jakob Ingebrigtsen (3:29.65**) | 1.02 seconds | 2nd |
*Converted from 3:46.91 mile
**Converted from a 3:46.46 mile
In the last 12 global outdoor finals, the man with the fastest seasonal best of all the 1500 entrants at the time of the race has only won the gold four times, and three of those wins were by people who served bans for anti-doping rules violations. Asbel Kiprop only won two of four finals where he entered as the #1 seed (granted he was not 100% healthy at the 2012 Olympics). The two times Kiprop won Worlds as the world leader, he led the world by more than two seconds.
All three of the men who won the 1500 at Worlds as the fastest man in the field had much greater speed than Ingebrigtsen — Kiprop's 800 pb is 1:43.15, Manangoi's is 1:44.15, and Cheruiyot's is 1:43.11, while Jakob's is 1:46.44. But that's not saying much as Ingebrigtsen has one of the slowest 800 pbs of any elite 1500 runner (Mo Katir's is listed at 1:51.84). And to be honest, 800 speed isn't really that important for someone who is trying to break the field from the front.
The key thing Jakob has going for him is something that's not shown in the table above: his strength. He's the two-mile world record holder (7:54.10). He's the reigning 5,000 world champion, where he has a 12:48.45 pb. When the gun goes off for the men's 1500 final in Budapest on August 23 and Jakob tries to win it from the front as the world leader, he won't be trying to front-run a one-off race. It will be the third 1500 for all of the finalists in five days.
Can he do it? I can't wait to find out.
MB: Jakob's response to LetsRun's question: "I am the pacemaker"
****
Recommended Reads
***
Quotes Of The Day And Last Week's Home Pages
To see the quotes of the day from last week or last week's home page or any home page, go to our archive page.
Talk about this article on our world famous fan forum/messageboard.
***
Got a tip, question or comment? Please call us at 844-LETSRUN (538-7786), email us or post in our forum.