WTW: The 100m Heats Up, Paul Chelimo is BAAACK, and Big Stars About to Exit Hibernation
By
Robert Johnson
The Week That Was in Running, May 15 – 21, 2023
Each week, we try to make the sport more fun to follow by putting the prior week's action in perspective for you. Past editions of our Week That Was weekly recap can be found here. You should come to LetsRun each and every day for the day's latest news but if you miss a day, you can always catch up by going to our archive page. Got a tip, question or comment? Please call us at 844-LETSRUN (538-7786), email us or post in our forum.
****
The 100 Meters Starts To Heat Up
Article continues below player
Who is the fastest human on Planet Earth? That question generates a lot of interest each and every year and is why the men's 100 is the easiest event to market in track & field. The event almost markets itself.
We started to get some early answers last week as Christian Coleman (9.78, +4.4) took down Noah Lyles (9.80) in a windy 100m in Bermuda and 2022 world champ Fred Kerley made his 100m debut in Japan by running 9.88 (+1.5) in the prelims and 9.91 (+0.4) in the final. This week, the men's 100 is really going to explode as 2021 Olympic champ Marcell Jacobs is scheduled to race Kerley in Rabat on Sunday. Olympic champ vs world champ, plus they've been talking shit to each other. We can't wait. Plus many others are in the field including 2023 world leader Ferdinand Omanyala and Worlds bronze medalist Trayvon Bromell.
WHAT A FINISH! 🫢

Christian @__coleman wins the men's 100m at the @usatf Bermuda Grand Prix.

📺 @nbc & @peacock pic.twitter.com/lcywObLY6S

— NBC Olympics (@NBCOlympics) May 21, 2023
To get you ready, we've decided to convert all of the 100m times that have been run around the globe — some windy, some at altitude — to still conditions and zero wind to tell you who has been the best so far this year. Coleman's 9.78 from last week sounds fast but really isn't all that great. And, as of May 22, the third-most impressive result of 2023 belongs to an 18-year-old high schooler.
| | | | | |
| --- | --- | --- | --- | --- |
| Athlete | Time | Wind | Location | Conversion |
| Ferdinand OMANYALA | 9.84 | -0.5 | Moi International Sports Centre, Kasarani, Nairobi (KEN) | 9.87 |
| Fred KERLEY | 9.91 | +0.5 | International Stadium, Yokohama (JPN) | 9.93 |
| Issamade ASINGA | 9.83 | +2.6 | National Training Center, Clermont, FL (USA) | 9.95 |
| Christian COLEMAN | 9.78 | +4.4 | National Sports Centre, Devonshire (BER) | 9.96 |
| Terrence JONES | 9.91 | +1.0 | Percy Beard Track, Gainesville, FL (USA) | 9.96 |
| Noah LYLES | 9.80 | +4.4 | National Sports Centre, Devonshire (BER) | 9.98 |
| Akani SIMBINE | 9.92 | +0.6 | McArthur Stadium, Potchefstroom (RSA) | 9.99 |
Who is the in-form leader on the women's side?
| | | | | |
| --- | --- | --- | --- | --- |
| Athlete | Time | Wind | Location | Conversion |
| Sha'Carri RICHARDSON | 10.57 | +4.1 | Ansin Sports Complex, Miramar, FL (USA) | 10.77 |
| Shericka JACKSON | 10.82 | -0.1 | National Stadium, Kingston (JAM) | 10.81 |
| Marie-Josée TA LOU | 10.78 | +0.9 | National Training Center, Clermont, FL (USA) | 10.83 |
| Julien ALFRED | 10.72 | +2.4 | Percy Beard Track, Gainesville, FL (USA) | 10.85 |
| Aleia HOBBS | 10.86 | +1.9 | LSU Bernie Moore Stadium, Baton Rouge, LA (USA) | 10.97 |
| Mckenzie LONG | 10.80 | +3.5 | Mike A. Myers Stadium, Austin, TX (USA) | 10.98 |
Your vote has been counted. Thank you!
****
Paul Chelimo is BAAACK, Runs 27:12
On a day described as "slightly blustery" by Athletics Weekly, American Paul Chelimo came up just short of the 27:10 Worlds standard for the 10,000 meters as he won the Night of the 10,000m PBs in 27:12.78 on Saturday. Getting the standard would be nice, but with a little more thought, does it really matter? Do we really expect Chelimo to opt for the 10,000?
I don't. The 5,000 has always been his best event. Plus if he really wants to go for the 10,000, he'll probably get in on world rankings assuming he runs USAs in a decent time as he'll get a lot of bonus points for winning a World Athletics silver race.
The fact that he was able to grind it out totally alone over the final 5k was very encouraging and shows he's got very good fitness right now. Yes, Joe Klecker and Woody Kincaid ran a little faster in March, but in better conditions and with a better rabbit in California. Certainly at the domestic level, it's going to be hard for anyone in the 5000 to drop him and his kick is lethal, having powered him to two Olympic medals. The 32-year-old Chelimo didn't get the standard in the UK over the weekend, but he certainly marked himself as a major player at USAs once again after an off 2022.
Chelimo himself was happy with the run:
Its not about the shape or the size of the spikes but the athlete in them‼️

I'm back like I never left✌🏾

KIPRUN💥 pic.twitter.com/h03Qvu1xz3

— Paul Chelimo🇺🇸🥈🥉🥉 (@Paulchelimo) May 21, 2023
****
A Four-Way Sprint for $26,000
One of the world's richest road races — the TCS World 10K in Bengaluru, India — took place over the weekend. The men's race came down to a four-way sprint over the final 400 for some big dough. This year, the race paid out $26,000 for 1st but 4th only netted $5,000 (2nd was $17,000 and 3rd $10,000). Here is how it played out.
In the end, Sabastian Sawe, who was brilliant last year at the half marathon distance (he ran times 59:02 or faster three times, including a 58:02) and who ran 26:49 last month, was the winner thanks to a big negative split (14:19/13:40).
In the women's race, 25-year-old Tsehay Gemechu, who ran 2:16:56 for 2nd at the Tokyo Marathon Tokyo in March, won by four seconds in 31:38.
Top 5 Men
1. Sabastian SAWE, KEN, 27:59 (27:58.24) (USD 26,000)
2. Rodrigue KWIZERA, BDI, 27:59 (27:58.35) (USD 17,000)
3. Hillary CHEPKWONY, KEN, 28:00 (27:59.70) (USD 10,000)
4. Nicholas KIPKORIR, KEN, 28:06 (USD 5,000)
5. Nibret MELAK, ETH, 28:13 (USD 4,000)
Top 5 Women
1. Tsehay GEMECHU, ETH, 31:38 (USD 26,000)
2. Fotyen TESFAYE, ETH, 31:42 (USD 17,000)
3. Dera DIDA, ETH, 31:45 (USD 10,000)
4. Jesca CHELANGAT, KEN, 31:58 (USD 5,000)
5. Yalemget Yaregal MEKURIYAW, ETH, 31:59 (USD 4,000)
###
In the super shoe era, it doesn't take as long to recover from a marathon as it used to. Just over a month after winning the Boston Marathon on April 17, Hellen Obiri returned to action at the AJ Bell Great Manchester Run 10K on Sunday and won in 31:14 as Olympic marathon champ Peres Jepchirchir, who was third in London on April 23, was second in 31:59.
*Mo Farah Finishes 8th In The Penultimate Race Of His Career At The Great Manchester Run 10k
****
Ho-Hum, Americans Sweep Bay to Breakers (Again)
Speaking of money, it's amazing what it can do. Or in this case, the lack of it.
San Francisco's most iconic road race is the Bay to Breakers 12K. After Ed Eyestone's win in 1986, it took 36 years for another American to win Bay to Breakers, a drought that ended with Reid Buchanan's victory last year. Now that the race has no published prize money, however, we've had back-to-back American winners in both the men's and women's races as former Syracuse All-American and 2:09 marathoner Colin Bennie won the men's race on Sunday in 35:48 while Sarah Anderson won the women's in 43:02. Last year, American Julia Vasquez won it in 42:03, breaking a winless streak for American women that dated to Lynn Jennings' win in 1993.
Of course, what is a win? This year's winning times wouldn't have won any of the races during the US drought. Eyestone's winning time was 34:33 and the slowest winning time during the foreign men's win streak was 35:25. For the women, Jennings won in 39:14 and the slowest foreign winning time was 40:36.
****
Dan Michalski Races, Joins the US Military & Goes Through Basic Training, and Races Again While Sydney McLaughlin-Levrone and Athing Mu Sit on The Sideline
The LA Grand Prix is this upcoming weekend and three of track's biggest LA-based stars won't be racing — reigning world champions Athing Mu, Sydney McLaughlin-Levrone, and Michael Norman. Much has been made of Mu and McLaughlin-Levrone's lack of racing, but last week Olympic legend Michael Johnson explained perfectly on Twitter why they don't race.
Why do track athletes pull out of meets and seldom compete against rivals? I'll explain. Pro track (DL, etc) never established itself separate of OLY & WCH. Tracks structure prioritizes OLY & WCH .

OLY & WCH = Big money, big recognition, career legacy, end of year ranking.…

— Michael Johnson (@MJGold) May 19, 2023
Instead of bemoaning the fact that Mu and McLaughlin-Levrone hardly ever race, can we celebrate the fact that plenty of people do? How about some love for US steepler Dan Michalski?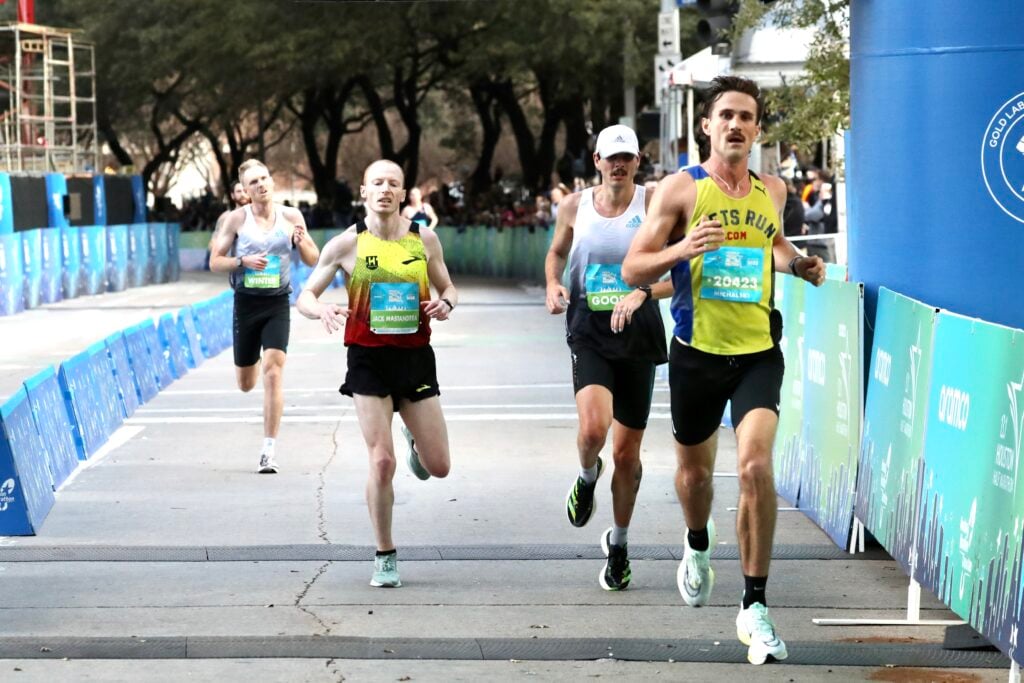 While Mu hasn't raced at all since July 24 and McLaughlin has raced just once since August 8 (a 60m indoors at a meet put on by her sponsor), Michalski this year has already: raced the Houston Half in the LetsRun singlet (63:39); joined the Air Force and gone through basic training where he ran a total of three times in eight weeks (and none of those runs were longer than four miles); graduated with honors, winning the top performer in the physical training component in his squadron of 600; and now raced again, running 8:32.48 to place 5th in the steeple on Friday at Track Night NYC on Randalls Island.
Truth be told, however, I'd rather have Dan follow the Sydney racing plan — hell he can race only USAs and Worlds for the rest of his life — if he promises to break the world record in the steeple four times in the next 13 months.
ICYMI, the Paris Diamond League announced that McLaughlin-Levrone will race the 400m at their meet on June 9 — her first Diamond League appearance in four years. Mu has yet to be announced for a race in 2023.
###
The big winners at Track Night NYC were Ajee' Wilson (2:01.28) and Bryce Hoppel (1:46.07), who captured the $8,000 800s.
More: *RRW: Bryce Hoppel (1:46.07), Ajee Wilson (2:01.28) Win Elite 800's At Track Night NYC
*MB: Ajee Wilson (2:01.28) and Bryce Hoppel (1:46.07) comfortably win $8,000 at Trials of Miles Track Night NYC 2023*Results
---
Like this? You'll love our weekly podcast and if you're really hardcore and want to save on running shoes, the LetsRun.com Supporters Club. At the very least get our newsletter.