Q&A with 2022-23 Gatorade XC Runner of the Year Daniel Simmons
By LetsRun.com
February 8, 2023
On Tuesday, junior Daniel Simmons of American Fork (Utah) High School was named 2022-23 Gatorade National Boys Cross Country Player of the Year. He is just the third junior to win high school distance running's most prestigious award, joining Lukas Verzbicas and Grant Fisher in that exclusive club.
Simmons' selection was unusual in another respect: it marked the first time in the award's 16-year existence that it went to someone who did not win one of the major national cross country meets. Simmons finished 2nd at Nike Cross Nationals in December behind Aaron Sahlman of Newbury Park (Calif.) High School, but that was the only xc race of the year that Sahlman won. And Foot Locker champ Kole Mathison of Carmel (Ind.) High School was 4th at NXN. Gatorade, in its press release announcing the award, noted, "The Gatorade Player of the Year award recognizes athletes not just for their excellence on the playing surface, but for their commitment in the classroom and impact in their community." Simmons holds a 3.98 GPA and, per Gatorade, "has volunteered locally through church service projects benefiting the elderly and the homeless."
Article continues below player
Like our coverage from Albuquerque?
American Fork, who finished 5th as a team at NXN, has long been one of the nation's top high school distance programs. Notable alums include 2019 NCAA 10,000 champion Clayton Young and Casey Clinger, a two-time NXN individual champion who finished 7th at the 2022 NCAA Cross Country Championships. Clinger, who won the Gatorade Player of the Year Award in 2016, gave Simmons the Gatorade award on Tuesday. 2022-23 is Simmons' first year at American Fork High School after transferring from Salmon (Idaho) High School.
Simmons posted big wins at the Utah 6A state meet (14:49.8) and NXR Southwest (14:44.8) before running a patient race at NXN, moving up from 23rd at the mile to 2nd by the finish line (14:51.7).
LetsRun.com caught up with him Tuesday to discuss his 2022 season and his goals for the 2023 track season.
Your 2022 season was obviously terrific. What do you think was your best race?
I'd have to say the best race of the season for me was probably NXR. That was a really good turning point for me.
Why do you think that was?
It was the fastest time of the season for me as well as I raced some of my biggest competitors head to head finally.
Why do you think that was such a breakthrough?
I don't really know. There were a lot of people there and besides 6A state, it was one of the first bigger wins for me.
Can you tell me about your strategy at NXN? You were 23rd at the mile, you moved up to 13th at 2 miles and you were 2nd by the finish. What was your strategy going into that race?
My strategy was actually, I was trying to be a little higher up in placing at the start but the start was pretty quick. So my strategy was really just to try to come through in a split where I wouldn't be super heavy and lactic acid through the first mile. I think my first one was around 4:40, which felt really good. And from there, I really just was trying to push and catch as many people as I could, every jersey. I just wanted to get as close as I could to the front of the pack. So after the first mile, I didn't really have much of a strategy left. It was just catch as many as you can.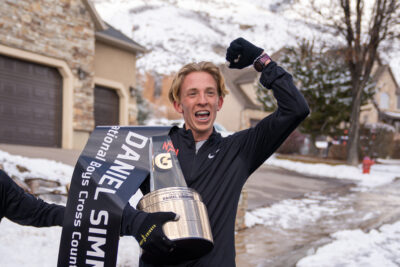 You said you wanted to be a little further up at the start. Were you panicked at all? What are you thinking at the mile when you're back a little further than you had envisioned?
Yeah, I was slightly panicked but I had a belief that I'd be able to catch them and chase them down and I'd get closer as the race got closer to the finish line. But for sure, there was panic there for the last quarter mile of the first mile and a good half of the second mile, I was like, Okay, we've gotta pick it up. We've gotta get going.
Your family used to live in American Fork, and then you moved to Idaho for a couple years, and then you moved back this summer. Is that correct? Can you give me the timeline and why you guys moved back and forth?
Yeah, for sure. I was born here in American Fork. In 2015, we moved to Idaho. My grandma owned a farm and she was going to sell it but my dad really wanted to keep it because he had some really good memories on it. So we moved there to caretake it and keep it in the family. We stayed there 2015 to 2022. My grandma passed away in 2021 and the property passed to my dad and his siblings. And so they came to a mutual agreement to sell the farm and we moved back to American Fork because we still have family here. And that was in June 2022.
What does your dad do for a living?
Right now he writes books and he helps people with nutrition and health.
Do you follow professional running at all?
I try, but I am not great at it. I'm not super caught up in professional running but I do see a lot of the big stuff on Instagram.
Do you have a favorite runner? Or are you not that into it?
I don't think I have a favorite runner. I think they're all super great in their own areas.
Last question for you, Daniel: track season. What are your goals for the 2023 track season?
I hope to do as well as I can. I hope it turns out somewhat similar to how this cross country season turns out. Some specifics: in the mile I'm shooting for sub-4:00. That's probably the big one for track.