Aaron Sahlman Pulls the Upset at NXN, Irene Riggs Dominates as Newbury Park and Saratoga Springs Win
by LetsRun.com
December 3, 2022
Last year Aaron Sahlman was the #4 runner on his high school cross country team and only the 2nd fastest in his family.
Article continues below player.
Granted his team was the Newbury Park team which was the greatest boys high school cross country team ever.
This year he had moved up to being the #3 on his team.
Now he's the high school cross country national champion, as he pulled the huge upset at the NXN meet to lead his Newbury Park team to its third high school national title as they easily beat Portland Jesuit 66-152.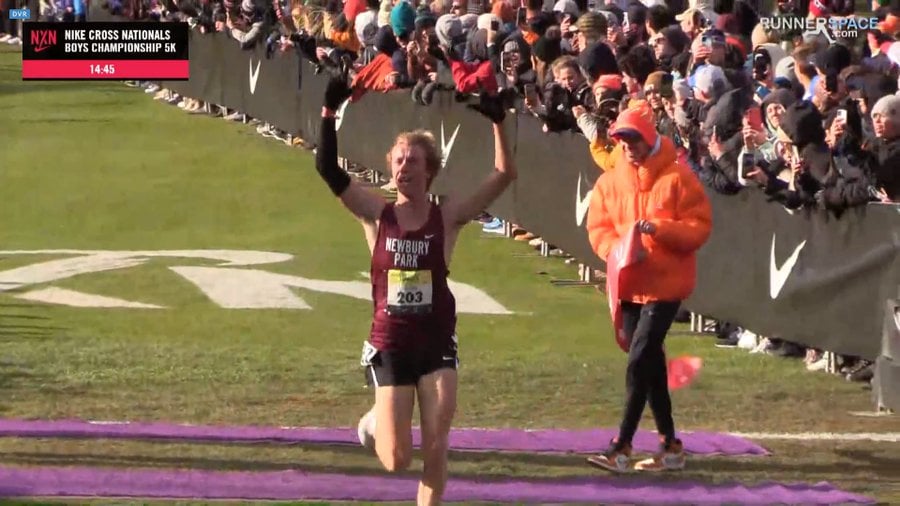 Individually, the race definitely didn't go according to plan for Newbury Park. Their #1 Lex Young, the California State champion, started fading the second half of the race and would finish 35th. That wasn't a huge problem in the team battle as his twin brother Leo, the California state runner-up, picked up the slack and took over the lead the final mile and opened up a nearly 4 second gap over Tyrone Gorze and Aaron Sahlman with a kilometer to go. Young still led by 3 seconds with 400m to go, but struggled going up the final hill and totally blew up the final quarter and would fade to 11th.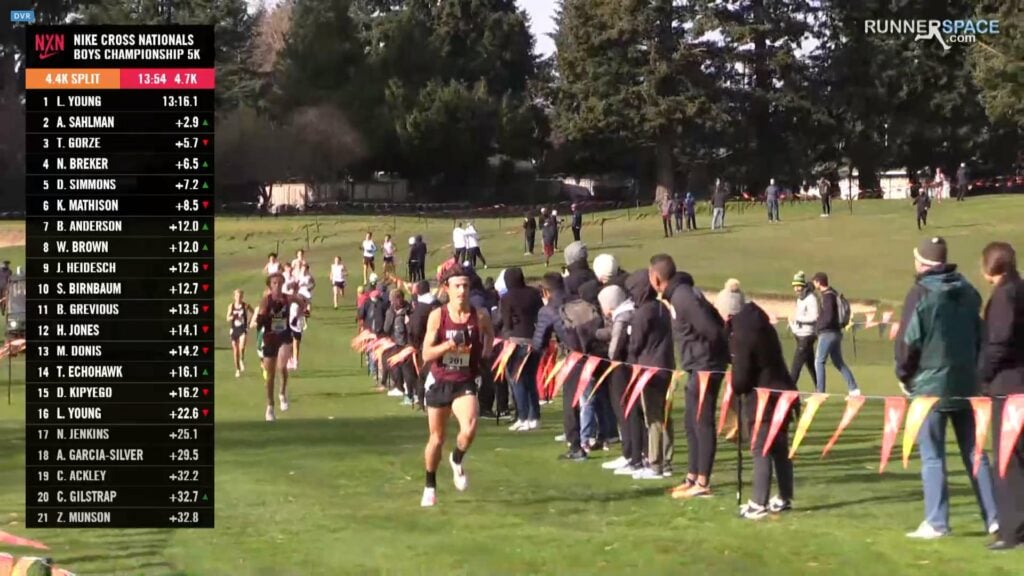 That opened the door for Sahlman and he seized it, as he blasted the final 400 to get the win by over 7 seconds over Daniel Simmons who moved up to get 2nd as Gorze got third.
Sahlman joined his brother Colin as high school national champion, as Colin won the Running Lane Championships last year.
Top Boys Results (Full results here. Full race video here. Quick Takes Below)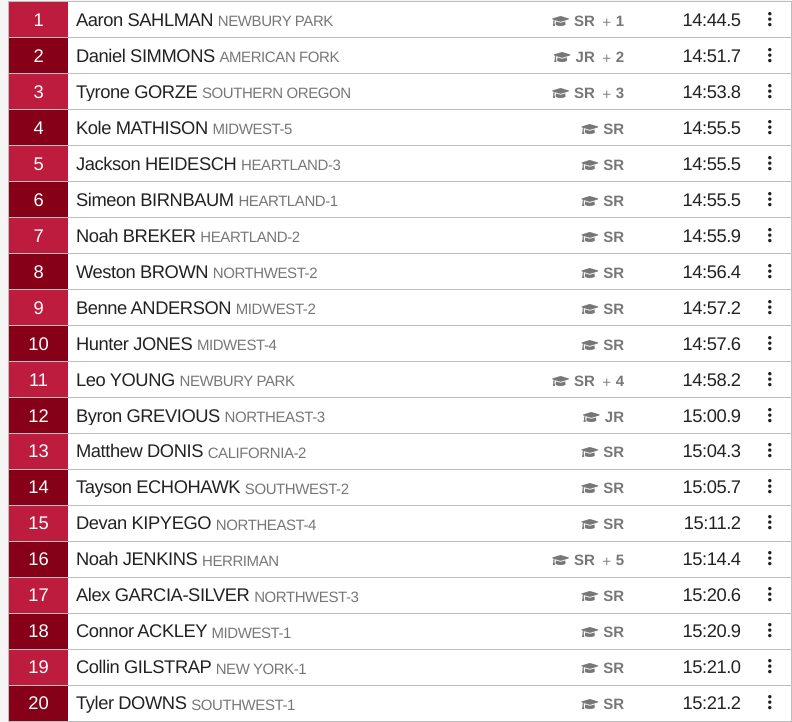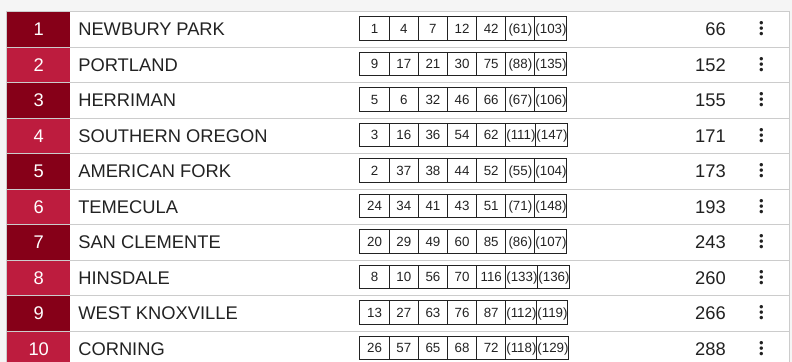 Quick Take: Newbury Park is so good they can have an off-day and still dominate team competition and get the individual winner
Make no mistake about it. This was an off-day for Newbury Park. Their usual #1 and #2 ran much worse than expected. Yet, Newbury Park still had the individual champ and walked away with its third straight national crown. Their top 3 were still ahead of Portland Jesuit's #1. We may never see a team like last year's team which went 1-2-3 at nationals. This year's team had the talent to do it, but came up short, but was only competing against its past greatness.
Girls Race: Irene Riggs Dominates as Saratoga Springs Wins
The women's race was no contest individually as Irene Riggs of West Virginia dominated start-to-finish getting the win by 13.7 seconds over Brook Wilson in 16:40.9 which was three seconds off of Katelyn Tuohy's course record from 2018. The pre-race favorite Saratoga Springs team won 81-109 over the Niwot Colorado team led by Dathan Ritzenhein's daughter Addy.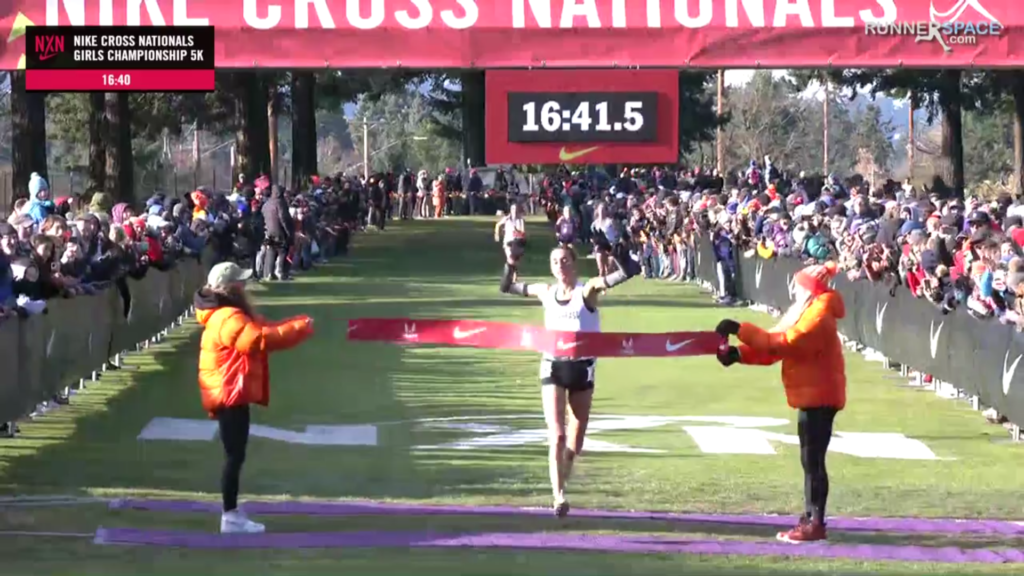 Top Girls NXN 2022 Results. Full results here.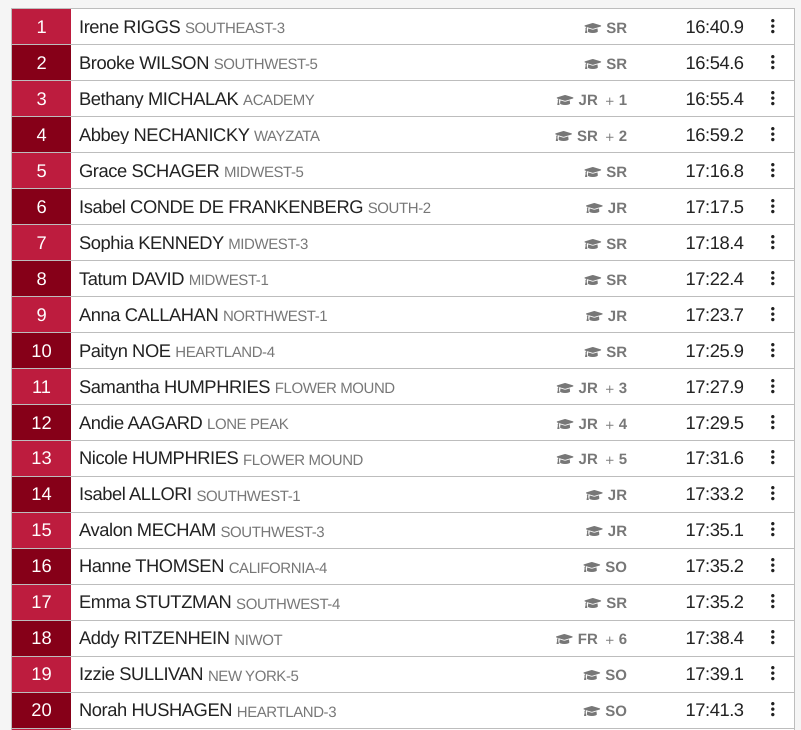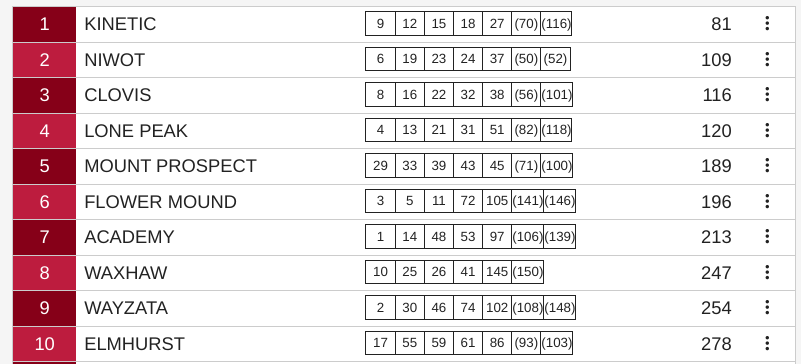 QT: Just because someone dominates as expected doesn't mean they don't deserve props
Riggs was predicted to win by a lot and she delivered.
QT: Saratoga Springs back on top.
If last year's Newbury Park team was the best individual team ever, the Fayetville-Manlius girls teams from 2006-2017 were the greatest dynasty ever winning 11 of 12 years. FM wasn't at nationals this year, and the champ for the 2nd straight NXN (there was no NXN in 2020 and 2021) was their upstate rival, Saratoga Springs, which also won the inagural NXN in 2004.