Hills, Tires, Heat, and A Lap Around "The Mount": LetsRun.com Goes to Australia for World XC
By Jonathan Gault
February 16, 2023
BATHURST, Australia — G'day!
I'm in Australia.
After an Uber ride, two flights, a bus ride, and a courtesy shuttle, I arrived at my hotel in Bathurst at 1:20 p.m. Australian Eastern Daylight Time on Thursday — or 32 hours and 11 minutes after I left my apartment in Boston at 1:09 p.m. US Eastern Standard Time on Tuesday. I considered that a long day…at least until I landed in Sydney, when I caught up with Global Athletics agent Matt Turnbull who told me his even more circuitous route: Malaga to Paris to Tokyo to Sydney. By those standards, I got off easy by going Boston-Houston-Sydney. I quickly realized: pretty much everyone had to travel a long way to get to Bathurst.
I couldn't be more excited to be covering my third World Cross Country Championships. It's one of LetsRun.com's favorite events, and through the years we've traveled around the world to bring you coverage, from Ireland to Kenya, Jordan, Poland, China, Uganda and Denmark. After a COVID-enforced four-year break, we now have three World XC champs in four years, with the first of those Saturday's race at the Mount Panorama Circuit in Bathurst. Mount Panorama is best known for hosting the Bathurst 1000 each October, one of the biggest motor races in Australia.
Article continues below player.
Here's what I saw on my first day Down Under, including a course preview and the inside scoop from Joshua Cheptegei's coach as to why he believes the course is an advantage for him. Plus a Papua New Guinea athletics update and a lap around "The Mount."
The ride in / Papua New Guinea is poised to take down victories over France & Germany
One of the first people I saw upon landing in Sydney was Caster Semenya, whom I was surprised to see here. Turns out she's part of SA's mixed-gender relay squad.
Bathurst is roughly 120 miles west of Sydney, so World Athletics provided a shuttle bus from the airport for people going to the meet. Semenya and the South African team were on mine, as was a large gentleman in a bright green Papua New Guinea (PNG) shirt who sat next to me. He spoke with an English accent, and after a few minutes he introduced himself as Tony Green — the president of the Papua New Guinea athletics federation.
This is the first time PNG has sent a team to World XC since 1998 in Morocco. But with the meet relatively close by, Green said they're going all-in. Two of their athletes flew in from Cloud County Community College in Kansas just to run this race, while several members of the team have been in a training camp in Brisbane preparing. Some are even doubling up on Saturday by running the relay and then the senior 10k a few hours later. The main event for Papua New Guinea is the Pacific Games in November — a competition for Oceania countries where Papua New Guinea is among the big boys — and Green is hopeful the experience the athletes gain this weekend will prove beneficial come November.
| | |
| --- | --- |
| Overall | |
| Comfort | |
| Cushioning | |
| Durability | |
| Appearance | |
| Value | |
His main goal is for PNG to finish four athletes in both the men's and women's senior races and record a team score. I pointed out that if PNG does that, it can claim victories over nations such as France or Germany that didn't enter any athletes. LRC believes that teams that don't field enough runners to record a team score at an NCAA conference meet should be listed at the bottom of the standings. Perhaps the same thing should happen at World XC.
A lap around "The Mount"
Before driving me to my hotel, the volunteer charged with shuttling me, a woman named Anne, asked if I'd like to take a drive around "The Mount." I said sure, figuring I might as well see what's going on in town.
That's not exactly what Anne had in mind.
The Mount is actually the racing track itself — on the days it's not used for races, it is a road open to the public. We were going to drive it (albeit way slower than the pros). Mount Panorama is the Australian equivalent of Indianapolis Motor Speedway, except it's hilly as hell and people have houses in the infield. Oh, and there's kangaroos, too (yes, I saw a couple).
The World XC course is also contained entirely within the infield of the Mount Panorama racing track. That was my next stop.
The World XC course will be hot, hilly, and…wait, what are these tires doing here?
All right: on to the main event. World XC. You can watch the course preview video and study the elevation chart, but nothing compares with actually being there, and this is a course that is much tougher than it appears on paper.

That climb midway through the 2k loop that one can seen above? It's hard as hell, with runners gaining 65 feet in less than 400 meters. Very few portions of this course are flat — you're constantly climbing or descending. It's not quite as hilly as Aarhus, but it will be much hotter, with temps in the 80s and 90s during the races on Saturday afternoon/evening. It's going to be a tough race.
Let's start with the start, which climbs about 50 feet in the first 250m. The start line itself is probably half as wide as you'd see at NCAA XC, but that's okay considering no race on Saturday has more than 134 entrants (and a number of those entrants won't be competitive). NCAAs, by comparison, has 255 runners. The tricky thing to watch here are the seven raised mounds of dirt. They could trip someone in the opening sprint and could serve as braking mechanisms on the way home (runners only run this part of the course twice — once at the start and once at the finish).
Next up, "Bondi Beach," named after the famed beach in Sydney. In Bathurst, it's about 30 meters of sand next to a lifeguard's chair and two surfboards. Again this was necessary to cover over a road cutting through the course.
After Bondi Beach, the athletes will run parallel to the race track for a little bit before making a right turn downhill. At the bottom of that hill is a water station. I've never seen a water station on a cross country course before, but it is a very good idea given the forecast.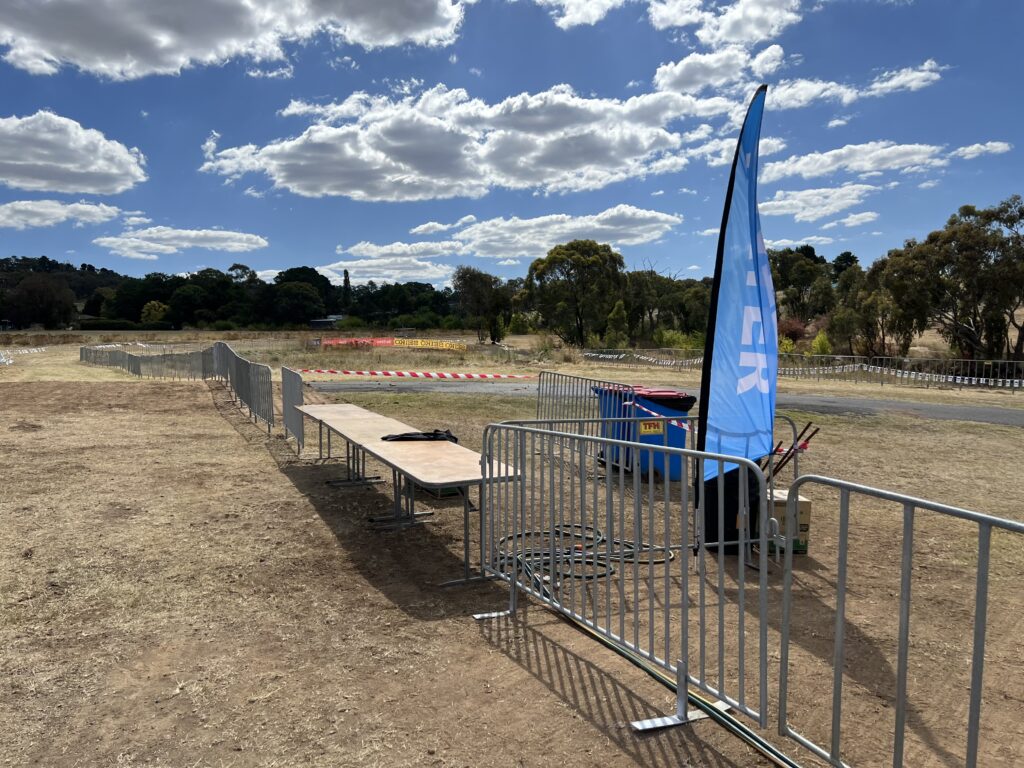 Another right turn and another downhill brings athletes to "The Billabong" — a mud pit that has been added just for the race. On Thursday, the mud wasn't much (see below), but there is a sprinkler installed on the left (hidden in the middle of the hay bales) and organizers told me it will be a good deal muddier on race day.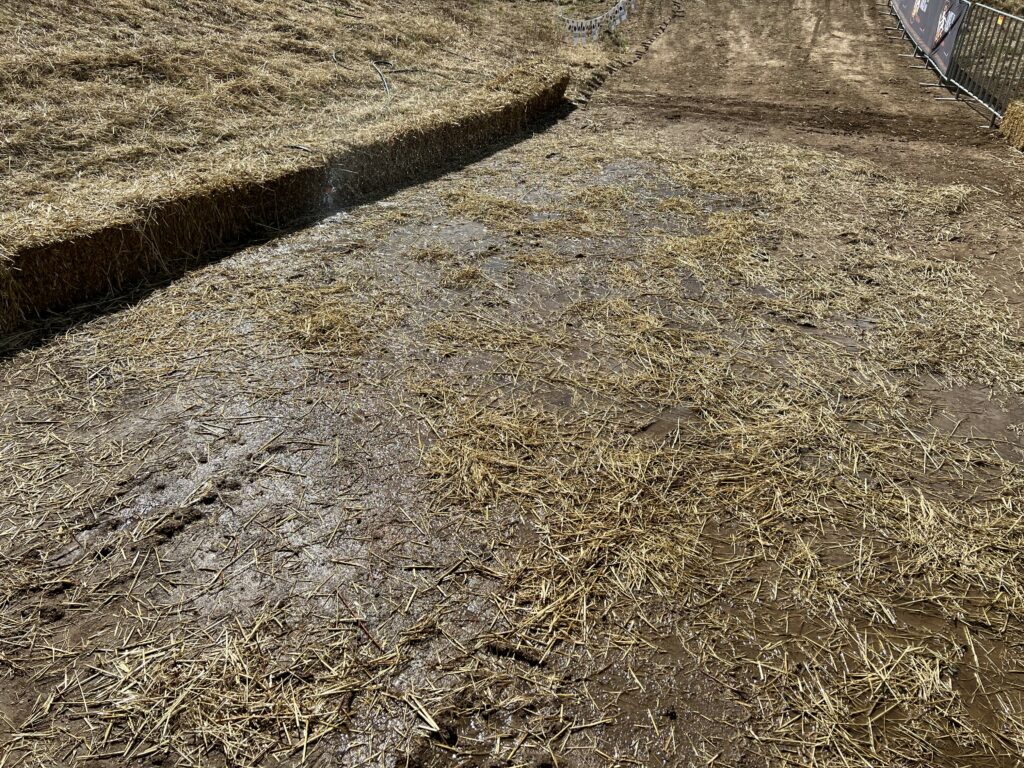 From a technical standpoint, this portion of the course — roughly halfway through the 2k loop — is the toughest. You enter the Billabong off a downhill as you're turning left, so you have to be very careful of your footing entering the mud. But as you emerge, you're immediately met by the toughest, steepest climb of the course for the next 150 meters. I would not want to run that five times in 90-degree weather.
After that, you're at the vineyard, and if the race is still bunched at this point (runners hit it roughly a mile into the race), the pack will be forcibly narrowed as the space between vine rows is no more than three meters wide. You have your option of running through three separate rows, but unless there's a big pack, don't expect many Pinot Noir or Chardonnay enthusiasts — anyone wanting to run the tangents will run Shiraz.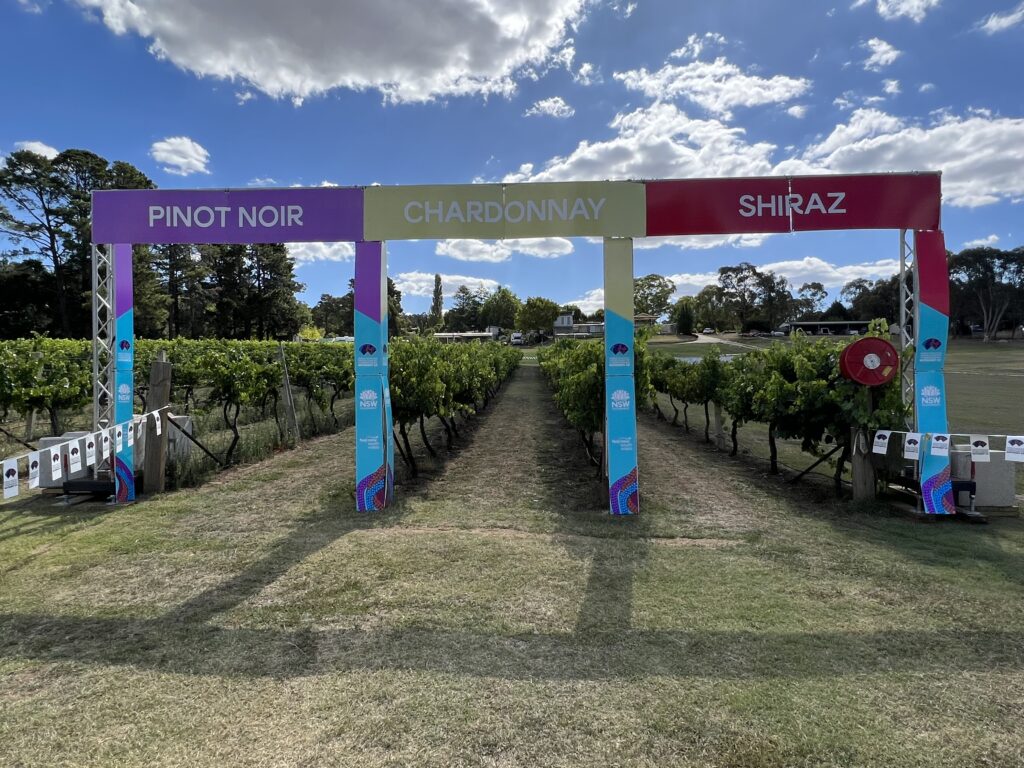 Now onto the most controversial portion of the course: "the Chicane." After a gradual downhill parallel to the race course, athletes do a 180-degree turn and climb up the same route on the other side of the fence. Except that side features 10 rows of tires stacked on top of each other in such as way so you cannot run a straight route — you most likely want to weave in between them to get through. I saw a few people hurdle the tires on Thursday, but you'd be stupid to try that on race day. The tires aren't crazy-high, but the section is uphill and no one is going to want to be hurdling anything after so much climbing and descending. The course is tough enough already.
NFL training camp or World XC?

This is "The Chicane," where athletes have to weave in between (or, if you're feeling foolish, hurdle over) rows of tires. pic.twitter.com/Er0IgTGbZ4

— Jonathan Gault (@jgault13) February 16, 2023
Opinion is split on the Chicane. Some think it's a unique, interesting element, while others felt it was unnecessary addition to an already challenging course.
"It's not my favorite thing," said Stephen Haas, coach of Team USA's Weini Kelati. "I don't love all the obstacles. I feel like every year, every World Cross, it seems to be, how can we make our course more gimmicky than just running loops around grass?"
While Team Canada above didn't have too much trouble weaving in and out in the video above, this section will look different on race day. You can't run three across in this section and there will be jockeying for position — especially since it's just around the corner from the finishing straight.
Speaking of the finish, it's the same as the start, only in reverse (it's not part of the main 2k loop). Athletes will run down over the same ridges they had to climb at the beginning, this time with hay bales framing their path (the hay bales will be removed for the start of each race). The temptation is to sprint all-out — it's the finishing straight, after all — but runners will need to be cognizant of their footing so as not to trip on the ridges.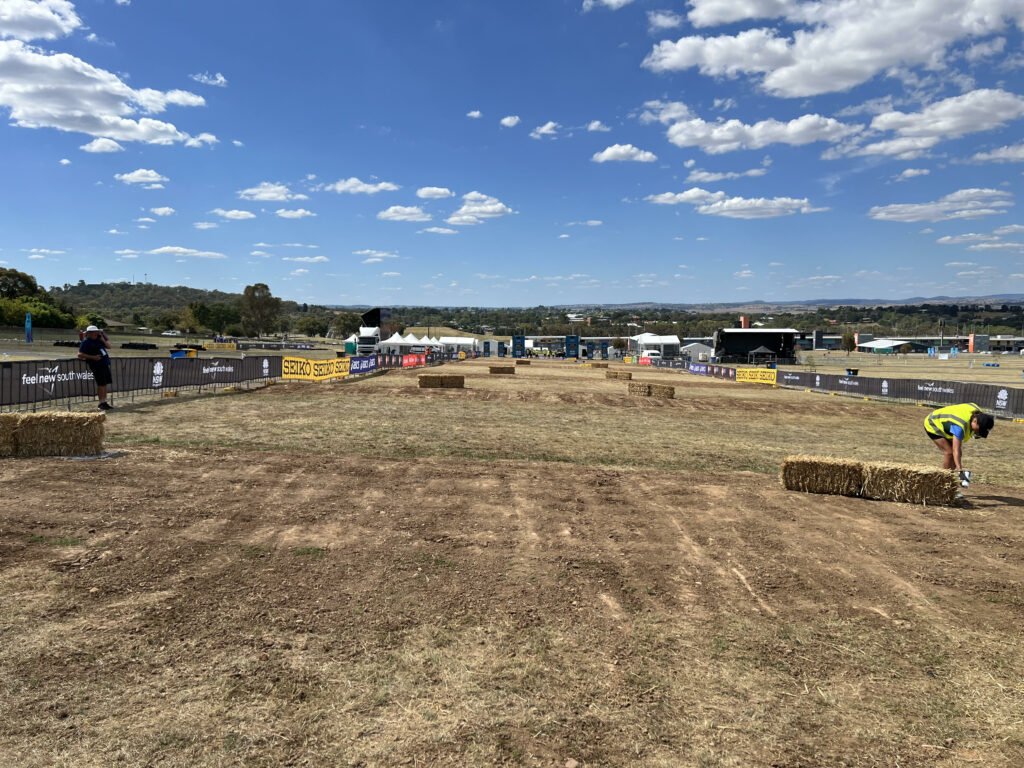 Thoughts on the course
Overall, I like the course and think it's a good venue for World XC. I'm still not sure whether I like the Chicane — it's right on the line between cool and gimmicky — but I like the rest of the course. The vineyard section is sweet — reminiscent of those European races that run through buildings. And the hill halfway into the 2k loop is a killer, which makes this course a real test.
Every year, we say there's no way US collegiate coaches would allow the World XC course to host the NCAA championships. That's definitely true this year, mainly because World XC is a smaller race than NCAA XC: the start line would be too narrow to host the meet. Same goes for sections like the vineyard and the Chicane since they would create massive bottlenecks in a field as large and deep as NCAAs.
My main advice if I was coaching an athlete in this race: start conservatively. That can be tough to do as the opening sprint at World XC is notoriously fast every year, but this is a difficult course and it's going to be a hot day. If you're feeling rough after 2k, the next four loops are going to be absolutely miserable.
The footing is going to be a challenge for those not used to it. The Stillwater course that hosted NCAAs in November was hilly, but the footing was immaculate — like running on a golf fairway. Bathurst is the opposite, lumpy and hard, baked dry by the Australian summer. It could lead to some twisted ankles if you're not watching every step. American cross country courses simply do not look like this, and American runners do not train on uneven terrain like this, which should present a challenge to those unaccustomed to it.
Joshua Cheptegei would be favored to win this race on an NCAA-style golf course as well, but one of the reasons he felt so confident in winning four years ago in Aarhus is because he trained on similar terrain — hilly and uneven, terrain not designed for running. In fact, Cheptegei's training group named one of the loops in Kapchorwa, "Aarhus" because it so resembled the terrain for World XC in 2019. The course in Bathurst is even more similar to the routes Cheptegei runs on every day in Uganda. His coach Addy Ruiter told me Cheptegei trained on "Aarhus" a bunch leading up to this race and said he thinks the terrain in Bathurst will be an advantage for Cheptegei and all of the Ugandan men, who will be looking to replicate the team title they won four years ago.
Want even more onsite coverage of 2023 World XC? We are doing a live preview show from Australia at 11 p.m. US ET on Thursday night:
More: Full 2023 World XC Coverage including race previews, course tours and on-site interviews.