BU Last Chance Miles Fizzle as Henry Wynne (3:52.51) and Geordie Beamish (3:51.22) Pick Up Wins
By LetsRun.com
February 26, 2023
BOSTON — When people go to Boston University to race indoors, usually the goal is about one thing, running really fast.
And when they don't run super fast that can be a disappointment, which was the case with the men's miles at the 2023 Last Chance Indoor Qualifier at Boston University on Sunday
This being BU and the emphasis on time, there were two fast sections of the men's mile instead of having one section that everyone cared about winning.
Article continues below player.
The first race was supposed to feature a possible American record attempt by Cooper Teare of the Bowerman Track Club. Teare went out fast, perhaps too fast (56.62 at 409m), but when the rabbit dropped out at 809m (1:55.29 for Teare), the pace lagged with Thomas Ratfcliffe in front and any record chances were gone. That let Henry Wynne of the Brooks Beasts and Eduardo Herrera of Under Armour Dark Sky back into contention and it was a near blanket finish between them with Wynne edging Teare who edged Herrera.
Heat 1
Henry Wynne, Brooks Beasts TC, 3:52.51
Cooper Teare, Nike – Bowerman Track Club, 3:52.56
Eduardo Herrera, Dark Sky Dista / Under Armour, 3:52.58
Eric Holt, Empire Elite TC, 3:53.53
Casey Comber, UA Mission Run Baltimore, 3:54.01
Rob Napolitano, NYAC, 3:54.29
Charles Philibert-Thiboutot, New Balance, 3:55.28
Thomas Ratcliffe, Nike Bowerman Track Club, 3:57.55
Evan Jager, Nike Bowerman Track Club, 3:57.74
Ben Allen, Empire Elite TC, 4:01.14
Jack Yearian, Oregon Track Club, 4:05.25
Reed Brown, Oregon Track Club, 4:08.58
Vincent Ciattei, USA, 4:10.97 DNF. Luciano Fiore, Empire Elite TC
Quick Take: Cooper Teare said he felt "indifferent" about today's result
This is the third year in a row Teare has taken a shot at a fast indoor mile. In 2021, he stunned the track world by running a collegiate record of 3:50.39 in Fayetteville. Last year, Teare went even faster, running 3:50.17 in Chicago to narrowly miss sub-3:50 and the American record (at the time, 3:49.89 by Bernard Lagat). Teare said he was hoping to run 3:48 or 3:49 today and if things were going well, perhaps challenge Yared Nuguse's 3:47.38 American record, but he went out faster than he wanted to, 56.62 through 409 (3:42 mile pace). Teare has been doing mostly strength sessions over the last few months at training camp in Flagstaff, and going out so quickly was a shock to his system from which he could not recover.
"Definitely wasn't the race plan I was going for," Teare said. "…I felt pretty shitty immediately."
Teare said he was happy that he was able to show some fight and re-pass Herrera after he was overtaken on the bell lap and is still confident in his fitness.
"I was hoping to be in the 3:48-3:49 range, and I think with a different race I could have been there," Teare said.
Quick Take: Teare is adjusting nicely to BTC and wants to run the 1500 in 2023…if Jerry Schumacher will let him
Teare took two months off after Worlds in order to heal the stress reaction in his left tibia that caused him to exit in the first round in Eugene. From there, he had one workout on his own before being thrown into fall training with the Bowerman Track Club. Teare said he spent the fall adapting to coach Jerry Schumacher's system, which is quite different from what Teare had been doing under previous coach Ben Thomas, but has felt things have been going well since the team went up to Flagstaff for training camp. 
While he didn't go quite as fast as he wanted today, Teare ran a five-second pb of 7:34 in the 3000 at Millrose in his first race in a BTC singlet – a good sign.
"Once we get to June, July, August, it's going to start paying off a lot," Teare said. "I was talking to my agent, and he was like, if you had run 3:57, I would have been concerned. And honestly, if I had run 3:47, it would have been concerning just because it's so early."
The big question surrounding Teare is: which event will he run this year? Schumacher believes Teare's future is in the 5,000, and Teare was the NCAA 5,000 champ in 2021 and finished 4th in the Olympic Trials in that event as a 21-year-old. But it also may be a harder team to make this year given the presence of Grant Fisher, Woody Kincaid, Abdihamid Nur, and Paul Chelimo.
Of course, making the 1500 team is not going to be a cakewalk, particularly with Yared Nuguse setting the world on fire this indoor season, but the prospect of competing against Nuguse excites Teare. That's the event Teare says he'd like to run right now, but he won't decide until consulting with Schumacher later in the season. 
"He definitely thinks I'm a 5k guy and I'm still trying to prove I'm a 1500 guy," Teare said.
It's a little funny that the reigning US champion still needs to prove he's a 1500 guy, but assuming Nuguse and Cole Hocker can stay healthy, the 1500 should be a lot more competitive in 2023 than it was in 2022.
In heat 2, the pace was more modest for the first racers at 809m (1:57). NCAA 1500m champion Joe Waskom would soon fade and be a non-factor and finish 11th. Newly minted double USATF champion Sam Prakel of adidas began to push the pace the final 400m and opened up a gap on the field, but the OAC's Geordie Beamish had his patented close to get the win 3:51.22.
Heat 2
Geordie Beamish – On Athletics Club – 3:51.22
Samuel Prakel – adidas – 3:51.25
Kieran Lumb – Washington – 3:52.62
Johnny Gregorek – ASICS – 3:52.80
Luke Houser – Washington – 3:52.87
Sam Ellis – Unattached – 3:53.13
Nathan Green – Washington – 3:53.25
AJ Ernst – Unattached – 3:53.61
Aidan Ryan – Washington – 3:53.65
Aaron Ahl – Washington – 3:55.60
Joe Waskom – Washington – 3:56.79
Brian Fay – Washington – 3:58.50
DNF – Robby Andrews – Gone Running
Quick Take: A strong race from Geordie Beamish, but he can't help but think about what might have been
Overall Beamish was happy with his performance – a four-second personal best that offered validation of his fitness – but had he gone half a second faster than 3:51.22, he would have secured some serious bragging rights as well as the World standard.
"Just missed a few things," Beamish said. "Just missed the New Zealand record (3:51.06), just missed the World standard (3:51.00), in the back of my mind, just missed [training partner] Ollie [Hoare]'s Oceania record (3:50.83)."
Beamish was pleased with the progress he made this indoor season. He missed some time after running the Cross Champs on December 1 and didn't resume running until mid-January but was able to run 13:14 for 5k at BU (two seconds off his pb), followed by a 7:36 3k pb and now a 3:51 mile pb. He feels he's in a good spot as the calendar turns to outdoors – better than last year, when he finished 10th at World Indoors and got COVID in Serbia.
Quick Take: Washington could be sending 7 men to NCAAs in the mile
For the second time this season, the University of Washington put seven men under 4:00 in the same mile race – eight if you include grad student Sam Ellis, who only has outdoor eligibility remaining for the Huskies.
There was no collegiate record today, but Washington is now in a strong position heading to NCAAs in two weeks in Albuquerque. Joe Waskom (3:51.90 sb), Brian Fay (3:52.03 sb), Nathan Green (3:52.76 sb), and Kieran Lumb (3:53.83 sb, lowered to 3:52.62 today) were all in position to qualify for NCAAs in the mile and after today, Luke Houser (3:52.87) and Aidan Ryan (3:53.65) are in position to go as well. Aaron Ahl, who ran 3:55.60 today, is the only guy on the bubble at #17 (top 16 declared entrants qualify) but could qualify if one of the guys ahead of him scratches.
It's no guarantee all seven Huskies run the mile at NCAAs – Lumb is also qualified in the 3k, while Fay is qualified in the 3k and 5k – but it would be pretty wild if they all declared.
It was somewhat surprising that Waskom – the NCAA 1500 champ and fastest Husky of all this season – was only 11th today. But Waskom was one of the men tasked with keeping the pace fast and said it was difficult for him given he's in the midst of a heavy training block. He's optimistic that he should be good to go once he tapers for NCAAs over the next two weeks.
"It was definitely a tough day," Waskom said. "It's been a pretty big last 6-8 weeks of training. We needed someone to get right behind the pacer and I volunteered myself to get things going."
Here's how the UW men rank on the NCAA list after today's races:
2. 3:51.90 Joe Waskom
3. 3:52.03 Brian Fay
4. 3:52.62 Kieran Lumb
5. 3:52.76 Nathan Green
6. 3:52.87 Luke Houser
8. 3:53.65 Aidan Ryan
17. 3:55.60 Aaron Ahl
That's right. Six of the eight fastest men in the NCAA in 2023 run for the same school.
Quick take: When races are set up to go super fast and they don't, it's a bit of a letdown
There is a certain level of prestige in winning a World Athletics Indoor Tour event but very little prestige attached solely to a victory at BU. At BU, it's all about time.
Sinclaire Johnson runs 8:37 FTW in her first 3k since 2019
The women's 3,000 was not as deep as the men's mile but still featured some interesting results. The headliner was Sinclaire Johnson, who looked totally in control by running 8:37.83 (2:39 final 1k) to win her first 3k since February 2019, when she was a collegian at Oklahoma State (she knocked 33 seconds off her pb of 9:10). Behind her, high school junior Ellie Shea — who finished 10th in the U20 race at World XC last weekend — barely missed the high school 3,000m record. Alexa Efraimson has the overall record at 9:00.16 from 2014, though that came on an oversized track in Seattle. Katelyn Tuohy has the record for a 200m track at 9:01.81 from 2019 and Shea ran 9:02.02.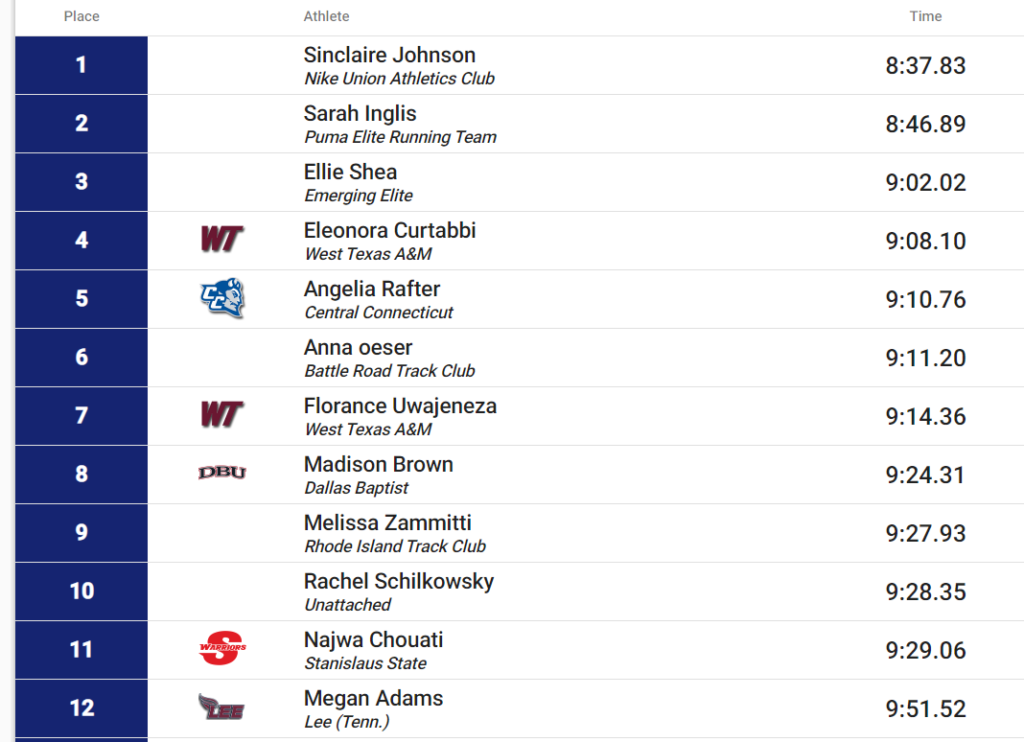 Quick Take: Sinclaire Johnson had an unorthodox indoor season but is ready to take on the world outdoors
Johnson was supposed to have run the 3k in Birmingham yesterday against Gudaf Tsegay but her connecting flight to Amsterdam was cancelled and the new flight would have cut things too close so she decided to run in Boston today. It's been a frustrating season in that respect for Johnson, who was also supposed to run the Wanamaker Mile at Millrose but didn't get the chance after she came down with a stomach virus. But Johnson is still pleased with the progress she has made in training and her 8:37 today shows her strength is on point.
What was most exciting to hear is that Johnson is thinking big in 2023. Johnson won USA outdoors comfortably last year in the 1500 and finished 6th at Worlds, but there was a massive 6-second gap between the three medalists and everyone else in Eugene. Johnson wants to close that gap and thinks the best way to do that is by taking on the world's best as much as she can.
"There's a huge gap between US distance running and where Faith [Kipyegon] and Gudaf and all those other world-class runners are and I think just trying to get more experience racing them and being put in really uncomfortable situations and trying to figure out how to work through that was the main goal of indoors," Johnson said.
Johnson didn't get a chance to do that in Birmingham for reasons out of her control, but she's already looking at running Diamond Leagues in Rabat (May 28) and Rome (June 2) to test herself outdoors.
Thread: BU Last Chance on Sunday 2/26: American/NCAA (and World?) Record Attempts in Mile