High Schoolers Leo Young and Irene Riggs Win USATF U20 Cross Country Titles in Impressive Fashion
By LetsRun.com
January 21, 2023
MECHANICSVILLE, Va. – High school stars Leo Young of powerhouse Newbury Park High School and NXN champ Irene Riggs of West Virginia swept the U20 titles at the USATF Cross Country Championships and will be leading the Team USA U20 teams at the World Cross Country Championships next month in Australia.
Riggs win cemented her status as the top junior cross country runner in America. After a dominant high school season which culminated with the NXN crown, today she defeated not only the best u20 XC collegiate runners in the country, but also Champs (Foot Locker) Cross Country Champion Karrie Baloga, who was 5th today.
For Leo Young, the win was sweet redemption after NXN nationals where he had the lead with 400m to go, but faded all the way back to 11th place. Today he bided his time extremely well and powered away to a dominant win over the final 400m.
Women's U20 race: Riggs wins impressively
A month after dominating the field at NXN, Irene Riggs of Morgantown, W.Va., added the US U20 title to her growing trophy cabinet, winning the 6k race in 19:45.0. Riggs made her move at 4k, quickly separating from everyone save for Massachusetts high school junior Ellie Shea. By 5k (which Riggs hit in a quick split of 16:40), Riggs had five meters on Shea, at which point she attacked again and separated for good. Shea held on for second in 16:42.1.
There wasn't much drama for the four remaining spots on the team for Team USA at the World XC Champs next month. At halfway, the lead group of Riggs, Shea, 2022 champ Zariel Macchia, Abbey Nechanicky, Foot Locker champ Karrie Baloga, and UNC freshman Eva Klingbeil had separated from the field and they would finish as the top six with 7th placer Peyton Schieppe of Bradley 15 seconds behind sixth-placer Klingbeil.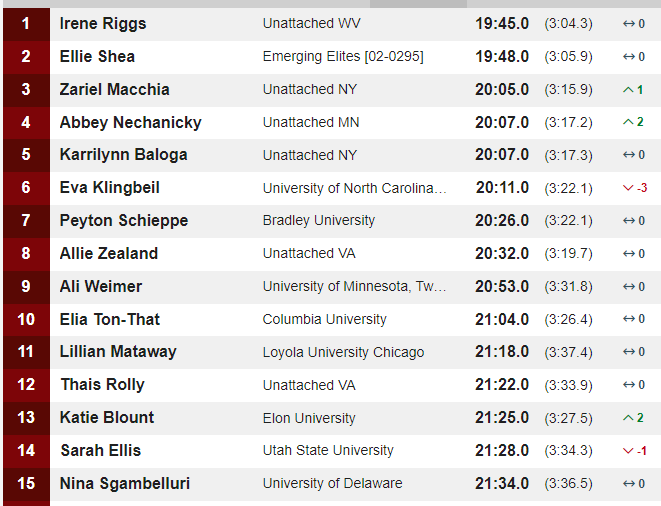 Quick Take: There's now no doubt Riggs was the best high school XC runner this year
Riggs, due to her course record at NXN Southeast (breaking a Katelyn Tuohy course record) and her dominant 13-second win at NXN nationals, was viewed as the top high school XC runner this year. But she didn't get the opportunity to race Baloga, who ran 16:49 to win Foot Lockers last month – a time only one female champion has bettered in San Diego in the last 28 years. Today they squared off and it was no contest as Riggs looked in control throughout and was not seriously challenged in the final kilometer. It will be exciting to see how she fares against the world's best Down Under next month.
Riggs said on the line even though the stakes were high she felt less nervous than during the high school XC season. She tried to turn out the online chatter about her facing off versus Baloga for the first time. "I was trying not to view it like that [as a match-up vs Baloga]. I think social media, you know, I love it, but I also don't like it. They were putting a lot of pressure on this meet so  I kind of got off Instagram for a little bit. Tried not to think of it like that, and tried just to think top six is the goal."
Article continues below player.
Last year's winner Zariel Macchia was super proud of her effort
The high school sophomore felt like during the fall she never gave 100% but today she was able to go as hard as she could. Also she revealed that her dad only found out that the USATF U20 race was a thing 3 days before the race, they signed up and she won it. As for being on her first Worlds team, she was super pumped. 
Men's U20 race: Leo Young bounces back from NXN disappointment for impressive win
A month ago at NXN, Leo Young ran aggressively for the win and it backfired. After pushing the pace in windy conditions, Young had a three-second lead with 400m to go but his Newbury Park High School teammate Aaron Sahlman blew by him coming off the final hill as Young would run out of gas and fade to 11th.
Young learned from his NXN experience as he ran a masterful race in his first-ever 8k to beat a slew of collegians and earn a seven-second win in the men's U20 race in 23:47.0.
Having never raced beyond 5k before, Young chose to run a far more conservative race than at NXN, and at 1k he was only 17th. But he would gradually work his way up the field, and by 5k was part of the nine-man lead pack that included his twin brother Lex, Foot Locker champion Kole Mathison, and six college freshmen.
That pack would string out at 5k as Lex Young and Mathison were both soon dropped. By 6k, the six eventual World XC team members were clear of the field and the question now was who would win the race. It came down to a battle between the Leo Young and a pair of collegians, Micah Wilson of Wisconsin and Marco Langon of Villanova. Wilson and Langon would trade blows over the final kilometer, trading the lead multiple times. Young didn't get caught up in any of the moves, simply hanging in there until the final hill with 300 meters to go. 
At that point, Young struck and struck hard. Wilson and Langon, spent from battling each other, had no response and Young streaked clear to a comfortable victory.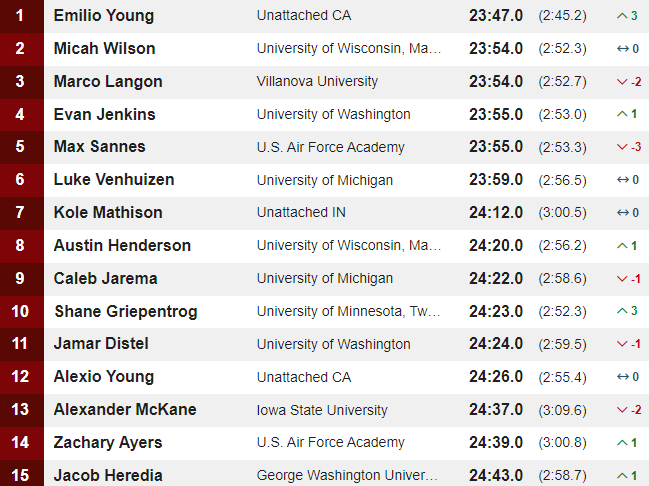 Quick Take: This was a super impressive race by Leo Young
In the final mile of the race, Young was the lone high schooler battling for the win against a pack of collegians but he ran like a savvy veteran. Unlike NXN, when Young faded badly in the final 400, he measured his effort perfectly today – made even more impressive by the fact that he was racing at an unfamiliar distance.
This result wasn't a huge shocker on paper – remember, Young was 2nd at the 2021 RunningLane nationals cross country when his opponents today were high school seniors – but to go out and beat a bunch of college runners is no small feat, even for a great high school runner. In the last 16 years, only three high school boys have won the U20 race: German Fernandez in 2008, Conner Mantz in 2015, and Leo Young today.
Lex and Leo Young Shows The Enthusiasm for Team USA We Wish Everyone Had
Leo and Lex are two of the most accomplished high school runners ever but they both were very eager to try and represent Team USA.
After the race, when Leo was asked by LRC why he did this race instead of an indoor track season he said, "Have you seen how sick the USA singlets are? How incredible an experience it is to represent your country in a race? That's exactly what it is. I want to run for Team USA someday, like on the Olympic team or a Worlds team. And I feel like a junior team is exactly how you get there. I could not be, I could not be more thrilled about this opportunity."
If you're wondering why Lex Young, who ran 7:57/13:43 last year as a junior, didn't also make the team (he was 12th in 24:26), Leo told us that since NXN Lex has battled a hip issue, had his wisdom teeth removed, and had a knee issue, so he only resumed running a week and a half ago and hadn't run more than 7 miles recently. But with Team USA spots on the line Leo said Lex told him, "Even if I blow up, I know I'd be so mad at myself if I didn't give it a go."
Like Riggs, Leo said he felt less pressure in this race and enjoyed it a great deal. Instead of being expected to win and lead from step 1, he was hunting collegians and running an unfamiliar distance.
Quick Take: College athletes mostly ruled on the men's side
In the women's U20 race, high schoolers swept the first five places with just one collegian in the top six. It was the opposite on the men's side, as after Leo Young, the next five were collegians. That makes sense as it's an easier transition for high school girls to go from racing 5k to 6k than it is for high school boys to go from racing 5k to 8k.
*More videos on our youtube channel
*All our 2023 USATF XC Coverage here
Talk about the 2023 USATF XC Trials on our world-famous fan forum  /messageaboard:
Pro Race Recap: Emmanuel Bor & Ednah Kurgat Dominate 2023 USATF XC Championships None of the top six finishers in the women's race had made a Worlds team before. 3rd through 7th in the men's race were separated by 0.8 of a second.