Katelyn Tuohy and NC State 2022 NCAA Cross Country Champions
Tuohy Runs Down Parker Valby
by LetsRun.com
November 19, 2022
Katelyn Tuohy and her NC State Wolfpack teammates are your 2022 NCAA Cross Country national champions.
On a cold and blustery day in Stillwater, Oklahoma, the much-hyped showdown between Tuohy and Florida's Parker Valby delivered.
After the pack ran together the first kilometer, Valby started opening a gap on the field. At 2km she led by 2.9 seconds and was quickly extending her lead. At 2.8k she led Tuohy by 8.6 seconds, and at 4k the lead was up to 11.8 seconds.  Was Valby really going to run away from Tuohy?
No.
Article continues below player.
Afterwards, Tuohy said she knew she'd have to push to catch Valby and that's exactly what she started to do. With a kilometer to go the lead had been cut nearly in half (5.6 seconds) and soon after Tuohy went by Valby and cruised to a 3.2 second victory.
Valby was a clear second, and Tuohy's teammate Kelsey Chmiel was a clear 3rd. The Alabama women led by Hilda Olemomoi in 6th were doing extremely well through four runners (they'd finish 5, 8, 12, and 14 in the team standings), but their fifth runner was fading and would finish 127th, leaving them to settle for 3rd in the team battle.
NC State had the next top four going 1-2-13 and 24 with #3 Samantha Bush passing 20 runners the final kilometer. NC State would need nearly all those places as their fifth Brooke Rauber did just well enough finishing 74th in the team standings to help NC State hold off the vaunted New Mexico pack.  New Mexico ran as a team thoughout and was only in 6th place halfway, but they ended up just 26 points behind NC State at the finish as only 11.1 seconds separated their top 5. They finished 20, 23, 31, 32, 34 in the team standings, but NC State's strength was just enough to hold them off.
Updated: Results, interviews, and analysis below.
Top Individual Results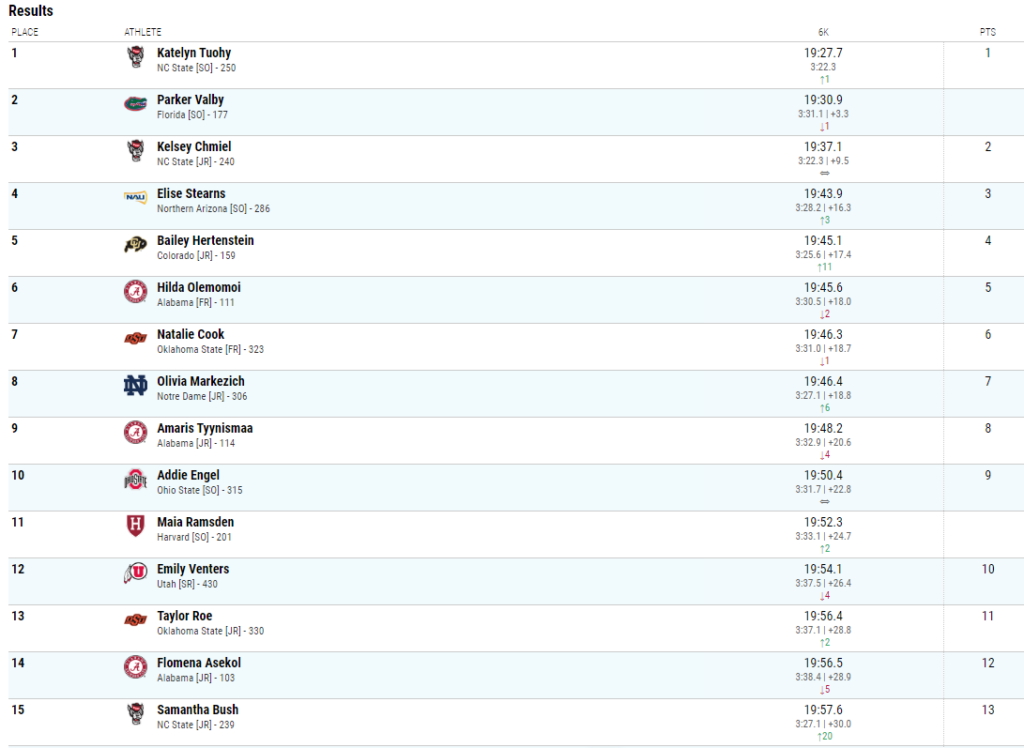 Top Team Results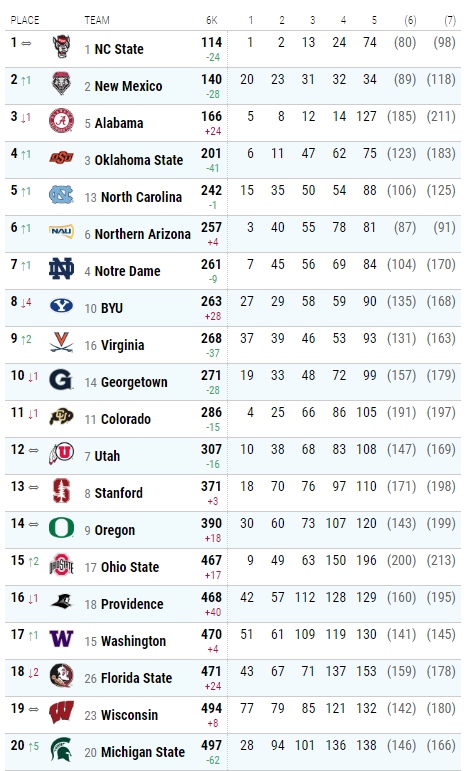 Analysis
Quick Take: Katelyn Tuohy ran a perfect race to win her first NCAA XC title
Parker Valby ran an incredible race today. Valby's time of 19:30.9 was more than 29 seconds faster than what Mercy Chelangat ran to win NCAAs on this course 20 months ago, and it would not be a shock to see Valby run a 5k in the 14:50s or 14:40s this spring. She's that good.
Which is why Katelyn Tuohy deserves all the credit in the world for running her down and winning the NCAA title today. Tuohy knew there was a chance Valby would take the race out hard and once Valby got a gap, which grew as large as 11.8 seconds at 4k, Tuohy could have easily settled for second, content that she had done her job to help NC State in the team race.
Instead, Tuohy broke free from the chase pack and ran Valby down, measuring her effort perfectly to win on a cold day on a tough course. 
"We wanted to, if Parker went out hard, not go with her and work with the group to catch her," Tuohy said. "The gap got a little bigger than I thought it would have. Around 3k, I decided to pick it up and use that diagonal of flat track to make my surge."
When Tuohy heard the gap was over 10 seconds, she said she thought to herself, that's really big, but she never lost confidence in her ability to close. That confidence was clearly well-placed.
Both women should be proud of their efforts today. In many years, the race Valby ran today would be enough to win an NCAA title. But not against the brilliant Katelyn Tuohy. Today belonged to her.
"This ranks probably the top [of my career]," Tuohy said. "Individual win, team win. There's nothing better than that."
Big-picture: the Tuohy-Valby showdown absolutely lived up to the hype, and the good news is we should have many more battles between the two in future years – both Tuohy and Valby are just 20 years old. They are the future of American distance running.
Quick Take: Parker Valby ran amazing and still has room to improve
Valby knew she didn't have as strong a kick as Tuohy so knew she had to open a gap and hope it was enough to hold on. That's what she tried to do, and for a while it looked as if it might work before Tuohy ran her down late. It was a brave effort.
Second at NCAAs is a great result, and Valby has shown this year that she is a very, very special talent. But against a runner like Tuohy, you have to be absolutely perfect to win, and Valby wasn't quite that today. A few times in the race, Valby ran extra distance rather than running the tangents, and after the race she admitted that is often an issue for her.
"I never run the tangents in any race," Valby said. "I don't really know what the tangents are, I don't know how to tell what they are. So I always just follow the cart so I always end up running more than I should be."
When you're winning by a minute, as Valby was earlier this season, it doesn't matter if you run the tangents or not. And maybe it wouldn't have mattered today. But you have to give yourself every chance to win, and by not running the shortest distance possible, Valby failed to do that (she also said she didn't realize how close she was to the finish after climbing the last hill, which meant she kicked later than she planned on). When you know you're going to be at the front of a cross country race, you need to know the course well – a lesson that Valby and coach Chris Solinsky should have learned after today.
Quick Take: Could the NCAA 5k record (and the 15:00 barrier) fall in Boston next month?
We've been saying all fall that between Tuohy and Valby, there's a good chance we could see the first sub-15:00 5k by a collegiate women this track season. And that sub-15:00 could come as soon as December 3 in Boston, where Tuohy will headline a super fast 5k. Tuohy didn't commit to an all-out assault on the record (Jenny Simpson has the fastest 5k by a collegian, running 15:01 indoors on an oversize track in 2009), but expect her to take a crack at some point in 2023 if she doesn't get it next month.
"I don't know [if we'll go after sub-15:00 in Boston]," Tuohy said. "We'll see what it's being paced at, but I think that 15:00 mark is a barrier I'm trying to break [soon]. I don't know if we're quite ready for it, but we'll see."
Quick Take: Nevada Mareno was the key for NC State
All five scorers are important on a cross country team. NC State got the biggest possible advantage up front today as Tuohy and Kelsey Chmiel went 1-2 in the team scoring, meaning NC State was essentially scoring three athletes to everyone else's five. But the hero for the Wolfpack has to be Nevada Mareno.
All year long, Wolfpack coach Laurie Henes has told her team that all seven women on the start line have to be able to step up and score if the situation calls for it. And with Sydney Seymour (who was NC State's #4 at Nuttycombe, 23rd overall) struggling today in 98th, NC State needed someone to step up. Nevada Mareno did just that.
Mareno, a Raleigh native and 6th-year senior, was a high school star, finishing 2nd and 3rd at Foot Lockers. But before this year she hadn't done much in XC at the collegiate level. She was 172nd and 136th at NCAAs in 2018 and 2019 and didn't run at NCAA XC in 2020 or 2021. Mareno did make NCAAs on the track this year in the 1500, but this fall had been a mixed bag in cross country as she sandwiched a 47th-place finish at the Notre Dame Invite and a 19th-place finish at ACCs with a 36th-place finish at Nuttycombe. Today, she ran the best XC race of her collegiate career to finish 29th and deliver the title to the Wolfpack.
NC State's winning total of 114 points was the highest at NCAAs since 2016, but no one in Raleigh will care about that. Great teams find a way to get it done, and NC State proved they were a great team today, managing expectations all season long to become the first women's team to repeat at NCAAs since Villanova in 2010.
Quick Take: New Mexico ran well for second, but a lack of a low stick wound up costing them
It's almost impossible to win the NCAA title when your #1 runner finishes 22nd place. And while New Mexico had an incredible 11.1-second spread from their #1 (Amelia Mazza-Downie, 22nd, 20:02.8) to #5 (Elise Thorner, 40th, 20:13.9), everyone needed to be a few seconds further up for the Lobos to win. Consider: Mazza-Downie scored more points by herself (20) than NC State's top three combined (16). Depth is nice, but a field as deep as NCAAs, it really helps to have one (preferably two) athletes scoring in the single digits.
That said, New Mexico and Joe Franklin deserve some props for being the most consistent program in the NCAA over the past decade. Today marked the 13th straight top-10 NCAA finish for the Lobos and their seventh podium finish in the last nine years.
Quick Take: Alabama was winning with 2k to go and wound up with the best result in program history
With two kilometers to go in today's race, it wasn't NC State or New Mexico or OK State in the lead, but, surprisingly, Alabama. We knew going into the race that Alabama had a strong top four in Mercy Chelangat, Hilda Olemomoi, Amaris Tyynismaa, and Flomena Asekol, but the Crimson Tide's #5 wasn't considered strong enough to mount a serious title challenge. But at 4k, Bama's top four were all in the top 20, their #5 Elka Machan was holding on just well enough (121st) to give Alabama a shot. At that point, the Tide had 131 points, which isn't usually enough to win NCAAs, but anything can happen at this meet. Could they hold on?
As it turns out, not quite. Machan wound up fading to 155th while NC State's Samantha Bush went from 40th to 15th, which tipped the scales in the Wolfpack's favor. But Alabama still held on for third – and that was despite Mercy Chelangat, the NCAA champ on this course in March 2021, having a bit of an off day and finishing 19th. 
Hilda Olemomoi was the star for Alabama in Stillwater, capping a terrific rookie season. Many times, talented Kenyan athletes struggle in their first few months in the NCAA as they adapt to a new way of life. Not Olemomoi. She hasn't missed a beat since arriving in Tuscaloosa this fall and wound up 6th in her first NCAA championships. Only a freshman, she has a very bright future ahead of her.
Quick Take: Natalie Cook finishes 7th as a true freshman
Like Katelyn Tuohy, Oklahoma State's Natalie Cook entered the NCAA with sky-high expectations placed upon her back after a high school career that saw her win the RunningLane and Eastbay XC champs and run a HS record of 15:25 for 5k. So far, so good for the OK State phenom. After winning the Cowboy Jamboree here in September, Cook finished 7th in her first NCAA XC champs, the best finish for an American freshman since Katie Rainsberger was 4th for Oregon in 2016. Between Cook, Valby, and Tuohy, there's a lot for American distance fans to be excited about right now.
It was a good day for the OK State women too as Cook led them to a fourth-place finish — the first time the Cowgirls have ever finished on the podium at NCAAs.
Quick Take: The UNC women were the surprise of the day
Last year, the UNC women were somewhat disappointed to finish 14th at NCAA XC. The Tar Heels had returned their entire team from the 2020 champs and had been hoping to improve but wound up finishing in the same position as the year before.
They were projected to finish in a similar position today (UNC was only 4th at ACCs and was ranked 13th coming in), but the Tar Heels massively exceeded expectations by finishing 5th, the best result ever by a UNC women's team at NCAAs. And the Tar Heels may be even better next year as their entire top seven today were freshmen or sophomores eligibility-wise.
It was part of an impressive day by the ACC as four ACC schools finished in the top 10 (NC State 1st, UNC 5th, Notre Dame 7th, and Virginia 9th).
Our YouTube channel with athlete interviews is here.
---
About LetsRun.com: LetsRun.com is the home of professional running. Cited by media outlets all over the globe including the New York Times, Washington Post, USA Today, Sports Illustrated, Outside, ABC's Good Morning America, The Times (London), and the Daily Nation (Kenya). The NY Times described LetsRun as, "The influential website that serves as something of a superego for American running." If you'd like to take your fandom to the next level, join the LRC Supporters Club.