WTW: Katelyn Tuohy Is Still Fast, Women Win Big $$$ In London, & Many Stars Get Rewarded For Skipping Big Races
The Week That Was in Running, September 26 – October 2, 2022
By Robert Johnson
October 4, 2022
If you missed our extensive London Marathon coverage, please catch up now as we don't repeat ourselves: LRC Complete 2022 London Marathon coverage.
Also we sure hope you read our piece on the World Marathon Majors cutting their series prize purse: LRC World Marathon Majors Slashes Series Elite Prize Money by 69%; Are The Majors Dead? 

Each week, we try to make the sport more fun to follow by putting the prior week's action in perspective for you. Past editions of our Week That Was weekly recap can be found here. Got a tip, question or comment? Please call us at 844-LETSRUN (538-7786), email us, or post in our forum.  
****
Upon Further Review
Some of the biggest headlines coming out of London were the amazing splits recorded by winners Yalemzerf Yehualaw for mile 24 (4:43) and Amos Kipruto for mile 25 (4:21). In case you haven't heard, we've got some bad news to report. The 4:43 24th mile split was fake news. According to marathon expert Helmut Winter, it was really a 4:59 as the end of that mile was recorded way too early. The good news is the split for Kipruto was correctly done. We suggest you read all about it here: LRC Upon Further Review, Yalemzerf Yehualaw Did Not Run A Record-Breaking 4:43 Mile In The 2022 London Marathon. Winter also reveals a dirty little secret — he says marathons know many of their mile markers are put in the wrong spot.
****
Stat of The Week
$496,500 – amount of prize money and time bonuses paid out to top 10 finishers in the women's 2022 TCS London Marathon.
Article continues below player.
$206,500 – amount of prize money and time bonuses paid out to top 10 finishers in the men's 2022 TCS London Marathon.
It's absurd that London often pays out more in time bonuses than place bonuses. The focus of a race, unless it's a world record or course record attempt, should always be win first, time second. 
Yet London pays just $55,000 for first but $150,000 for a sub-2:02/sub-2:17:30, $100,000 for a sub-2:03/sub-2:18, $75,000 for a sub-2:04/sub-2:19, and $50,000 for a sub-2:05/sub-2:20.
One other qualm about the payment structure. The payouts are not fair to the men at the top level. The men's bonuses are harder to hit. Only six men in history have broken 2:03 in a marathon, which it takes to win a $100,000 bonus. Fourteen women have broken 2:18, which also gets a $100,000 bonus. But in terms of the $50,000 bonus, 72 men have broken 2:05 in the marathon but just 53 women have broken 2:20.
| | |
| --- | --- |
| Overall | |
| Comfort | |
| Cushioning | |
| Durability | |
| Appearance | |
| Value | |
****
Tamirat Tola Skips London, Wins Half Marathon; Eilish McColgan Skips London, Sets British Record in 10k
59:49 – half marathon time put up by world marathon champ Tamirat Tola over the weekend to win the Trento Half Marathon on Sunday — the same day as the 2022 TCS London Marathon. That's notable because Tola was initially supposed to run London but pulled out on August 12 due to "muscle fatigue" which had prevented him from resuming training.
Some may think Tola deserves criticism for racing the half and not London. Not me. There is a difference between being able to run 59:49 in a half marathon and being in 2:03 shape for a full marathon, which is the type of fitness it typically requires to win London nowadays (although not this year apparently as the times were slower than expected on the men's side in particular). If Tola hadn't resumed full training by the middle of August, it would have been borderline irresponsible and dangerous to try to get ready to race a marathon on October 2. But apparently he's talented enough to get in sub-60 half shape in seven weeks.
###
Similarly, Eilish McColgan was supposed to debut in London this year but announced on September 2 she was postponing that debut until April due to her struggles with "rebound hypoglycemia." McColgan raced successfully over the weekend as well. At the Great Scottish Run 10k, she broke her own British road record by one second in running 30:18. If she hasn't figured out how to fuel properly while training for the marathon, I suggest she read the following messageboard thread as it's pretty fascinating and has lots of suggestions:  MB: Struggling with 'rebound hypoglycaemia'.
****
Fiona O'Keeffe Stays Hot/Hillary Bor Skips Diamond League Final and Wins US 10-Mile Champs
Thumbs up to Puma's Fiona O'Keeffe, who took home $22,000 by winning the US 10-mile championships in a course record of 51:42 on Sunday at the Medtronic 10-Mile. She got $12,000 for the win and $10,000 for winning the battle of the sexes bonus as her 5:53 head start was more than enough to give her the win over men's winner Hillary Bor, who picked $12,000 for running a men's course record 46:06 (5:36 faster than O'Keeffe, so she won by 17 seconds). Bor, who was 8th at Worlds in the steeple, skipped all track races after Worlds including the Diamond League final. We guess financially that makes sense as he was unlikely to win $12,000 in the DL final (second place pays $12,000) but it shows why the sport struggles for popularity. It's better for the sport if the Diamond League final is a big deal but financially it's not always in the athlete's interest to run it.
The 24-year-old O'Keeffe, who ran collegiately at Stanford and now runs professionally for Amy and Alistair Cragg's Puma Elite team in North Carolina, has had quite a year in 2022. On the track, she has PR'd at 3000 (8:53.47, previous pb of 9:02.63) and 5000 (15:05.56, previous pb of 15:31.45) while on the roads she has made impressive debuts at 10 miles (51:42) and the half marathon (67:42 — a US debut record).
****
Only in America / $2,000 For a 21:36 5000
On these pages over the years, I've often pointed out ridiculous prize purses. Life isn't fair. Sometimes people run really fast and earn zero in prize money and sometimes they run really slow and win a lot.
Last week, Flagstaff, Ariz., — distance capital of the US and birthplace of LetsRun.com — a 5k road race was held with some big purses. With so many pros living there, would you believe that $4,500 was handed out to to three people who couldn't even break 21:30 for 5000? Yes, it's true.
How in the world is that possible? Because the Pride 5k in Flagstaff — a race held to raise money to support LGTBQ+ youth staged by the non-binary Nikki Hiltz and the bisexual Emma Gee — offered three divisions of equal prize money: men, women and non-binary. Here is how the payouts went according to Race Results Weekly.
NON-BINARY (gun times) –
 1. Breanna Cornell, 30, Flagstaff, AZ, 21:36 ($2000)
 2. Dylan Quinn, 34, Flagstaff, AZ, 22:12 ($1500)
 3. Nico Condon, 21, Erie, CO, 22:19 ($1000)
WOMEN (gun times) –
 1. Dani Shanahan, 28, Flagstaff, AZ, 16:52 ($2000)
 2. Rachel Smith, 31, Flagstaff, AZ, 17:19 ($1500)
 3. Hannah Steelman, 23, Flagstaff, AZ, 17:40 ($1000)

MEN (gun times) –
 1. Yemane Haileselassie (ERI), 24, Flagstaff, AZ, 14:22 ($2000)
 2. Tsegay Tuemay (ERI), 26, Flagstaff, AZ, 14:29 ($1500)
 3. Filmon Ande (ERI), 24, Flagstaff, AZ, 14:38 ($1000)
Why elite races care what gender you are versus what sex you are is beyond me.
****
Thumbs Up
Back in the early days of the WTW, I always did Thumbs Up, Thumbs Down. Well let's keep it positive. Here are some positive shout outs.
Thumbs up to Kenya's Michael Temoii. Temoii, who officially only turned 18 on August 26, ran his second quick time as an 18-year-old as after running a 7:38.50 on September 12 he ran 13:07 at the Kiprun 5k in Lille, France, over the weekend.
Thumbs up to Kenya's Richard Kimunyan, 24, for setting a Japanese all-comers record in the 10,000 of 26:54.76 at the Nitai University Distance Meeting. Runner-up Benard Koech of Kenya (26:55.76) also broke Josphat Ndambiri's old record of 26:57.36, which had stood since 2009.
Thumbs up to 21-year-old Kazuto Iizawa, who ran 3:36.55 last week at the Niigata's Athletics Challenge Cup to move to #2 on the all-time Japanese 1500 list. Iizawa, who raced in the US at the Stumptown Twiglight in July (last in 3:55.61) this year after winning the Japanese nationals, only has 1.13 seconds to go to get the NR as the Japanese record is 3:35.42 set by Kazuki Kawamura last year. The 24-year-old Kawamura didn't run faster than 3:44 this year.
Thumb's up to Latvia's Diana Dzaviza, who after more than 24 hours of running came up just 23 seconds short of the course record at Spartathlon, where she ran 24:48:41 for 245.3 kilometers (152.4 miles). 23 seconds in a race that long is equivalent to 0.06 of a second in a four-minute race. 
****
Katelyn Tuohy puts on a show at Joe Piane Invite; #1 NC State edges #3 New Mexico & #10 Alabama
On September 26, we predicted NC State's Katelyn Tuohy would win the 2022 NCAA cross country individual title. We're still six weeks out from NCAAs, but so far that's looking like a good pick as the 20-year-old Tuohy, the NCAA 5,000 champion, stomped everyone in her season opener at the Joe Piane Invitational at Notre Dame on Friday.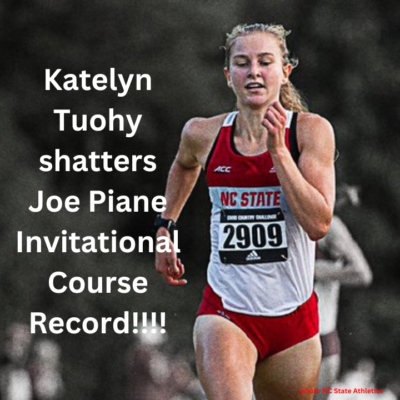 Tuohy ran 15:50 to set a course record, but more impressive still was who she beat: after running together through 5k, Tuohy gapped 2020 NCAA XC champ Mercy Chelangat of Alabama convincingly over the final kilometer to win by 12 seconds. Tuohy's #1 NC State team also got the victory, scoring 55 points, but #3 New Mexico (68) and #10 Alabama (70) both put up a fight.
NC State put three runners in front of New Mexico's #1 (Gracelyn Larkin in 9th), but New Mexico put all five scorers in the top 20 to score 68. In fact, New Mexico's #7 (Abbe Goldstein in 29th) crossed the line before NC State's #5 (Gionna Quarzo in 31st) and UNM's #8 wasn't far behind (Alieandrea Upshaw in 33rd). Last month, New Mexico coach Joe Franklin told us that if the Lobos are to spring the upset on NC State at NCAAs, their spread needs to be super small. It was only 13 seconds on Friday, but that still wasn't enough to overcome NC State's front-running.
#8 Alabama also ran very impressively. We already knew about Chelangat, 2020 NCAA third-placer Amaris Tyynismaa (15th on Friday), and 2021 All-American Flomena Asekol (18th), who were all solid on Friday. But the big story was the 3rd-place finish by Kenyan freshman Hilda Olemomoi. Taking 3rd in such a strong field suggests Olemomoi has top-15 potential at NCAAs, and if she can do that then Alabama has a real chance to finish on the podium at NCAAs.
As for NC State, the Wolfpack won by 13 points and did so without its top finisher from NCAAs last year, Kelsey Chmiel. NC State coach Laurie Henes told us Chmiel won't race much in the regular season this fall to keep her healthy (she missed the spring with a foot injury) but she expects Chmiel to be able to race the big meets at the end of the season. Friday's result showed that the Wolfpack can still beat some of the best teams in the country without her.
The men's race at Joe Piane was not as star-studded as the women's as most of the top teams raced at the Cowboy Jamboree a week earlier. The story in South Bend was coach Sean Carlson's old team, #14 Notre Dame, getting the win over Carlson's new one, unranked Tennessee, 81-104. Alabama's Victor Kiprop won the 8k race in 23:16 as NCAA 10,000 champ Dylan Jacobs — a Notre Dame grad now running for Tennessee — was 8th in 23:26.
***
RIP John Dye
There was some sad news in the running world on Friday as John Dye, the founder of DyeStat, died of a stroke on Friday in Las Vegas at age 86. Dye became interested in track & field in the 1990s when his children, Natalie and Derek, started competing as Maryland high schoolers. Dye wanted to know how the two stacked up nationally and that project eventually became DyeStat.com, which produced rankings and articles about high school track & field all across America. Like LetsRun, it also had a popular messageboard.
The site lost some of its heart when ESPN acquired DyeStat in 2008, and in 2012 ESPN shut the site down. It was relaunched later that year after being acquired by RunnerSpace but no longer has a messageboard.
If you ran in high school between 1998-2008 DyeStat was a big deal. You went to DyeStat for high school stuff and LetsRun for college or pro coverage. Our own Jonathan Gault was an avid DyeStat reader/poster in the mid-2000s before "graduating" to LetsRun. Thanks to John Dye for helping a generation of readers become track fans.
MB: RIP DyeStat Founder John Dye – February 13th, 1936 – September 30th, 2022 
Recommended Reads
For recommended reads from other weeks, go here.
***
Quotes Of The Day And Last Week's Home Pages
To see the quotes of the day from last week or last week's home page or any home page, go to our archive page.
***
Got a tip, question or comment? Please call us at 844-LETSRUN (538-7786), email us or post in our forum.