The Exit Interview: Chris Derrick Retires From Professional Running
By Jonathan Gault
August 23, 2022
Last November, after almost 10 years as a professional runner, Chris Derrick retired. Yes, that's why you haven't seen him in any track races or marathon fields this year. But he didn't tell the public about it – until now.
In high school Derrick was a star at Neuqua Valley High School in Naperville, Ill., which he led to victory at the 2007 Nike Team Nationals by capturing the individual title. He then finished 2nd at the Foot Lockers a week later before running 8:48 and 13:55 on the track. In college at Stanford from 2008 to 2012, he was a 14-time All-American including four top-10 NCAA XC finishes (7th, 3rd, 5th, 2nd) and two runner-up finishes on the track.
As a pro, Derrick was best known for his cross country exploits, winning three straight USA XC titles from 2013 to 2015; he also finished 8th at the 2013 World Cross Country Championships in Poland, helping the US men defeat Kenya and earn a surprise silver medal in the "Miracle on Dirt". On the track, Derrick qualified for the 2013 World Championships in the 10,000 meters, finishing 18th, and twice finished in the top 5 at the US Olympic Trials at that distance, taking 4th as a senior at Stanford in 2012 and 5th in 2016 as a member of the Bowerman Track Club. Derrick spent his entire professional career with the BTC and retires with personal bests of 13:08 (5,000m), 27:31 (10,000m), and 2:12:50 (marathon).
Article continues below player.
In the last few years, however, Derrick has struggled with injuries, and after a DNF at the 2020 Olympic Marathon Trials and a 15th-place, 2:18:02 showing at the 2021 Chicago Marathon, he decided to end his professional career.
LetsRun caught up with Derrick, 31, now living in Boulder and working as an analyst at an investment company to discuss the highs and lows of his career, what he would do differently if he had the chance, how he'd improve the sport, and much more.
Note: This interview took place before BTC coach Jerry Schumacher was hired as the head coach at the University of Oregon.
Why did you choose to retire now?
I've had this nerve problem in my leg for a while now going back to 2018 where my left leg kind of goes dead. I guess it's probably always a little bit dead, but it tends to really go kind of dead on me, kind of starts to feel like I lose control of it at race paces. I've battled that for a while and it has ebbed and flowed and I was able to get it to a decent place before some races. But it was always on my mind, always something I was dealing with. And a little like the frog and the boiling water, it little by little basically stopped feeling like my body worked the way I wanted it to. When I was in Portland with Jerry and the team, I was so locked in on that that I tried not to think about it too hard. But my wife Sara, she got a job here in Boulder that she found out about in 2020, though with the pandemic closures and remote work, we didn't end up moving until 2021. We knew this was a really good job for her and we didn't want to do long-distance anymore so I was pretty committed to coming here at that point. And when we made that decision, I thought I would still be training here, just under different auspices.
The way I think about it is, you can train at a certain level, and there's some multiple from your training to your racing level. Obviously, you'd hope that your racing was 100% or maybe even 120% of your training. And there are times in my career when you'd have really good control and the body works well and you're feeling good. And you do the workouts and you know, I did the workout with this crew of guys and I can beat all of them in a race because I have such good control and my body's working so well. And then there were times in the last few years where it was the opposite. Where it was like, All right, I did this workout which looks good on paper but kind of felt terrible the whole time, was totally on edge fighting this thing and that extra 2-3% from the race effort is going to totally send me over the edge and I'm going to race at 75% training level, so to speak.
So that was a very frustrating experience and why I had to find something else to pour my energy into because this isn't very rewarding right now. It hasn't been for some time. And then I started looking for jobs, things to do out on the side. As I opened myself up to the possibility that I didn't have to run, I was more honest about how things had been and started thinking maybe running would be the side thing. Eventually, I got to the point where I had a good job offer that I was quite interested in taking but it would mean I probably wouldn't have time to train full-time or even part-time/full-time.
For me, really the sealing thing was my attitude going into races. I just felt like I wasn't believing in my body and wasn't really believing in any goals I was saying out loud. That's no way to live life. So I decided I was going to stop and take this opportunity that I was excited about. I still like to run and still run with some guys here in town and jump into some workouts every once in a while on the weekends but it's more just because I still like the challenge of trying to get through stuff. But I don't really have that desire to compete. That extra few percent that it takes to really dig is kind of blocked by needing to focus on making sure my leg hits the ground.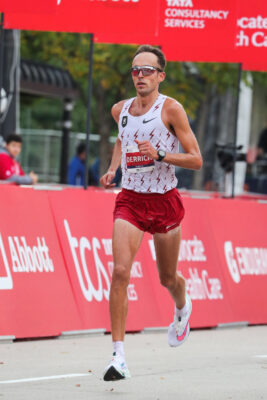 This nerve problem, can you describe how and when it originated?
The first time I felt it I think was Cherry Blossom 2018. I don't really know how it started but I've always kind of had back problems and stuff like that kind of runs in my family. Basically, it felt like all of a sudden my leg, I just lost control of it more or less. The way I've described it in the past – maybe poorly, because I haven't been able to fix it – is it almost loses its snappiness, if you will. When you're running well and in control and in that rhythm you need to be to compete at a high level in distance running, the leg sort of naturally snaps back and forward and recovers. And when it's kind of bad, I have to basically think, foot forward, foot back. And when it's really bad, it almost feels like I can't control the left side of my body.
You had a really good career at Stanford, and coming out of college, you had some nice success right away. Your first year as a pro at 22, you made the Worlds team in the 10k, you ran a big 5k pb of 13:08. I've talked to a bunch of Bowerman athletes who've said they had a rough transition to joining the group, the difficulty of Jerry's training. It takes maybe a year or two until they're not getting dropped, until their results start to click. Why were you able to adjust so quickly?
That's a good question. I definitely had been doing a lot of really good aerobic training for a long time. I like to joke with people a little bit, in high school we used to do 8 x 1200 on the grass at threshold pace and I finally joined Jerry's group and got to train with this legendary, somewhat secretive coach and find out all the secrets. And it was just like, yeah, we're going to do 8-10 x mile at threshold pace on the grass. I was like, I knew that in high school! Where are the secrets? 
So I think I was well-prepared by my coaches – not to say other people aren't well-prepared. But there's always ebbs and flows with the group and Jerry adapts over time to where the group is at and what people's strengths are. And when I joined, it was a very good time for me to join given where I was at and where the group was at. The things he was emphasizing at that time were things I was very good at. 
With where the group was, Evan [Jager] was only a couple years older than me and Lopez [Lomong] was obviously in his everlasting prime, as he seemingly always is. Chris [Solinsky] and Matt [Tegenkamp], they were not in their peak fitness for the track and stuff. And frankly, the workouts we did, they were super hard for me at the time and definitely I was stretching to do some of them, but it wasn't the level the group is at now. Part of it is, I didn't come in when Moh [Ahmed] was going to run 26:30. I didn't have to get beat up by that.
Things went pretty well for you through early 2015. You won three straight US cross country championships, but I was looking back at some of our old interviews and even in that span it seemed like you had been battling an Achilles injury. And after that, 2016-2017, you had more injuries to your hip and shin. When was the last time in your career you felt like you were really good and healthy while you were training and racing?
Yeah, that's a good question. I think there were certainly spurts after 2015 where I felt really good. Though I guess now that I think about it, every season I always had something going on. I never thought of myself as an injury-prone guy, but I guess in the end, I ended up being one. The peak moment for me was certainly 2015 US Cross, heading into Worlds there when I had an Achilles thing pop up. I had done Jerry's training for a couple years, I was feeling pretty strong and that was the best I ever felt. At that point, it was not if, but when will I break 13:00.
I think of that as the high water mark for me. There certainly were times afterwards where I felt really good and I felt I was making good progress and a comeback to the places I wanted to be at. But I think that was probably the range for me. There were probably a confluence of things that led to that. Some is what I was predisposed to, like the way I ran or whatever. And some of it is I did a lot of dumb things. 
Something my good friend Elliott Heath would say to me, more towards the end, is hey, you've gotta trust your talent. I always wanted to see myself as a guy that worked really hard and that was why I was good. And whatever, it was kind of a bit, but I always liked to point out to my fellow BTC teammates that I ran a 6:03 mile time trial when I was in 9th grade, I'm a self-made man or whatever BS. And I think that that was a bit that I sort of thought was a little real. And one thing I've noticed is that the guys that really have long-term success and don't end up running themselves into the ground are the people that trust their talent in some respect. And trust that if they take a couple weeks off or don't do this one workout, no one's going to get ahead of them, that they'll be right back there in a week or a month. I think I just had a lot of times where my body was telling me that I needed to take a break and I was unwilling to accept that I could take that break and still be good, if that makes sense.
I understand what you're saying. My next question is somewhat related to that. Is there anything you'd do differently in your career if you had the chance to do it over?
How much time you got, Jon? [laughs] There are plenty of things. To put it as clearly as I can, I'd say there are two categories of mistakes. I think at times I wasn't – I don't want to say all-in – but I wasn't willing to put myself out there a little bit. My senior year of college, I basically raced too much and part of that was we had a coach who was a sprint coach and he wanted guys to race a certain amount and had a certain view of how that was done. But I also think if I would have gone to him and said, I'm gonna make the Olympic team if you let me do this racing schedule, I'm going to gear my racing toward that, I think he would have respected that and let me do it. But I kind of didn't want to put that pressure on myself. There were times where that was the case, where I wanted to keep all my options open and do this race in case it worked out and that race in case it worked out. And it was kind of too much. I needed to pick a lane and say, I'm really going all-in on this one thing.
And then there is the opposite where I was too all-in and too committed to doing the most or doing a bunch of training and not willing to adjust from that. So I guess maybe that's all one mistake. Maybe I was too inflexible. I wrote this narrative in my head of how things were going to go and I didn't adjust as the data rolled in from week-to-week. But that's probably the broad thing. 
To pinpoint one thing, I wish I hadn't doubled at conference my senior year of college and busted my plantar fascia four weeks before the Olympic Trials, but who knows?
So you got 4th at the Trials on a torn plantar fascia? What was the injury?
I don't think it was torn, it was just really badly inflamed. I couldn't walk after the 5,000 at conference and spent the next four weeks before the Trials just being pretty hurt and tired and miserable. There's sort of an irony to that to me: I remember sitting in my room before the Trials that year saying, God I just want to get through this and get to the next one when I'll be healthy and ready to go. And then I remember in 2016 being in the tent when I had been hurt most of the year and petitioned to get in and knew I wasn't in very good shape and smiled to myself like, I would take that 2012 body right now. A lesson that I'll never get to apply but maybe someone else will would be: don't look through any opportunity to the next one. These things are very finite and you've gotta take your shots while you have them.
Are you happy with your career?
Yes and no. It depends on how you look at it. When I started running, I was just trying to make the varsity team. That was my goal, to get a varsity letter, and I was the seventh guy on my fresh/soph team my first year running. I got to be a professional and make money doing it and race all over the world. And also as you mentioned, when I was 23, I had run 13:08 and made a World team and should have made a lot more and I didn't. I guess it depends on which way you tell the story. In the broad scheme, I was extremely lucky and the last few years I felt a bit unlucky but I tried to keep the perspective that sometimes you run a little hot, sometimes you run a little cold. But I'm certainly disappointed with the way, basically since US cross in 2015 has gone for me. But mostly my fault, so I've gotta live with the consequences.
If I made you commissioner of professional track & field and you had the ability to make any changes you wanted to the way the sport operates, what would you change?
How secure are my commissioner powers?
They're very secure. You can do whatever you want. They're not going to kick you out if you do something crazy. 
If I was literally an all-powerful commissioner, I would write the racing schedules for top athletes. And I would just say, "You guys are racing here on this date against these people. See you there." I'd probably do it within the Diamond League setting and then I would take that to advertisers and try to go from there.
Fundamentally the reason I think track is not as successful as some people want it to be is that there is no coordination of the schedule to maximize entertainment. All the things people get upset about, like athletes not racing enough, all those forces are in other sports. If you follow the NBA, there's all this stuff about rest and people taking games off and the league trying to fight to get guys to show up to the primetime games. They're talking about the new CBA, it's going to be all around that. It's not like coaches and athletes in track & field are any different from any other sport. Everyone's trying to maximize their performance at the peak event. That's the thing that matters the most for your reputation. The difference is, in the other sports, there is a centralized bureaucracy that's fighting against that.
I don't think it's necessarily wrong that people don't want there to be a centralized bureaucracy in track & field because I don't think anyone can name an organization in track & field that's super large that they actually trust. Not to editorialize and get too abstract here, but this is the problem that countries have – they need to make some reform, and it probably needs to happen with a central authority, but no one trusts anyone else to do it and not be corrupt so it doesn't happen. 
And that's kind of the problem track has. There needs to be someone with their hand on the till to make the competitions compelling, understand that it's an entertainment product and we're going to put the best entertainment product out there but also no one trusts anyone else to do that and no one's going to give up their freedom to an organization that they think is corrupt and doesn't have their best interest at heart. So I think it's a very difficult problem. But if you solve for the trust part and just said that I was in charge, that's what I would do. 
What do you think, Jon? Where do you stand on that?
I think that's an intelligent point and I tend to think that would improve the sport. I guess my question back to you is, do you think that moves the needle in terms of track's popularity? Does it make it a significantly more popular sport than we already are? Or are we basically just in the same place and the fans we do have are a little happier?
That's a great point. I would certainly say keep your expectations in check, right? The NBA has been trying to topple the NFL for years and it hasn't succeeded. So there's probably just a certain level of innate cultural popularity that certain sports have. People have been talking for years about soccer becoming just as big as major sports in the US, building the US fanbase. And it inches closer but maybe it happens, maybe it doesn't. 
But I think on the margin it can't not make it a little more feasible, right? Probably it's something where you'd have to do it for a number of years, say four or five, and get some history going and get a more loyal fanbase from the people that are already interested and you can expand from there. You're not just going to be on SportsCenter tomorrow. But I also think that it would be such a big change that if it didn't immediately show dividends in two years, people would be mad and want to move back to the old thing. So that's kind of part of the problem.
You were coached by Jerry Schumacher for almost 10 years. What is something the public doesn't know about him that we should know?
That he absolutely loves to talk. Jerry is a hard man to get on the phone and he's a hard man to get off the phone. He'll talk random people's ear off at the track for an hour. We'll want to start our workout and he's just chitchatting with some high school kids that happen to be there.
I wanted to talk about the Houlihan case. When the news broke about Shelby's suspension broke, you wrote a pretty strong, impassioned defense of her on Instagram. Do you still stand by that?
I do.
You wrote at the time, "I'd like to think that the way BTC and its members have conducted themselves over the years has earned us the respect of our peers, the benefit of the doubt." In my experience on social media and on our messageboards, and talking to people in person at meets, I'd say the majority of people – maybe the significant majority – don't believe her. They think she cheated. Has that been your experience? And have you been surprised at all in the way the public reaction has reacted to this case?
I've generally tried to avoid reading about [it], which maybe makes me not a particularly good teammate. I just find it extremely hard to hear people say those things. And I don't blame anyone for saying it because I'm sure I would think the same thing and in that sense, I'm not surprised. I used to read LetsRun, I know how people think, and I certainly know how it looks and how I would think if I didn't know her and I can't blame anyone for that. I really do strongly believe in her and I absolutely believe in the team and Jerry and their integrity. I just find it very, very hard to think about. I think that if something like that were happen to me, I would honestly be suicidal.
I think one of the things that I carried with me when I was really struggling with running is that idea – which seems pretty naive, I guess – that the choices, in terms of how I carry myself and doing things the right way, that at least, would last. That people would know that. And I guess her whole situation has made me think that's all extremely tenuous and you actually don't control what anyone thinks about you. Obviously, you can't control whether people think you're good or not, but also if you're honest or anything like that. 
Part of the problem too is I've read the internet too much. I know how people think and argue and I can't even tell them that they're wrong all the time. I can't be like, "Sometimes you're right and sometimes you're wrong and this time I think you're wrong." That's not convincing. You want totalizing answers. And I know that I've heard stuff from behind the scenes from some people in power who I think have a lot of legitimacy that would have privy information that they think that she is innocent and I wish that some of those people would speak more loudly. But it's not for me to say.
I can't blame anyone for thinking what they think. The world kind of sucks sometimes so I'm not going to tell you that it's all roses and rainbows. It just makes me extremely, extremely sad.
So what are you doing now? What's your new job?
I work at an investment company here in town as an analyst. So I'm 31 and have a 23-year-old's job, I guess.
Is that a source of amusement among any of your coworkers or yourself?
It's a source of amusement for me. I don't know if they think it's funny or not. But my boss, who is much higher up than me, I believe I am, in fact, older than him. But I think it's fun. It's a new challenge and it's something I've really been enjoying and I find functionally interesting and difficult in its own way. And I like the people I work with. 
I guess that is something, if I can say here at the end, that I feel like I didn't say strongly enough earlier, which is: my career was what it was. In terms of was it satisfying from a competitive level? In the end, probably not what I hoped for at various times. But I have just been extremely, extremely fortunate in the people I've gotten to know and the people I've gotten to train with and the coaches I've had and the teammates I've had and the cultures I've been a part of. I can't really express how lucky I feel in that regard…And at the end of the day, I'm sure people have already forgotten whether I was any good or not but those are the things that I hope last and stay with me forever.
I wanted to ask a few quick-hitters, one-sentence answers. Favorite place to train?
My sentimental favorite is Mammoth.
Is that the same as your actual favorite?
Honestly, some of the roads in Mammoth are really sandy. It's really, really hard. But I have some of my best memories from there and it always makes me happy to go there.
Your greatest rival?
People mostly seem to remember the Lawi Lalang battles, so I guess I'll say Lawi. Although I feel I didn't really beat him enough for it to be a rivalry.
Favorite training partner?
Oh, that's a cruel question. Too many to count, but I will say that I probably went to Stanford at least in part because Elliott Heath hosted me on my visit and we lived together for like 10 years or something, so I'll say Elliott.
Favorite place you got to visit as a pro?
I wasn't a pro, but the trip I went on for World Junior [Cross] in 2009 when we went to Amman, Jordan was really cool. It was one of the only trips I've ever been on where we did a bunch of tourist stuff. We went to the Dead Sea and Petra and that was really cool.
The greatest workout you ever completed?
Sadly I think some of these were better than my races. I'll sound like a bitter old man when I say this, but I'll preface this by saying that this was before the supershoe. In 2014 in Sedona, we did a 1200 in 63's (per lap), something like that, and then 5 x 400 with a minute rest in 60-61 and then a 1600 in 4:10 and then 5 x 300 in 44 and then a 1200 in 3:05 and then some 200's in 27. The fact that I remember most of those splits tells you that I thought it was really good at the time and still do. I think after that workout, Jerry told me I was going to break 13:00 someday so that one sticks in the mind a little bit.
Your greatest race?
The race that I was most proud of was my junior year indoors [NCAA] 5k [in 2011]. I had been hurt and I had only trained for like five weeks and was the last guy to get into NCAAs and then trained for a couple more weeks. And I promised my coach I was going to score a point because I had never not scored at NCAAs. And it ended up being at the time what was the fastest 5k race (Leonard Korir set the then-meet record of 13:26.01).
I was the last guy to score, I ran 13:36 and I felt like I was pretty much all-out from the gun. And I like that story now because one of the guys I was battling at the end, where I was like, I know I'm better than this guy, I know I've got him, no matter if I haven't trained at all, was Moh Ahmed. And now he's amazing. So that one always kinds of sticks out.
This interview has been condensed and edited.