Day 8 Worlds: Michael Norman & Shaunae Miller-Uibo Are Golden As All Three American Women Make 800 Final 
By LetsRun.com
July 22, 2022
EUGENE, Ore. —  On a night at the 2022 World Athletics Championships when Sydney McLaughlin's 50.68 400-meter hurdles world record mesmerized track fans across the globe, there were two other finals on the track — the women's and men's 400s — as well as the women's javelin final. Plus the women's 800 semis were run. We recap them here quickly for you. 
In the women's 400, two-time Olympic champ Shaunae Miller-Uibo of the Bahamas filled in a huge hole on her CV as she won her first world title in dominant fashion in a world-leading 49.11 as Marileidy Paulino of the Dominican Republic took silver (49.60) for the second year in a row. Barbados' Sada Williams took the bronze in a national record time of 49.75 (previous pb and NR of 50.11). *W400 Results 
Article continues below player
Like our coverage from Albuquerque?
In the men's 400, the US's Michael Norman came into the race as the sixth fastest man in history (43.45 pb) but he had never won a medal of any color individually on the global stage. Coming off the final turn, Norman had some work to do as Kirani James, the 2011 World and 2012 Olympic champ, had the lead but Norman ran him down and won in 44.29, with James second in 44.48 (his 6th medal) as Britain's Matthew Hudson-Smith took the bronze in 44.66. NCAA runner-up Champion Allison (44.77), who believe it or not is the 10th fastest man in history at 43.70, as well as world record holder Wayde Van Niekerk (44.97) also broke 45. *Men's 400 Results
In the women's javelin, Australia's Kelsey-Lee Barber dominated with a 66.91 third-round heave but there was a storybook ending in the sixth round for 36-year-old American Kara Winger. Winger is retiring at the end of the year and this was her sixth and final Worlds, and her 10th global championship as she's also a four-time Olympian. In her previous nine global champs, she'd only made the final twice and had never medalled (8th in 2015, 5th in 2019). Heading into the final round, she was in 5th but she moved up to second thanks to her 64.05 final throw, becoming the first American woman to ever medal in the event at Worlds. 64.05 is the best throw she's ever done at a global championship and it came in her last throw at a global championship. That throw held up for silver as Japan's Haruka Kitaguchi took bronze in 63.27. *Women's Javelin Results
In the men's and women's 4 x 100s, Team USA didn't drop the stick in either race and put up the best time in both races as they both ran their the teams that they may keep for the final. The men's team of Christian Coleman, Noah Lyles, Elijah Hall Thompson, and Marvin Bracy ran 37.87 – 0.22 better than France. For the women, the US women also ran a stacked team of Melissa Jefferson, Aleia Hobbs, Jenna Prandini and Twanisha Terry and they dominated as their 41.56 was 0.43 better than Great Britain's 41.99. The Jamaicans should significantly upgrade their women's team for Saturday's final, however. *Men's 4 x 100 results *Women's results
Women's 800: A terrific final is set
When the women's 800 started yesterday, we thought there were five women who could conceivably medal – Olympic champ Athing Mu, World Indoor champ Ajee' Wilson, Olympic silver medalist Keely Hodgkinson, Kenyan champ Mary Moraa, and Olympic bronze medalist Raevyn Rogers. All five of those women advanced to Sunday's final. Plus we have picked up another medal contender in Ethiopia's Diribe Welteji, last year's World U20 silver medalist at 1500, who has looked very impressive through the rounds in Eugene. Welteji, who also has run 3:59.19 for 1500 this year, had the fastest qualifying time in Thursday's prelims (1:58.83) and ran a personal best of 1:58.16 in the semis on Friday to qualify for her first global final.
All advanced automatically except for Rogers, who tried her patented come-from-behind kick in the home straight but could not run down Hodgkinson and Jamaica's Natoya Goule to earn the second auto spot. She had to sit through heat 3 to ensure her 1:58.77 held up as a time qualifier. *800 Semi Results
Quick Take Analysis For All Events

Quick Take: There is something to be said for showing up. Michael Norman wins despite not being at his best / Kara Winger wins silver with a mark that wouldn't have medalled at a Worlds unless you go back all the way to 2003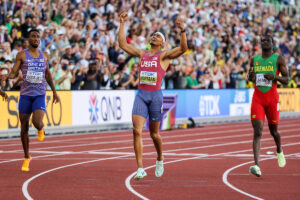 It's great that Michael Norman has a world title. Only 7 men in world history have run 43.50 or better (Michael Norman's pb is 43.45) and before tonight all of the other men had won a global gold with five of the six being Olympic champions – Wayde van Niekerk, Michael Johnson, Jeremy Wariner, Steven Gardiner and Quincy Watts – and the 6th being a three-time world champ (Butch Reynolds).
Prior to tonight Norman had zero global medals of any color.
Now he is golden but it's certainly surprising that 44.29 won tonight. The reality is Norman ran nearly the same time in Tokyo  last year — 44.31 — and finished fifth. At four of the last five global championships, 44.29 doesn't even medal. You have to go all the way back to 2011 to find a global final won with a slower time (Kirani James won in 2011 in 44.60). Heck, 44.29 would have finished 4th at USAs this year. 
There is a lot to be said in life in just showing up. Sometimes others don't show up or they do show up and aren't at their peak. 
Below you will see the winning times of the global finals dating to 2011 and where 44.29 would have placed Norman.
| | | |
| --- | --- | --- |
| | Winning Time  | Place for 44.29 |
| 2022 | 44.41 | 1st |
| 2021 | 43.85 | 5th |
| 2019 | 43.48 | 4th |
| 2017 | 43.96  | 2nd |
| 2016 | 43.03 WR | 6th |
| 2015 | 43.48 | 5th |
| 2013 | 43.74 | 2nd |
| 2012 | 43.94 | 2nd |
| 2011 | 44.60 | 1st |
As for Winger, she was great on her final throw but 64.05 normally doesn't medal, let alone win the silver. You have to go all the way back to 2003 to find a time when 64.05 would medal.
Quick Take: This women's 800 should be a competitive final, but Athing Mu remains the clear favorite 
Mu had the fastest time tonight (1:58.16) and yet she did not look anywhere close to all-out. And considering what she did last year, she is the only woman in this field we could envision running away from everyone else in the final in a blowout. That doesn't mean it will happen – Wilson ran her very close at USAs – but Mu easily has the highest ceiling of anyone in this final and has looked amazing (though not everyone on the LRC messageboard agrees). Behind her, the medals should be tightly contested. 
We're leading towards picking Hodgkinson for a repeat silver but that is by no means guaranteed and as virtually everyone else in the field could medal. To be honest, we see the most likely medals to be Diribe Welteji, Ajee Wilson, and Mary Moraa in that order but are you really going to discount Raevyn Rogers at Hayward Field where her picture is on the tower? 
There is only one woman in the field we feel confident in saying won't medal (barring a fall that wipes out a lot of people) – -Slovenia's Anita Horvat. 
But she's a cool story as she started the year with a 2:03.29 pb. She started Worlds with a 2:00.31 pb but ran 1:59.60 to squeak into the final.
Horvat has run a little of everything in her career. Tilastopaja lists PRs at 60 (7.72), 100 (11.79), 200 (23.47), 300 (37.00), 400 (51.22), 400h (59.72), 600 (1:28:03), and the steeplechase (12:18.46) in addition to the 800. After bombing out in the first round of the 400 in 2017, 2019, and 2021 she's moved up the 800 and made her first final at age 25. 
Quick Take: How much more does Ajee' Wilson have in the tank?
If Ajee' Wilson is to take down Athing Mu in the World Championship final, it will require a monumental effort. The good news for Wilson is that she has already summoned two monster efforts in her two biggest races of 2022 so far.
Indoors, Mu won all three of her 800's going into World Indoors but never ran faster than 2:01. Then in the final in Belgrade, she ran 1:59.09 and crushed everyone over the final lap.
Outdoors, she won a few races in slow times and ran 1:58.06 for 2nd at Pre but ran by far her best race of the season at USAs, where she ran 1:57.23 and almost beat Mu. In Eugene this week, she hasn't done anything amazing but also hasn't been in serious danger of missing out on qualification. You get the sense she is holding something in reserve, but how much?
Well it's very possible Wilson is fitter now than she was at USAs a month ago. Wilson said today she "definitely wasn't in my best form going into USAs," noting she had been hampered by a foot issue leading into the meet. Now, Wilson says, "everything is cool" and she has faith that coach Derek Thompson, under whom she has won two medals outdoors and three indoors, has peaked her correctly. We'll find out on Sunday.
Athing Mu talks after making the final
Raevyn Rogers talks in Eugene
Mary Moraa talks after semis of 2022 Worlds
Kara Winger talks after winning silver
Wilson has suffered two ACL tears and has undergone shoulder surgery in her career but put it together with a hugely clutch throw to win a historic medal in her final Worlds.