Gary Martin & Connor Burns Make History as Two High School Boys Go Sub-4 in the Same Race For First Time Ever
By LetsRun.com
June 2, 2022
History was made Thursday night at the 2022 HOKA Festival of Miles in St. Louis.
For the first time ever, two US high schoolers went sub-4:00 in the mile in the same race.
Article continues below player
For the first time ever, three different US high schoolers have broken 4:00 in the same year.
And for the first time since Jim Ryun in 1964, a high school junior went sub-4 as Southern Boone (Mo.) High School's Connor Burns ran 3:58.83 to become the 15th US high schooler in the sub-4 club. Burns finished 5th, one spot behind high school senior Gary Martin who lowered his pb to 3:57.89 in 4th, in the race won by pro Paul Ryan in 3:55.95.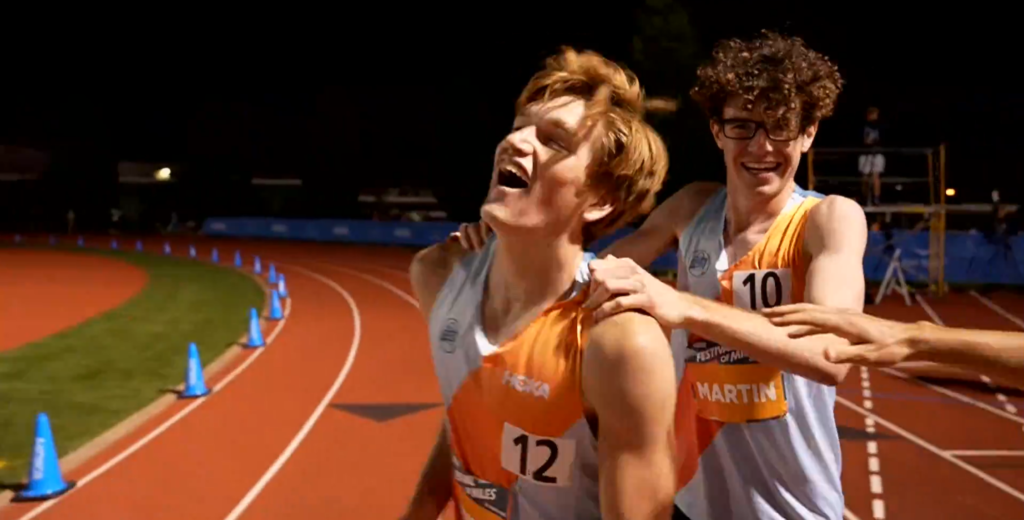 Martin, who shot to national prominence on May 14 when he ran 3:57.98 to join Ryun as only the second US high schooler to break 4:00 in a non-rabbitted high school race, played a prominent role in tonight's race as he took over the lead at 1km when the rabbit dropped out.  Martin would lead until just before the final turn when Australian pro Jack Antsey would go by, soon followed by pros Paul Ryan and Caleb Webb. Ryan would seize the lead heading into the homestretch and power away to the win in 3:55.95 thanks to a 55.98 final lap. While Antsey and Webb would take the next two spots, Martin and Burns were chasing history and the clock behind them.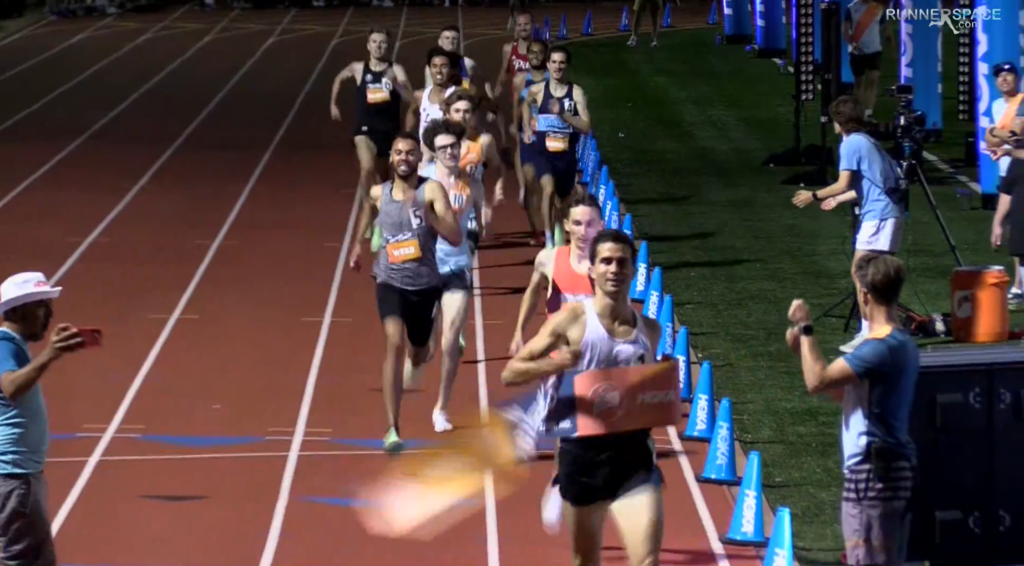 Martin improved his pb to 3:57.89. A few steps behind, the Missouri high school junior Burns was the biggest surprise of the night. Just five days after finishing second in the 1600 at the Missouri Class 3 state meet in 4:06.49, Burns closed in 58.22 for his last lap to run an enormous personal best of 3:58.83 (Burns' previous pb was the 4:02.96 he ran indoors at Iowa State back on February 12). Martin remains #6 on the all-time US high school list, while Burns moves up to #7. The third high schooler to break 4:00 this year, Newbury Park's Colin Sahlman who ran 3:56.24 at Pre on Saturday, is #3.
Only once before had a US high school junior gone sub-4 in the mile: June 5, 1964, when Jim Ryun ran 3:59.0 to become the first high schooler ever to go sub-4. 
Hard to believe it took 58 years for someone else to do it, but tonight was a night for records.
Mile Results
PL
Athlete
Team
Time
Splits / Cumulative Time
1
RYAN, Paul
Golden Coast
3:55.95
59.52 59.64 1:00.82 55.98 (59.52) (1:59.16) (2:59.97) (3:55.95)
2
ANTSEY, Jack
Dark Sky Distance
3:56.87
59.31 59.70 1:00.74 57.14 (59.31) (1:59.00) (2:59.74) (3:56.87)
3
WEBB, Caleb
Unattached
3:57.54
59.71 59.76 1:00.76 57.34 (59.71) (1:59.46) (3:00.21) (3:57.54)
4
MARTIN, Gary
Archbishop Wood High
3:57.89
58.26 1:00.20 1:01.09 58.36 (58.26) (1:58.45) (2:59.54) (3:57.89)
5
BURNS, Connor
Southern Boone HS
3:58.83
1:00.35 59.69 1:00.59 58.22 (1:00.35) (2:00.03) (3:00.62) (3:58.83)
6
CLAYTON, Jason
Loyola Chicago
3:59.53
59.17 1:00.22 1:01.32 58.83 (59.17) (1:59.39) (3:00.71) (3:59.53)
7
MAKEPEACE, Euan
Big River Running
3:59.92
1:00.12 59.73 1:00.61 59.47 (1:00.12) (1:59.85) (3:00.46) (3:59.92)
8
KIPTOO, Wesley
HOKA NAZ Elite
4:00.25
58.57 1:00.31 1:01.22 1:00.17 (58.57) (1:58.87) (3:00.09) (4:00.25)
9
DALQUIST, Austen
Roots Running
4:00.26
59.78 1:00.16 1:01.04 59.30 (59.78) (1:59.93) (3:00.97) (4:00.26)
10
MANN, Jordan
Ocean State Athletic
4:00.63
1:00.00 59.62 1:00.80 1:00.22 (1:00.00) (1:59.62) (3:00.41) (4:00.63)
11
OGAILIN, Oisin
Wyoming
4:00.75
59.86 59.80 1:01.00 1:00.09 (59.86) (1:59.66) (3:00.66) (4:00.75)
12
SOUTHARD, Connar
Pitt State
4:01.66
1:00.58 1:00.20 1:01.25 59.64 (1:00.58) (2:00.77) (3:02.02) (4:01.66)
13
ACKLEY, Daelen
Eldorado Springs HS
4:11.10
1:00.90 1:00.97 1:02.54 1:06.70 (1:00.90) (2:01.87) (3:04.41) (4:11.10)
Quick Take: Who is Connor Burns?
Gary Martin got a lot of attention when he went sub-4 and was a guest on the LetsRun.com Track Talk Podcast (we've got highlights and the full podcast here), but Connor Burns was relatively unknown before tonight despite being very good.
Burns didn't really get to compete in his first year in high school as he was a freshman in the spring of 2020 when most high school sports were cancelled due to COVID (though he did run 4:44 for 1600 in July 2020). He first got attention on LetsRun last year when he ran 4:10 in the mile as a sophomore (See Connor MF Burns). He lowered that to 4:02 in February, so the sub-4 obviously was a possibility, but this is a guy who got beat at his state meet last week in the 1600 (granted it was the day after he ran 8:48 in the 3200). Now he's the fastest high school junior ever in the mile.
Burns' dad, Marc, was the longtime cross country coach at the University of Missouri until 2021 where he coached future Olympian Karissa Schweizer among others. Marc then left to take a job with Boost Treadmills.
QT: Props to Gary Martin for Pushing Pace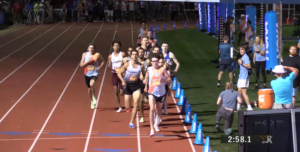 Despite there being some pros in this race, it was Martin who kept the pace somewhat honest when the rabbit droppe out. That shouldn't be the job of a high schooler 🙂
Race replay here. Full results with splits here.
Gary Martin (3:57.89) welcomes Connor Burns (3:58.83) to sub-4 HS club! #classact https://t.co/y0qV5q0WKA pic.twitter.com/0NXMceS8pC

— LetsRun.com (@letsrundotcom) June 3, 2022
Talk about the race and Burns' feat on our world-famous fan forum/messageboard. Did you know we have a HS-only forum?