Gary Martin Breaks Jim Ryun's 57-Year-Old Record For Fastest Mile In A US High School Race
by Robert Johnson
May 14, 2022
Earlier today, Pennsylvania high schooler Gary Martin, a senior at Archbishop Wood High School, became a legend by breaking the four-minute mile barrier, running 3:57.98 at his conference meet.
Yes, sub-4 high school miles have become more common recently. While Martin is the 14th US high schooler to break four in the mile, the feat has been accomplished 9 times in the last 7 years.
The 14 US Sub-4 HS Milers
3:53.43 Alan Webb, 2001
3:55.3 Jim Ryun, 1965
3:57.66i Hobbs Kessler, 2021
3:57.81i Drew Hunter, 2016
3:57.98 Gary Martin, 2022
3:58:81i Colin Sahlman, 2022
3:59.30 Reed Brown, 2017
3:59.38 Matthew Maton, 2015
3:59.38 Grant Fisher, 2015
3:59.4 Tim Danielson, 1966
3:59.53 Michael Slagowski, 2016
3:59.54 Leo Daschbach, 2020
3:59.71 Lukas Verzbicas, 2011
3:59.8 Marty Liquori, 1967
But Martin's sub-4 today wasn't your run-of-the-mill high school sub-4. Martin's sub-4 came in a high school-only race and without the help of a rabbit. Only five times has a high school athlete broken 4 in a high school-only competition and only one other time before today had it happened without the help of a rabbit. And Martin's time is the fastest of the five as he eclipsed the 3:58.3 that Jim Ryun ran at the 1965 Kansas State meet – 56 years and 364 days ago (May 15, 1965) – without the help of a rabbit and on a cinder track in 1965 spikes.
The 5 US High School Sub-4 Milers In HS-Only Competitions
Article continues below player.
Gary Martin 3:57.98 2022
Jim Ryun 3:58.3 1965
Lukas Verzbicas 3:59.71 2011*
Michael Slagowski 3:59.53 2016*
Leo Daschbach 3:59.54 2020*
*Aided by a rabbit.
Martin, who is a UVA commit, had come close to breaking 4:00 twice earlier this year in high school-only races. On April 13th, he ran 4:00.95. Then at Penn Relays on April 19th, he ran 4:01.05.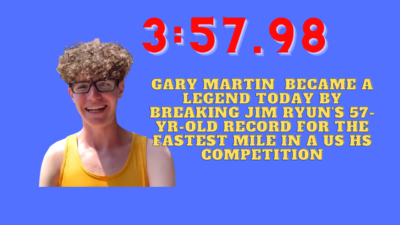 Talk about Martin's race on our world-famous fan forum / message board. Did you know we have a HS-only board?