2022 Doha DL Recap: Niyonsaba Tops Kipyegon, Lyles Beats Kerley, & Brazier Fizzles
By Jonathan Gault and Robert Johnson
May 13, 2022
Want a podcast or video recap of the Doha meet? Join our Supporters Club today.
Winds couldn't stop some of the world's best athletes from putting on a show on Opening Day of the 2022 Diamond League season in Doha as a number of close finishes on the track and a thrilling men's javelin competition highlighted a packed two hours of action. Noah Lyles sent a message by edging Fred Kerley, 19.72 to 19.75 (+2.1) to win the men's 200 while Olympic bronze medalist Alison dos Santos turned the tables on silver medalist Rai Benjamin to win the 400 hurdles in a meet-record 47.24.
Article continues below player
Like our coverage from Albuquerque?
In the distance events, Francine Niyonsaba held off Faith Kipyegon to win a terrific women's 3000 and Soufiane El Bakkali outleaned Lamecha Girma to win the men's steeple by a hundredth of a second. Abel Kipsang (1500) and Noah Kibet (800) also grabbed wins on a day where times were slowed due to 20+ mph winds. American world champion Donavan Brazier, in his return to the 800, struggled to contend and could only mange sixth.
That wind helped the javelin, however, as world champ Anderson Peters of Jamaica won a dramatic competition by unleashing a 93.07m bomb in round six to move to #5 on the world all-time list.
Full recap and analysis below.
Women's 3000: Francine Niyonsaba (XY) Outkicks Faith Kipyegon (XX)
Embed from Getty Images
Intersex athlete Francine Niyonsaba got the best of double Olympic 1500 champion Faith Kipyegon in the women's 3000, which she won in 8:37.70 to Kipyegon's 8:38.05 as Australian Jessica Hull was fourth in 8:40.97.
There were no rabbits in this one and Niyonsaba was up front pretty much from start to finish although nothing really happened until the last lap. The first 1k was 2:56, the 2nd 1k was 2:57 and things barely picked up on the penultimate lap (69.11).
The last lap was 59.9 and the final 200 was super fast (27.5) thanks in part to the runners having a tailwind during the last 100. The final 200 was great as Niyonsaba and Kipyegon were side by side for probably 150 meters of it before Niyonsaba pulled away on the inside.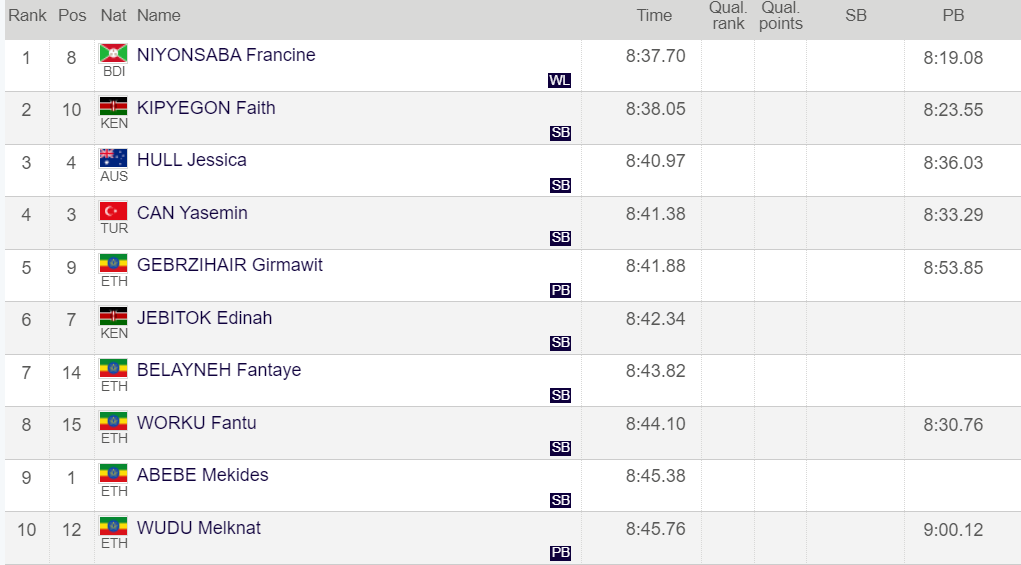 Quick Take: Niyonsaba picks up where she left off in 2021
Niyonsaba closed out 2021 with four straight Diamond League victories and looked utterly dominant in those races. Tonight she got a much stiffer challenge but in the end she dispatched one of women's running's all-time legends, Faith Kipyegon. And Niyonsaba – who led almost all of the race into the wind – was still able to outkick Kipyegon, the greatest miler in history. It's hard to see anyone not named Sifan Hassan challenging her in the 5000m this year.
One of the biggest stories in the world in 2022 is certainly what role, if any, athletes with XY chromosomes and male levels of testosterone should have in women's competitions.
Quick Take: Did Kipyegon go too early?
Kipyegon was boxed in for much of the race but finally found room to run on the back straight as she and Niyonsaba began to separate from the field. Kipyegon tried to get the lead entering the final turn but was not able to and wound up running the entire turn on the outside of lane 1.
In retrospect, that was a mistake. In a race like this one, where the top two are clear of the field, there's no reason to run extra distance on the turn if you can't get around. Just wait until the home straight – 100 meters offers plenty of time to make the pass.
Men's 1500: Kipsang turns back Cheruiyot
Embed from Getty Images
Abel Kipsang continued his fine 2022 form by defeating four-time defending Diamond League champion Timothy Cheruiyot to win the men's 1500 in 3:35.70. No one in the field was interested in going with the pacers, leaving Kipsang as the de facto leader early. He was still in that position at 800 (1:55.7) and the bell, at which point he led Cheruiyot, fellow Kenyan Kamar Etiang, and World Indoors 4th placer Teddese Lemi of Ethiopia.
Kipsang, Cheruiyot, and Lemi began to separate down the back straight and by the final straight it was down to the two Kenyans, Kipsang leading and Cheruiyot finally moving out of his slipstream to make the pass. It didn't happen; Kipsang was simply too strong and won thanks to a 55.8 last lap. Lemi held on for third in 3:37.06 with Yomif Kejelcha taking an impressive fourth in 3:37.85. 
Aussie Stewart McSweyn, who had yet to finish a race in 2022 due to the effects of long COVID, was at the front early and did finish the race but is clearly still short of 100% as he was last in 3:48.67.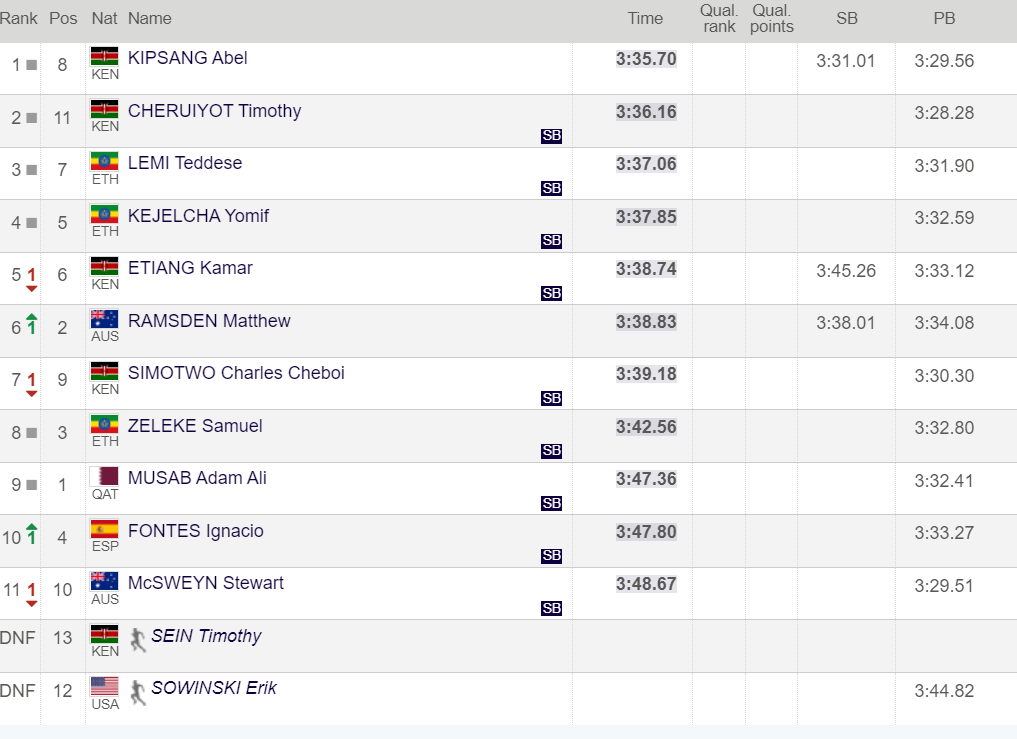 Quick Take: Impressive win for Kipsang, and Cheruiyot can't be too disappointed
Cheruiyot made the right tactical decision, waiting until the final 100 meters to launch his attack, but Kipsang, who just ran 3:31.01 at altitude in Nairobi on Saturday, is very tough to beat right now. The good news for Cheruiyot supporters is this was a much better showing than his 6th-place finish at the Kenyan championships two weeks ago – perhaps an indication that Cheruiyot wasn't going all-out in that race.
That said, the days of Cheruiyot showing up and winning every single Diamond League race appear to be over. It was a remarkable stretch of dominance while it lasted – 17 wins in 19 DL starts – but his rivals like Kipsang and Ingebrigtsen are too good now for victory to be a guarantee anymore.
Men's 800: Kibet impresses as Brazier struggles in return
Embed from Getty Images
18-year-old Noah Kibet of Kenya, the World Indoor silver medalist, made his Diamond League debut a great one as he won impressively in 1:49.08 in a race in which the wind wreaked havoc with the times. Meanwhile Donavan Brazier's return to the city of his world title in 2019 went horribly wrong as he was never in the race and finished an uncompetitive 6th in 1:50.58.
A combination of the high wind and the refusal of the field to follow pacer Erik Sowinski led to a very slow opening lap of 55.8, with Qatar's Musaeb Balla leading the way with a small gap over Kibet in second and Brazier lingering toward the back in sixth. Kibet made a push to the lead on the back straight and led around the final turn, with Canada's Marco Arop moving into second. Down the home straight, he gained separation and pulled away to earn the biggest win of his career to date.
Brazier, meanwhile, was a complete nonfactor. Boxed in sixth place with 200 to go, Brazier faded to last midway through the home straight, and while he was able to pass a couple of guys on the way in, he was never a threat to win and finished a well-beaten 6th.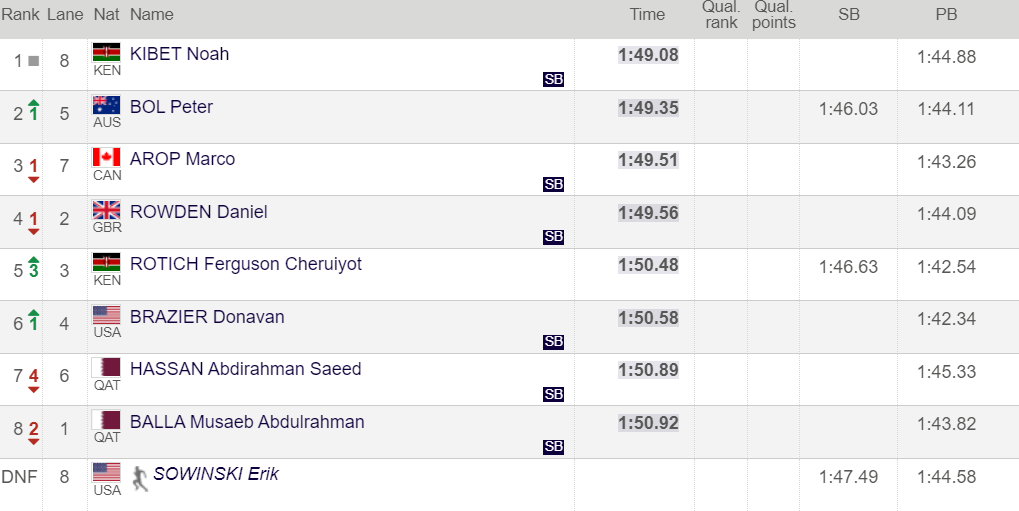 Quick Take: Kenya could have (another) 800m star on its hands
Kenya went 1-2 in last year's Olympic final with Emmanuel Korir and Ferguson Rotich (the fourth straight Olympic victory by a Kenyan man) and has even more talent on the way. Kibet, who only turned 18 on April 12, has already earned a bronze at World U20s, a silver at World Indoors, and a Diamond League victory. And he may not even be the best Kenyan teenager right now: Emmanuel Wanyonyi, who ran 1:43.76 to win World U20 gold last year, just won the Kip Keino Classic last weekend and is drawing "next Rudisha" comparisons.
Quick Take: Brazier and Ferguson Cheruiyot didn't have good tactics in this one
When a race is super tactical, you don't want to be in the back. Yet at 400 meters, the Olympic silver medallist Ferguson Cheruiyot was last (57 flat) and Donavan Brazier was just ahead of him. Even outside of his positioning, however, Brazier just didn't look good. We kept waiting for him to make any sort of move, and nothing came. It was as if he was stuck in third gear for the entire race.
Quick Take: This was the slowest Diamond League 800 in history
The combination of wind and the field's refusal to follow the pacemaker combined for a historically slow time. Before today, the slowest winning time in the history of the Diamond League was Nijel Amos' 1:46.77 in Birmingham in 2015. Kibet's 1:49.08 today was over two seconds slower than that.
Men's steeple: El Bakkali holds off Girma in a thriller
Embed from Getty Images
It took a while for this race to get going, but it was worth it as it produced the best finish of the entire meet with Olympic champ Soufiane El Bakkali of Morocco holding off Olympic silver medalist Lamecha Girma of Ethiopia, 8:09.66 to 8:09.67.
Not much happened until the final kilometer of this one, which began with the pacer stepping off and a group of four men hitting 2k in 5:27.5: El Bakkali, Girma, American Hillary Bor, and leader Abraham Kibiwot of Kenya. Bor took the lead at the penultimate water jump, but it would prove short-lived as El Bakkali and Girma took off at the bell and quickly showed they are on an entirely different level right now. El Bakkali had the lead and Girma made multiple attempts to pass, first as they entered the final turn and again heading into the final water jump. He even managed to edge his chest ahead but could never get the inside line and had to continue to attack from the outside. El Bakkali appeared to have finally cracked as he stuttered entering the final barrier, but he would not give up and held off Girma by the narrowest of margins thanks to a 57.3 final lap. For Girma, it was a cruel replica of his last steeple in Doha: the 2019 World Championship final, which he also lost by .01 to Conseslus Kipruto.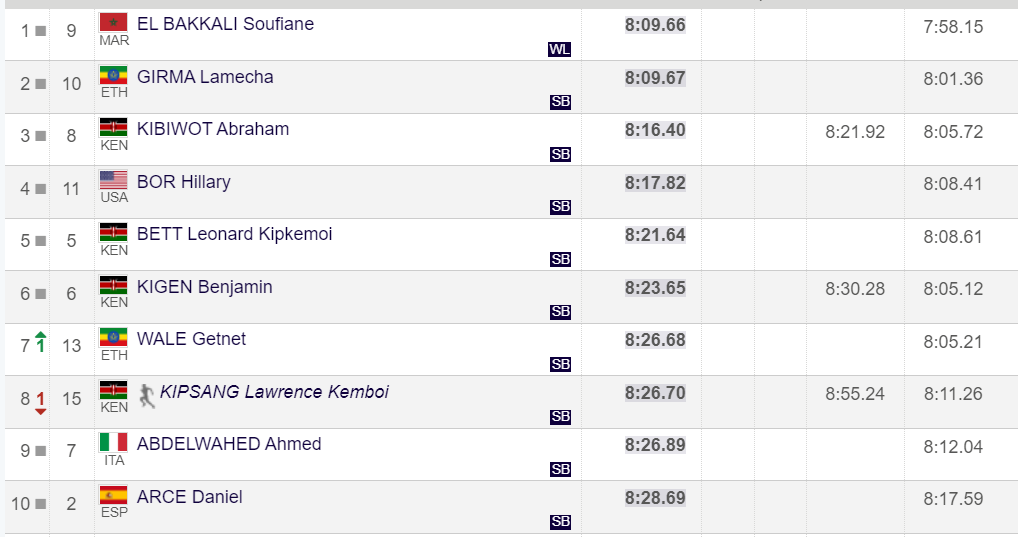 Quick Take: This was a good start for an event coming off a down year in 2021
Last year, the steeple world leader was Benjamin Kigen at just 8:07.12. It was hardly a banner year. Considering the wind, tonight's winning time of 8:09.66 was likely worth more than that, and it produced a stellar finish to boot. More of that, please.
Quick Take: A strong steeple opener for Hillary Bor
Facing a field that featured the top five from last year's Olympic final, American Hillary Bor had the lead at the bell and finished 4th overall in 8:17.82. That's a very strong steeple opener, though not unfamiliar territory for Bor, who almost won the DL opener in Doha in 2019 and did win the season opener in Gateshead last year. Problem is, he fizzled late and didn't make the Olympic final in Tokyo. Can he maintain his form and make something happen at a home Worlds in Eugene in July?
Sprints
Men's 200: Noah Lyles makes a statement
This was billed as one of the best events of the meet and it lived up to the hype as Noah Lyles edged Fred Kerley, 19.72 to 19.75, after a terrific home-straight duel. Lyles got a great start in lane 6 and led off the turn with Kerley on his inside just behind. Kerley was expecting to run down Lyles as he did Michael Norman at Mt. SAC last month, but it never happened as Lyles maintained his speed well and held on to win in narrowly wind-aided fashion (+2.1).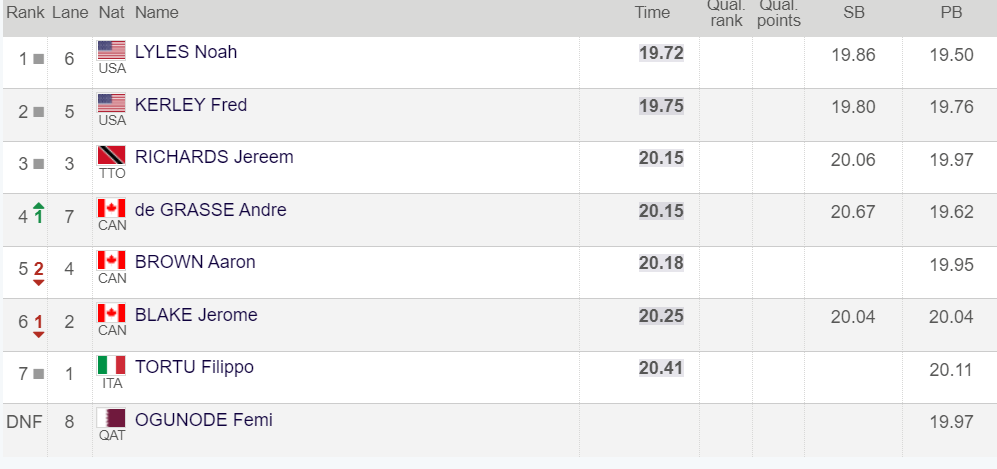 Quick Take: Noah Lyles looks like his old self
Lyles was open in discussing his mental health struggles during the pandemic year of 2020, and didn't find his form until the very end of 2021 when he ran 19.52 at the Pre Classic. He looked better to start 2022, running a couple of 60m pbs indoors, and his 19.72 today was the fastest he's ever run this early in the season (granted, the wind was 0.1 over the legal limit). Lyles looks back to his best.
That's the good news for Lyles fans. The bad news is Lyles may have to be better than he was before to win gold this year in Eugene as Erriyon Knighton has already run faster this year (19.49) than Lyles ever has.
Men's 400 hurdles: dos Santos beats Benjamin for the first time
Two of the three fastest men in history put on a show in this one as Olympic bronze medalist Alison dos Santos took down Olympic silver medalist Rai Benjamin to win, 47.24 to 47.49. Benjamin led entering the final straight but dos Santos motored past over hurdle 10 and Benjamin could not respond. The win was the first for the 21-year-old dos Santos over Benjamin in five attempts and made one of the most exciting events on the circuit even more intriguing. The fact that dos Santos and Benjamin both broke 47.50 despite the windy conditions suggests both will be capable of dipping under the 47 barrier again soon.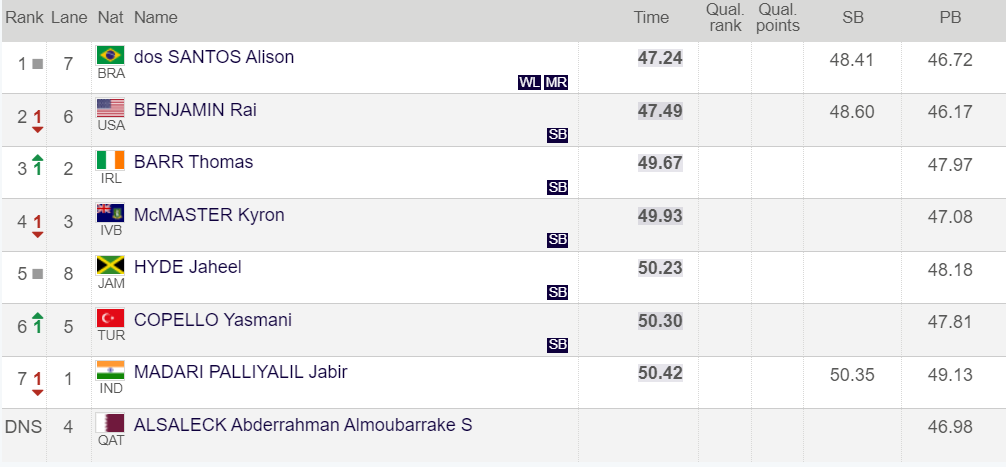 Women's 400: Paulino upsets Miller-Uibo
The very first Diamond League race of the season produced a surprise as Olympic silver medalist Marileidy Paulino of the Dominican Republic took down Olympic champ Shaunae Miller-Uibo of the Bahamas. Miller-Uibo got out very strongly, quickly making up the stagger on the back straight. But that proved ill-advised in windy conditions as she tied up on the final turn and by the top of the home straight, Paulino had already passed her. Paulino would run unchallenged over the final 100 to win in 51.20. Miller-Uibo would fade to 3rd in 51.84 – her slowest time in a final since June 2016 and her first defeat in a 400 since the 2019 World Championship final, also in Doha.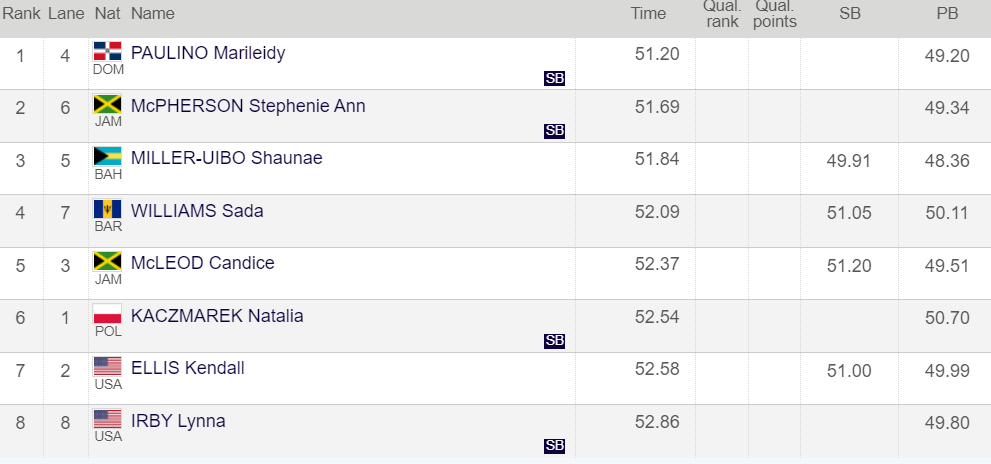 Women's 100 hurdles: Harrison wins a tight one
Olympic silver medallist and world record holder Keni Harrison hit the first and last hurdles but still got a narrow victory in the women's 100 hurdles in 12.43 (+3.8) as Olympic 4th placer Tobi Amusan of Nigeria, the 2017 NCAA champ for UTEP, tied for 2nd in 12.44, the same time given to Brittany Anderson of Jamaica.
The 21-year-old Anderson actually had the lead coming off the last hurdle and thought she won when she crossed the line. She even briefly held the victory flowers, which she eventually relinquished. Olympic bronze medallist Megan Tapper of Jamaican was last in 12.92.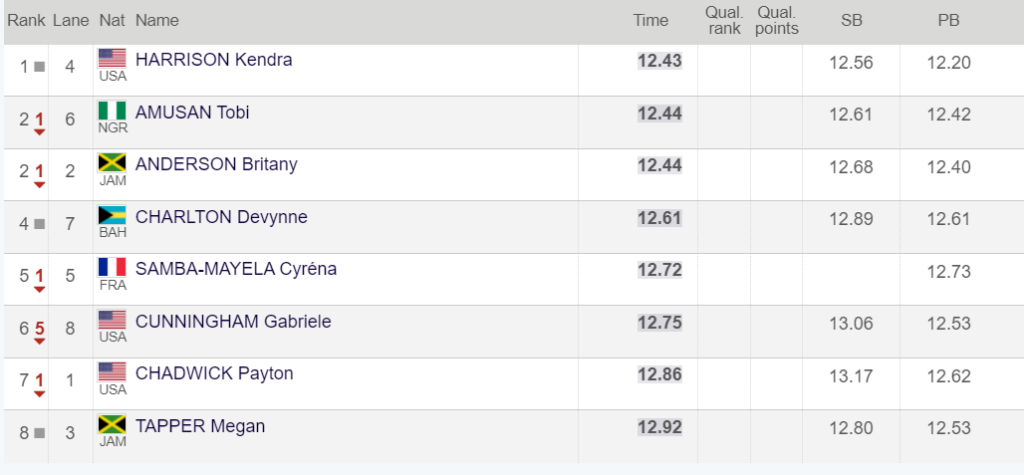 Women's 200: Thomas beats Jackson and Asher-Smith
200m Olympic bronze medallist Gabby Thomas held off Olympic 100 and 400 bronze medallist Shericka Jackson of Jamaica as Thomas equaled the meet record at 21.98 (+1.3). Jackson ran 22.07 with 2019 world champion Dina Asher-Smith third 22.37.
Asher-Smith had a nice start but Thomas had the lead after the first 100 and never gave it up.
Quick Take: This race was similar to the men's 200 in the sense that the 200 specialist had the lead coming off the turn and held off the 100/200/400 runner to get the win.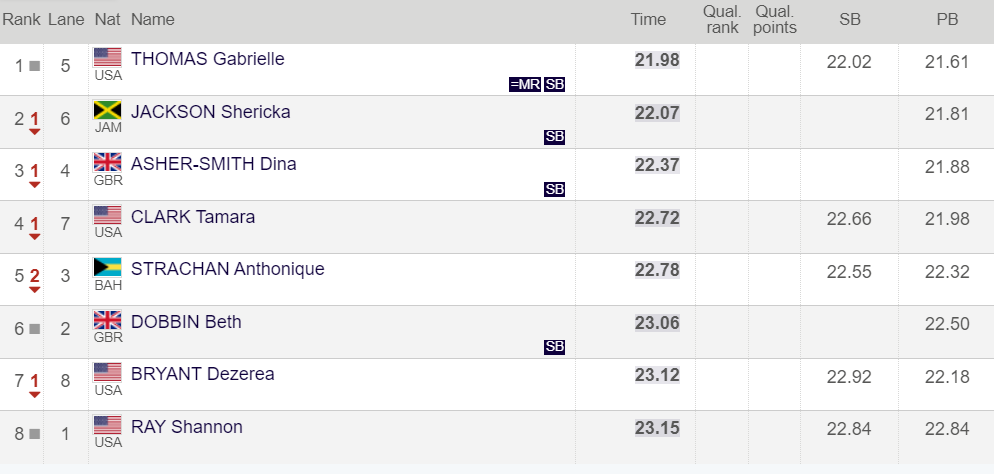 Field Events
Note: The men's pole vault was postponed due to high winds and will be held indoors at Aspire Academy on Saturday.
Men's javelin: Peters PRs three times to win an epic competition
The winds made for great conditions for javelin throwing and the result was an incredible head-to-head battle between world champ Anderson Peters of Grenada and Olympic silver medalist Jakub Vadlejch of the Czech Republic. Peters took the lead with an 88.96 pb in round 1 only for Vadlejch to respond with 89.87 in round four. Peters took the lead back with another pb on his next throw, 90.19, but Vadlejch again answered with a pb of his own of 90.88 in round five.
Unfortunately for Vadlejch, the new Final Three format means the person leading the event goes first in round six (only the top three get a sixth attempt, though all previous marks still count toward determining the winner), so he had little time to recover between throws and could not improve his mark. Peters could, unleashing a monster 93.07 throw for his third pb of the night, moving to #5 on the world all-time list. 

Women's Shot: An American sweep that doesn't include Raven Saunders
Americans swept the top three spots in the women's shot as world indoor silver medallist Chase Ealey won with a third-round throw of 19.51m. Ealey, who was 5th at the Olympic Trials last year, also had three other throws over 19.00. The only other thrower over 19.00 was Maggie Ewen (19.32) as Jessica Ramsey was third (18.99).
Olympic silver medallist Raven Saunders was also in the field, which was the first using the new Diamond League format where all competitors get five throws (and the top 3 get a sixth). She recorded no mark in her first four throws (she also recorded no mark in three throws in her only other competition of the year) before recording an 18.71 in round 5 to finish 6th.

Men's high jump: World Indoor champ Sanghyeok Woo takes down the Olympic champs
South Korea's Sanghyeok Woo almost bombed out early, missing his first two attempts at 2.24m, but he managed to respond and was the only man to clear 2.33m for the win. Olympic champ Mutaz Essa Barshim of Qatar finished second in front of the home fans with a best clearance of 2.30m.

Women's triple jump: Ricketts takes it thanks to monster tailwind
There were some enormous wind readings in the women's triple jump and one of the biggest came on Shanieka Ricketts' third-round attempt as she went 14.82 meters with a +6.5 wind (second-biggest of any attempt in the competition). That mark held up to give the World Championship silver medalist the victory.