Kenenisa Bekele Withdraws, But Did the 2022 Boston Marathon Field Just Get Even Better? Plus Sara Hall Is Out
By Jonathan Gault
April 5, 2022
We're less than two weeks from the 2022 Boston Marathon on April 18, which means things are getting serious. It also means decision time for athletes nursing injuries and other issues, and on Tuesday the B.A.A. announced some significant changes to the elite fields that were first released in January.
The biggest news is that Ethiopia's Kenenisa Bekele, the greatest distance runner in history, has withdrawn from what would have been his Boston Marathon debut. Bekele, 39, had gone two years without racing a marathon after running his personal best of 2:01:41 in Berlin in September 2019 but then raced two marathons in six weeks last fall, running 2:06:47 to finish 3rd in Berlin and 2:12:52 to finish 6th in New York. Kenya's Titus Ekiru, the 2021 world leader thanks to his 2:02:57 win in Milan, also withdrew from the men's race.
Article continues below player
What's crazy is despite Bekele and Ekiru's departure, the men's race may have actually gotten stronger in an absolute sense (albeit not in terms of excitement) as they are replacing them with three impressive additions. The second-fastest marathoner in history (Bekele) is no longer running Boston, but the third-fastest marathoner in history will be there as fellow Ethiopian Birhanu Legese, the two-time Tokyo champ (2:02:48 pb), has been added to the field after scratching from last month's Tokyo Marathon. Reigning London Marathon champ Sisay Lemma (2:03:36 pb) and 2019 Valencia champ Kinde Atanaw (2:03:51 pb) are also new additions to the Boston field.
On the women's side, Sara Hall, the third-fastest American marathoner in history (2:20:32 pb) has scratched. Hall began 2022 by setting the American half marathon record in Houston on January 16 (67:15), then announced an ambitious plan to race the Tokyo, Boston, and World Championship marathons all within the span of five months. But Hall injured her knee during a fall in training in the final stages of her Tokyo preparation and the issue has continued to bother her (Hall was 8th in Tokyo in 2:22:56 but then could only manage 70:54 for 12th at the NYC Half two weeks later on March 20).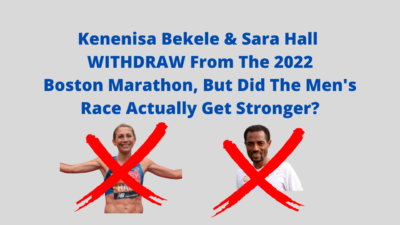 "I did everything I could to make it to the line in Tokyo and was able to get away with racing there due to the flat course," Hall wrote on Instagram. "But the course in Boston puts me at great risk of a major setback. It's improving, but how my knee responds to the downhills in training and at NYC Half has confirmed this."
Fellow American Kellyn Taylor (2:24:29 pb) also withdrew, citing "mechanical issues" including a torn plantar fascia.
The Boston women's race also received a triple blow from Ethiopia. Initially, the entire Ethiopian squad from the 2020 Olympic marathon was scheduled to run in Boston: Roza Dereje (2:18:30 pb, 4th at the Olympics), Tigist Girma (2:19:52 pb), and Zeineba Yimer (2:19:28 pb). On Tuesday, the B.A.A. announced all three women had withdrawn.
The top women's addition is Ababel Yeshaneh, who finished 3rd in the NYC Marathon in November and is a former half marathon world record holder with a personal best of 64:31. Etagegn Woldu, who ran 2:20:16 to finish 2nd in Valencia in her debut in December, has also joined the field.
*Full updated elite field here
Quick Take: Is Kenenisa Bekele finished?
Last fall, many were curious why Bekele, notoriously inconsistent during his marathon career, would sign up for two marathons in the span of six weeks. At the time, Bekele's agent Jos Hermens said it was to cut down on the gap between the fall and spring marathon seasons and help keep Bekele focused (Bekele has not run a spring marathon since 2018).
"If he has to race in six months ahead, that's an eternity," Hermens said. "For him, it's helpful to have a goal short-term."
Surprisingly, Bekele finished both Berlin (3rd) and New York (6th) last fall and neither one was a disaster. But there was no short-term goal after New York as there are more than five months between New York and Boston and now we know Bekele won't be running Boston.
One has to wonder how much longer Bekele will continue racing marathons. While his third-place run in Berlin last fall (2:06:47 in warm conditions) was a decent run, Bekele is not running the marathon to be decent. He is running to be the best in the world, and he hasn't shown himself to be at that level since September 2019. If that is still his aim, he will have to take an honest assessment of himself and his future as his 40th birthday approaches in June.
Update: We've heard from Hermens. Here is his response when asked why Bekele withdrew from Boston: "Recovered from injury, but not enough time to prepare for good performance. Next race after New York, he wants to be top fit[ness] and show something special!"
Quick Take: The men's field is still easily the fastest in Boston history and now contains three of last fall's World Marathon Major champions
Bekele may be gone, but the men's race should still be one of the best in Boston's history as it features the reigning champions from Boston (Benson Kipruto), New York (Albert Korir), and London (Sisay Lemma). Even though those men have accomplished some significant things in the sport – London is the world's strongest marathon and Korir also won the World Marathon Majors series title last year – none of them are considered massive superstars in the sport. But if one of them can win Boston on April 18, that might change.
It won't be easy, though, as the Boston field also features 2019 champ Lawrence Cherono, 2:03:00 man Evans Chebet, and two-time New York champ Geoffrey Kamworor, who is the biggest star in the field now that Bekele is gone. Birhanu Legese also has big-time potential if he's on his game, though he has struggled to make it to marathon start lines recently as he didn't race the Ethiopian Olympic trials and withdrew from Tokyo last month.
With super shoes, times aren't what they used to be, but this year's Boston field is way faster than any of the previous five. This year, five sub-2:04 men will be in Boston. The previous five years at Boston featured just one sub-2:04 man.
| | | | | | |
| --- | --- | --- | --- | --- | --- |
| | Sub 204 | Sub 205 | Sub 206 | Sub 207 | Sub 208 |
| 2022 Boston | 5 | 8 | 11 | 13 | 15 |
| 2021 Boston | 0 | 3 | 8 | 11 | 11 |
| 2019 Boston | 0 | 5 | 6 | 12 | 15 |
| 2018 Boston | 0 | 3 | 6 | 9 | 10 |
| 2017 Boston | 1 | 5 | 7 | 9 | 10 |
| 2016 Boston | 0 | 6 | 9 | 11 | 12 |
Be a fan and talk about today's developments on our world famous fan forum / messageboard.
MB: BREAKING: Bekele (and Sara Hall) DNS 2022 Boston, Sisay Lemma + Birhanu Legese ADDED to Race
Full 2022 Elite Boston Fields
MEN
PERSONAL BEST
COUNTRY
Birhanu Legese
2:02:48 (Berlin, 2019)
Ethiopia
Evans Chebet
2:03:00 (Valencia, 2020)
Kenya
Lawrence Cherono
2:03:04 (Valencia, 2020)
Kenya
Sisay Lemma
2:03:36 (Berlin, 2019)
Ethiopia
Kinde Atanaw
2:03:51 (Valencia, 2019)
Ethiopia
Lemi Berhanu
2:04:33 (Dubai, 2016)
Ethiopia
Lelisa Desisa
2:04:45 (Dubai, 2013)
Ethiopia
Gabriel Geay
2:04:55 (Milan, 2021) NR
Tanzania
Benson Kipruto
2:05:13 (Toronto, 2019)
Kenya
Geoffrey Kamworor
2:05:23 (Valencia, 2021)
Kenya
Eric Kiptanui
2:05:47 (Apugnano, 2020)
Kenya
Bethwell Yegon
2:06:14 (Berlin, 2021)
Kenya
Geoffrey Kirui
2:06:27 (Amsterdam, 2016)
Kenya
Eyob Faniel
2:07:19 (Seville, 2020) NR
Italy
Yuki Kawauchi
2:07:27 (Otsu, 2021)
Japan
Albert Korir
2:08:03 (Ottawa, 2019)
Kenya
Amanuel Mesel
2:08:17 (Valencia, 2013)
Eritrea
Tsegay Tuemay
2:09:07 (Daegu, 2019)
Eritrea
Scott Fauble
2:09:09 (Boston, 2019)
USA
Colin Bennie
2:09:38 (Chandler, 2020)
USA
Trevor Hofbauer
2:09:51 (Toronto, 2019)
Canada
Jared Ward
2:09:25 (Boston, 2019)
USA
Ian Butler
2:09:45 (Chandler, 2020)
USA
Mick Iacofano
2:09:55 (Chandler, 2020)
USA
Jake Riley
2:10:02 (Atlanta, 2020)
USA
Jerrell Mock
2:10:37 (Chicago, 2019)
USA
Jemal Yimer
2:10:38 (Boston, 2021)
Ethiopia
Juan Luis Barrios
2:10:55 (Tokyo, 2018)
Mexico
Matt McDonald
2:11:10 (Chicago, 2019)
USA
Matt Llano
2:11:14 (Berlin, 2019)
USA
Elkanah Kibet
2:11:15 (New York City, 2021)
USA
CJ Albertson
2:11:18 (Chandler, 2020)
USA
Jonas Hampton
2:12:10 (Atlanta, 2020)
USA
Andrew Colley
2:12:15 (Duluth, 2019)
USA
Mike Sayenko
2:12:59 (Valencia, 2021)
USA
Jason Lynch
2:13:05 (Huntsville, 2021)
USA
Josh Izewski
2:13:16 (Sacramento, 2018)
USA
Nico Montanez
2:13:55 (Chicago, 2021)
USA
John Tello Zuniga
2:14:19 (Lima, 2021)
Colombia
Reed Fischer
2:14:41 (Chicago, 2021)
USA
Tyler Pence
2:15:06 (Moline, 2021)
USA
Daniel Ortiz Perez
2:15:39 (Valencia, 2020)
Mexico
Paul Hogan
2:15:51 (Boston, 2021)
USA
Markus Ploner^
2:19:43 (Milan, 2021)
Italy
Chip O'Hara^
2:21:20 (Phoenix, 2020)
USA
Gilles Rubio^
2:21:40 (Valencia, 2019)
France
Recio Alvarez^
2:25:17 (Berlin, 2021)
Dominican Republic
Sam Krieg^
2:25:59 (Chicago, 2019)
USA
Thomas Chapman^
2:26:02 (Sacramento, 2019)
USA
Joost De Raeymaeker^
2:26:10 (Berlin, 2019)
Belgium
Athletes with ^ next to their names are Masters (40+) athletes
BOSTON MARATHON WOMEN'S PROFESSIONAL OPEN DIVISION
WOMEN
PERSONAL BEST
COUNTRY
Peres Jepchirchir
2:17:16 (Valencia, 2020)
Kenya
Joyciline Jepkosgei
2:17:43 (London, 2021)
Kenya
Degitu Azimeraw
2:17:58 (London, 2021)
Ethiopia
Edna Kiplagat^
2:19:50 (London, 2012)
Kenya
Etagegn Woldu
2:20:16 (Valencia, 2021)
Ethiopia
Maurine Chepkemoi
2:20:18 (Amsterdam, 2021)
Kenya
Ababel Yeshaneh
2:20:51 (Chicago, 2019)
Ethiopia
Desiree Linden
2:22:38 (Boston, 2011)
USA
Viola Cheptoo
2:22:44 (New York City, 2021)
Kenya
Purity Changwony
2:22:46 (Ampugnano, 2021)
Kenya
Charlotte Purdue
2:23:26 (London, 2021)
Great Britain
Molly Seidel
2:24:42 (New York City, 2021)
USA
Malindi Elmore^
2:24:50 (Houston, 2020)
Canada
Mary Ngugi
2:25:20 (Boston, 2021)
Kenya
Monicah Ngige
2:25:32 (Boston, 2021)
Kenya
Natasha Wodak^
2:26:19 (Chandler, 2020)
Canada
Sara Vaughn
2:26:53 (Sacramento, 2021)
USA
Nell Rojas
2:27:12 (Boston, 2021)
USA
Stephanie Bruce
2:27:47 (Chicago, 2019)
USA
Dakotah Lindwurm
2:29:04 (Duluth, 2021)
USA
Angie Orjuela
2:29:12 (Valencia, 2020) NR
Colombia
Bria Wetsch
2:29:50 (Chandler, 2020)
USA
Maegan Krifchin
2:30:17 (Chicago, 2021)
USA
Elaina Tabb
2:30:33 (Boston, 2021)
USA
Lexie Thompson
2:30:37 (Philadelphia, 2021)
USA
Sydney Devore
2:32:39 (Pittsburgh, 2018)
USA
Kodi Kleven
2:32:45 (St. George, 2021)
Canada
Briana Boehmer^
2:33:20 (Sacramento, 2021)
USA
Kate Sanborn
2:33:37 (Houston, 2022)
USA
Caitlin Phillips
2:34:43 (Berlin, 2019)
USA
Kate Bazeley
2:36:43 (Chicago, 2021)
Canada
Kathy Derks
2:36:47 (Carmel, 2021)
USA
Maria Velez
2:37:04 (Valencia, 2021)
Mexico
Ashlee Powers
2:38:20 (Chandler, 2020)
USA
Kayla Lampe
2:38:25 (Chicago, 2021)
USA
Ali Lavender
2:38:41 (Berlin, 2021)
Great Britain
Annmarie Tuxbury
2:39:05 (Atlanta, 2020)
USA
Erika Fleuhr
2:39:31 (Sacramento, 2021)
USA
Paula Pridgen
2:39:34 (Duluth, 2021)
USA
Abby Hamilton
2:39:36 (Portland, 2021)
USA
Joanna Thompson
2:39:47 (New York City, 2021)
USA
Ziyang Liu